Below you can find a complete list of North American animals. We currently track 1324 animals in North America and are adding more every day!
Mexico, the United States, and Canada may be the largest and most prominent countries in North America, but this continent — the third largest in the world — is home to 23 sovereign states and 23 non-sovereign territories that stretch all the way from Central America up through Greenland.
The sheer scope of the continent means that practically any ecosystem on Earth can be found in North America — from the snowy tundras of Greenland to the tropics of Costa Rica. Deserts, forests, mountains, and everything in between occupy this territory along with the rich variety of animals you'd expect to find.

While they may occupy opposite corners of North America, reindeer, and spider monkeys technically share a continent. In the space between, jackrabbits and coyotes call the Mojave Desert home while alligators and beavers occupy the Okefenokee Swamp, and polar bears and moose stake their claims to Canada's northernmost territory.
Over a hundred ecoregions have been identified in North America, and the result is an incredibly diverse spread of both human culture and animal species. But the fact that North America touches both the Pacific and Atlantic means that the marine diversity is just as broad.
Creatures of the waters vary from the massive humpback whales that navigate North Atlantic waters to the manatees and dolphins that constitute just a fraction of the native wildlife in the Belize Barrier Reef.
The Official North American National Animals
Since North America is a continent rather than a country, it doesn't have an official national animal. But understanding the national animals of the three most populous countries can tell us a lot both about the character of North America and demonstrate some facts about the ecological diversity.
The American bison was once driven nearly to the point of extinction, but it was designated as the national animal of the United States in 2016. It represents a path forward that's built on healing the destruction in America's past.
The beaver became the official symbol of Canada in 1975. Beaver pelts served as a critical component of Canada's economy in its early days as a colony — but the desire for fur nearly drove the local beaver population to extinction in much the same way as the American bison.
Where To Find The Top Wild Animals in North America
North America is huge, meaning we can't even begin to cover the full scope of wildlife biodiversity in full. However, national boundaries can help break the continent down into smaller pieces and identify the best places for wildlife.

The United States possesses the most biodiversity in North America, and you can come across most major ecosystems traveling from one end to another. The southeast is home to swamps, mountains, and plains — and you'll find everything from crocodiles to pumas. The deserts of the southwest draw in wildlife like rattlesnakes and mammals like hares. The southwest and west coast tend to offer an especially high concentration of wildlife, as these regions are home to the largest number of national parks.
Canada sits to the north of the U.S., resulting in a generally cooler climate. There's a great deal of snowy tundra with mammals like moose and polar bears, but more temperate forests and grassland exist as well. Canada shares a lot of wildlife with the Northern United States like snowshoe rabbits and raccoons.
Mexico's proximity to the equator results in a hotter clime, with ecosystems ranging from lush rainforests to arid deserts. More exotic wildlife native to Mexico includes the anteater, armadillo, and the unique tamandua.
Desert tends to give way to broadleaf forests, jungles, and grassland as you head into Central America, but the countries here also offer some of the richest marine biodiversity in North America. The Caribbean Sea is home to the Belize Barrier Reef, which is renowned throughout the world for its collection of colorful fish, dolphins, and whale sharks. But you'll find creatures like jaguars and howler monkeys within Central America's interior.
The Most Dangerous Animals In North America Today
North America is home to a diverse range of wildlife, but not all animals are equally dangerous to humans. Some animals, such as black bears, mountain lions, and snakes, have been known to attack and cause harm to humans, especially if they feel threatened or cornered. It is important to understand the behavior and habits of these animals in order to reduce the risk of conflicts and injuries.
One of the most dangerous animals in North America is the black bear. While black bears are generally shy and will usually avoid human contact, they have been known to attack if they feel threatened or if their food sources are threatened.
In such cases, it is important to know how to respond in a way that minimizes the risk of an attack. For example, if you encounter a black bear while hiking, it is recommended that you make yourself appear larger, speak firmly, and slowly back away while avoiding direct eye contact, which the bear may interpret as a threat.
While most wildlife native to North America won't pose a threat to humans, fatalities from animal attacks aren't unheard of.
Here is a list of the most dangerous animals that call North America home:
Grizzly and polar bears live in very different climates, but they share a reputation for being the most aggressive and dangerous bears around.
The swamps of the American Southeast are rife with alligators, but these dangerous ancestors of dinosaurs live throughout North America. Alligators have been reported as the cause of 21 deaths in the U.S. since 2000.
White-tail deer aren't dangerous predators, but their involvement in traffic collisions makes them one of the most deadly animals to come in contact with. They cause roughly 1.3 million U.S. car accidents in a single year.
The Largest Animals in North America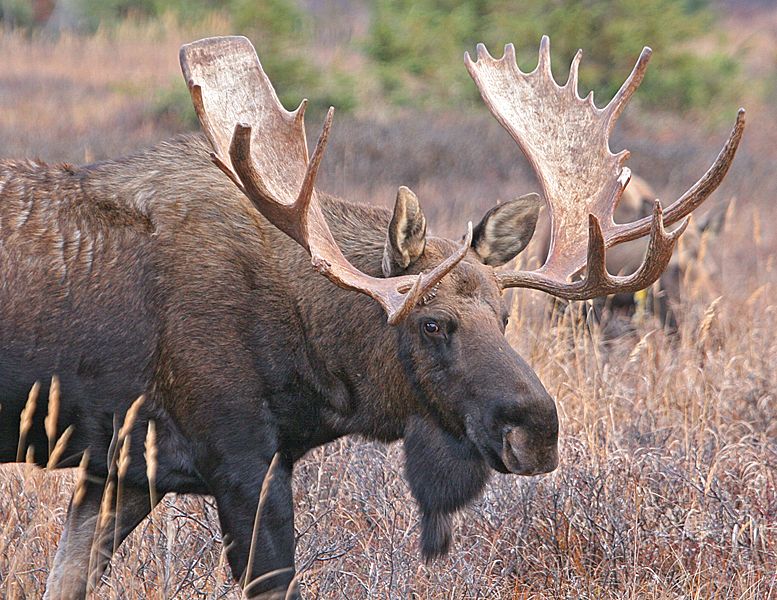 North America is home to a diverse range of wildlife, including some of the largest animals in the world. From towering giraffes to massive elephants, these animals are sure to impress.
Here are five of the largest animals that can be found in North America:
Bison: Bison are the largest land mammals in North America and can weigh up to 2,000 pounds. They are found throughout the United States and Canada and are an iconic symbol of the American West.
Moose: Moose are the largest members of the deer family and can weigh up to 1,400 pounds. They are found in the northern forests of North America and are known for their impressive antlers, which can span up to 6 feet.
Brown Bear: Brown bears are the largest predators in North America and can weigh up to 1,000 pounds. They are found in Alaska and Canada and are known for their strength, agility, and intelligence.
Mountain Lion: Mountain lions are large cats that are found throughout North America. They are known for their ability to climb trees and hunt in the shadows and can weigh up to 220 pounds.
Grey Wolf: Grey wolves are the largest members of the dog family and can weigh up to 130 pounds. They are found throughout North America and are known for their intelligence, strength, and pack behavior.
These five animals are just a few examples of the incredible diversity and size of the wildlife that can be found in North America.
Endangered Animals in North America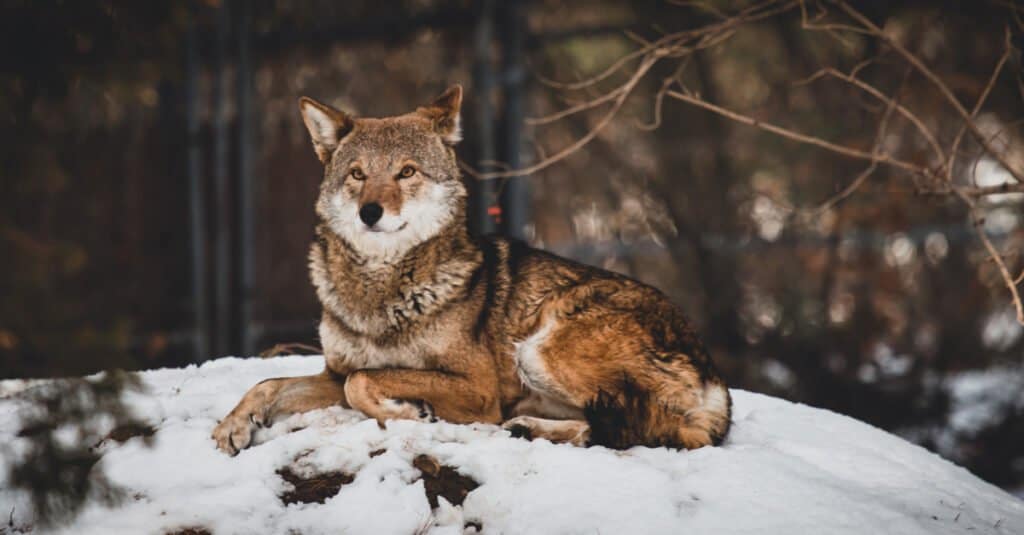 North America is home to a diverse range of wildlife, including many species that are facing threats to their survival. According to the International Union for Conservation of Nature (IUCN), there are numerous species of animals in North America that are listed as endangered, which means they are facing a very high risk of extinction in the wild.
One of the most well-known endangered species in North America is the whooping crane. This iconic bird is the tallest bird in North America and is known for its distinctive call and striking appearance.
Over 13,000 North American species are endangered. Here's a list of the most notable.
Red wolf — A nearly extinct species with roughly 50 remaining members in the wild. Their last habitat is in North Carolina.
Pygmy raccoon — A unique breed of raccoon that's now extinct everywhere except for the Mexican island of Cozumel.
California condor — The most unique quality of these birds is their 9.5-foot wingspan, but they're nearly extinct due to a combination of poaching and habitat destruction.
Some of the rarest creatures in North America are the black-footed ferret, and Kemp's ridley sea turtle.
Native Birds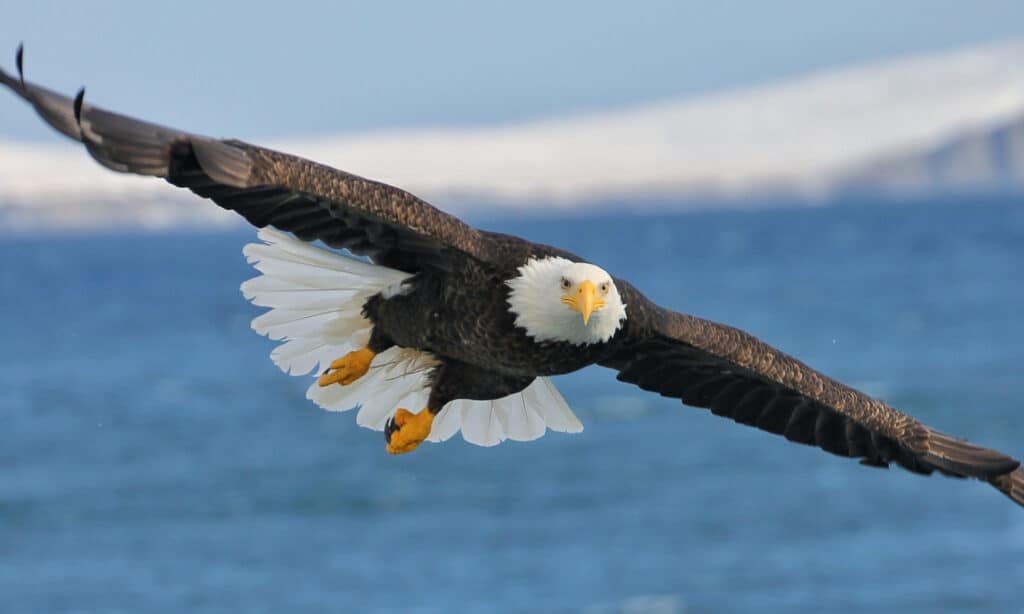 There are over 2,000 species of birds native to North America. Because of the continent's wide variety of habitats, you'll find an astounding assortment of birds. From the smallest bird in North America, the calliope hummingbird, to the largest, California condor, there is something for every bird-lover.
Bosque del Apache National Wildlife Refuge, located in New Mexico, is one of the best birding locations in the United States. You can see greater roadrunners, great blue herons, ring-necked pheasants, marsh birds, and more year-round. The best time to visit is when migratory species are present between November to January. You'll find sandhill cranes, sparrows, bald eagles, red-tailed hawks, and over 20 species of waterfowl.
Another favorite location for bird watching is Point Pelee National Park in Ontario, Canada. Point Pelee has more recorded bird species than any other national park in Canada. The best times to visit are during spring and fall migrations. The park is especially known for its songbird migrations in the spring, starting in March and peaking in May. Birds of prey and waterfowl return at the end of summer and throughout fall.
If you're visiting Mexico, be sure to stop by San Blas, Nayarit for some of the best bird-watching in the country. San Blas has two national parks that are excellent birding areas. You can see social flycatchers, belted kingfishers, rufous-bellied chachalacas, roseate spoonbills, blue-footed boobies, and so much more. Peak birding season in this area is January through March.
Native Snakes
Snakes exist throughout most of North America, from the southern half of Canada down to Central America.
Rattlesnakes are a type of snake only found in the Americas. Some of the most common species of rattlesnakes include timber rattlesnakes, prairie rattlesnakes, and diamondback rattlesnakes. All species are venomous. Rattlesnakes get their name from the rattle on the end of their tails, which they vibrate as a warning to predators.
Garter snakes are another type of snake only found in North and Central America. There are 35 species of harmless garter snakes. They live in a variety of habitats throughout the continent and are all harmless.
Eastern Indigo snakes are the largest snake species native to North America. These non-venomous snakes live in the southeastern United States.
Slender blind snakes, also known as thread snakes, are some of the smallest snakes found in North America. Because of their size and appearance, it's easy to mistake them for worms. The Texas blind snake reaches an average of five to eight inches long.
Rarest Animals in North America
North America is home to an incredibly diverse range of wildlife, from iconic creatures like the American bison and bald eagle to lesser-known species like the mountain lion and prairie dog. But there are some animals that are so rare that they're rarely seen or even known to the general public.
Let's take a closer look:
Vaquita: The vaquita is a small porpoise that's found only in the Gulf of California in Mexico. It's estimated that there are only around 10 vaquitas left in the world, making it the most endangered marine mammal in the world. The main threat to the vaquita is accidental entanglement in fishing nets, especially those used for catching another rare species, the totoaba.
Ivory-billed Woodpecker: The ivory-billed woodpecker is a large, striking bird that's found in the southeastern United States. It's thought to be extinct, with the last confirmed sighting taking place in the 1940s. However, there have been unconfirmed sightings in recent years, and conservationists continue to search for evidence that the species may still be alive.
Sierra Nevada Bighorn Sheep: The Sierra Nevada bighorn sheep is a subspecies of bighorn sheep that are found only in the Sierra Nevada Mountains of California. It was listed as endangered in 1999, with a population of just 100 individuals. Thanks to conservation efforts, the population has since rebounded to around 600 individuals, but it remains a rare and elusive species.
Black-footed Ferret: The black-footed ferret is a small, carnivorous mammal that's found only in North America. It was thought to be extinct in the wild until a small population was discovered in Wyoming in the 1980s. Since then, conservation efforts have helped to increase the population to around 300 individuals, but the species remains one of the rarest in North America.
Red Wolf: The red wolf is a critically endangered species of wolf that's found only in the southeastern United States. It was declared extinct in the wild in 1980, but a captive breeding program has since reintroduced the species to several areas in the region. Despite these efforts, the population remains small and vulnerable to threats such as habitat loss and interbreeding with coyotes.
In conclusion, North America is home to a wide range of rare and endangered animals, each with its unique story and struggle for survival.
North American Countries Animals Lists
Click any of the countries below to see a detailed list of animals located in that country!
North American Animals
North American Animals List
North America FAQs (Frequently Asked Questions)
What animals are only found in North America?
There are numerous species unique to the United States. More prominent species include the American black bear, the gila monster, and the bald eagle.
What are the Big 5 Animals of North America?
The Big 5 animals of North America for hunting include the grizzly bear, moose, bison, gray wolf, and polar bear.
Which animal is the king of North America?
While facts alone can't crown the king of North America, it's a title often given to the unique American bison found in North American grassland. While it's no longer critically endangered, this big grazer is still a threatened species.
What North American animals hibernate?
Numerous North American animals hibernate, including mammals like bears and chipmunks, as well as insects like bumblebees.
What animals live in the North American desert?
The list of animals that live in the North American desert would be long, but notable wildlife includes prairie dogs, rattlesnakes, and even wild jaguars.