Panama is a stunning Central American country bordered by Costa Rica and Colombia. The country has a unique shape and sits between the Caribbean Sea and the North Pacific Ocean. Over 1 million people visit Panama every year, in hopes of seeing some of the most beautiful views and landmarks in the world. What better way to see the natural beauty Panama offers, than visiting a national park? Follow along to discover 10 beautiful national parks in Panama.
1. Cerro Hoya National Park
Cerro Hoya National Park was designated as a national park in 1984. This protected area is located in southwestern Panama specifically the Mariato District in the Veraguas Province. The total surface area of the park is 128.7 square miles. Cerro Hoya National Park contains the Isthmian-Pacific moist forests and the Talamancan montane forests. Many people visit Cerro Hoya National Park on tours, in hopes of seeing spectacular animals and plants. So far, 225 bird species have been observed in the national park. Some of the most beautiful birds in the national park are the scarlet macaw, brown-backed dove, great curassow, and the Azuero parakeet. Other than birds, visitors also have a chance to spot jaguars, Neotropical river otters, and the Panamanian spiny pocket mouse.
2. Chagres National Park
Chagres National Park was established in 1985. You can find this 320,000-acre national park between the Province of Panama and Colon. The park is beautiful, with many sights to see and places to visit. For example, visitors can view unique animals and refreshing lakes and rivers. Chagres National Park was created with the hope to preserve the forest within the park. Apart from protecting the forest, the park also supplies potable water for surrounding cities. You can visit and take a guided tour into this stunning park or wander and find natural points like Lago Alcazar, Salto de los Monos, and Lake Alajuela. You can also visit Emberá Purú Village.
3. Darién National Park
Darién National Park covers 2,240 square miles. This park was established in 1980. This large and beautiful park is also a World Heritage Site. The park is near Panama City but is located in the Darién Province. Darién National Park is an important park in Central America. It acts like a natural bridge between North and South America. This beautiful protected area is filled with exotic plants, wild animals, and indigenous people. Darién National Park isn't easy to visit because of its location. This isolated park has unique animals like parrots, the harpy eagle, and sloths. Visitors can hike several trails from Pirre Station, an ANAM ranger station.
4. Gulf of Chiriquí National Marine Park
The Gulf of Chiriquí National Marine Park is a marine park in the Gulf of Chiriqui. It's on the coast of the Pacific Ocean and was established in 1994. This beautiful national park covers and protects 58 square miles. The park includes 25 islands and 19 coral reefs. Apart from coral reefs, you can also see mangrove swamps and marine meadows. The Gulf of Chiriquí National Marine Park is especially known for its marine wildlife. Some of the most commonly seen marine wildlife are hammerhead sharks, whitetip reef sharks, sea turtles, and dolphins.
5. Isla Bastimentos National Marine Park
Isla Bastimentos National Marine Park is another marine park in Panama but in Bocas del Toro Archipelago. The park was created in 1988 and is managed by the National Environmental Authority of Panama (ANAM). Isla Bastimentos National Marine Park covers 13,226 hectares and includes multiple islands. This marine park is important for many animals, including four endangered sea turtle species. Sea turtles during April to September travel to Playa Larga to nest. It's on the north side of the marine park. The strawberry poison-dart frog also calls the island home. The park is also home to over 88 different coral species, some of which are likely over 10,000 years old.
6. Metropolitan Natural Park
Metropolitan Natural Park is a stunning protected park in the heart of Panama City. You won't have to venture far into isolated parts of Panama to enjoy the stunning views the Metropolitan Natural Park offers. It's 573 acres and the city's only wildlife preserve. The park has about 227 bird species, perfect for birdwatching visitors. Other than birds, you can also spot at least 45 mammals. Watch where you step, you might encounter any of the 36 types of snakes or 14 kinds of amphibians. The park is very well-shaded with many trees surpassing 100 feet tall. Metropolitan Natural Park has plenty of hiking trails and is conveniently only a few minutes from downtown.
7. Sarigua National Park
About 150 miles from Panama City, sits Sarigua National Park. This national park covers over 20,000 acres of land and is in the Herrera Province of Panama. While there is beauty to see in Sarigua National Park, it's a perfect example of the devastating effects of deforestation in the tropics. This national park is about 6 miles northwest of Chitré. Although the park is now mainly a dry desert, it was once home to a lush dry tropical rainforest and a thriving ancient civilization. Experts believe that a thriving fishing community once lived where Sarigua National Park sits. This is likely where the oldest known human settlement in Panama lived. While Sarigua National Park doesn't see many visitors, there is a trail and a ranger station filled with information.
8. Soberanía National Park
Soberanía National Park is a stunning national park in the provinces of Panamá and Colón, only 16 miles away from Panama City. The park was created in 1980 and protects about 55,000 acres of land. Soberanía National Park is a popular spot for birdwatching. Here, you can find over 525 recorded bird species. On Pipeline Road, a popular hiking trail, you can see over 400 bird species. Some of the most commonly spotted are the golden-collared manakin, song wren, double-toothed kite, slaty-backed forest falcon, and white-shouldered tanager. Apart from birds, you can also find at least 105 species of mammals. These mammals include mantled howler monkeys, green iguanas, two-toed sloths, and Panamanian night monkeys.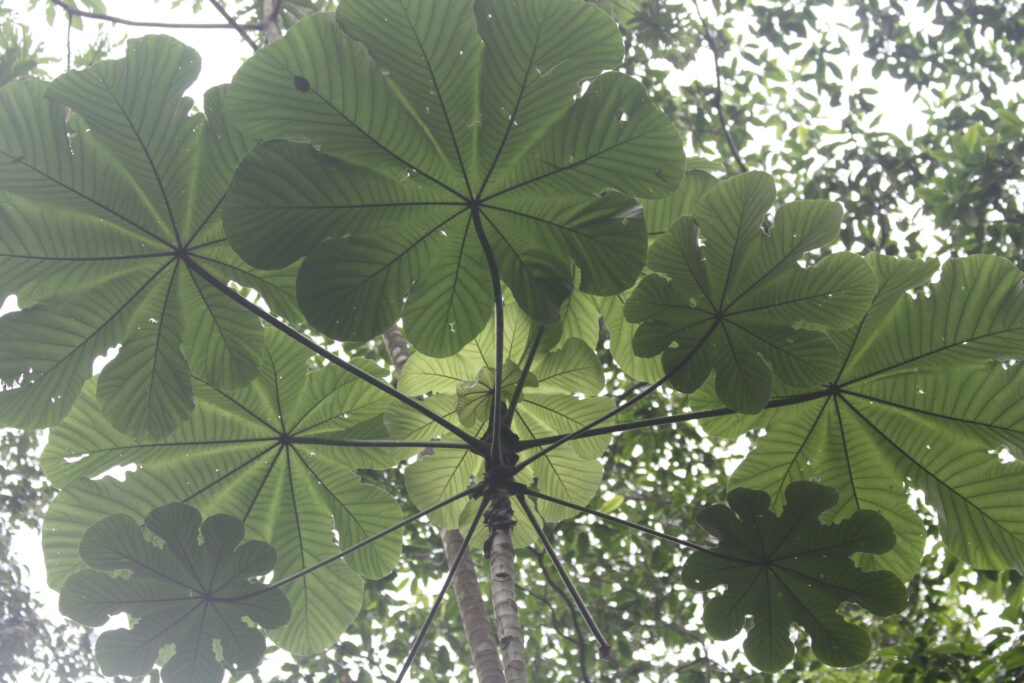 9. Volcán Barú National Park
Next on our list is Volcán Barú National Park, also referred to as Baru Volcano National Park. The park includes the highest point in Panama, Baru Volcano. It's also the 12th-highest peak in Central America. Many travelers visit Volcán Barú National Park, in hopes of catching the sky on a clear day. At the highest point, you can see both the Atlantic and Pacific Oceans. In the park, the soil is perfect for growing coffee beans. Here, you can try some of the most high-quality geisha coffee in the world and take some home with you. To visit Volcán Barú National Park, you must enter from Boquete. Although the park is open for visitors, you can also book a tour guide through the trails. There are multiple trails to choose from which range in length and difficulty.
10. The Omar Torrijos National Park
The Omar Torrijos National Park, known to locals simply as El Copé, is a stunning park along the Continental Divide in central Panama. The park is not the most accessible but offers well-preserved ecosystems and wildlife. The park covers 61,775 acres of land and includes forests and misty highlands. This park is best known for its foggy days. The Omar Torrijos National Park is home to five big cats, like the jaguar, jaguarundi, margay, ocelot, and puma. If you want to visit the park and spot some of the amazing wildlife, you should start at the ranger station. Here, there are several trails to choose from either leading to the top of a mountain or the Caribbean slope of the Continental Divide. Experts recommend only hiking the trails with a guide since the trail can be dangerous.
Up Next:
More from A-Z Animals
---
The Featured Image
---