Chinchillas are small, cute, and furry rodents that many families keep as pets. These animals originated in South America, and they are reputed for forming close bonds with their owners.
The chinchilla is a fascinating creature, and if you have one as a pet or intend to, here are some facts about these creatures that will fascinate you.
1. Chinchillas Have Amazing Fur
Chinchilla fur is incredibly exotic because of how thick and soft it is. Chinchillas have up to 60 hairs per follicle, unlike humans, who typically have only one hair per follicle. This makes their fur very thick, allowing them to stay warm at high altitudes. Their thick fur ensures that fleas cannot easily live in them since they would suffocate if they did. However, this does not mean that fleas can never get to chinchillas. Instead, they need to pass through places where the fur is shorter, missing, or less dense. For example, the feet or head.
Sadly, chinchillas' amazing fur has made them the target of poaching.
2. Chinchillas Get Really Stressed if They Don't Get Fed First
When chinchillas are kept in groups, they have stress convulsions if they see other chinchillas getting food before them. It is one of the causes of convulsions that can happen to chinchillas from time to time. Other causes of convulsions in chinchillas include brain problems, deficiency in a vitamin or any other dietary element, or an injury to the nervous system. Some of the ways to prevent convulsions in chinchillas include cardiac meditation, vitamin B, or a calcium injection.
3. There are Two Breeds of Chinchillas
You may not have noticed, but there are two different breeds of chinchillas, namely, the long-tailed chinchilla and the short-tailed chinchilla. Alongside the differences in their tail length, the short-tailed chinchilla tends to have thicker hair and a heavier body than the long-tailed.
The most common chinchilla that is kept as a pet is the long-tailed chinchilla.
4. Chinchillas are an Endangered Species
The International Union for the Conservation of Nature stated in 2016 that both species of chinchillas (short-tailed and long-tailed) are endangered. The decline in their population is heavily linked to human hunting of the species for fur. Today, chinchillas are protected by the Convention on International Trade of Endangered Animals, making them illegal to hunt. However, poaching still occurs globally.
5. Chinchillas are Prone to Heatstroke
This is particularly important to note if you keep chinchillas as pets. Chinchillas evolved to live in environments with cool temperatures. Therefore, they do not do very well with heat. Their thick fur makes it such that they cannot stay in areas above 80 degrees Fahrenheit (26.67 degrees Celsius), and the ideal temperature for these animals is below 68 degrees Fahrenheit (20 degrees Celsius). Heatstroke is life-threatening to chinchillas, so if you have them as pets, ensure they stay in an environment conducive to them.
6. Chinchillas Should not be Bathed in Water
Chinchillas in the wild do not bathe in water, and as pets, they should not be bathed with water as well. This is because water may cause their dense fur to clamp and mat. Instead, chinchillas take dust baths. Dust baths help their furs remain soft and remove oils from their skin. Dust baths are their natural grooming process and will usually last 5 minutes. For pets, provide them with the materials they need, and they know what to do. Let them take dust baths a couple of times a week.
7. Chinchillas Live Quite Long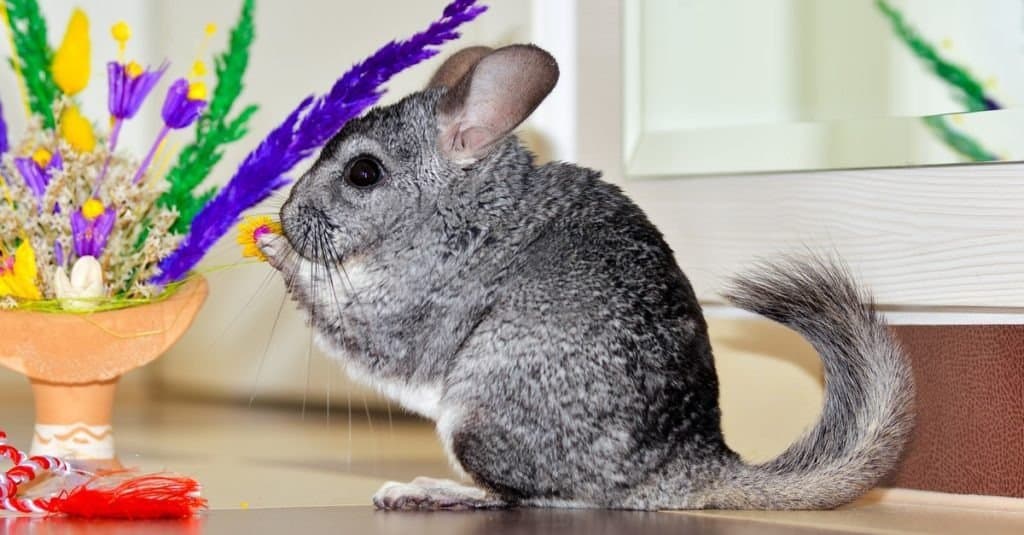 Chinchillas are not the rodents with the longest lifespan, but they still live quite long for rodents. In the wild, chinchillas may live as long as ten years, while in captivity, with the proper care, they may double that by living up to twenty years. Of course, they live longer in captivity because they are not exposed to predators and poachers.
8. Chinchillas Love to be Around Others
Chinchillas are not solo flyers. They enjoy the company of other chinchillas as well as their owners. In the wild, these cute creatures live in colonies that contain hundreds of them. As pets, you may not want to get a hundred chinchillas, but try and get them in pairs. Chinchillas do far better in company than alone.
Some other important social facts about chinchillas are that during estrus, female chinchillas may be more aggressive and hostile towards other females. Also, male chinchillas take part in nursing and grooming babies where the females are unable to. Furthermore, other females may also help a mother that is unable to feed her children for one reason or the other.
9. Chinchillas Have a Sneaky Trick to Get Away From Predators
A predator may think it has grabbed a chinchilla, and find out that it didn't grab anything, thanks to an ability called "fur slip." When in danger, Chinchillas can let go of their fur to escape a predator. This leaves the predator with a lot of air but no actual animal. Of course, the chinchilla regrows its fur. For pets, this means that you have to handle the chinchilla with care so it doesn't think it is in danger and you suddenly have a handful of hair to deal with.
10. Chinchillas Teeth Grow for Life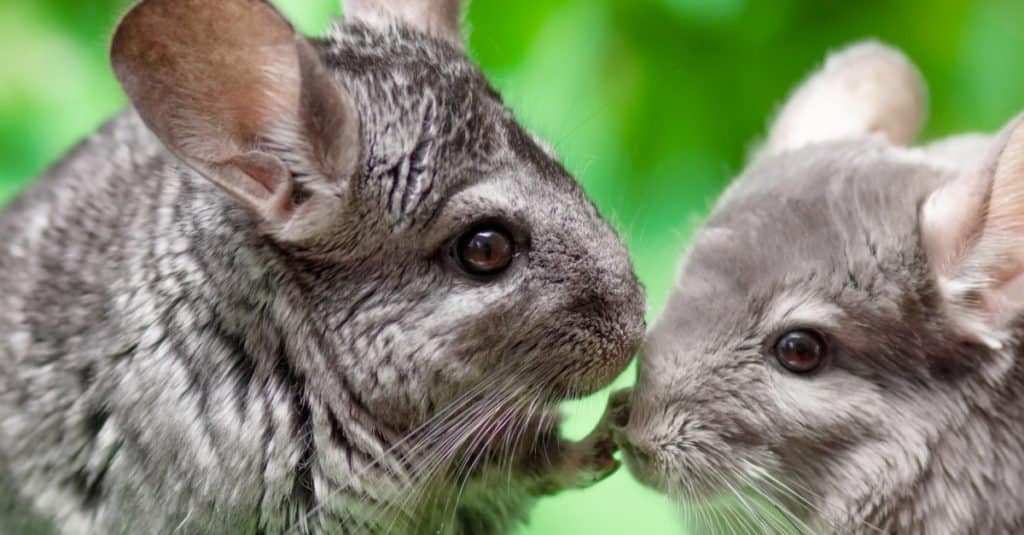 Chinchillas' teeth continually grow for the whole length of their lives, like other rodents. Their teeth are very important parts of them, and it is also important that their teeth grow properly and in alignment. It is also important that they have a lot to chew on to help wear down their teeth's growth. In the wild, there is no shortage of options for this. However, as pets, owners must ensure that they regularly provide materials that they can chew on. Thankfully, pet stores may offer untreated wood objects that chinchillas may chew on to help wear down their teeth.
The photo featured at the top of this post is © AJSTUDIO PHOTOGRAPHY/Shutterstock.com
---