Did you know that dragonflies are older than dinosaurs? Dragonflies are not only prehistoric but also one of nature's most efficient creatures. From their name, you would think they resemble dragons; however, that is not the case.
Let's take a look at some incredible facts about the dragonfly. 
1. Dragonflies Are Prehistoric Animals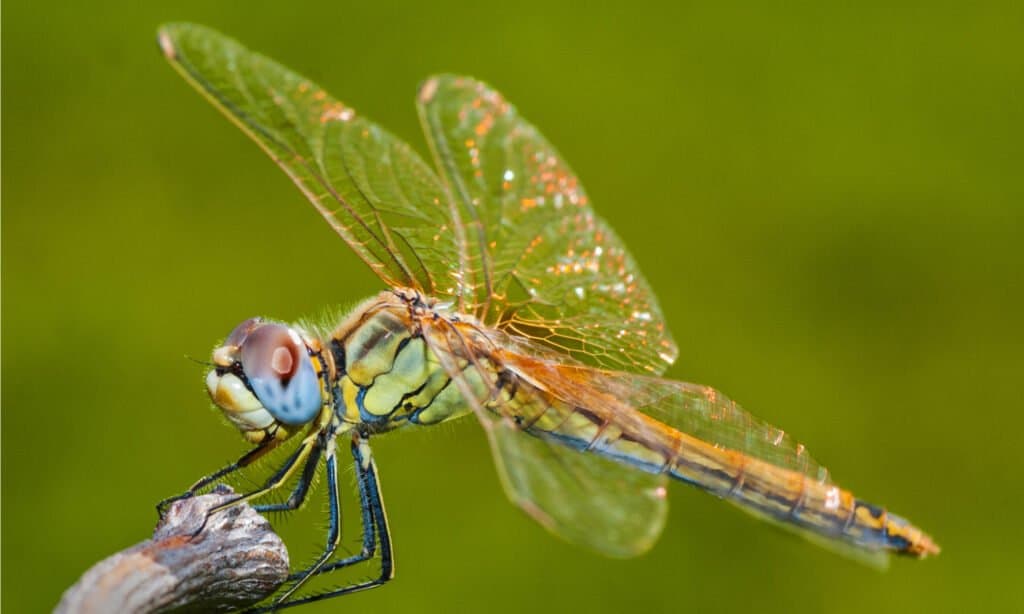 It sounds shocking, but dragonflies roamed the earth long before dinosaurs came to the scene. Scientists have placed their existence at 300 million years, more than 60 million years ahead of the dinosaurs.
Despite all the changes that have occurred over time, dragonflies still exist, even though they have evolved to fit today's survival conditions. The predecessors of modern-day dragonflies were not only older but also gigantic. 
Scientists have attributed this to the high oxygen level present during the Palaeozoic era. Imagine encountering a dragonfly the size of a cow! Scientists have uncovered dragonfly fossils with about 30 inches wingspan.
2. Dragonflies Start Their Life Swimming Rather Than Flying
Like many other insects, dragonflies start their lives underwater as eggs. While insects generally avoid salty water, some species of dragonfly are unaffected by it. They can breed in an environment saltier than seawater. Once they hatch, they spend most of their life underwater. Dragonflies spend an average of 2-5 years, during which they shed their skin up to 12 times.
Some species are known to spend up to 6 years before emerging and transforming into adults. This is probably no surprise because an adult dragonfly has an average lifespan of 6 months, with some species living up to a year.
Dragonfly larva is specially adapted to the environment possessing gills for breathing and the ability to snatch prey at lightning speed. During this stage, dragonfly larva consumes various foods ranging from tadpole, small fishes, and mosquitoes. 
3. Dragonflies Are Excellent Fliers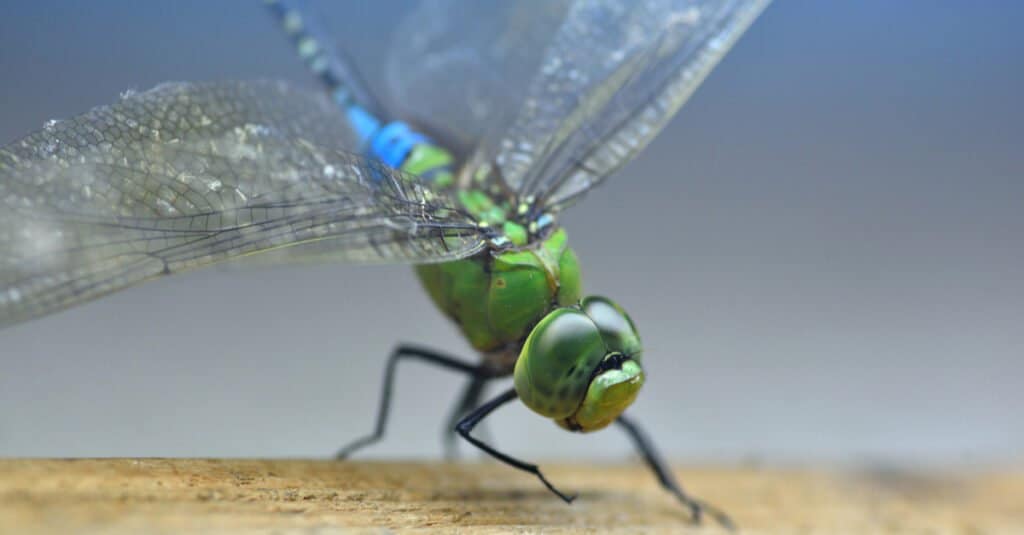 This seems surprising, but they are one of the most powerful fliers in the animal kingdom, with only a few to match this feat. Their wings consist of a network of veins and membranes, accounting for their excellent flying abilities.
Due to these complex wing designs, they possess versatility, agility, and flexibility. It also accounts for their ability to change direction in an instant. Their agility is almost second to none, and they can fly at a speed of 30 miles per hour. It also accounts for their ability to travel across the sea.
Being one of the fastest insects on Earth, you might expect them to flap their wings more times than you can count. However, compared to bees and mosquitoes, they are significantly lower at 30 times per second.
4. Dragonflies Are One Of Nature's Most Successful Hunters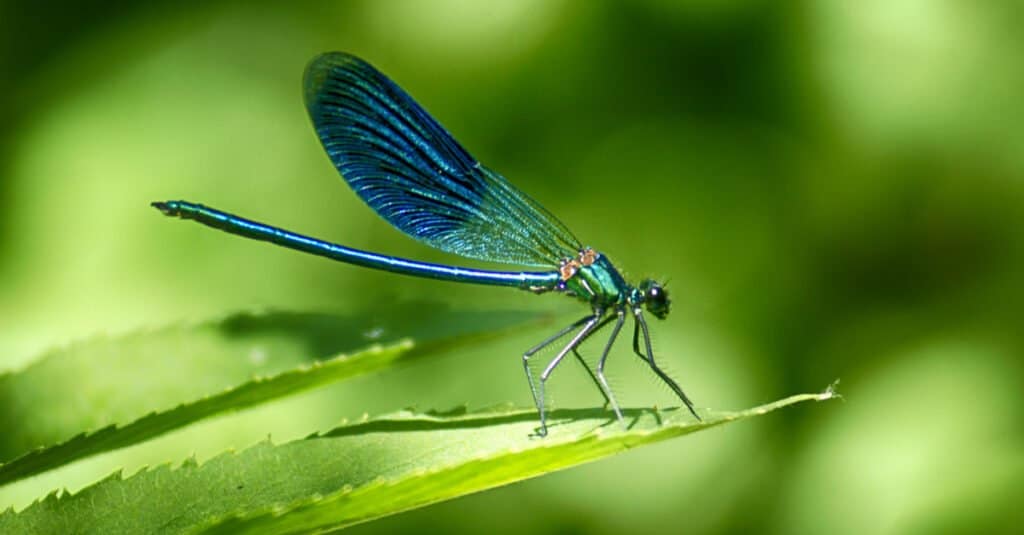 Dragonflies are incredible hunters and will compete successfully with a shark and lion, if not better. Due to their spectacular flying ability and excellent eyesight, they can catch prey mid-air. They not only easily do this but also have a good judgment of their prey's speed and trajectory.
It means that even though they are on a wrong trajectory, dragonflies can adjust their position to intercept the prey, allowing them to snag prey unaware. Being prehistoric, these amazing hunters have simultaneously perfected the art of flying and hunting. 
Unlike the lion and shark, which have a success rate of 25% and 50% respectively, the dragonfly has a record-breaking success rate of 95%. 
5. 80% Of A Dragonfly's Brain is Used to Analyze Visual Information
Added to their excellent flying abilities is an amazing vision. In fact, the dragonfly's spectacular flying matches their vision, and they work hand-in-hand. Like most insects, the dragonfly's compound eye is multifaceted with up to 30,000 facets. Each facet can create its image allowing the dragonfly to view images at a 360-degree angle with only a blind spot behind them. Furthermore, 80% of their brain is used in processing these images.
Also, what makes their vision even more powerful is their ability to see the normal color spectrum. In addition, they can process UV light and polarized light waves. Dragonflies cannot feel the effect of the sun's glare due to their ability to see polarized light aiding them during their hunt.
With this incredible eye feature, they can isolate potential prey in swarms and easily capture them without colliding with other swarm members. All these contribute to their incredible hunting prowess.
6. The Female Dragonfly Plays Dead To Avoid Mating 
It sounds hilarious, but it is an effective method of keeping unwanted male dragonflies at bay. For some dragonfly species, the female dragonfly is taken unaware during mating. Usually, the male waits at the pond to ambush the unsuspecting female to copulate.
To avoid being coerced into copulation, the female dragonfly pretends to crash into the ground while laying motionless until the unwanted suitor leaves.
7. Dragonflies Benefit The Environment 
Dragonflies are natural predators of mosquitoes and insect pests to humans. Since they are blessed with a voracious appetite, a single dragonfly can consume up to 100 mosquitoes daily. Imagine what two or more dragonflies can do to your garden's mosquito population.
Also, humans have taken some clues from these insects and built amazing technology using their flight method and excellent vision.
8. Dragonfly Wings Can Destroy Bacteria
Dragonfly wings are made up of many interconnecting tiny nanostructures only visible under the microscope. This network of nanostructures resembles fingers and can grab any bacteria that passes the wing's surface. The adhesive nail-like surface tears their membrane apart as the bacteria struggle to release themselves.
9. Dragonfly Can Regulate Their Body Temperature 
Like most insects, dragonflies are cold-blooded, but they do not depend on nature to keep them warm. Dragonflies can increase their temperature through a series of whirring movements. While perching, they strategically position their body to maximize the area exposed to sunlight.
10. Dragonflies Have High Cognitive Activity
Dragonflies possess the ability to focus on their targeted prey. Sometimes, their prey is part of a swarm. Once the dragonfly has locked onto it, its brain activity filters out other prey allowing it to focus on its targeted prey. This ability also helps it determine the best way to catch the prey.
---