Great Danes are symbolic dogs, as no other creature looks like them in the entire animal kingdom. Their large size is usually one of the first things people notice about them. This earned them the moniker "Apollo of Dogs," after the Greek God of the Sun. However, more than its size and height, there are many other amazing things about this canine, all of which make it great.
Here are ten incredible facts about the Great Dane!
1. The Great Dane is Not From Denmark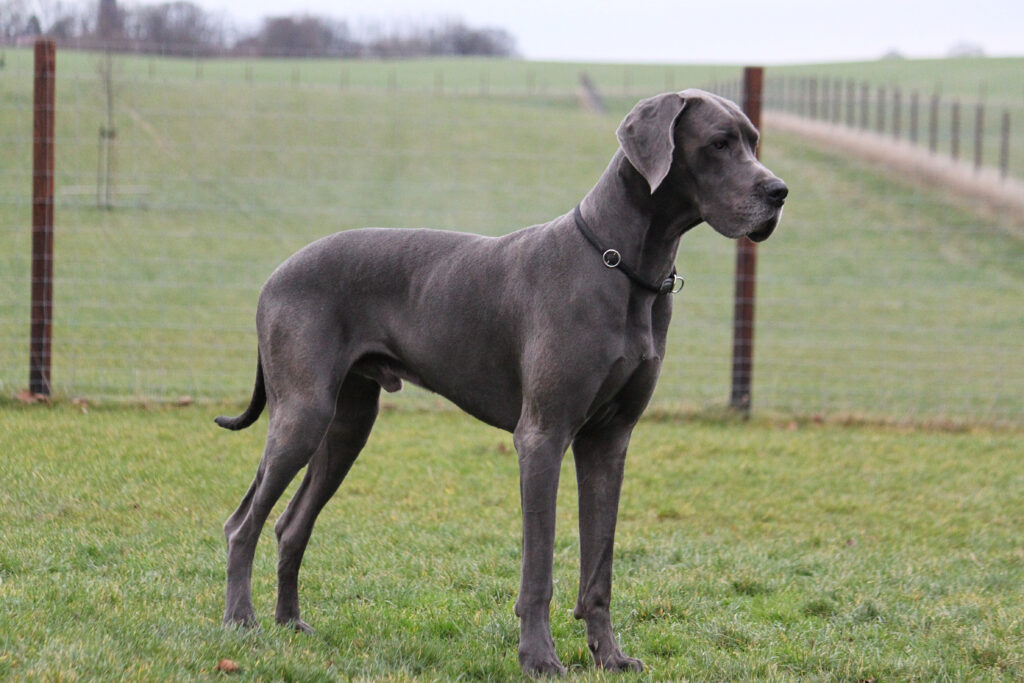 Even though their name suggests they are from Denmark, the breed has little to do with the country. While traveling in Denmark, French scientist Georges-Louis Leclerc, Comte of Buffon, identified something quite similar to the German boarhound in his 1781 book, Natural History: General and Particular. He gave the name Le Grand Danois, or Great Dane, and it stayed. Except in Germany, the breed is known as the Deutsche Dogge, or German Dog.
2. Great Danes Once Served as Boar-Hunting Dogs
The enormous dogs are a cross between an Irish Wolfhound and an old English Mastiff. They were used to hunting wild boars and had to be physically and mentally demanding. The strong hunters were swift and ruthless, and their aggressive nature differed significantly from today's Great Danes.
Although the Great Dane did not become a unique breed until about 400 years ago, its progenitors may have mixed with ancient Egyptians. Giant dogs can be found depicted on Egyptian monuments dating back to 3,000 B.C. Dogs are also mentioned in ancient art and literature from places like Greece, Tibet, and China.
3. Great Danes are Gentle Giants
Great Danes are now mostly enormous teddy bears, despite their origin as highly aggressive hunting dogs capable of taking down a boar. In the 1700s, German aristocracy bred the predator mentality out, transforming the breed into a spoiled lap dog, resulting in the loveable, laid-back canines we know today. Any Great Dane owner understands that despite their size, they adore getting into your lap like a Yorkshire Terrier.
4. A Great Dane Served in the Navy
Dogs are known for their doggy paddle swimming technique, which one Great Dane may have used to his advantage. This dog became friends with sailors from the Royal Navy while being the pet of the man who managed the United Services Institute in Simon's Town, South Africa. Onboard ships, the dog's propensity for strolling up the gangplank and obstructing the way earned him the moniker "Just Nuisance," but this wasn't how he got recruited.
It was due to Nuisance's fondness for trains, which were available to sailors at no cost. When the conductors reported, the Commander-in-Chief merely enlisted Nuisance in the Navy in August 1939, eventually elevating him to Able Seaman so that he could receive free meals. Nuisance was buried with full military honors, a parting salute, and a recital of the Last Post when he was put to rest at the age of 7 years.
5. Great Danes are Record Breakers
Okay, we couldn't help but mention the size of the Great Danes. They can reach a height of 34 inches, roughly the same as a two-year-old, and weigh up to 200 pounds, making them bigger than many fully grown individuals. Despite their inability to jump, they have been known to sneak out of gardens with low fences due to their height. Zeus, a Great Dane that stood 44 inches tall and ate 30 pounds of food every two weeks, was the world's tallest dog.
6. Great Danes are Celebrities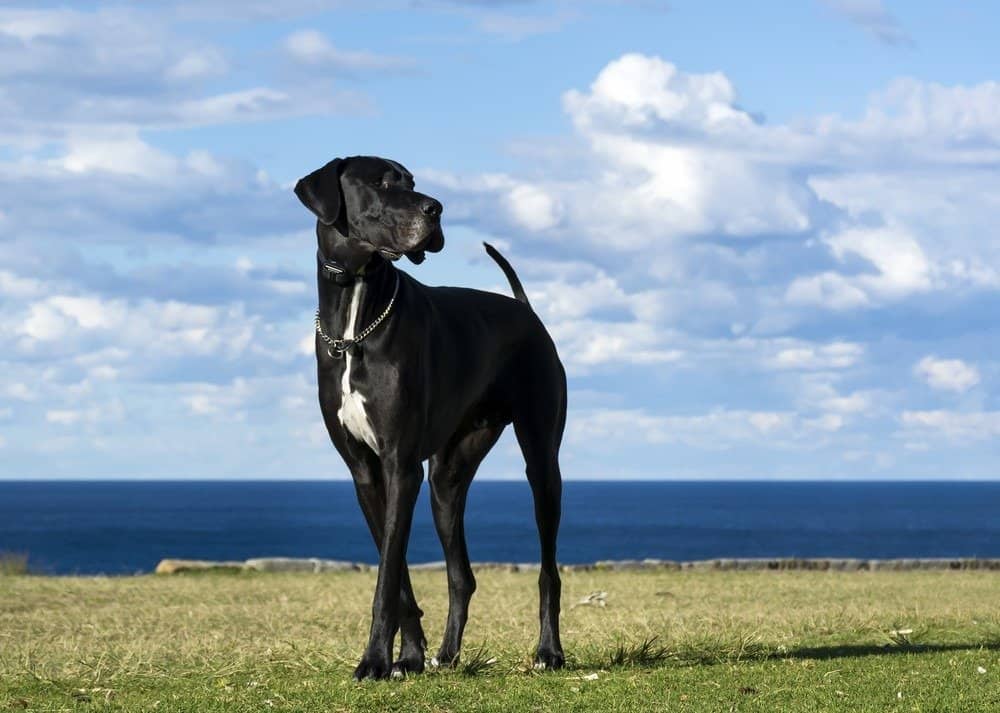 The fact that the Great Danes are named after the Greek Sun God isn't the only thing they have in common with celebrities. The breed has inspired many renowned fictional dogs. Astro, a character from the Hanna-Barbera cartoon, The Jetsons, is a Great Dane. Marmaduke, the title character of a comic strip adapted into a film that starred Owen Wilson in 2010, is a Great Dane. Another Hanna-Barbera creation, Scooby-Doo, is one of the most well-known fictional dogs.
7. A Great Dane was Chosen as Scooby-Doo for a Reason
Scooby was the ideal partner for those naughty kids because Great Danes were historically supposed to ward off ghosts and evil spirits. While it's unlikely that this was in the cartoon writers' thoughts when creating characters, there was a lot of discussion regarding Scooby's breed during the show's development.
The dog, which was originally named "Too Much," was supposed to be either a large, fearful dog or a small, brave puppy. They had to choose between a sheepdog and a Great Dane when the former was chosen. The Great Dane was ultimately selected to minimize confusion with Archie's sheepdog, Hot Dog.
8. Great Danes Make Excellent Guard Dogs
The Great Dane's sweet nature makes them excellent house pets. They are also very calm around children, though you must be cautious because they are often unaware of their strength and are incredibly sloppy. Even though they are gentle creatures, Great Danes make excellent security dogs because they are fiercely protective of their family and home and can use their massive bodies to scare away intruders.
9. One Great Dane was Awarded Two Blue Cross Medals
Juliana, the Great Dane, was woken up in 1941 when a bomb dropped near her home. The dog did what any dog in need of a walk would do in such a situation – she peed on it. She received her first medal as a reward for diffusing the bomb with her urine. Her second medal came three years later when she alerted authorities to a fire in her owner's shoe store.
10. Great Danes and Goats can be Friends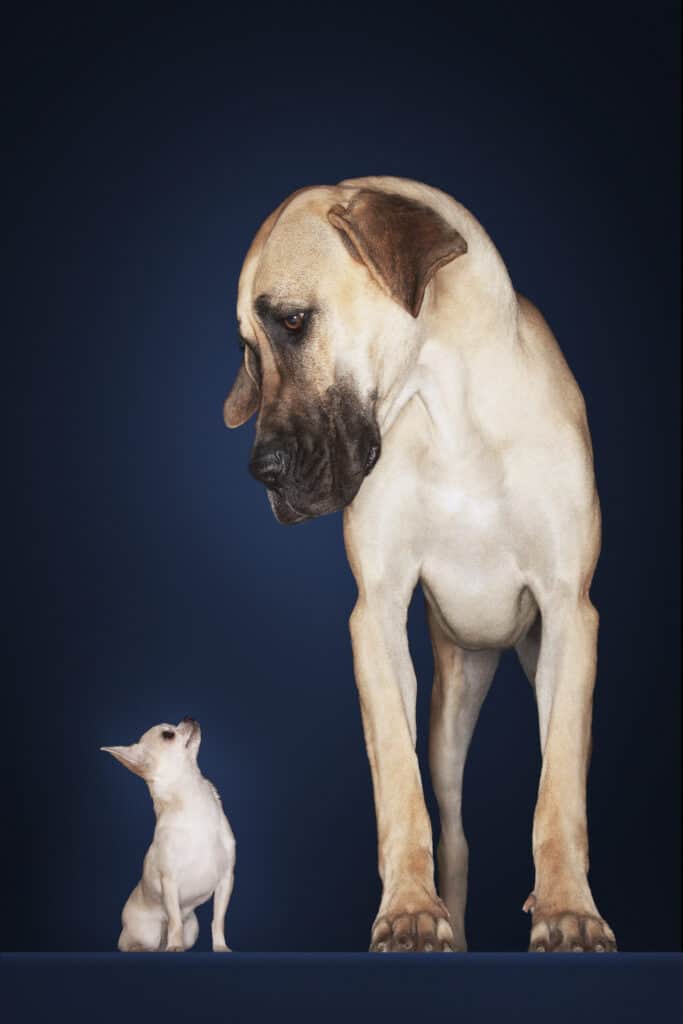 Surprising, right? In 2010, a goat tried to escape with a Great Dane, and both animals were seen together near a chapel in Dallas. When Minnelli the goat unbolted the gate to his house, Judy, the Great Dane, was also released. The two animals ran away to a neighboring church, leaving behind their other pal, a three-legged yellow lab named Lucky, perhaps in the rush of eloping. Despite this, the three animals were inseparable and won the hearts of Americans everywhere. The eclectic crew's original owners realized they couldn't afford to care for them and placed them up for adoption. Fortunately, the three were taken in by Norman and Sandy Williams, a lovely couple.
The photo featured at the top of this post is © Al_Er/Shutterstock.com
Ready to discover the top 10 cutest dog breeds in the entire world?
How about the fastest dogs, the largest dogs and those that are -- quite frankly -- just the kindest dogs on the planet? Each day, AZ Animals sends out lists just like this to our thousands of email subscribers. And the best part? It's FREE. Join today by entering your email below.
---