Northern Michigan is a popular tourist destination – hundreds of thousands of people visit every year! The question is, what attracts people to Northern Michigan? It is a region shaped by the Great Lakes shoreline and populated by several cities, state and national forests, large inland lakes, and numerous rivers. Notably, Northern Michigan has an abundance of lakes with clear blue waters and sandy beaches, with plenty of opportunities for outdoor recreation. Apart from the famous Great Lakes, there are more than 11,000 small inland lakes within the borders of Michigan. For this reason, camping, boating, golf, sailing, kayaking, canoeing, and other water sports are leading activities in this area. 
So, in this article, we'll be exploring the famous incredible lakes in Northern Michigan and why you have plenty of reasons to take a trip to this region of the United States!
Lake Michigan
Lake Michigan is the only one of the five Great Lakes of North America that is located wholly within the borders of the United States. It is the second-largest Great Lake by volume and the third-largest by surface area in the United States. With sparkling waters, numerous off-white sandy beaches, large dune formations, and scenic breathtaking views, this lake is a sight to behold. There are also numerous beautiful islands and parks located on the shores of the lake or within the lake. Many fun-lovers visit Lake Michigan to explore recreational water sports such as sailing, yachting, sea kayaking, diving, and lake surfing.
Lake Huron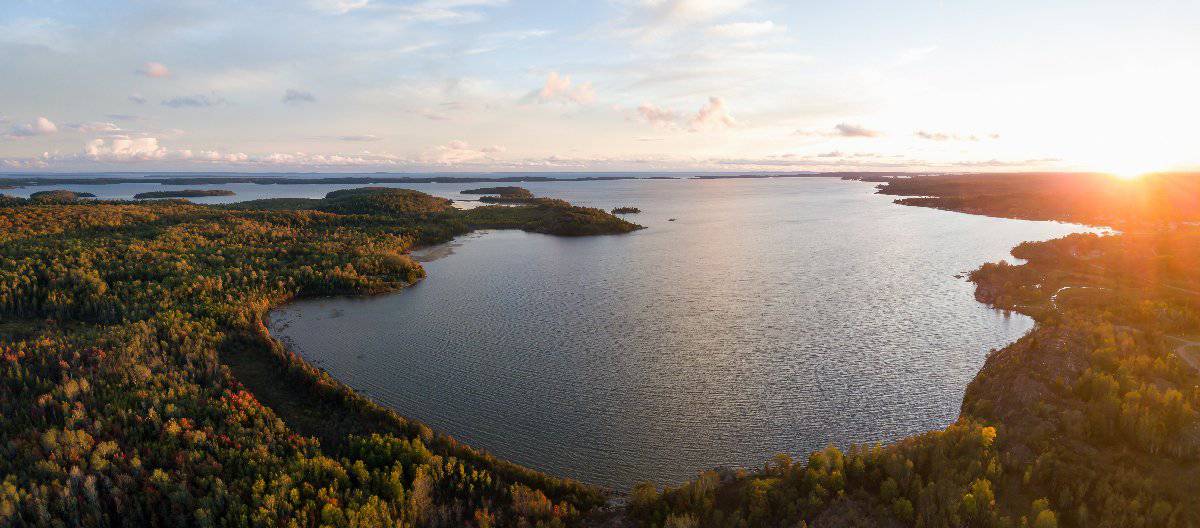 Known for its clear crystal waters, gorgeous shoreline sunrises, and white-sand beaches, Lake Huron is considered one of the most beautiful lakes in Northern Michigan. Of any of the Great Lakes, Lake Huron has the largest shoreline length, housing over 30,000 islands! It is the second-largest of the Great Lakes with a depth of over 300 feet. It is no surprise that it was nicknamed "La Mer Douche" meaning the "freshwater sea." The pristine turquoise waters of Lake Huron are an incredible sight!
Lake Superior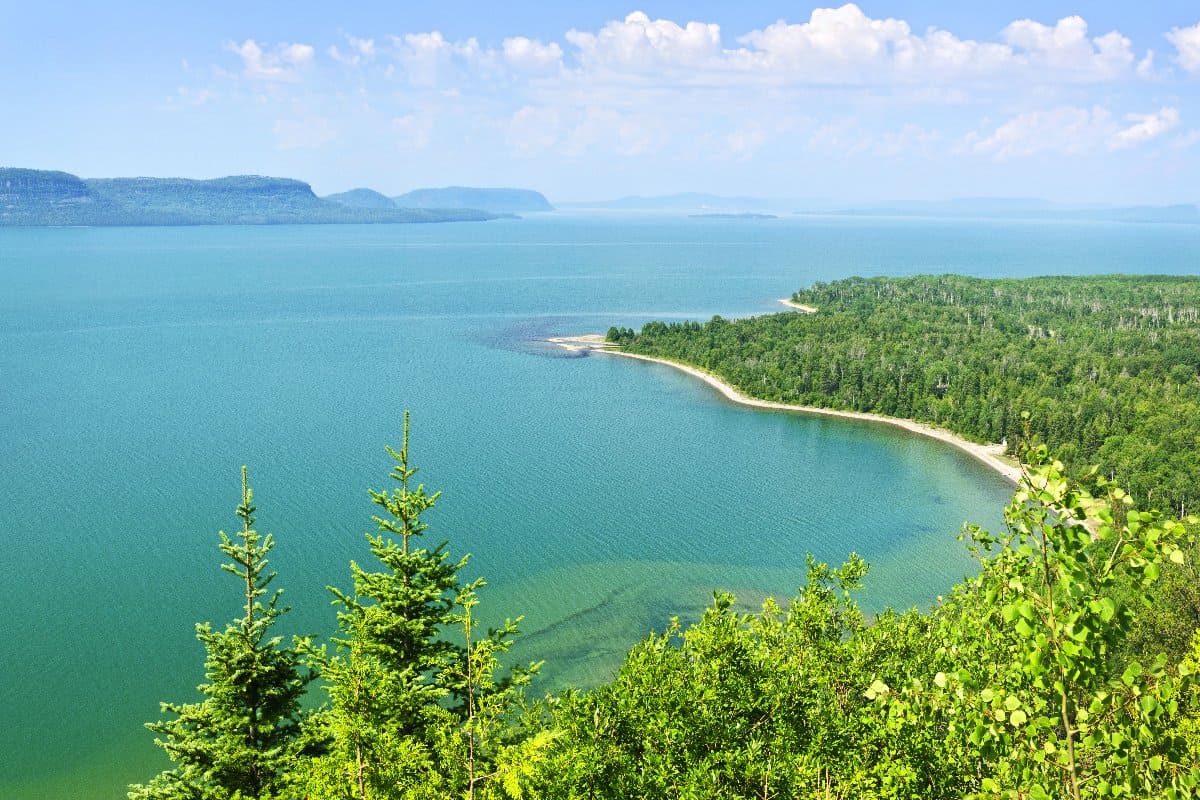 It's almost impossible to talk about the incredible lakes in Northern Michigan without mentioning Lake Superior — one of the world's largest bodies of water. Lake Superior is the largest of the Great Lakes in North America. It houses more than 80 species of fish, making it a top spot for fishing. Besides fishing, it is also known for camping, diving, hiking, and kayaking. There are numerous sea caves, sandstone cliffs, breathtaking waterfalls, and iconic lighthouses dotting Lake Superior, which is what makes it an attractive tourist spot. Exploring the scenic and rugged beauty of Lake Superior promises to be a truly memorable experience.
Lake Erie
Lake Erie, also one of the Great Lakes, is located to the south of Detroit at the border of Michigan. Because the fish population in Lake Erie is the most abundant of the Great Lakes, it is famous for being a great spot for fishing, especially for the popular Lake Erie walleye fish. Lake Erie has a lot of easy passages, making it one of the most accessible freshwater lakes for recreational outdoor activities in Northern Michigan. With many national and local parks, including the Lake Erie Metropark which provides the perfect opportunities for golfers and swimmers, Lake Erie is a lake with many hidden gems.  
Torch Lake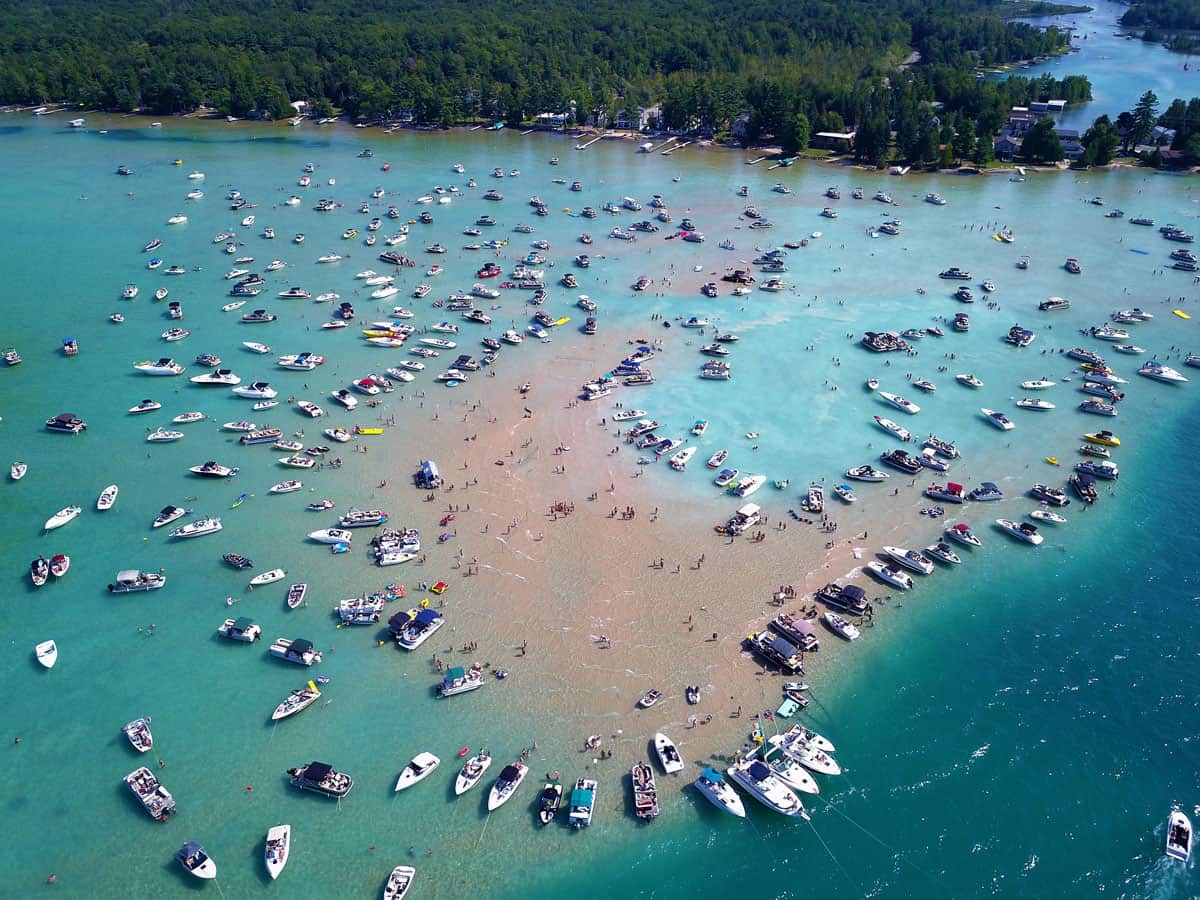 This is Michigan's second-largest inland lake. Measuring about 19 miles long and 285 feet deep, it is the longest and deepest inland lake in Northern Michigan. The lake is particularly popular for being  a nature lover's paradise; perfect for fishing, kayaking, diving, hiking, canoeing, and lounging around. With its bright turquoise waters, long white sandbars, and its overall scenic beauty, it is often likened to the Caribbean waters. Not surprisingly, the Torch Lake was named the most beautiful lake in the world by National Geographic.
Elk Lake
Located near the town of Elk Rapids in Northern Michigan, Elk Lake is among the most popular of the Cascade Lakes. Reaching a depth of about 193 feet, it is the second deepest inland lake in Northern Michigan, behind Torch Lake. Elk Lake made our list of incredible lakes for its pristine clear waters and active watersports and fishing activities (especially trout fishing). The lake provides many forms of recreation such as water skiing, sailing, kayaking, and ice-boating in the winter. Most people looking for a quieter and calmer lake experience in Northern Michigan consider it the best place to visit.
Lake Charlevoix
With 56 miles of shoreline, Lake Charlevoix is one of the biggest inland lakes in Northern Michigan. It is outstanding and well-loved for its profound sparkling waters, white-sand beaches, and abundant recreational opportunities, including but not limited to kayaking, swimming, fishing, diving, boating, and sailing. It is also located close to Charlevoix town where you can go to relax or eat after spending time in the water. This is one of the largest and most stunning lakes in the entire state of Michigan. It is said that it will take about 60 miles to kayak the entire shoreline of Lake Charlevoix!
Houghton Lake
This is the largest inland lake in Michigan and one of the largest natural inland lakes in the United States. Covering approximately 10 miles north to south, Houghton Lake is an extremely popular resort and fishing area year-round. It is popularly known as the site of Tip-Up-Town USA, a large ice fishing and winter sports festival in the country. Several other events happen on the frozen waters of the lake itself. Covering a surface area of over 20,044 acres, we consider Houghton lake to be one of the most incredible lakes in Northern Michigan.
Big Glen Lake
This is a massive lake located in Leelanau County, near Lake Michigan. Together with its sister lake, Little Glen Lake, they make up about 6,000 acres of water. The rolling dunes, dense forest, and crystal clear waters make this lake such a fantastic lake for kayaking, swimming, and relaxing. Even more, you can climb the Alligator Hill trail to see breathtaking views of the lake, and also of Lake Michigan.
Lake St. Clair
The last but certainly not the least is Lake St. Clair, one of the best lakes for boating in Michigan. There are multiple beaches along this lake, with clear water and sandy bottom bordered by nice shade trees and grass. Similarly, there are many sailing and boating clubs along the shores. Aside from these, Lake St Clair is also a popular freshwater lake for outdoor recreation and sports fishing. It is a fascinating family-friendly lake for a fulfilling lakeside relaxation and adventure. 
More from A-Z Animals