↓
Continue Reading To See This Amazing Video
Maryland boasts over one hundred lakes which all share one specific feature; they're all man-made! This does not detract from the beauty, outdoor recreational, or wildlife viewing opportunities available in and around the lakes and reservoirs of the state. In addition, many of the state's lakes and reservoirs don't permit gas-powered motors creating a very relaxing and quiet environment.
The state's largest body of water – Prettyboy Reservoir – is the source of water for millions of Baltimore residents. Liberty Reservoir was initially created to serve Baltimore as well and still does today, to a degree. Both lakes provide extensive outdoor recreational activities and amenities for fishing, camping, hunting, and birdwatching. 
Lake Bernard Frank has a dedicated viewing area for birds and huge sunfish can be pulled from Lake Habeeb. Hunting Creek Lake has an ADA-accessible pier and trail and Lake Artemesia has an inland aquatic habitat that's known for fantastic birdwatching. Maryland sports an assortment of diverse bodies of water with many being extremely peaceful and serene, perfect for hiking, fishing, birding, and just good old relaxing.
1. Deep Creek Lake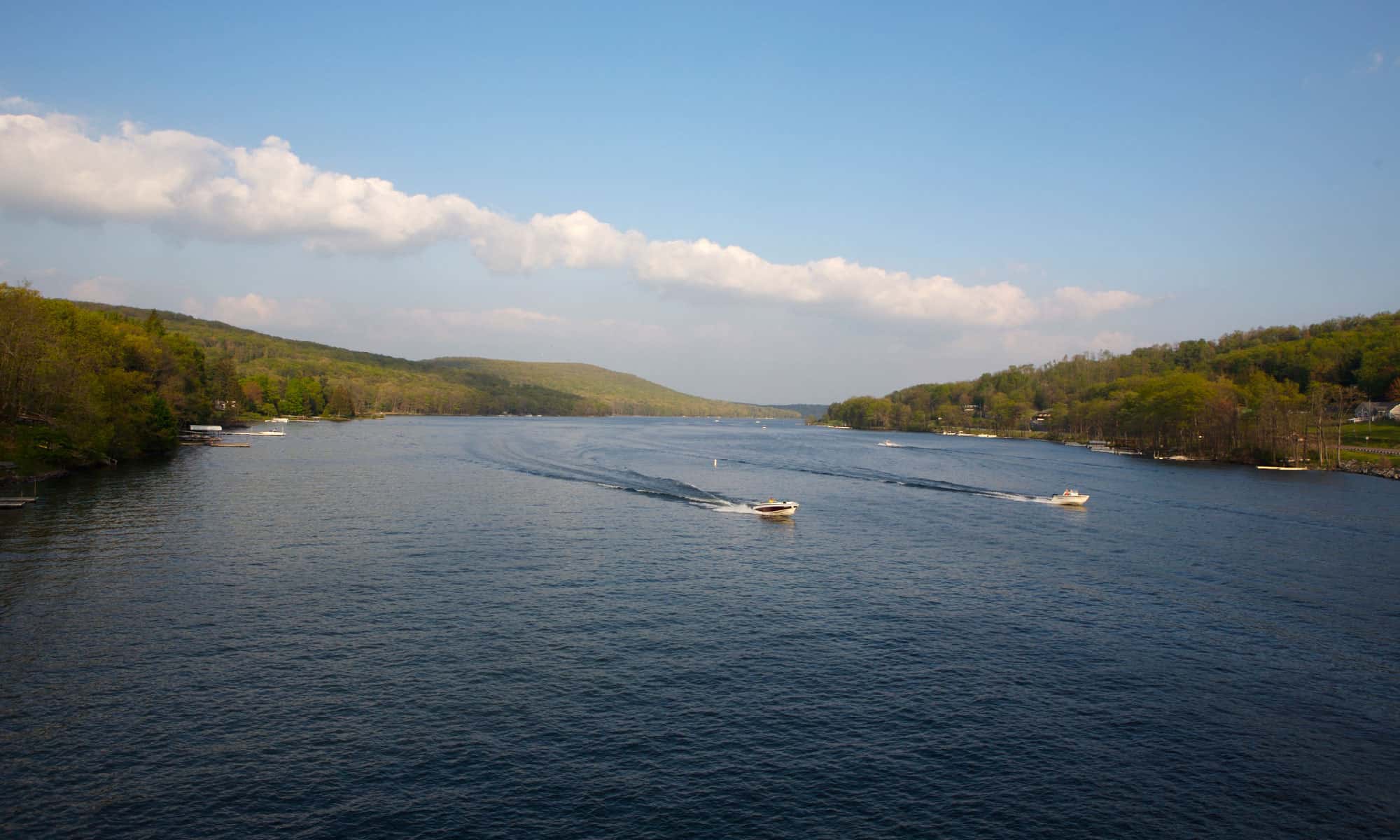 ● Surface Area: 3,900 acres
● Max Depth: 75 Feet
● Camping/Overnight Available: Yes
● Boating/Docks Available: Yes
● Swimming Permitted: Yes
● Fishing Permitted: Yes
● Best For: Ice Fishing, The Discovery Center, Deep Creek Lake State Park, Free Birds of Prey Aviary Tours
Seated atop a high plateau in the Allegheny Highlands, Deep Creek Lake offers year-round recreation and vacation opportunities in a beautiful, natural setting. Canoeing, kayaking, hiking, swimming, picnicking, skiing, bird watching, and fishing draw thousands of visitors annually. Deep Creek Lake is ideally located for weekend getaways from Baltimore, Washington D.C, Pittsburgh, Cleveland, and Columbus. 
Deep Creek Lake State Park has over one hundred miles of trails, and one hundred and twelve camping spots. It also houses a six-thousand-square-foot Discovery Center with self-guided tourism and other scheduled events and activities for kids of all ages. The center's aviary is home to various rescued raptors including osprey and eagles who are introduced to the public in the afternoons.
The lake is stocked annually with trout, bass, yellow perch, and walleye.  Deep Creek Lake is Maryland's most popular ice fishing destination. Bluegill, walleye and yellow perch, largemouth bass, crappie, and trophy northern pike are caught through ice holes during the winter months.
2. Liberty Reservoir
● Surface Area: 3,100 acres
● Max Depth: 144 Feet
● Camping/Overnight Available: No
● Boating/Docks Available: Yes
● Swimming Permitted: No
● Fishing Permitted: Yes
● Best For: Diverse Fish Population, Trophy Size Crappie & Bass Fishing, Baltimore Water Source
Liberty Reservoir was created in the 1950s to provide the city of Baltimore with water. The small town of Oakland Mill once stood where the lake rests today. Homes, farms, and businesses of Oakland Mill were bought out by the city dammed the north branch of the Patapsco River, and flooded the area to create the reservoir.
The reservoir still serves as one of Baltimore's watersheds but it's now also open to a vast array of outdoor recreational activities including biking, boating, hiking, fishing, birdwatching, and picnicking. Boats are allowed if propelled by an electric motor, rowing, or paddling; there are no gas motors permitted on Liberty Reservoir. Boaters should note that a seasonal permit issued by the City of Baltimore is also required prior to launching any watercraft.
Liberty Reservoir has a healthy fish management program for warm, cool, and cold-water fish species. Common fish caught at the reservoir include largemouth bass, smallmouth bass, bluegill, crappie, walleye, and white perch; the white crappie and bass often reach trophy size! Striped bass was stocked in the early 1980s and have been reproducing naturally since 1986, with some now in the forty-pound range. 
3. Lake Habeeb
● Surface Area: 243 acres
● Max Depth: 74 Feet
● Camping/Overnight Available: Yes
● Boating/Docks Available: Yes
● Swimming Permitted: Yes
● Fishing Permitted: Yes
● Best For: Trout fishing, Trophy Sized Sunfish, Rocky Gap Casino Resort
Lake Habeeb is the jewel of Rocky Gap State Park, encompassing over three thousand acres of public land in rugged mountains for visitors to explore. Rocky Gap Run winds its way through a majestic mile-long gap cutting through sheer cliffs and a hemlock forest dense with rhododendron. Camping, hiking, swimming, fishing, gambling, golf, and kayaking are all popular activities at the lake. 
Visitors can stay in one of the two hundred and forty-three campsites, cabins, yurts, or the Rocky Gap Casino Resort on the east side of Lake Habeeb. Paddleboards, kayaks, and canoes are available to rent from spring to fall for sightseeing, birdwatching, and fishing. Hiking trails provide anglers complete access to the lake's nine miles of shoreline. 
The lake is generously stocked with trout multiple times a year. Sharp drop-offs, shallow flats, and points create a wealth of different fishing opportunities around the lake. Other commonly caught fish include largemouth bass, trophy-sized sunfish, redear, redbreast, bluegill, channel catfish, crappie, and pumpkinseed. 
4. Hunting Creek Lake
● Surface Area: 75 acres
● Max Depth: 31 Feet
● Camping/Overnight Available: Yes
● Boating/Docks Available: Yes
● Swimming Permitted: Yes
● Fishing Permitted: Yes
● Best For: Cunningham Falls State Park, Catoctin Mountains, ADA-Accessible Trail, Maryland's Highest Cascading Waterfall, ADA-Accessible Fishing Pier
Hunting Creek Lake is located in Cunningham Falls State Park in the Catoctin Mountains. The lake is part of a six-thousand-acre wilderness area that's crisscrossed by numerous trails for visitors to hike, birdwatch, and explore. The state's highest cascading waterfall is a short walk from the lake, with two trail options provided, one being wheelchair accessible!
The lake offers guarded swimming, a sandy beach, a launch for small boats, and is also known for excellent trout fishing. Fish species common to Hunting Creek Lake include bass, bluegill, crappie, and huge redear sunfish. A concrete boat ramp and ADA-accessible fishing pier are available at the lake's upper end, accessible through Catoctin Hollow Road.
There are thirty-three electric camping sites, one hundred and six non-electric campsites, and eight camping cabins at William Houck Area Campground; on the southwest end of the lake. The campground is very popular and known to fill up quickly so it's a good idea to make reservations, sites and cabins are frequently booked weeks or even months in advance. In the summer months, canoes and rowboats are also available to lake guests for rent.
5. Lake Bernard Frank
● Surface Area: 54 acres
● Max Depth: 26 Feet
● Camping/Overnight Available: No
● Boating/Docks Available: No
● Swimming Permitted: No
● Fishing Permitted: Yes
● Best For: Undeveloped Lake & Shoreline, Relaxed Atmosphere, Named After Wilderness Activist Bernard Frank
Lake Bernard Frank was originally built in 1966 for recreational purposes and flood control; known as Lake Norbeck at the time. It was later renamed after wilderness activist Bernard Frank who was one of the original founding members of The Wilderness Society. The secluded lake is located within Rock Creek Regional Park with the closest parking being about a quarter of a mile away. 
The lake is sought after by anglers looking for a relaxed, quiet fishing experience because there is no swimming, boating, or ice skating permitted. Common fish species targeted at the lake include largemouth bass, bluegill, and white crappie. Don't forget you have to walk to this lake and carry your gear in!
The Lake Frank & Meadowside Trails weave around Lake Bernard Frank, making it a highly favorable hiking spot. Muncaster Mill Trail, located on the north side of the lake is home to permanently injured, non-releasable raptors. Visitors can view the birds at the Meadowside Nature Center's Raptor Deck.
6. Greenbrier Lake
● Surface Area: 42 acres
● Max Depth: 34 Feet
● Camping/Overnight Available: Yes
● Boating/Docks Available: Yes
● Swimming Permitted: Yes
● Fishing Permitted: Yes
● Best For: Crystal Clear Water, White Sandy Swimming Beach, ADA-Accessible Amenities 
Located within the Appalachian Mountains in Western Maryland, Greenbrier Lake is one of the few lakes in the state swimming is permitted and is widely popular due to its white sandy beach and crystal clear waters. Visitors are advised to arrive early on hot summer days, especially on weekends, as the park often reaches full capacity quickly and entry may be delayed. The Visitors Center, some of the campsites, and the picnic areas are all ADA-compliant; there's even a wheelchair-accessible beach!
Greenbrier Lake State park has eleven miles of trails, including a portion of the Appalachian Trail, winding through multiple habitats on both sides of the lake. Most of the trails are hilly and rocky, rated moderate to strenuous, so come prepared with proper gear, clothing, footwear, and hydration. Bird lovers will enjoy seeing some of the park's one hundred and sixty-two species of birds, both on the lake and in the surrounding forests.
Bass anglers love Greenbrier Lake, with catches reported up to eight pounds! Trout are stocked but tend to become a food source for the massive bass. Bluegill and crappie are frequent catches from the shoreline, you have to hike out on some of the trails in order to fish from shore. 
7. Lake Artemesia
● Surface Area: 38 acres
● Max Depth: 15 Feet
● Camping/Overnight Available: No
● Boating/Docks Available: No
● Swimming Permitted: No
● Fishing Permitted: Yes
● Best For: Easy Walking Trails, Numerous Bird Species, Favorite DC Birdwatching Spot
Lake Artemesia is located in the center of Lake Artemesia Natural Area in College Park and Berwyn Heights, Prince George's County in Maryland. The lake features aquatic gardens, fishing piers, and trails for nature walks, birdwatching, hiking, and biking. The lake was built as part of the Washington Metro Green Line construction to repair the excavation damage from construction sourcing materials. 
The lake is a favorite bird-watching spot in the DC suburban area. It has an inland aquatic habitat with a small meadow containing pollinator plants and shrubs providing a home to many different bird species. Some of the birds commonly spotted at Lake Artemesia include indigo bunting, Baltimore oriole, blue grosbeak, orchard oriole, willow flycatcher, warblers, vireos, and thrushes.
No personal watercraft or swimming is allowed in Lake Artemesia making it ideal for anglers looking for a peaceful and quiet afternoon of fishing. Visitors can fish from the pier for species stocked in the lake including largemouth bass, rainbow trout, and bluegill. Lake Artemesia has an unusual ability to draw in waterfowl usually associated with larger bodies of water or saltwater, such as common goldeneye, long-tailed duck, canvasback, and redhead.
8. Blairs Valley Lake
● Surface Area: 32 acres
● Max Depth: 18 Feet
● Camping/Overnight Available: No
● Boating/Docks Available: Yes
● Swimming Permitted: No
● Fishing Permitted: Yes
● Best For: Bass, Bluegill & Tiger Muskie Fishing, Diverse Bird Species Population, Small Boat & Kayak Fishing, Free Boat Ramp & Parking
Located inside the Indian Springs Wildlife Management Area, Blairs Valley Lake is a small but popular lake managed by DNR. As with many lakes in the state, no gas motors are permitted, so many anglers fish from the banks, kayaks, rowboats, or canoes. A free boat ramp and parking lot are available for Blairs Valley Lake visitors.
Blairs Valley Lake is primarily a warm water fishery for bluegill, largemouth bass, and tiger muskie. In addition to the stocked species, anglers may also catch yellow perch, black crappie, carp, redear sunfish, and brown bullhead. Due to the lake's phytoplankton blooms, fishing is better in the fall, winter, and spring. 
Indian Springs is home to over one hundred and thirty-five species of birds, including many water birds who use the lake year-round and during migration. Visitors can access a large wetland field and wooded swamp area west of Blair's Valley Road in late winter to see the American Woodcock perform their intricate courtship flights. Other breeding birds in the area include indigo bunting, blue-winged warbler, yellow-breasted chat, and scarlet tanager.
9. Lake Kittamaqundi
● Surface Area: 27 acres
● Max Depth: 7 Feet
● Camping/Overnight Available: No
● Boating/Docks Available: Yes
● Swimming Permitted: No
● Fishing Permitted: Yes
● Best For: Relaxing Atmosphere, Walking Trail, Birdwatching, Fourth Of July Celebration, Nomanizan Island
Lake Kittamaqundi is located in central Maryland to the west of Baltimore. The lake is named after the first documented Native American settlement in Howard County. The word "Kittamaqundi" is said to translate to "Great Beaver Place" or "Strong Bear" with other sources translating to "meeting place." 
Birdwatching is popular at Lake Kittamaqundi where woodpeckers, northern cardinals, swans, kingfishers, and orioles are commonly seen along the one-and-a-half-mile loop trail around the water. There is a small island named Nomanizan Island, located within the middle of Lake Kittamaqund, that is accessible only by boat. The island is a popular gathering spot for many summer festivals including the annual Fourth of July fireworks celebration.
Shore fishing is popular at Lake Kittamaqundi. There also is a wooden pier where anglers catch bluegill, largemouth bass, pumpkinseed, and crappie. The lake provides a boathouse and boat ramp on the western shore to offer even greater fishing opportunities.
10. Prettyboy Reservoir
● Surface Area: 51,008 acres
● Max Depth: 128 Feet
● Camping/Overnight Available: No
● Boating/Docks Available: Yes
● Swimming Permitted: No
● Fishing Permitted: Yes
● Best For: Horseback Riding, Deep Water, Largest Lake In Maryland, Water Supply for Baltimore
Prettyboy Reservoir's primary purpose is to provide high-quality water to nearly two million people in the Baltimore Metropolitan Region. In addition to its water provision, the reservoir is also popular for fishing, hunting, horseback riding, hiking, mountain biking, kayaking, and canoeing. Staying in line with many other lakes in the state there are no gas motors permitted at Prettyboy Reservoir, creating a serene and peaceful fishing and wildlife viewing experience.
In contrast to many other lakes in Maryland, Prettyboy Reservoir has quite deep water. This creates the perfect environment for trophy-sized bass. Fish species commonly reported at Prettyboy Reservoir include largemouth bass, smallmouth bass, channel catfish, white crappie, bluegill, and yellow perch.
Prettyboy Reservoir is a favorite destination for archery hunting and the Prettyboy IBA is a phenomenal spot for birding enthusiasts. Prettyboy IBA is home to a diverse array of Forest-Interior Dwelling Species, known as FIDS. Some of the bird species you can expect to find in the area include American redstart, red-eyed vireo, bald eagle, red-headed woodpecker, barred owl, and the red-shouldered hawk.
Up Next:
More from A-Z Animals
---
The Featured Image
---