Alabama, known as the heart of the South, has a lot of farmland. But there are mountains in Alabama too. A portion of the state lies along the coastline of the Gulf of Mexico and shares a border with Florida. Alabama is best known for hot and humid summers but there are some fantastic mountains and hills to hike in the summer for relief from the heat. Whether you are looking for a great place for a family vacation or a place where you can do some hiking and camping on your own Alabama has some mountains that you should explore.
10 Mountains In Alabama
Alabama is home to portions of the Talladega Mountains and the Appalachian Mountains. Some of the best mountains for hiking and camping in Alabama are:
Cheaha Mountain
Located in: Cheaha Resort State Park
Height:  2,413 feet
Nearby City:  Talladega
Known For: Cheaha Mountain is the tallest mountain in Alabama. The Civilian Conservation Corp built a stone lookout tower at the summit with an observation deck. The deck allows you to look out at scenic views over the forests and farmland below. The out and back trail to the summit is about seven miles and it's suitable for most hikers. The mild winter weather in Alabama makes this a popular hike during the winter months. The summer heat and humidity are a challenge for hikers not familiar with either one. Bring lots of water and take frequent breaks if you're hiking Cheaha Mountain between June and September. It can get up to 90 degrees in Alabama in the summer.
Monte Sano Mountain
Located in: Monte Sano State Park
Height: 1,621 feet
Nearby City:  Huntsville
Known For: Monte Sano Mountain doesn't have a very high peak. The peak appears larger than it is because the area around the base of the mountain is a valley. There are resorts and spas at the top of the mountain. The mountain was once a destination for people seeking healing and an escape from the heavy heat and humidity of Alabama. So Monte Sano is a great destination if you want to do some hiking and enjoy a relaxing spa vacation. Monte Sano State Park is home to one of the largest urban nature preserves in the country. There is also a lot of wildlife living in the park.
Lookout Mountain
Located in: Appalachian Mountains
Height: 2,388 feet
Nearby City:  Mentone
Known For: Lookout Mountain sits along the Alabama border and offers views into three states: Alabama, Georgia, and Tennessee. Driving on the Lookout Mountain Scenic Parkway takes you close enough to the mountain to pickup hiking trails leading to the summit. Or, just drive and stop at area lookouts. Travel through some of the picture perfect small Southern towns, like Fort Payne, while viewing some of the prettiest country in Alabama. Stop to see Noccalula Falls Park and its 90 foot waterfall along with the recreation of a pioneer village there. You can also take the Lookout Mountain Parkway through Georgia and Tennessee as well as Alabama.
Flagpole Mountain
Located in: Appalachian Mountains
Height: 1,969 feet
Nearby City:  Jacksonville
Known For: Hiking on Flagpole Mountain is a tough trek and is only for experienced hikers. The hike up Flagpole Mountain is part of the Pinhoti Trail, a well-known difficult trail. Even though the elevation isn't high, the terrain is rough. A lot of trees and rocks with a couple of water crossings. If you're planning on hiking Flagpole Mountain in the summer, prepare for the summer heat. Make sure that you bring water. The temperatures on the mountain will be a little cooler than in the surrounding areas but not that much. You should also rest frequently. The trail is a rough one and in the heat it can really take a physical toll on your body.
Keel Mountain
Located in: Keel Mountain Preserve
Height: 1,558 feet
Nearby City:  Huntsville
Known For: Keel Mountain is in the verdant Cumberland Plateau area of Alabama. Views from the top of the mountain will look more expansive than they are because of the valley below. Hickory, oak, and cedar trees fill this mountain and preserve. Between the limestone bluffs and the forests, you'll enjoy the stunning mountain meadows on the way to the summit.
The best trail to take to take to get the summit of Keel Mountain is the Lost Sink Trail. The Lost Sink Trail takes you right by one of the most recognizable features on the mountain, an accidental waterfall emptying into a sinkhole. This is the "lost sink" of The Lost Sink Trail.
 Keep an eye out for some Morefield's leather flower. This is an endangered plant that you can only find in a few areas near Huntsville, including Keel Mountain.
Horn Mountain
Located in: Talladega National Forest
Height: 1,923 feet
Nearby City:  Millerville
Known For: Horn Mountain is another mountain in Alabama that lies along the Pinhoti Trail. Horn Mountain has a low elevation, making it an easier mountain to hike than some of the other Alabama mountains. If you're planning a hike to the peak of Horn Mountain follow the signs for the Pinhoti Trail. Prepare yourself for a long hike. You will need a couple days to hike the 18 miles of trail and get to the summit. Horn Mountain boasts of a great trail and birding opportunities. Despite this, you will rarely find a crowd, even during the busiest times.
Gunters Mountain
Located in: Cumberland Plateau
Height: 1,381 feet
Nearby City:  Guntersville
Known For: Like a few of the other mountains in Alabama, Gunters Mountain is a plateau. The small town of Guntersville is actually located right on the mountain's plateau peak. Gunters Mountain is along the edge of the Cumberland Plateau. It creates a natural border between the plateau and the Tennessee River. Gunters Mountain is only about 10 miles from Keel Mountain so you can easily hike both in one day. This mountain is located in one of the prettiest sections of Alabama. It's a great family hike because you can complete the hike in sections and drop off whenever it's too much.
Oakey Mountain
Located in: Talladega National Forest
Height: 1,939 feet
Nearby City:  Piedemont
Known For: Oakey Mountain is another stop on the Pinhoti Trail. The trail is the long distance hiking trail that winds through Alabama to Georgia. Oakey Mountain has a great shelter near the summit. If you're tackling a long distance trail, the Oakey Mountain shelter is a great stop on the way to Georgia. This mountain is really more of a large hill with long open stretches of dirt road. It's easy for hiking, and you can also ride bikes and horses on the dirt roads that cross the mountain. Prepare to see a lot of deer when hiking in the early morning. Be mindful of horseback riders and their space. Please try not to spook the horses when you pass.
Morton Hill 
Located in: Mountain Longleaf National Wildlife Refuge
Height: 2,064 feet
Nearby City:  Anniston
Known For: Morton Hill is a hill with a large summit. This mountain is set on the former training ground at Fort McClellan Army base, now the Mountain Longleaf National Wildlife Refuge. The Refuge consists of over 7000 acres of forests, hills, and mountains. The Refuge was created to preserve the local ecosystem and habitats of the deer, prairie dogs, rabbits, and other animals that live in that area. It's also a very popular spot for hiking and camping. Many people go to Morton Hill to hike specifically to see the wide variety of wildlife that live inside the preserve. If you're hiking Morton Hill always be careful to not damage the ecosystem. Take all of your trash with you and don't cause any damage while you're there.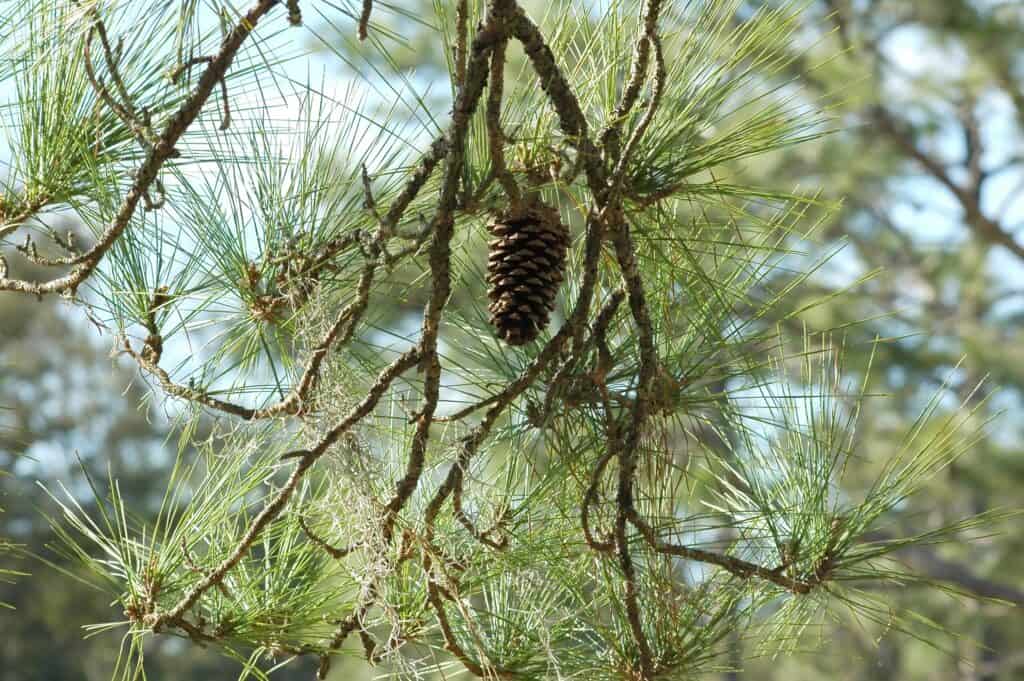 Big Oak Mountain
Located in: Oak Mountain State Park
Height: 2,008 feet
Nearby City:  Birmingham
Known For:  Big Oak Mountain and Oak Mountain State Park are both very popular hiking and outdoor adventure locations in Alabama. Because Oak Mountain State Park is just 20 miles from Birmingham it's a great place to take the family for a day hike or just to spend some time enjoying the outdoors. Hiking to the summit of Big Oak Mountain will lead you up gentle inclines and take you through hardwood forests and serene mountain plateau lakes surrounded by granite cliffs.
If you are an experienced hiker the hike to the summit of Big Oak Mountain is a great way to relax before you challenge one of the tougher mountains in Alabama. And if you're not very experienced at hiking or you have kids with you there are also easy trails that let you experience the stunning beauty of Big Oak Mountain without a lot of effort.
10 Tallest Mountains In Alabama
Cheaha Mountain
Morton Hill
Oak Mountain
Flagpole Mountain
Fox Mountain
Oakey Mountain
Horn Mountain
Weisner Mountain
Burgess Point
Johnson Top
Highest Point In Alabama
Cheaha Mountain -2,413 feet
Up Next
More from A-Z Animals
---
The Featured Image
---