Utah is known for having some of the most beautifully rugged landscape in the United States. There are mountains in Utah along with deserts and awe-inspiring natural caverns and rock formations that were carved by glaciers hundreds of thousands of years ago. Utah is the ancestral home of several different Native American tribes. It's also the home of Mormonism in the United States.
The found of Mormonism Joseph Smith led his followers to Utah and Utah is still considered to be the heart of the Mormon religion. There are also a lot of different types of native wildlife in Utah. From snakes and lizards to bighorn sheep and white tailed jackrabbits when you're in Utah you are sure to see some amazing animals.
10 Mountains In Utah
One of the best things that Utah has, besides the amazing mountains in Utah, are five national parks. Zion National Park and the other four national parks in Utah are fantastic places for camping, rock climbing, hiking, fishing, and exploring. If you are an outdoor enthusiast and you haven't visited Utah make sure that you visit Utah's national parks and visit these mountains in Utah:
Kings Peak
Located in: Ashley National Forest
Height: 13,534 feet
Nearby City: Duchesne
Known For: King's Peak is the tallest mountain in Utah. It's also one of the most popular hiking destinations in the state. The Ashley National Forest where King's Peak is located is less than two hours from Salt Lake City, the capital of Utah. Outdoor lovers come from the capital and from the rest of the country to enjoy the rugged wilderness of King's Peak. The area around the mountain is full of easy flat trails that are great for families who are hiking with children.
Families can also hike up King's Peak by taking the easy path that slopes up the southern side of the mountain. But, if you're taking the easy path plan on camping for several days on the trail because it's a 30 mile loop trail the summit and back. Even though this trail can be a long trek it's been named one of the most beautiful hiking trails in the U.S. by National Geographic. You will likely see a huge variety of birds and wildlife as you hike.
There is also a difficult path for experienced rock climbers and a medium difficulty path for people who aren't quite ready for a difficult rock scramble.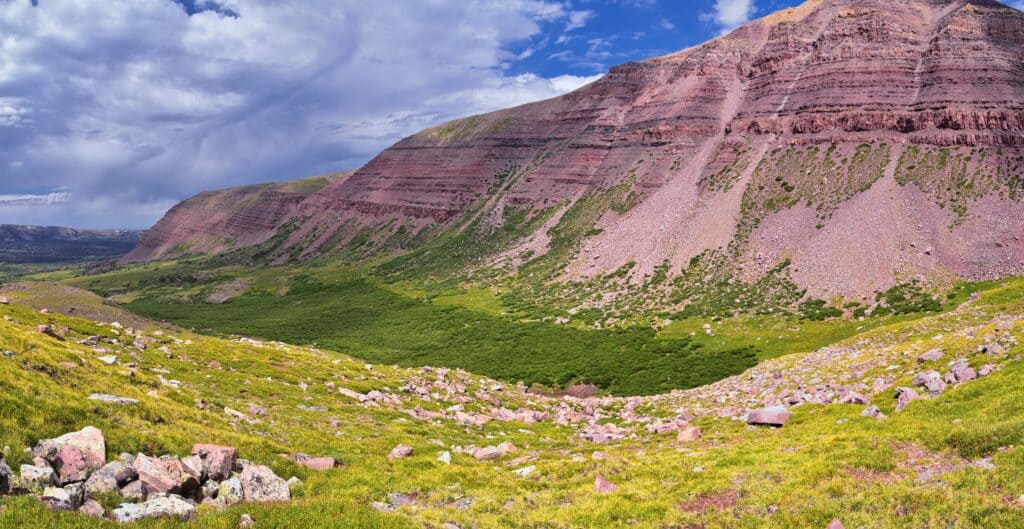 Mount Timpanogos
Located in: Uinta-Wasatch-Cache National Forest
Height: 11,753 feet
Nearby City: Orem
Known For: Mount Timp, as most of the people in Utah call this mountain, is another extremely popular mountain with hikers. It's face has sheer sides but you can hike practically to the very top of the summit most of the year. During the winter snow can make the summit inaccessible. Hikers also need to be careful to avoid avalanches in the winter and spring when the snow melts.
You can see Mount Timp dominating the skyline from popular cities like Provo and Orem. This mountain is one of the tallest mountains in Utah and rises straight out of the valley below.
Mount Timp is the home of the only actual glacier in Utah. Even though it's a small glacier it's still a spectacular thing to see. Many of the hikers that ascend to the summit go down the mountain using a glacier trail that will get hikers to the bottom faster than the main trail that is used to get to the summit.
Bountiful Peak
Located in: Northern Wasatch Mountains
Height: 9,259 feet
Nearby City: Centerville
Known For: Bountiful Peak is a very unique mountain. The summit is rounded and crescent shaped almost the shape of a kidney shaped swimming pool. One of the very first Mormon settlements in Utah was in the foothills of Bountiful Peak. And the mountain was named for a mountain in the Book of Mormon.
It's difficult to hike on the east side of this mountain because the face is very sheer and it's got a lot of steep drop-offs. On the west side there are several canyons that are popular for hiking. On the northeast side is the beautiful Farmington Lake. Hiking to Farmington Lake is a great day hike. There is a road that goes almost all the way to the summit of Bountiful Peak but many people prefer to hike the trail that starts down in the Farmington Valley and ascend Bountiful Peak that way up to Farmington Lake.
Deseret Peak
Located in: Deseret Peak Wilderness Area
Height: 11,031 feet
Nearby City: Grantsville
Known For: Deseret Peak is on the list of the tallest mountains in Utah. It's a well-known hiking destination among serious hikers but you won't find a lot of tourists there. If you like hiking the "ultra" mountains in the contiguous United States you'll definitely want to hike Deseret Peak. It's not an easy hike though. The landscape is very rugged and almost barren. You'll find mostly desert foliage like sagebrush and grass, various firs, juniper, and aspen. You'll also run into a lot of snakes. There are eight different types of rattlesnakes in Utah so you should always keep an eye on the ground when you're hiking the mountains in Utah.
Experienced hikers who want a challenge can use the Twin Coulairs ski trail to reach the summit of Deseret Peak. If you prefer the slow and scenic route the best trail to take is the Pocket Fork and Dry Lakes Fork trails out and back. The South Willow Creek is another good scenic option.
Navajo Mountain
Located in: Navajo Nation
Height: 10,388 feet
Nearby City: Navajo Nation
Known For: This mountain rises directly above Lake Powell in southeastern Utah. Navajo Mountain is widely regarded as one of the most beautiful mountains in Utah. However, it's located on the Navajo Nation and there is no hiking access. It's considered a sacred space by the Navajo tribe and so they don't allow hiking on the mountain itself but you can see parts of the mountain if you take a guided tour offered through the Navajo Reservation. It's definitely worth the trip to take the tour and see this sacred mountain.
If you are taking a tour guided by members of the Navajo Nation you can also take a boat trip around Lake Powell where you can see more of the mountain and hike the one mile Rainbow Bridge Trail that will take you to the world's tallest natural bridge.
Delano Peak
Located in: Fishlake National Forest
Height: 12,174 feet
Nearby City: Beaver
Known For: Unlike many of the mountains in Utah that have rocky or craggy summits Delano Peak has grass covered ridges and a verdant green summit with gorgeous views of the peaks in the area. Even though this mountain has an elevation above 12,000 feet it's a very easy and gentle ascent which makes this a wonderful hike for beginners.
The easy four mile trail to the summit will take you through some beautiful fields of wild flowers and you will likely see some of the local wildlife like deer, rabbits, and some mountain goats. Make sure you have a camera because the mountain goats are adorable and it's amazing to see how well they can scramble on the rocky grass ridges that this mountain is known for.
Gunsight Peak
Located in: Clarkston Mountains
Height: 8,244 feet
Nearby City: Plymouth
Known For: Gunsight Peak is the highest point in the Clarkston Mountains in Utah. If you're driving on I-15 you will see Gunsight Peak dramatically towering over the highway. The mountain gets its name from a unique rock formation on the summit that looks like a gunsight. This mountain has lots of sagebrush around the base and thick fir forest all the way to the top.
It's a very popular mountain for hunting so if you're hiking in the fall during hunting season make sure that you're dressed appropriately so that you can be seen by hunters. Because of the dense forest it can be tough to stay visible. There are a couple of springs on this mountain but that's it as far as water is concerned so if you're hiking Gunsight Peak bring plenty of water with you.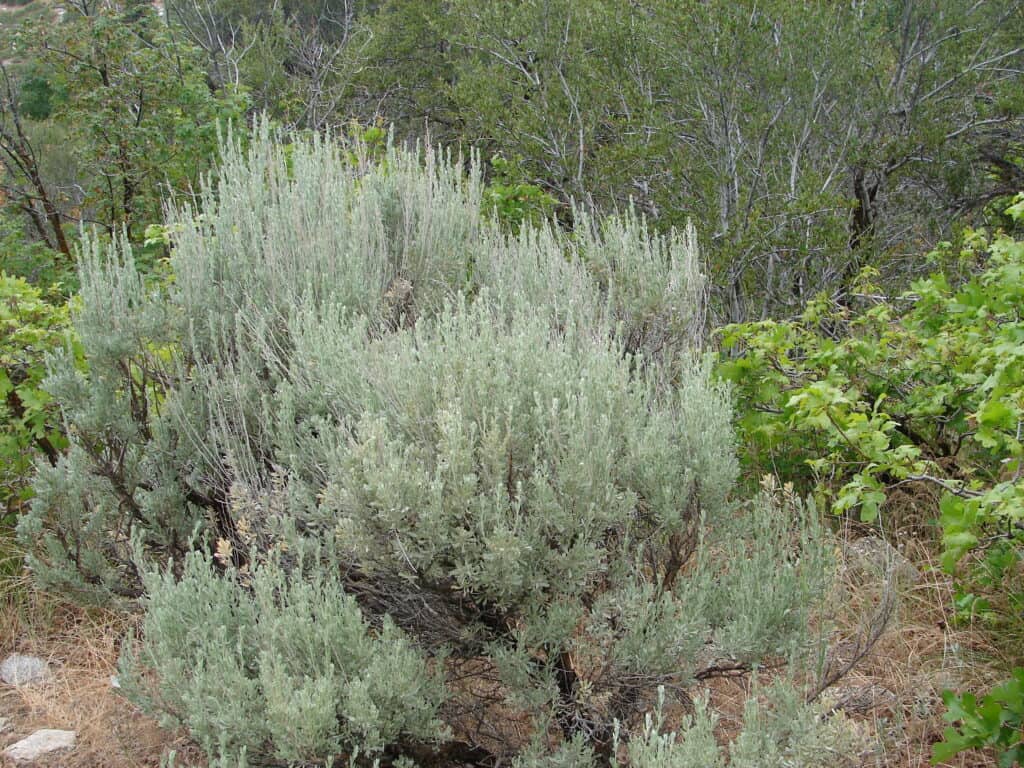 Mount Nebo
Located in: Uinta National Forest
Height: 11,933 feet
Nearby City: Provo
Known For: Mount Nebo is the southernmost mountain in Utah. Like many of the mountains in Utah it's named after a mountain mentioned in the Old Testament in the Bible. In the Bible Mount Nebo was the place where Moses died. Mount Nebo is inaccessible for about half of the year because it gets huge snowfalls from mid-October until July. However, during the late part of July through early October it's a very popular hiking destination. The trails are narrow and run along treacherous rocky ledges though which means that while the trails are safe for people to hike they're not safe for anyone to ride bikes, ATV's, or horses on the mountain.
People who enjoy the view without a strenuous hike should drive the Mount Nebo Scenic Byway, a Federally designated byway. This stunning scenic drive goes through the entire Mount Nebo Scenic Wilderness area which travels more than 9,000 feet up the mountain. Driving on the byway you can enjoy gorgeous panoramic views of Mount Nebo and the surrounding areas as well as Utah Valley and Utah Lake.
Thayne Peak
Located in: Wasatch Mountains
Height: 8,656 feet
Nearby City: Salt Lake City
Known For: Thayne Peak is very close to Salt Lake City. It is located in the Wasatch Mountains, which are right outside of and above Salt Lake City. Because of the close proximity to the capital Thayne Peak is a very popular year-round hiking destination for city dwellers and visitors to Utah. Despite the elevation Thayne Peak doesn't get huge amounts of snowfall which means it's accessible during the winter for skiiers and snowshoers and some of the trails are still accessible for hiking at lower elevations. In the spring, summer, and fall you will have a lot of company on the trails on Thayne Peak. You can walk, hike, run, or bike on Thayne Peak.
Granite Peak
Located in: Mineral Range
Height: 9,580 feet
Nearby City: Milford
Known For: Granite Peak is a fantastic destination for any mountain climber or rock climber who wants to improve their skills. This mountain is a stunning mix of rocky crags, ledges, and unique granite formations that have taken thousands of years to form. It's the ideal training ground for mountain climbers and rock climbers. You can hike and climb this mountain solo, or you can take a guide that will help you learn better rock climbing skills. Many climbers who are planning on scaling some of the mountains in Alaska or the high peaks in other countries will spend some time practicing on Granite Peak so that they will be ready to face rocky climbs on taller mountains.
Experts recommend that you hike and climb Granite Peak primarily in the fall. In the winter the snow makes a large portion of the mountain impassable and dangerous to climb. And in the summer the temperature can get very hot. If you are going to do some climbing on Granite Peak in the spring or summer dress appropriate and have lots of water with you. Be sure to take frequent breaks and protect yourself from the sun. There is not a lot of cover on this mountain and the sun can be dangerous.
10 Tallest Mountains In Utah
Kings Peak
Mount Peale
Mount Waas
Delano Peak
Ibapah Peak
Bald Mountain
Mount Nebo
South Mountain
Mount Timpanogos
Fish Lake Hightop
Highest Point In Utah
Kings Peak-13,534 feet
Up Next
The photo featured at the top of this post is © Asif Islam/Shutterstock.com
---
FAQs (Frequently Asked Questions)
What is the highest point in Utah?
Kings Peak, at 13,534 feet, is the highest point in Utah.
Where should I go hiking when staying in Salt Lake City?
Thayne Peak is very close to Salt Lake City. It is located in the Wasatch Mountains, which are right outside of and above Salt Lake City. Because of the close proximity to the capital Thayne Peak is a very popular year-round hiking destination for city dwellers and visitors to Utah.