When it comes to holidays and getaways, very few plans come close to island vacations. If you're an island-lover, it doesn't get better than white sands, enchanting clear waters, and unique marine life. Vacationing on an island also means that you get to experience a new way of life as most islands proudly exhibit the unique cultures of their people.
If you're considering a vacation to an island, we've got you covered. In this post, we'll take a look at 11 famous islands to add to your bucket list.
Maldives
Located in the Indian Ocean, Maldives certainly needs no introduction. The Maldives offers exquisite beaches and water, romantic sunsets, and life-changing meal experiences. 
Visitors to the Islands often take part in fun water activities such as kayaking, paddleboarding, and various types of surfing. Most Maldivians speak English too so you can put away your translator and prepare to have a wonderful time.
When vacationing, some animals you can expect to spot are sharks, manta rays, turtles, and various species of tropical birds.
Antigua
Antigua is a Caribbean Island located in the Lesser Antilles. It is only about 108 square miles in size and has a population of more than 80,000 people. From the shores of the island, the mangrove ecosystem can be viewed from the tops of the island's many cliffs. Despite the size of the island, it has 365 beaches for its guests. Take your pick!
Though the wildlife in Antigua is lacking, it more than makes up with the marine life that surrounds the island. On the beaches of Antigua, you could get lucky enough to spot a dolphin or a whale.
Sardinia
Sardinia Island is located in Italy and is very popular for its six-month summers. It makes the perfect spot for people looking to get away from stressful routines. The Island is known for its romantic atmosphere- it's no wonder why a lot of romance authors pick this location as their setting.
One major reason to love this vacation island is because of all the rare animals that are native to only that location. Some of these animals are Sardinian wild boar, Sardinian hare, Sardinian fox, and the Giara pony.
The Island has a lot of tourist attractions and unique archeological sites. Sardinia also has tons of gorgeous beaches, mines, and caves.
Bora Bora
Bora Bora is one of the most popular Tahiti Islands. Not only does the Island contain a host of critically endangered species, but it is also known for its unreal waters. The small Pacific Island has beaches, volcanos, mountains, and a lot of rare animals such as the green-backed heron.
The Bora Bora's mesmerizing blue hues are the result of an illusion created by the interactions of light, water, and the depths of the lagoon which are covered by enchanting white sand.
Savaii Island, Samoa
Although a lot of people have heard of Samoa, its captivating Savaii Island isn't quite as popular.  Not only does the island contain most of Samoa's plants and animals, but it is also heavily occupied by volcanic craters.
Savaii Island also has a large number of landmarks, nature parks, and exciting water activities. The island is Samoa's largest. It is a perfect destination for solo travelers and even families with young children.
Mahe, Seychelles
Located in Seychelles, Mahe Island is a tropical paradise with white, sandy beaches. The Island has a lot of tourist attractions and interesting vacation activities that take the edge off. 
For animal lovers, Mahe can prove quite a gem. The island has several animals that are native to Seychelles alone such as the Seychelles palm frog, the Seychelles paradise flycatcher, and the Seychelles Magpie Robin.
Majorca
Majorca Island embraces everything beautiful about Spain; the sun, dolphins, sea lions, culture, and music, among other tourist attractions. It is the biggest of the Balearic lands in the Mediterranean Sea, measuring 1405.45 square miles with a population of about 896,038.
Majorca Island is frequented for its mountains, sunset beaches, sheltered coves, and rare creatures. This Island is home to the 'Loggerhead' and the 'Silly' turtle, two endangered species of sea turtles. Adult Silly turtles are quite a rare sight and can weigh up to 200 kilograms (440 pounds)!
Bali
Popularly called the Land of the Gods, Bali Island has an unreal feel to its beauty. The island's large volcanoes and breathtaking sceneries are therapeutic. Its clear and lush waters have made the island famous as a surfers' paradise.
Visitors to the island can also sightsee. However, since Bali is home to some dangerous creatures such as the King Cobra and the Yellow-lipped Sea krait, be sure to have a trained guide.
Isle of Skye
If you'd like a culturally-rich experience, the Isle of Skye, located in Scotland, might be just what you need. The unique island is known for its medieval castles, warm and cozy villages, as well as its breathtaking landscapes. The Isle of Skye also has several smaller islands situated near it. They make nice detours for adventurous vacationers.
This Scottish island is perfect for sightseeing as it is home to many awesome tourist attractions such as the Fairy Pools which are inhibited by lots of rabbits, red deer, and sheep.
Bahamas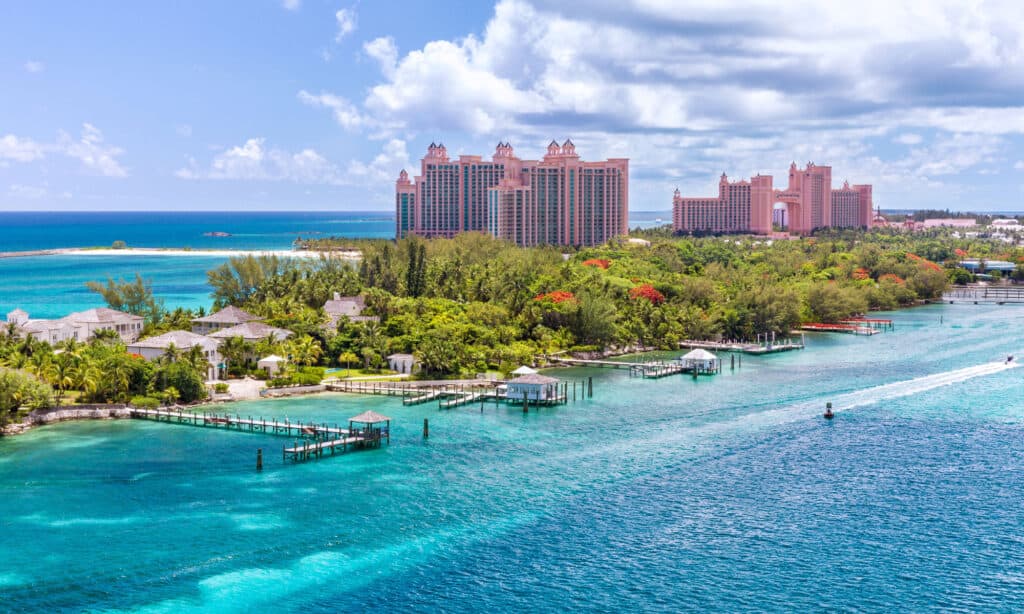 The Bahamas consists of about 700 islands, including inlets into the Atlantic Ocean, which is the second-largest ocean in the world. Since the island is visited year-round by excited tourists, there are a lot of things to do!
A lot of animal lovers go sightseeing, as the Bahamas is home to various sea animals, including sharks, crabs, starfish, etc. The island area is vast, with different terrains and tourism plans for you, alone or with family.
Barbados
Barbados, the Caribbean Island country has a population of about 28,700 people and spans 167 squares miles. The island is known for its beaches, astonishing tropical sunset, beautiful aquatic ecosystem, and rain forests. The island packs lots of fun for tourists and marine enthusiasts. 
Some of the known aquatic animals that excite tourists are the sea turtles, sea horses, and the varieties of fish. It is no wonder it is referred to as the 'Land of Flying Fish'.
---
The Featured Image
---