Despite being called "blackbirds," they are all members of the Icteridae family of common songbirds and are frequently vividly colored. They are categorized as New World Blackbirds in North America to separate them from European Blackbirds, which are members of the thrush family. Despite Texas' broad landscape and a wide variety of fauna, blackbirds are exceptionally common there.
Most blackbird species in the United States can be found in Texas, making it a fantastic place to see them. In fact, 23 of the 25 New World Blackbird species found in North America have been found in Texas. So, what are the types of blackbirds living in the Lone Star State? Below, we will explore the various blackbird species in Texas and other interesting facts.
12 Types of Blackbirds in Texas
State checklists recognize 20 of the 23 blackbirds found in Texas regularly appearing, three are classed as rare or accidental, and three are also thought to be vulnerable or near-threatened. Blackbirds are considered an agricultural nuisance because they can eat enormous seeds and grains. There is no denying that blackbirds are intriguing, whether you view them as obnoxious pests or as clever, intelligent acrobats. Here are some blackbirds you might see when visiting the Lone Star State.
1. Common Grackle
Texas natives are familiar with grackles. They blanket yards and electricity lines, emit the most repulsive noises, and occasionally damage automobiles. The smallest of the three grackle species that breed in Texas is the common grackle, frequently spotted in much of east and north Texas. Grains like corn and rice are among their preferred diets. However, in addition to these, they can eat mice, insects, spiders, fish, frogs, other birds, and even trash.
The male common grackle differs from other members of its family in Texas by having an all-black plumage, a yellow eye, and a longer but not obtrusively long tail. This medium-sized bird is larger than other blackbirds found in Texas.
2. Great-tailed Grackle
In Texas, great-tailed grackles are brazen blackbirds frequently spotted in sizable flocks. They naturally inhabit open woodlands, marshes, and chaparral, but it's also typical to see them in areas where people congregate, such as parks, farms, landfills, or backyards in residential areas. The agricultural and urban areas of the West and Midwest, which are often where people live, also have these blackbirds.
They can be seen all year round in the state and are listed in 23% of winter and 33% of summer checklists. The noises these blackbirds make are difficult to describe due to their diverse vocalizations. Insects, beetles, spiders, bees, worms, slugs, lizards, and snails are also part of their diet, along with grains, seeds, and fruit.
3. Bronzed Cowbird
Bronzed cowbirds make up 4% of summer checklists in Texas, where they spend their breeding season. Although some stay in the state all year, it is between mid-March and November that they are most frequently sighted. The brown head and shiny blue-black body of the bronzed cowbird make it immediately recognizable. Male bronzed cowbirds have crimson eyes that contrast with their black coloring and are larger and stockier than other cowbirds. They primarily reproduce in the summer months in the southern states of California and Florida. These birds, like all cowbirds, lay their eggs in other species' nests.
4. Red-winged Blackbird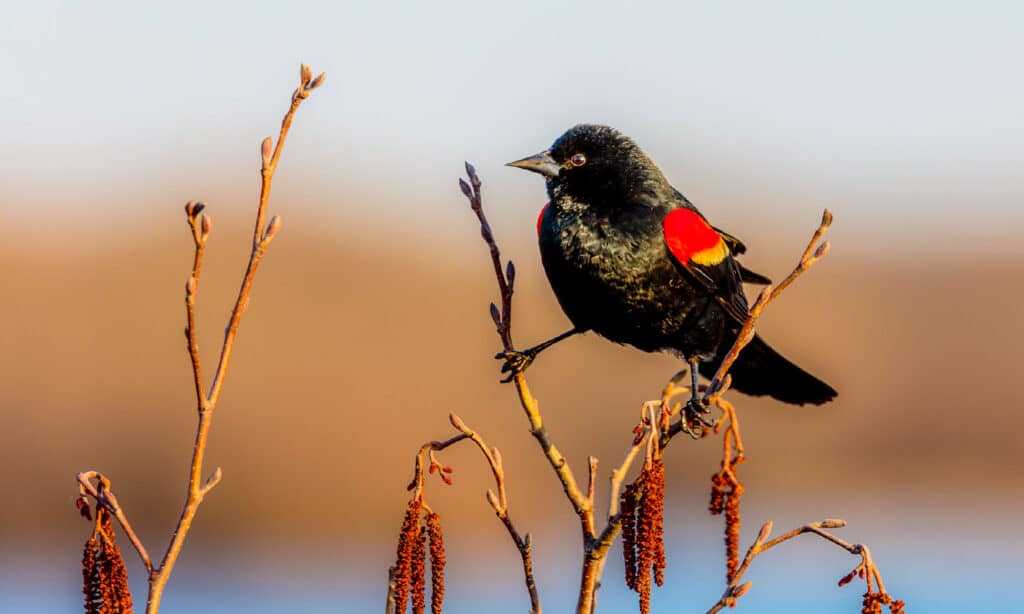 In Texas, red-winged blackbirds are the third most common blackbird to be seen in the summer and the second most throughout the winter. The only brightly colored patch on the shoulders of males is made of red and yellow. On the other hand, females are brown with thick streaks and a dash of yellow around their bill. They can be spotted in the state all year long, and 20% of summer and 22% of winter checklists reported by bird watchers in the state include them. Red-winged blackbirds spend a lot of time searching farm fields, pastures, and grasslands for habitat during the non-breeding season.
5. European Starling
European starlings are year-round residents of Texas. Even though they are not native, these starlings are currently one of the most common songbirds. Starlings are entertaining to observe and have lovely plumage when they come in small numbers. They are listed on 19% of the summer checklists and 22% of the winter checklists that the state's bird watchers submit. Sadly, when they arrive in large numbers, these hostile birds may quickly ruin an event by driving away all other birds and devouring your pricey bird food. Starlings have excellent singing voices, and these blackbirds have a reputation for mimicking other avian sounds.
6. Rusty Blackbird
The rusty blackbird is a member of the blackbird family that is becoming increasingly scarce. There appears to be a sharp fall in population. Although they are a threatened species in Texas, you can observe them here in the winter. It is difficult to study these blackbirds since they breed in Canada's far northern boreal forests, where there aren't many people to watch them in action.
The months from October to March are when rusty blackbirds are most likely to be spotted on the Upper Texas Coast. These birds breed in the forested swamps of Canada and Alaska. They enjoy marshes, swamps, pond borders, and wet woodlands as their habitats. A factor in the decline of the rusty blackbird may be that many of these habitats have been drained and put to agricultural use.
7. Brewer's Blackbird
Medium-sized blackbirds called Brewer's blackbirds have glossy black coats, purple tops, and are greenish iridescent underneath. Before making their way back up north to breed, Brewer's blackbirds can be seen all over Texas during the winter. They stay in Texas during the winter and are listed on 2% of checklists. Although a few can be seen throughout the year, the best months to see them are from November to April. They can be found in diverse environments, including parks, cities, meadows, riverbanks, coastal scrub, marshes, woodlands, and grasslands. Mixed flocks of starlings, grackles, cowbirds, and red-winged blackbirds are frequently spotted alongside them.
8. Yellow-headed Blackbird
The yellow-headed blackbird, a western blackbird, is a rare sight along the Upper Texas Coast. It nests in marshes and can be found in any open area during the winter, including fields and farmlands. In Texas, yellow-headed blackbirds migrate in the spring and fall. However, they can be found in 2.9% of checklists from April to May, when they are most prevalent. Males are easily distinguished because of their brilliant yellow heads and breasts that stand out against their black bodies. They have prominent white wing patches as well. Contrarily, females are generally brown.
9. Bobolink
Bobolinks are uncommon in Texas and far more prevalent in the eastern part of the country. They breed in the northern U.S. and Canada, and they spend the winter in South America. Despite being uncommonly observed in Texas, bobolinks are known to appear here consistently and can be spotted during spring and fall migration. Over the past few years, bobolink populations, as well as the grasslands on which they depend, have both decreased. Breeding bobolink males are simple to spot because of their distinctive appearance, including black bellies, white backs, and a startling pale yellow patch resembling hair on their heads' backs.
10. Baltimore Oriole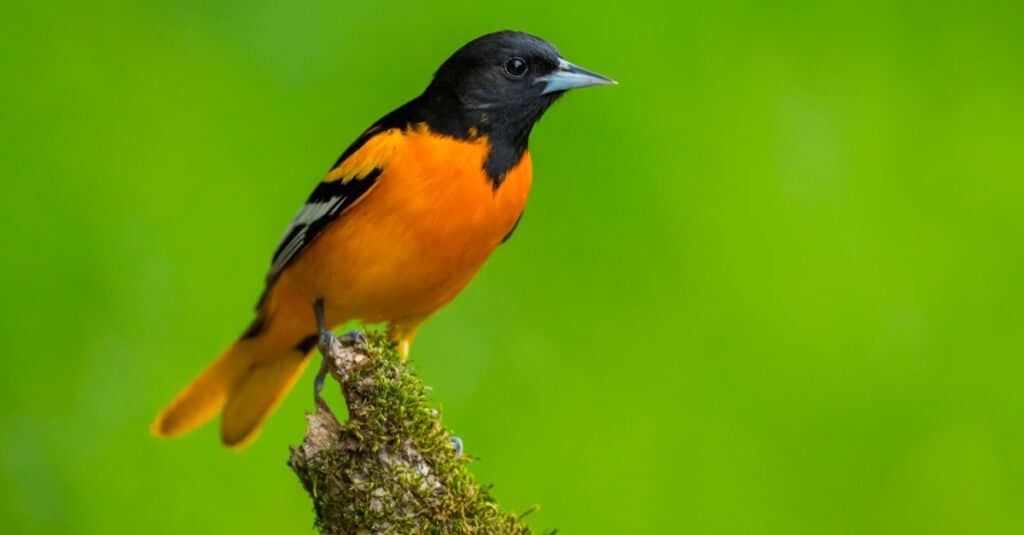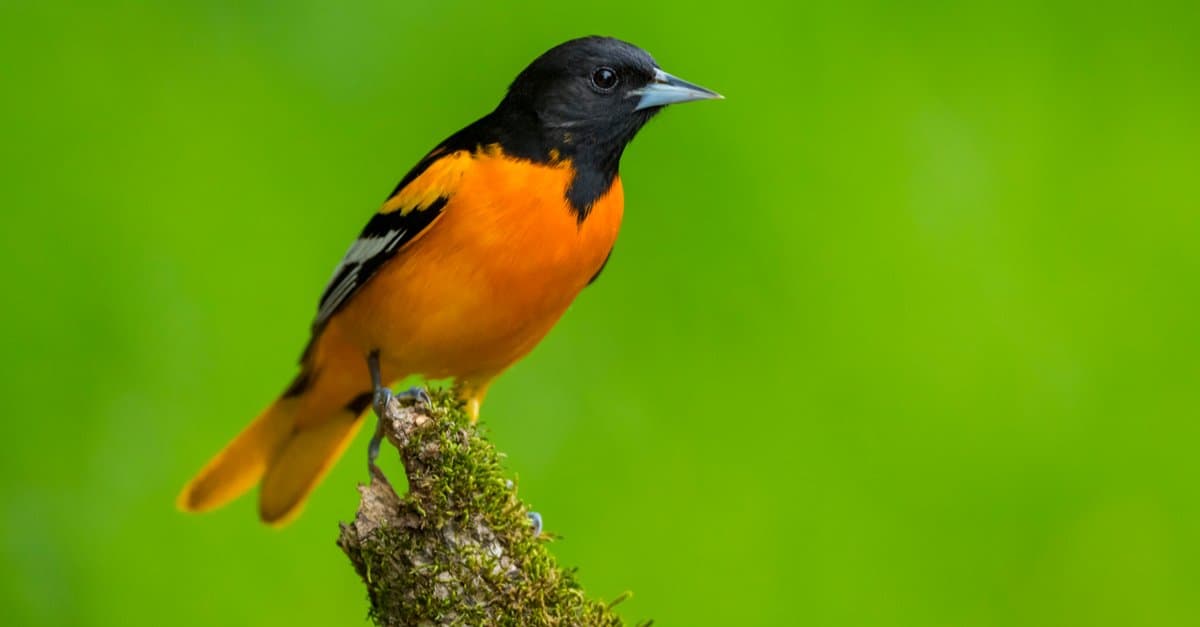 Baltimore orioles, along with other species of orioles, are Icteridae members. Although these magnificent birds can be seen in Texas from April to October, April to May and September to October are the ideal times to see them. The Baltimore orioles are a vibrant indication of spring in the eastern part of North America. Female birds have duller colors than the males, with no black hood or back, while male birds have a beautiful combination of orange and black with white wing bars. They eat insects like grasshoppers, beetles, crickets, spiders, and snails.
11. Orchard Oriole
In Texas, orchard orioles can be found in rural and suburban locations. While they also use a range of other tiny, dispersed trees for nesting, mesquite trees are where they most usually build their homes. They are most frequently spotted between April and September, and while most leave the state for the winter, some do not. Compared to Baltimore orioles, male orchard orioles are a deeper orange color, and rust is the best color to define their plumage. On the other hand, females are greenish-yellow with black wings and white wing bands. Insects make up most of their food, including ants, grasshoppers, caterpillars, beetles, and spiders.
12. Bullock's Oriole
Between sea level and 5,700 feet, Bullock's orioles can be found in open forests in Texas, where mesquite is the dominant plant. Most of them are visible from April to September; however, some are visible all year. Offering sugary foods may entice these blackbirds to your backyard as they need to refuel after a long journey from Mexico. Jelly, nectar, and orange slices are the ideal foods to utilize. Male Bullock's orioles have vivid orange plumage, black and white wings, and black head patterns. Females have a distinct appearance: a grayish body and a yellowish head, chest, and tail.
| | Species |
| --- | --- |
| 1. | Common Grackle |
| 2. | Great-tailed Grackle |
| 3. | Bronze Cowbird |
| 4. | Red-winged Blackbird |
| 5. | European Starling |
| 6. | Rusty Blackbird |
| 7. | Brewer's Blackbird |
| 8. | Yellow-headed Blackbird |
| 9. | Bobolink |
| 10. | Baltimore Oriole |
| 11. | Orchard Oriole |
| 12. | Bullock's Oriole |
The photo featured at the top of this post is © iStock.com/maiakphotography
---