Spaniel breeds have always been some of my favorite dogs when it comes to looks! Most of them have long, curly ears, wispy, mid-length fur, 
Spaniels are also active hunting dogs, bred to be in the water. These pups love swimming, hiking, long walks–any kind of activity! Many spaniels are also quite clingy, wanting to spend lots of time with their people whether it's by your side on a run or in your lap on the couch.
In this article, we'll go over 15 beautiful spaniel dog breeds that are sure to make your heart melt!
About Spaniel Breeds
First, let's discuss what you can expect in a spaniel breed–or at least, in most of them. Since there are so many, there are exceptions to most of these rules.
They're eager to please. These dogs are quick-witted and want to make their people happy, which is a great combination for training!
They love the water. After all, spaniels were bred to hunt waterfowl and other birds.
Spaniels can be affectionate to the point of clinginess. They want to live in families where someone can spend time with them most of the day, even if it just means being able to follow you around the house or sleep at your feet.
They have medium-length, wavy fur. Weekly brushing, sometimes more, is a must to prevent tangles or mats in their beautiful coats.
Spaniels have strong hunting instincts and should always be kept on leash or in an enclosed space. Allowing them off-leash is dangerous for them, as they're likely to run after small animals nearby. They can run into the street, get lost, or otherwise injure themselves.
Training is easy–but recall training is often impossible. Don't rely on your dog to call off of prey once they get going. Instead, follow the advice above and keep them out of those situations!
Spaniels do range in size, coat color, and sometimes in fur texture or personality. If you're wondering if there's a spaniel breed for you, keep reading!
1. American Water Spaniel
American Water Spaniels have mid-length, curly coats in various shades of brown. They shed little, but must be brushed weekly to remove dead fur and prevent matting.
At least some intense daily exercise is a must for these dogs. They tend to be smart, eager to please, and somewhat clingy.
Standing 15-18 inches tall and weighing 25-45 pounds, these are medium-sized dogs that thrive in active, hands-on families.
2. Brittany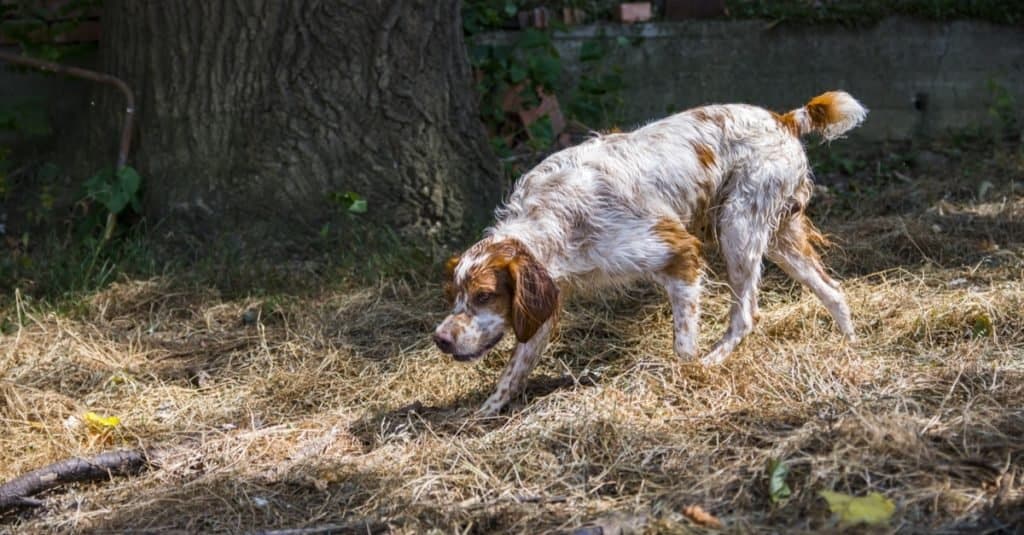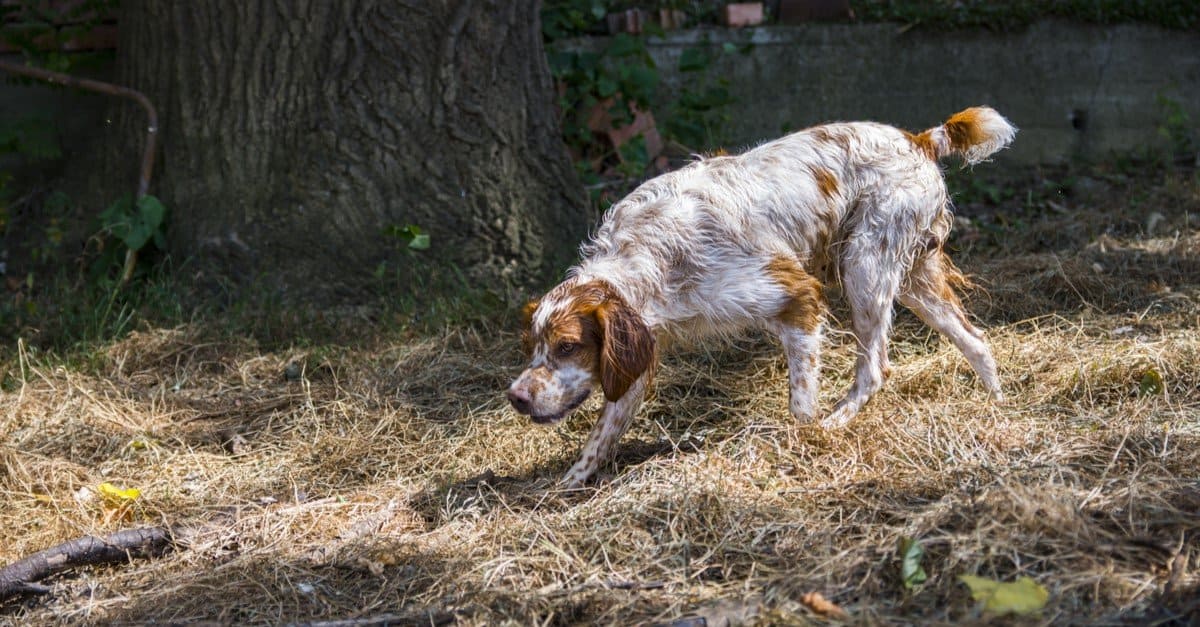 Another medium-sized breed, Brittany dogs are 17.5-20.5 inches tall and weigh 40-50 pounds. These gorgeous dogs are white with either liver (brown) or orange patches.
Their coats are mostly short with some feathering on the legs, chest, and tail. Many Brittanys have their tails docked, but it's important to find an ethical breeder who doesn't perform unnecessary cosmetic surgeries on their dogs for profit.
Tail docking is unethical, has lifelong negative impacts, and is opposed by the American Veterinary Medical Association (AVMA) as well as most animal welfare organizations. 
Brittanys are eager to please, playful, and very high energy. According to the American Kennel Club (AKC), they need to either work a job or live with a very active family who can spend hours a day providing the exercise they need.
3. Cavalier King Charles Spaniel
Cavalier King Charles Spaniels are small dogs with mid-length, wavy coats. They stand 12-13 inches tall and weigh 13-18 pounds.
Incredibly affectionate to family and strangers alike, these dogs love to be around people! Cavaliers are a great mix of active spaniels that will love exercising by your side, and lap dogs who adore cuddling up on the couch when playtime is over.
Cavaliers are also known as a particularly unhealthy breed. Because they have an abundance of health problems, it's vital that your breeder has proven genetic health tests for all inherited conditions.
4. Clumber Spaniel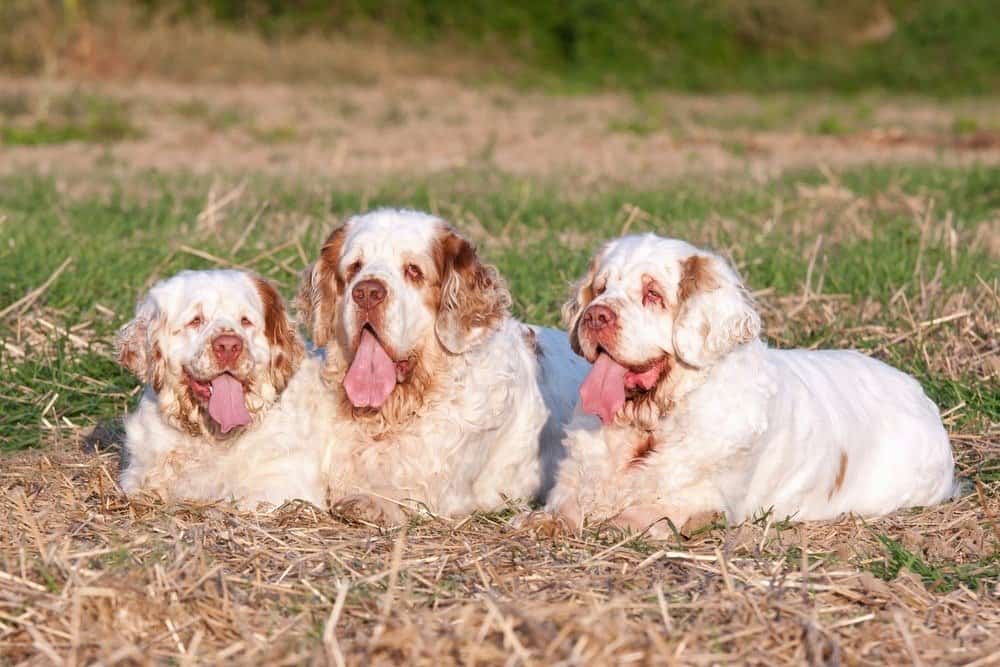 Clumber Spaniels are 17-20 inches tall and weigh 55-85 pounds. These dogs have long backs, short legs, and soft long fur.
They're affectionate, friendly, and easy to train. The AKC describes this breed as "mellow, amusing, and gentlemanly."
Clumber Spaniels are also very active dogs. However, care must be taken to protect their spines as their long backs make them prone to spinal injuries. Avoid stairs and don't allow them to jump on and off of furniture.
Because of this poor breeding practice, I do recommend against adopting from a breeder and instead only adopting a Clumber Spaniel if you find one at a reputable shelter or rescue.
5. Cocker Spaniel
Cocker Spaniels, known to the rest of the world as American Cocker Spaniels, have long, wavy coats. They stand 13.5-15.5 inches tall and weigh 20-30 pounds.
They're known for being affectionate and gentle. This makes them a great fit for families with children or other dogs. While supervision is a must with any dog and child, Cockers tend to be good with kids.
They're also quite friendly with strangers, especially when properly socialized. They're eager to please, high energy, and need lots of daily activity.
This is another breed with a long back and short legs, which makes them more prone to spinal injuries and also means they are not ethically bred.
6. English Cocker Spaniel
They are a bit larger than American Cocker Spaniels, standing 15-17 inches and weighing 28-32 pounds.
According to the AKC, the breeds come from the same line, but American breeders focused on solid-colored coats and tended to breed the smaller dogs. 
Meanwhile, English Cockers were bred for longer legs and were typically bred with roan or multi-colored fur.
Luckily, English Cocker Spaniels don't tend to have the same risk of spinal injuries as American Cockers. They're very similar in personality as well, and are a bit easier to groom though both breeds should be brushed weekly.
7. English Springer Spaniel
Male English Springer Spaniels are 20 inches tall and weigh 50 pounds, while females are 19 inches tall and weigh 40 pounds.
These mid-sized dogs have medium-length, wavy fur. They're affectionate with family and typically friendly toward strangers.
While they don't have strong guarding instincts, they are loyal and eager to please. They're also very playful and active, so they need a lot of exercise throughout the day.
8. English Toy Spaniel
English Toy Spaniels are like a combination of a lap dog and a spaniel. They're small, at just 9-10 inches tall and weighing 8-14 pounds.
They're affectionate toward family, though they may be shy or wary around strangers.
While they have the playfulness of most spaniels, these dogs may struggle with intense exercise or hot weather. Unfortunately, they're extremely brachycephalic (short-snouted) and thus are prone to many health problems including difficulty breathing in their day-to-day lives.
This is definitely a breed you'd want to rescue, rather than adopt, so that you don't support unethical breeding practices.
9. Field Spaniel
Field Spaniels have long, wavy coats in a variety of colors. They stand 17-18 inches in height and weigh between 35-50 pounds.
They tend to be good with just about everyone, from strangers to kids to other dogs. Of course, supervising children with dogs is always a must, as is slowly introducing new people or animals to avoid accidents.
This dog is also adaptable, eager to please, and very affectionate!
10. Irish Water Spaniel
Irish Water Spaniels have dense, curly brown coats, similar to Poodles. The AKC describes them as hard-working, brave dogs.
They're affectionate with family but can be wary around people or animals they don't know. They're eager to please and have a ton of energy that needs to be burnt off every day.
Irish Water Spaniels should have their coats brushed daily if grown out, and weekly if trimmed short every four to six weeks.
11. Papillon
You might not think "Spaniel" when you see a Papillon, but their heritage is that of a miniature spaniel!
These teeny dogs are 8-11 inches tall and weigh 5-10 pounds. They're affectionate, friendly toward strangers, and incredibly playful.
As spaniels, Papillons are active and need a lot of mental stimulation in their days as well to stay happy and fit.
Excessive barking is common in the breed, especially if they're under-exercised, left alone for long periods, or are bored from lack of mental stimulation. 
They do best in families where someone is home most of the day and can spend time with them hands-on for at least a couple of hours to get their energy out.
While they can exercise indoors during poor weather, they should get daily walks. Even small dogs benefit considerably from the change in atmosphere and the mental enrichment of sniffing.
12. Welsh Springer Spaniel
They stand 17-19 inches tall and weigh 35-55 pounds. They have wispy, wavy fur.
These dogs are incredibly affectionate toward their families and just as reserved around strangers. It will likely take them time to warm up to new people in their lives.
They require families where they can spend the majority of the day with their people, and where they get plenty of exercise together with you.
They're intelligent and learn quickly, making training easy. However, as with all spaniels, they shouldn't be allowed off-leash in unenclosed spaces. Their instinct to chase prey will usually override any recall training.
13. Nederlandse Kooikerhondje
The Nederlandse Kooikerhondje is a spaniel that stands 15-16 inches tall and weighs 20-30 pounds.
These short-legged dogs are alert, friendly, and affectionate. They're likely to cuddle or stay close to your side indoors, and show their independence more while outside adventuring.
Unfortunately, you're unlikely to find one in a shelter, and I recommend against adopting them due to the spinal issues common with breeds that have long backs and short legs.
14. Sussex Spaniel
Sussex Spaniels have wavy brown coats, soulful eyes, and a good droop to their muzzle that allows you to anticipate a fair amount of drool!
They're devoted to their families, playful, and easy to train. While they require long walks later in life, this should be avoided with puppies as it can harm their developing joints.
These dogs are prone to back injuries due to their short legs. When possible, avoid jumping and stair climbing to reduce their chances of injury.
Because the dogs are purposefully bred this way, with inherent health problems, I recommend avoiding breeders for these pups.
15. Boykin Spaniel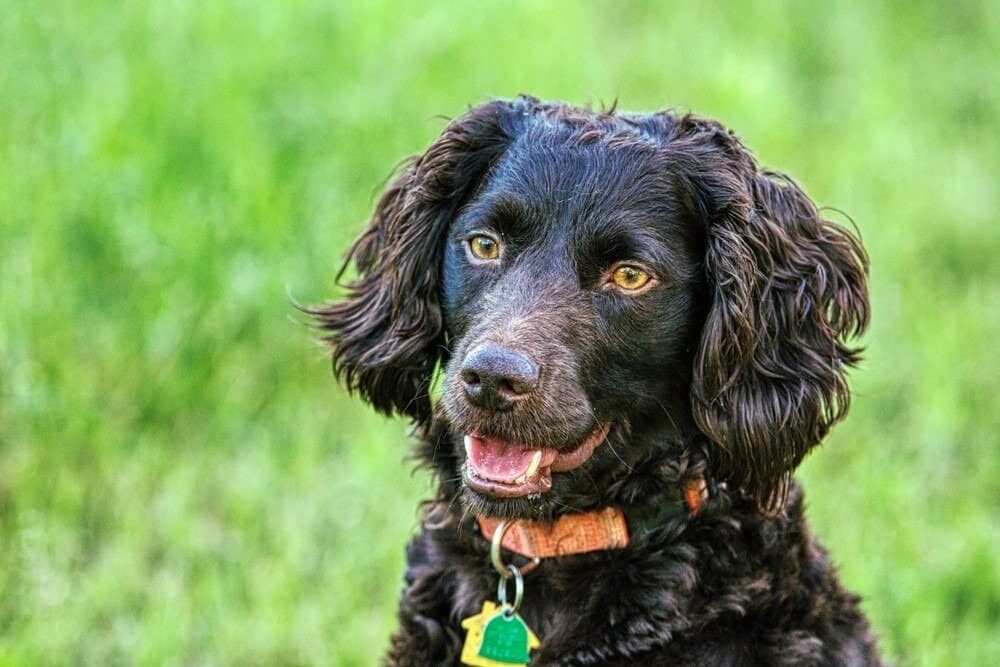 Boykin Spaniels are 14-18 inches tall and weigh 25-40 pounds. They're a good in-between for those debating between a small or medium-sized pup! 
Their fur is wavy, brown, and should be brushed about once a week to keep it healthy and tangle-free.
This dog is independent, but also eager to please. They might not be the cuddliest pups, but they will love spending time with you and learning new things.
They're also high energy and require physical as well as mental stimulation on a daily basis.
That concludes our list of 15 beautiful spaniel breeds. I hope you enjoyed looking at these gorgeous pups, and maybe even chose a breed or two to research more. They could become your next best friend!
Ready to discover the top 10 cutest dog breeds in the entire world?
How about the fastest dogs, the largest dogs and those that are -- quite frankly -- just the kindest dogs on the planet? Each day, AZ Animals sends out lists just like this to our thousands of email subscribers. And the best part? It's FREE. Join today by entering your email below.
---
The Featured Image
---