Texas' state parks serve as a showcase for the state's wide range of topography, encompassing everything from the tall mountains in West Texas to the piney woodlands and grasslands in the East. It is renowned for more than just barbecues and rodeos; it is also home to many magnificent national parks that offer breathtakingly tranquil views, canyons, mountains, wildlife, and mind-blowing activities.
While some parks exhibit more intact wilderness, others are more likely to have visible human maintenance. For over 13,000 years, people have lived in Texas, leaving behind artifacts, petroglyphs, pictographs, and ancient houses as a record of their existence. Visitors to the Texas parks today can still view these past relics in various shapes. Below, we've rounded up 15 of the most incredible parks in Texas and where to find them.
15 Incredible Parks in Texas
1. Lost Maples State Natural Area
The Texas Hill Country's state park is enjoyable to visit throughout the year, but fall is when it looks its best. When you think of fall foliage, Texas might not immediately come to mind, but reconsider. The Uvalde bigtooth maples that Lost Maples preserves and the other trees in the park display vibrant, warm autumnal hues. The trail system includes a steep road that ascends to the peak of a 2,200-foot cliff, making it a day hiker's paradise. At Lost Maples, fishing, stargazing, and photography are popular pastimes.
2. Inks Lake State Park
Geology is the study of rocks and their past evolution. Pre-Cambrian geology, found in Inks Lake State Park, dates back 600 million years. Amid the limestone, there are pink rock islands, and these outcroppings are home to their small habitats. The lakes that give rise to this state park's name are small watering holes known for the daring cliff jumpers who plunge straight into the water below. Only the bravest venture this way to the lake below since cliff jumping intimidates most people.
3. Palo Duro Canyon State Park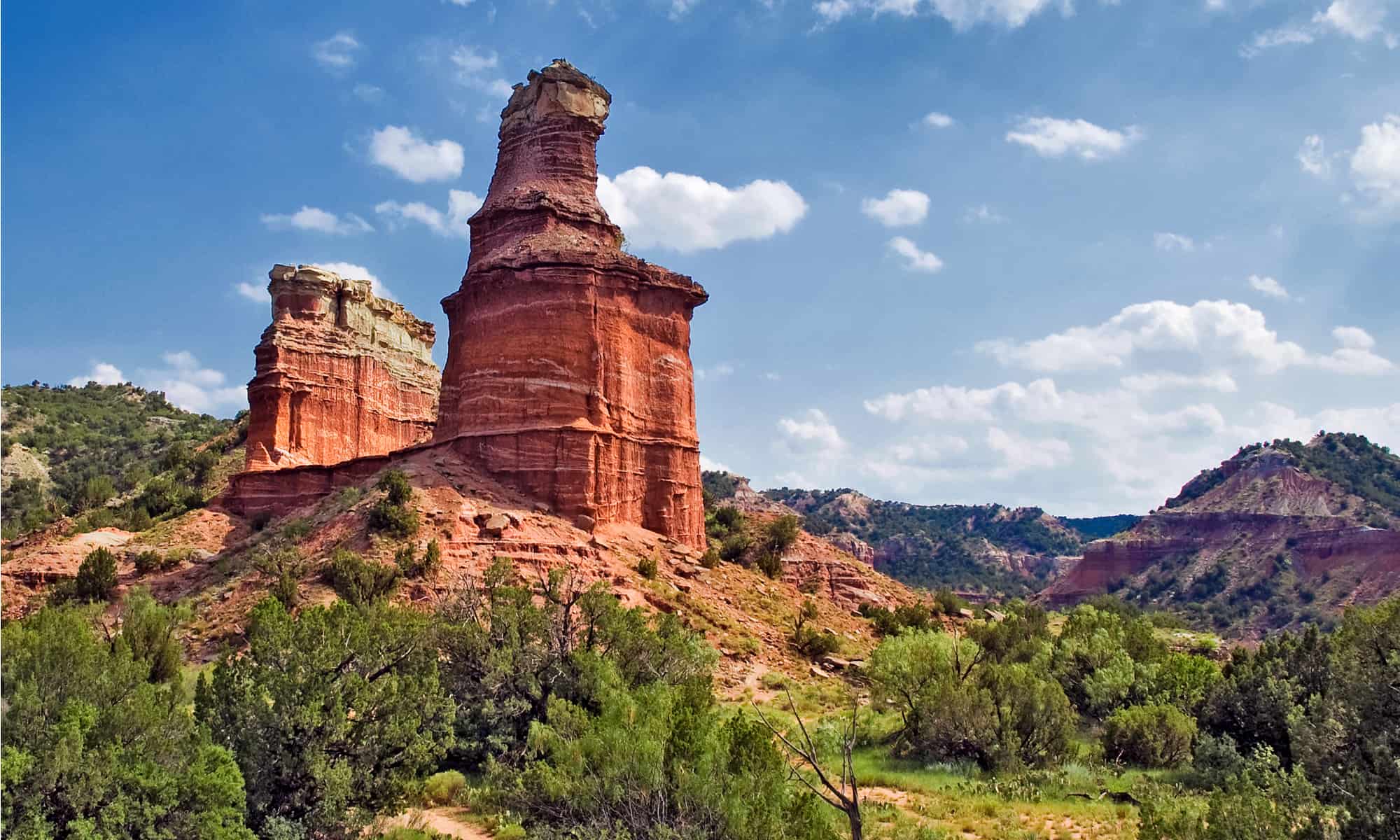 The second-largest canyon in the nation is located in Texas, and it can be found in the Panhandle's Palo Duro Canyon State Park. The Palo Duro Canyon State Park has hiking paths covering more than 25,000 acres and is referred to as the Grand Canyon of Texas. Massive rock slabs joined together to form a towering 800-foot canyon, making for an amazing sight against the Texas desert. There are more than 30 miles of trails for biking, hiking, and riding, as well as for geocaching, birding, and glamping.
4. Caddo Lake State Park
Caddo Lake State Park is only thirty miles from Shreveport, Louisiana, and has much in common with the traditional swamp life there. This is because boundaries are merely the laws and lines imposed by the people who live there; they do not alter the territory. As East Texas is still a part of the deep south, be prepared to observe alligators living in the wetlands that are so widespread in this region. Numerous old stone buildings were also built here by the Civilian Conservation Corps. Although there are several hiking routes in this varied area, kayaking or canoeing is the finest way to explore Caddo Lake.
5. Balmorhea State Park
One of the largest spring-fed swimming pools in the world is located in Balmorhea State Park. Balmorhea State Park, a 46-acre (19 ha) state park created in 1968, lies in San Solomon Springs, Reeves County. You shouldn't miss the opportunity to swim in these waters, which boast some of the purest water in Texas and are surrounded by concrete, giving them a contemporary vibe. There are lovely things and a historic motel to explore and stay in. Balmorhea State Park, situated in the middle of a scorching desert, is a true oasis.
6. Monahans Sandhills State Park
The park, essentially a huge, mountainous sandbox, is a small portion of a larger dune field that extends into Texas and New Mexico. Texas features dunes, just like its neighboring states, Oklahoma and Colorado. The Monahans Sandhills State Park is a huge dune area with 3,840 acres of enormous dunes available for public exploration. The 1,550-hectare state park is located in the southern Llano Estacado in Ward and Winkler counties in Texas.
Monahans Sandhills State Park contains dunes that can reach heights of 70 feet. The sandhills appear to be a desert, yet they are not. Instead, they are a part of a semi-arid environment with relatively low-nutrient windblown sand and groundwater.
7. Pedernales Falls State Park
The Pedernales Falls State Park, located less than an hour's drive west of Austin, features a waterfall that carves through several historic limestone stairs. Other locations permit swimming, and tubing is advised to see everything. In addition to hiking and biking pathways, there are horseback riding trails. For hikers who are truly looking to make a day of it, there is even a 10-mile hiking trail. Even if it isn't raining in the park, visitors should be warned that the Pedernales River is prone to flash flooding.
8. Colorado Bend State Park
Choose-your-own-adventure enthusiasts can find Colorado Bend State Park less than two hours north of Austin. Over 5,000 acres of land, including six miles of Colorado River shoreline, make up the state park. Thirty-five miles of trails here are not in your normal grasslands, and there are stunning landscapes instead of plains, which are a hiker's paradise. There are several dense forests and lands to enjoy scattered across the steep canyons, and the early morning mist that the spring-fed waterfall causes to rise positively sparkles.
9. Big Bend National Park
One of the best areas to go hiking in is Big Bend National Park, situated in the southwest region of Texas. There are more than 150 miles of trails to discover, and each one will take you to breathtaking views of the rocky landscape, high slopes, persistent cactus blossoms, sculpted temple-like gorges, and expansive open space. The best hot springs in Texas are undoubtedly found at Big Bend National Park Hot Springs. A steady temperature of 105 degrees Fahrenheit is maintained in the real hot spring by geothermal heating.
10. Guadalupe River State Park
The Guadalupe River State Park in Texas is located along a section of the Guadalupe River in the counties of Kendall and Comal. Despite having some of Texas' purest spring-fed water streams, the picturesque Guadalupe River draws many tourists because it is a great place to swim. To visit a variety of ponds, creeks, and lakes, select a route of 4, 15, or 19 miles of waterways. There are a variety of species in the park, including white-tailed deer, armadillos, raccoons, and skunks. There are numerous other bird species in the park as well.
11. Longhorn Cavern State Park
Located 90 minutes northwest of Austin, Longhorn Caverns State Park offers a unique Texas caving experience. Both the geology and cultural histories of this cave are extensive. Longhorn Cavern can be visited on foot, and for the more daring ones, the Wild Cave Tour takes you on a climbing, wriggling, and crawling adventure. One of the best state parks in Texas, Longhorn Caverns also offers above-ground activities. A special mention should be made for the CCC-built stone observation tower, which has a superb view of the Texas Hill Country.
12. Fort Davis National Historic Site
The most noticeable wildlife finds refuge in the Fort Davis National Historic Site, located in the unincorporated area of Fort Davis in Jeff Davis County, Texas. Fort Davis was designated as a national historic site in 1961. A variety of snakes and horned lizards might be present here as well as other creatures, like kangaroo rats, mountain lions, black bears, and javelinas.
13. Lyndon B. Johnson National Historic Park
The Texas Hill Country is home to Lyndon B. Johnson National Historic Park, situated about 50 miles west of Austin. The historic park bears the name of the 36th president of the United States, who was born, raised, and interred there. Here, you can indulge in various sports like swimming in the farm pool, fishing in the river, or playing baseball all year long to get a taste of life on a German farm.
14. Brazos Bend State Park
Brazos Bend State Park offers a wild and natural setting less than an hour south of Houston. Over 5,000 acres of dynamic wetlands, a varied mix of forest, and tall grassland make up the park. The American alligator is arguably the most thrilling wildlife species to encounter at Brazos Bend. Brazos Bend State Park also offers cabins, screened shelters, and electric campsites.
15. Franklin Mountains State Park
Franklin Mountains State Park in West Texas offers visitors the chance to discover high vistas on more than 27,000 acres close to El Paso. Camping, rock climbing, and exploring the region's more than 100 miles of trails are all common pastimes in the state park. The most accessible part of the park, with several hiking trails, is the Tom Mays Unit, located on El Paso's outskirts to the north.
Up Next:
More from A-Z Animals
---
The Featured Image
---