In the past week, there have been more than 20 great white shark sightings off the coast of Cape Cod in Massachusetts. Researchers can track sharks that have been tagged by performing fly-overs with helicopters, while lifeguards also keep watch for sharks. Besides the high-tech sightings this past week, a lifeguard spotted a shark about 5-10 yards off the beach on Tuesday, August 2, 2022, at South Beach on Martha's Vineyard. They decided to close the beach as a precaution for a couple of hours. According to the International Shark Attack File run by the University of Florida, there have been 6 confirmed unprovoked shark attacks off the coast of Massachusetts. Cape Cod shark attacks are the most numerous. A couple more attacks without injuries have been reported as well. Here are the 3 Massachusetts beaches with the most shark attacks.
1) Cape Cod National Seashore (5 attacks)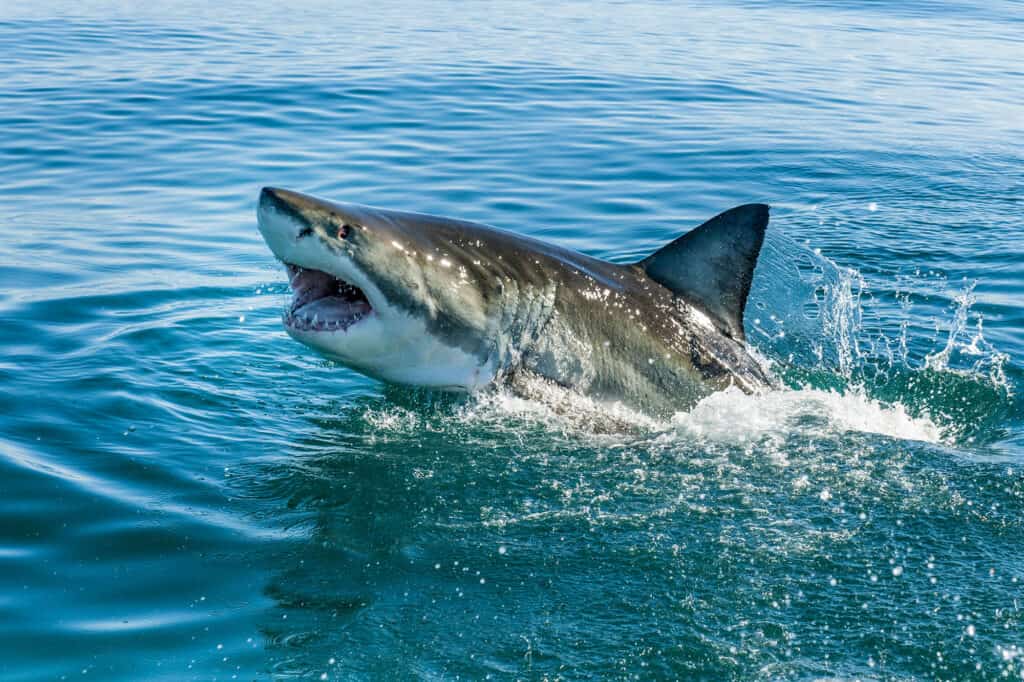 On June 30, 2022, a beach off the Cape Cod National Seashore was closed after a large great white shark was sighted at Meadow Beach in Truro. Cape Cod shark attacks are the highest in all of Massachusetts. Here are some of the beaches with the most serious attacks.
Newcomb Hollow Beach
There have only been two confirmed shark attack fatalities in Massachusetts history, and one of them took place on a beach off the Cape Cod National Seashore. On September 15, 2018, just off Newcomb Hollow Beach, a man was attacked by a great white shark. He was reportedly attacked while surfing, and beachgoers on the shore could only watch as the ocean turned red. His friend swam to his rescue and dragged him to shore but saw the gaping wound in his leg. Bystanders reportedly called 911 but feared the worst. Arthur Medici was rushed to the hospital, but it was too late. He was pronounced dead at the hospital. He was a 26-year-old college student from Brazil that was engaged to his friend's sister. Tragic news for the whole family.
Longnook Beach
Earlier in the summer of August 2018, on a beach not far from Newcomb Hollow, a man was bitten by a shark, leaving him with deep puncture wounds to his hip and torso. According to reports, the incident occurred while he was taking a swim off the shore when he was bitten by what he believed to be a great white. Rescuers were able to haul him out of the water and onto the sand to get him to a rescue helicopter that flew him to Tufts Medical Center. The 61-year-old survived this traumatizing experience.  
Marconi Beach
On August 23, 2017, a paddleboarder was out enjoying the surf when a shark attacked him off Marconi Beach. Cleveland Bigelow had a bite taken out of his paddle board, leaving him shaken up but unharmed.
Ballston Beach
In 2012, Chris Meyers was out bodysurfing with his son on a nice day at the end of July. He was attacked by an 8-9 foot shark and transported to the hospital. Although he had sustained nerve and tendon damage, he was able to recover. This attack happened along the Cape Cod National Seashore just off Ballston Beach on July 30, 2012.
Cold Storage Beach
In July 1996, a man was out collecting starfish when a 6-foot blue shark attacked him off the coast of Cold Storage Beach, just outside of Truro. He was bitten in the leg and required 46 stitches at the hospital. James Orlowski survived but had to spend 8 additional days in the hospital after he became septic.
2) Buzzards Bay (2 attacks)
Hollywood Beach
A fatal shark attack happened in Buzzards Bay, just off Hollywood Beach, back in 1936. Hollywood Beach is in Mattapoisett. 16-year-old Joseph Troy Jr. had been swimming off the beach when he was attacked and bitten on his thigh. During the struggle with the shark, he suffered lacerations to several of his fingers. He was rushed to the hospital, where he underwent emergency surgery. The doctors decided they needed to amputate his leg to save his life, but unfortunately, Joseph died during surgery.
Priscilla Beach
Also in Buzzards Bay is Priscilla Beach, where a shark attacked two women kayaking. Kristin Orr and Ida Parker were out taking pictures of the nearby seals when the 12-14 foot shark overturned Orr's kayak sending her into the water. Orr tipped over Parker's boat as she fell, causing both women to end up in the water, where the shark snapped a huge bite out of her boat. Luckily it was her boat and not her body. They were unharmed, and the shark swam off. Based on the size of the bite marks, it was thought to be a great white shark.
3) Rockport Granite Pier (1 attack)
Back Beach Landing (just north of the beach)
On February 4, 1965, Ronald Powell was scuba diving off the pier. Being February in Massachusetts, the waters were frigid, but that didn't stop Ronald, who was in the Navy and an experienced diver. He said he was looking for marine life and lobsters, and when Ronald reached for a large lobster, he felt something bump up against his leg and saw a shark swimming away.
According to Ronald, he didn't feel much, probably due to the cold temperature. On getting to shore, however, he discovered he was bleeding and that his wet suit had been torn. He was taken to the hospital to be examined and recovered from the wound. Hopefully, these 3 Massachusetts beaches with the most shark attacks won't have any more attacks this summer, despite the high number of shark sightings in the last week.
Up Next:
More from A-Z Animals
---
The Featured Image
---