↓
Continue Reading To See This Amazing Video
The State of Florida is placed right between the Atlantic and the Gulf of Mexico. Consequently, it has numerous beaches stretching hundreds of miles. Florida's beaches are notorious for shark attacks, and this isn't because shark attacks occur so frequently.
According to the International Shark Attack File, the state sees an average of 25 bites yearly. However, compared to other states and countries in the world, this number is rather high, thus cementing Florida as the shark bite capital of the world. This article explores Florida beaches and counties with the most shark attacks.
How Many People Were Bitten By Sharks Last Year In The USA?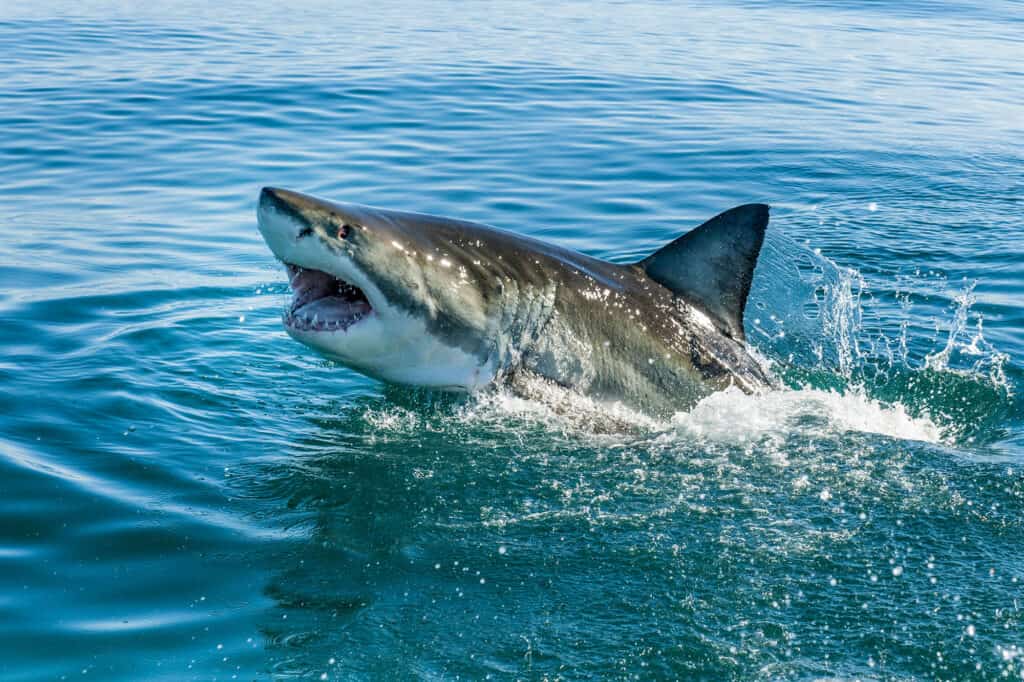 Last year, there were 73 confirmed shark attacks worldwide, and the US accounted for 47 of them. They occurred in Florida (28), Hawaii (6), South Carolina (4), North Carolina (3), California (3), Georgia (2), and Maryland (1).
Florida's Top 5 Counties With The Most Shark Attacks
Some of Florida's counties are more likely than others to record shark attacks. Here are the counties with the most shark attacks in the state. 
Volusia County
There has been a total of 337 bites recorded in Volusia County since 1882, and no other county has such high numbers. Volusia County is home to New Smyrna, Daytona, and Ponce inlet beach cities. Last year, there were 17 bites recorded in the county, but luckily, none was fatal.
Brevard County
Brevard County recorded 2 bites last year and has a total of 155 recorded bites since 1882. It is home to Cocoa Beach, a location with repeated shark attacks.
Palm Beach County
Palm Beach County has an area of 2,383 square miles and is known for sandy beaches and golf courses. There have been 81 recorded bites in the county since 1882.
Duval County
Duval County is located in the northeastern part of the country and has a population of just under 1 million. Although the county didn't record any bites last year, it has recorded 46 bites in the past 140 years.
Martin County
Martin County is located in the Treasure Coast region and has recorded 45 shark attacks since 1882. The county is known for its bio-diverse lagoon ecosystem.
What Beaches In Florida Have The Most Shark Attacks?
New Smyrna Beach, Daytona Beach, Ponce Inlet, Cocoa Beach, and the Florida Keys are some locations that experience more shark attacks than others. However, New Smyrna Beach, located in Volusia County, tops the list.
New Smyrna Beach
New Smyrna Beach is a beach city located in Volusia County on Florida's Central Atlantic coast. Since 1882, this city has recorded close to 200 shark attacks, and this quota makes up a great portion of the total attacks in Volusia County. The city has an area of 37.92 square miles.
Daytona Beach
Daytona Beach is another city in Volusia County with recurring shark attacks. There have been about 46 recorded shark attacks in this city. Daytona is also home to the NASCAR Headquarters and is famous for its car races.
Ponce Inlet
Ponce Inlet is only a town but has had close to 40 records of shark attacks. As of 2020, Ponce Inlet's population was just over 3,200. Another interesting fact is that the town is also home to Florida's tallest lighthouse.
Cocoa Beach
Cocoa Beach is located in Brevard County and accounts for over 30 shark bite incidents. This town contributes significantly to the total bites recorded in Brevard County. If you like cozy spaces frequented by tourists, Cocoa Beach might be the perfect tourist destination for you.
Florida Keys
The Florida Keys is an archipelago or chain of islands in Monroe County. Because of its many lovely beaches, it is the perfect location for water activities such as scuba diving, boating, sportfishing, and even seafood. Florida Keys residents are surrounded by its many beaches, and as a result, over 20 bites have been recorded since 1882.
Where Did Florida's 28 Shark Attacks Happen Last Year?
Last year, Florida's 28 attacks exceeded average and were spread across 9 counties. Volusia, known as the shark capital, recorded 17 bites, while Brevard, Miami-Dade, and St. Lucie counties recorded 2 bites each. Broward, Martin, Manatee, and Palm Beach counties recorded one bite each.
Why Does Florida Get So Many Shark Attacks?
Florida has many beaches and residents who appreciate and enjoy them. About 18.5% of its total area is water, and these waters are filled with 15 species of sharks of varying sizes and temperaments. Florida also has the country's second-highest rate of population growth, causing a yearly increase in the number of beach visitors.
In reality, the number of people that get bitten compared to the number of people that actually visit these beaches is really low. The odds of death from a shark bite or attack are as low as 1-in-3.75 million.
How Many People Have Died From Shark Bites In Florida?
Confirmed shark bites are classified as provoked or unprovoked, and statistics show that most incidents are unprovoked. There have been nearly 900 unprovoked shark bites in Florida since 1882. Of this number, less than 40 were fatal. Although great white sharks attack humans more than any other shark species, requiem sharks are responsible for most of Florida's attacks.
When Are Sharks Most Active In Florida?
According to the records from the ISAF, most shark bites in Florida occur in August and September and most occur around 2:00 to 2:59 in the afternoon. Fifty-one percent of these attacks occurred during waterboarding, 39 percent during swimming, 6 percent during body surfing or horseplay, and 4 percent during free-diving or snorkeling. It is also important to note that annual drownings always surpass shark fatalities. 
Should You Worry About Getting Bitten By A Shark?
Your chances of encountering a shark in the ocean are low, so this should not stop you from visiting the beach. However, do not enter oceans with sharks if you are bleeding, as sharks are super quick to detect blood. It's also best to avoid activities that provoke sharks to attack such as spearfishing. Remember to obey the guidelines of beaches you visit by swimming only in safe areas.  
Up Next…
7 Islands with the Most Shark Attacks
Hawaii Shark Infested Waters: Where All 8 Bites Happened Last Year
---
The Featured Image
---