Why are lakes important? For one, cities rely on natural and man-made lakes for their water supply and fisheries. Lakes are important for environmental reasons as well as economics. Lakes provide surrounding areas with water and local economies thrive with the help of tourism. Species that live in and around lakes rely on the water and food sources they supply.
Some lakes' water supply is threatened as droughts get worse and temperatures continue to rise. The heat waves we've experienced in 2022 have killed thousands of fish as the temperature reaches unlivable levels for coldwater fish like yellow perch, trout, and walleye. As the water warms invasive species of fish like smallmouth bass are thriving and displacing fish like trout and walleye.
More concerning may be the impacts of drought across the western United States. As watersheds receive less rain and snowpack, reservoirs and natural lakes across the region are drying up. Let's take a look at five lakes in the U.S. that almost dried up in 2022's heat. 
1. Great Salt Lake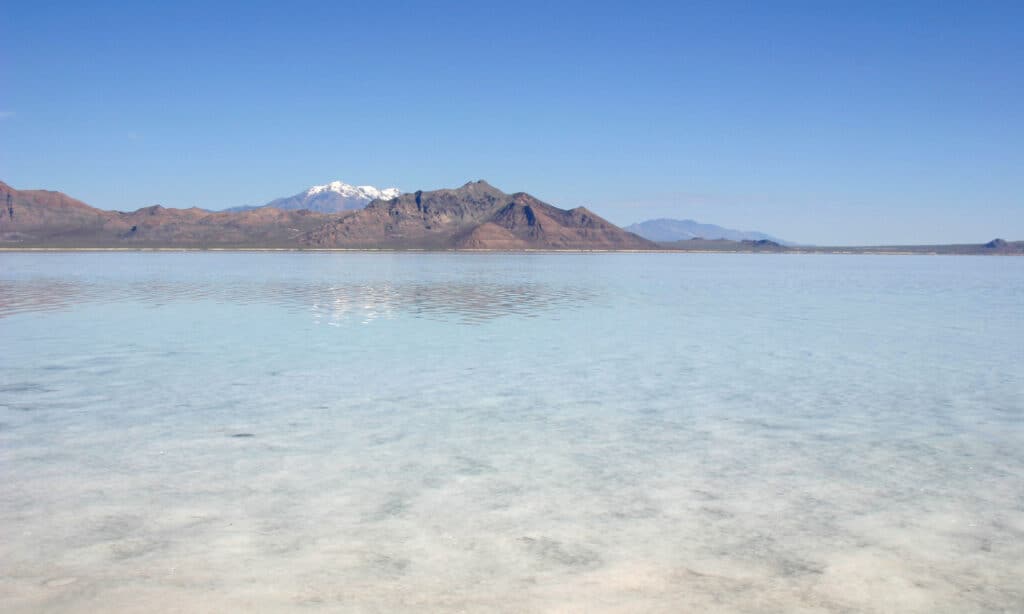 | Great Salt Lake Location  | Original Size  | Size in 2022 |
| --- | --- | --- |
| Utah, U.S. | 3,300 sq mi | 950 sq mi |
Northern Utah is home to the largest saltwater lake in the Western Hemisphere known as the Great Salt Lake. Aptly named, the lake has waters much saltier than seawater that makes it unsuitable for all but a few species like brine shrimp, brine flies, and several types of algae. However, the freshwater and saltwater wetlands on the northern and eastern edges of the lake provide a home for millions of shore birds and waterfowl. These birds depend on the marshes and the food sources the lake provides. 
This lake is shallow with gently sloping shores so water levels rise and fall dramatically depending on the season. Due to severe drought caused by water usage and rising temperatures, the lake has been continuously shrinking in recent years. In 2021, the lake hit a record low of 950 square miles and continues to get smaller. In order to combat this a proposal was to build a pipeline that would bring water from Bear River and replenish the lake. 
2. Salton Sea
| Salton Sea Location  | Original Size  | Size in 2022 |
| --- | --- | --- |
| California, U.S. | 363 sq mi | 321 sq mi |
In Southern California, you can find the Salton Sea, a lake formed in 1905 by an inflow of water from the Colorado River. Over the decades, the lake was predicted to run dry but because farmers used Colorado River water they would run the excess into the Salton Sea, keeping it from completely drying out. In 1999, as local farmers used their water more efficiently the lake began to shrink rapidly. As the lake bed became exposed, winds would carry clouds of toxic dust into nearby areas. 
In 2018, the air quality had become so bad from the toxic dust that it was declared an emergency and in 2021 construction started on a project to help manage the Salton Sea. In 2022, severe drought and rising temperatures caused the size of the Salton Sea to rapidly decline. Researchers estimated this could expose another 100,000 acres of lake floor, which will lead to a further decline in air quality in surrounding areas. 
3. Lake Mead
| Lake Mead Location | Original Size  | Size in 2022 |
| --- | --- | --- |
| Nevada/Arizona, U.S. | 247 sq mi | 190 sq mi |
Lake Mead is located on the border of the northwest corner of Arizona and the southern corner of Nevada. The lake is actually a reservoir made by the Hoover Dam on the Colorado River. It is the largest reservoir in the U.S. and provides water to more than 20 million people in Arizona, California, Nevada, and some of Mexico. 
An increase in demand and drought have caused the lake to remain below full capacity since 1983. In recent years as the drought has become more severe Lake Mead has hit a record low, holding only 40% of its actual capacity. In 2022, the U.S. Bureau of Reclamation declared "shortage conditions," which result in water delivery falling by 4.44%.
4. Walker Lake
| Walker Lake Location  | Original Size  | Size in 2022 |
| --- | --- | --- |
| Nevada, U.S. | 68,480 acres | 32,190 acres |
Walker Lake is located in western Nevada in the Great Basin. It is fed by the nearby Walker River and has no natural outlet besides evaporation and absorption. Due to upstream diversions of Walker River and no natural outlet, Walker Lake fell into a state of ecological collapse. The high concentration of salt in the water prevents fish from living there now, which is having a negative effect on local economies. 
The water volume has declined more than 90% since the 1850s and in recent years has been declining at a faster rate. The Walker Basin Restoration Project was created to help restore the lake to be able to support fish and bird life again. Due to severe drought and rising temperatures, 2022 continued to see falling water levels. The Walker Basin Conservancy is making efforts to supply the lake with fresh water. 
5. Mono Lake
| Mono Lake Location  | Original Size  | Size in 2022 |
| --- | --- | --- |
| California, U.S. | 55,000 acres | 45,133 acres |
Near the east California/Nevada border you can find a saline soda lake called Mono Lake. This lake has no outlet to the sea so minerals sit in the water and cause it to become very saline. Because Mono Lake is considered a closed lake, which means the only way it loses water is through evaporation or through groundwater, the water levels depend on changes in climate. 
Minerals that sit in the water can become tufa towers which are formed under the surface located all around the lake. In recent years the water levels have dropped so much that the tufa towers have become exposed giving visitors a beautiful view. In heat waves like we saw in 2022, as the temperature continues to rise, the water levels will continue to drop.
Summary of 5 Lakes That Almost Dried Up in 2022's Heat
Here's a recap of five lakes that suffered greatly from the high temperatures in 2022:
| Number | Lake | Location | Original Size | Size in 2022 |
| --- | --- | --- | --- | --- |
| 1 | Great Salt Lake | Utah, U.S. | 3,300 sq mi | 950 sq mi |
| 2 | Salton Sea | California, U.S. | 363 sq mi | 321 sq mi |
| 3 | Lake Mead | Nevada/Arizona, U.S. | 247 sq mi | 190 sq mi |
| 4 | Walker Lake | Nevada, U.S. | 68,480 acres | 32,190 acres |
| 5 | Mono Lake | California, U.S. | 55,000 acres | 45,133 acres |
Up Next:
More from A-Z Animals
---
The Featured Image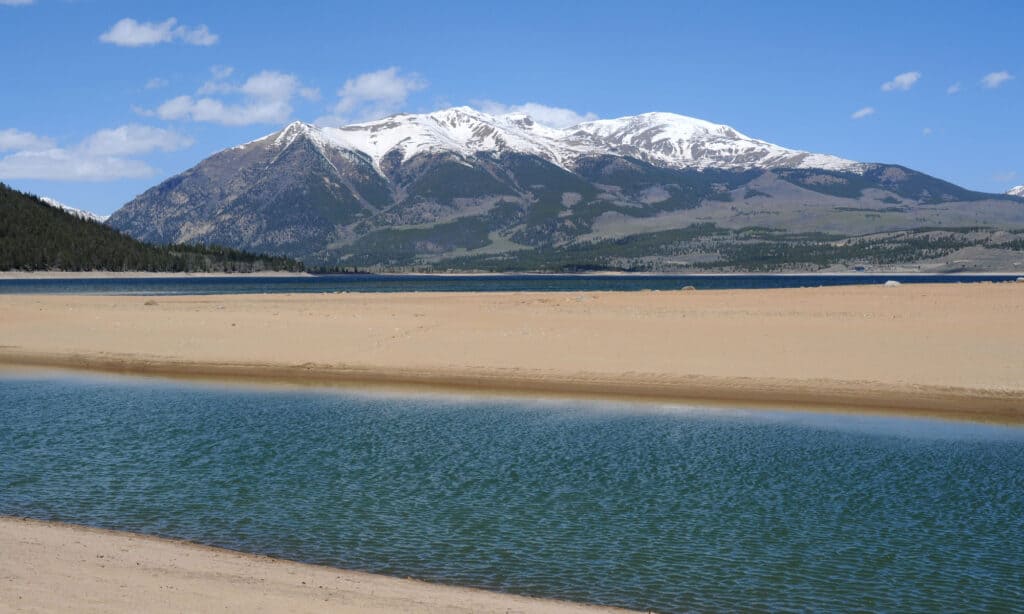 ---