Key Points:
Trans-Siberian is the longest train trip in the world at seven days long. It travels 10,214 km across 16 major rivers, 876 stations, and 87 cities.
Some long train trips – like the Canadian from Toronto to Vancouver – begin and end with overnight stays in luxurious hotels.
The Ghan and the Indian Pacific in Australia both feature excursions for passengers to experience local cultures, sights, and cuisine.
If you like the thought of listening to your favorite music or reading a captivating story on a long journey, you might enjoy long train trips. The world's longest train trips are an excellent way to learn about other cultures, see beautiful, different landscapes, and either socialize with the other passengers or spend quiet time to yourself.
You can make many memories on your long journey and perhaps make lifetime friends. It is also a way of interacting with nature because you can pass through national parks and view wildlife from the train.
Trans-Siberian is the longest train trip in the world at seven days long. It travels 10,214 km across 16 major rivers, 876 stations, and 87 cities.
Things to Do on Your Long Train Trip
In the 1970s, an American travel writer, Paul Theroux, decided to travel from England to Asia entirely by rail. His book about the experience, "The Great Railway Bazaar," is considered to be one of the most romantic pieces of writing about train travel. According to Theroux, "If a train is large and comfortable you don't even need a destination." Perhaps this catalog of Theroux's adventures would be a perfect companion for your own travels.
A trip by train is the perfect moment to read that exciting book you have been procrastinating or listen to your favorite music as you take in the scenery. There are many different ways to enjoy your train ride:
1. Socialize
The first few hours on the train are especially exciting and energetic. You might be excited to meet new people, or if it's a trip with friends, family, or a partner, this is a great opportunity to learn more about your loved ones. Consider taking advantage of this time to get to know new, interesting people.
If you want, you can make friends on the train! Consider starting a conversation with your seatmate to see if you share interests. If you are going to the same destination, having a person to talk to during the trip can be nice and might help to pass the time between stops. You never know who you can meet!
You can talk about the surrounding nature with them or sample the different foods in the restaurant cart. Some people are lucky to make lifetime friends on long train trips, and you could be one of them.
2. Play Games
Playing games is another perfect way to make your long train trips enjoyable. If you are exploring the world, packing some games is a great option whether you're alone or with other people. Card games like Go Fish, Crazy Eights, and many others are fun with friends.
Trivia games are very fun to have a mini competition with loved ones or strangers and find out who's more knowledgeable on certain topics. If you're alone or don't want to play a game with a stranger, Sudoku Puzzles and Crosswords are fun and engaging.
3. Watch a Movie or Series
Maybe you have a series you have not had time to watch or finish because you've been busy. This is a great time to catch up and even binge-watch your favorite show.
Movies take you to an imaginative world and are an excellent way to make long trips enjoyable. Having a variety of genres to choose from can be a nice way to spend time on your long train trip, so consider downloading or having a few different options queued up.
4. Listen to Podcasts or Music
This is a great time to listen to that podcast you've been wanting to get to lately. Consider queueing up your favorites to have them ready to switch between.
Music is relaxing, mood-boosting, and can bring you to another place, mentally. Queue up your favorite artists and enjoy a soundtrack to the beautiful scenery around you.
5. Meditate
Long train journeys will allow you to disconnect from work, life's responsibilities, and the city, and spend some time alone. You can take advantage of your solo time and meditate. Meditation is great for stress and anxiety reduction and helps boost your mood and tap into your inner knowledge.
All you have to do is sit comfortably in your seat and take deep breaths in and out through your nose. Focus on your breath and your belly as it rises and falls, and refocus your mind back to your breath if your thoughts start wandering.
The Longest Train Trips on Earth
Picking out the things you want to do to make your train journey fun is a great way to prepare and get excited for your trip. Now that you've thought about it, here are the longest train trips in the world:
1. Trans-Siberian from Moscow to Vladivostok, Russia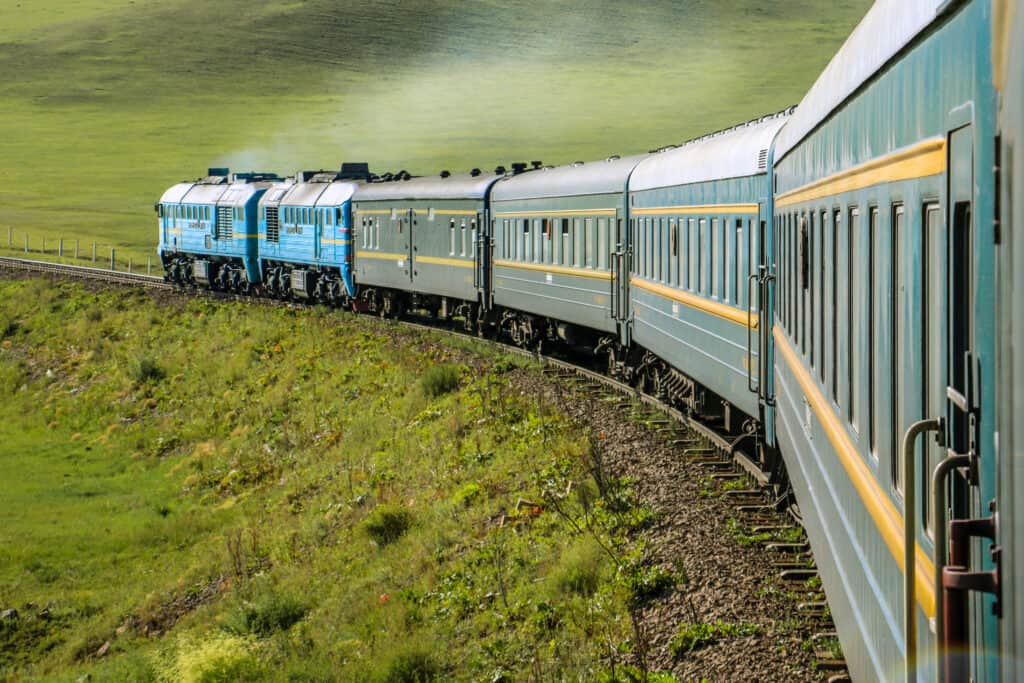 Have you ever considered cruising over 10,214 km for seven days and 20 hours, crossing two continents and a whopping eight time zones? If you want an experience like this, pack your bags and prepare for the longest train trip from Moscow to Vladivostok.
The Trans-Siberian is the longest passenger train in the world and travels across China, Mongolia, and the famous, beautiful Siberia. The journey is full of adventure, and you will be able to disconnect as you meditate, listen to music, read, or take in the gorgeous scenery.
The main train stops are Perm, Omsk, Novosibirsk, Ulan Bator, and Beijing, and cover a distance of 10,214km. The ride costs $805 per person for the 2nd class bunk and $1,600 per person for the 1st class bunk.
Highlights of this trip
Passengers take a break from the train to view sights during the journey and sleep in luxurious hotels.
It is the longest train trip in the world and offers wildlife and culture. Travelers can visit Lake Baikal, the deepest lake in the world.
2. The Canadian from Toronto to Vancouver, Canada
Once you pack your favorite books and headsets and have your playlist ready for the adventure, you can check the next departure of the Canadian Train. One of the longest journeys in the world is from Toronto to Vancouver.
The Canadian passes through Toronto, Sudbury, Edmonton, Kamloops, and Vancouver. You will experience beautiful prairies, Rockies, and serene nature areas from Toronto to Vancouver for four nights.
Passengers can enjoy the blue skies and national parks with beautiful, fascinating animals and can take those relaxing moments to meditate. The train fare is $4,655 per person on the Prestige and $444 per person on the economy. The key stops of this train are Winnipeg, Edmonton, and Jasper.
Highlights of this trip
Travelers view beautiful sights like pristine lakes, plains, mountains, and wildlife.
You also get to sleep in luxurious hotels in Toronto and Vancouver.
3. Shanghai to Lhasa, China
The Shanghai to Lhasa trip is one of the longest train trips in the world, and the train cruises across eight provinces in China. On the trip, you will enjoy beautiful mountainous terrains and landscapes.
It takes two days to cover 4,373 km, and the train fare is ¥1310 for the soft sleeper section, ¥841 for the hard sleeper, and ¥402 for the hard seat. The key stops of the Shanghai to Lhasa train are Suzhou, Xi'an, Lanzhou, and Nagchu.
Some of the places you will see while on the long journey are Qinghai Lake, Nagchu Grasslands, and Tanggula Mountains. Domestic and international passengers should get a Tibet Travel Permit. This is an entry license issued by Tibet Tourism Bureau to allow foreign nationals to enter Tibet.
Highlights of the trip
Beautiful sights like the Tangula Mountains that passengers can feel the train snaking its way through.
Enjoy some snacks in the dining car. The menu has the basics: bottled water, beer, and beef jerky. You can also buy a hot breakfast and dinner from the train service.
4. Indian Pacific from Sydney to Perth, Australia
If you enjoy watching the blue waters of the oceans and lakes, hop on the Indian Pacific and get ready for a long train trip from Sydney to Perth. The train travels from the Indian to the Pacific Ocean, and the views are breathtaking.
You can have a drink, and your favorite snacks, or meditate as you cruise through the spectacular landscapes, sandstone cliffs, and the stunning Blue Mountains. You will also see the famous South Wales and Broken Hill.
The train takes four days to cover 4,352 km, and the fare is $1,819 per person. The main stops are in Broken Hill, Nullarbor Plain, and Barossa Valley. You will pass through Sydney, Broken Hill, Adelaide, Cook, and Perth. Get ready to tick this trip off your bucket list!
Highlights of the trip
There are well-balanced meals in the dining car. You will enjoy a communal dinner of lamb and snags and coleslaw in the desert.
Enjoy the sights of the Nullarbor Plain and the wildlife.
5. Blue Train from Pretoria to Cape Town, South Africa
If a seven-day trip is too long for you, choose a two-day trip! The Blue Train takes two nights to travel from Pretoria to Cape Town in South Africa and passes through beautiful sceneries. It is a luxury train, and passengers enjoy comfortable accommodations, good services, and food.
The train's windows are tinted to protect adventurers from direct sunlight, but you can view the beautiful landscapes, mountains, and lush forests.
The Blue Train takes two days and 3 hours to travel a 1,600 km journey from Pretoria to Cape Town, South Africa. The fare is 10,120 Rand per person, and the main stop is the Open Mine Museum. Throughout your journey, you will enjoy the beautiful views of Pretoria, Kimberly, and Cape Town.
Highlights of this trip
Passengers travel to a five-star hotel on the rails and enjoy meals prepared by executive chefs.
Visits to fascinating Kimberly and Matjiesfontein.
6. The Ghan from Darwin to Adelaide in Australia
Another long yet fun train journey is from Darwin to Adelaide in Australia. Passengers are served a regionally inspired menu on their trip, and they get to taste the fine, selected wines as they enjoy the spectacular beauty of Australia.
You can meditate, read a book, or get to know your seatmates on your two-day journey. But don't forget to take in and enjoy the beautiful, unique historic sites of South Australia.
This train covers 2,979 km in 2 days and 6 hours, and passengers pay $1,919 per person. The main stops are Katherine and Alice Springs, and its route is through Adelaide, Manguri, Marla, Alice Springs, Katherine, and Darwin.
Highlights of the trip
Travelers go for a half-day excursion to Katherine Gorge, and it is part of the package.
The cabin has comfortable beds and clean bathrooms.
Conclusion
Taking long train trips is an excellent way to enjoy adventure and unwind. A two or seven-day trip is the perfect amount of time to disconnect from everyday life and take some time to relax. You can meditate, read a book, or socialize on the train as you enjoy the beautiful scenery.
What Is The Longest Train Route?
Russia, the world's largest country, has the longest train route. The Trans-Siberian train covers a distance of 10214 km in seven days to travel across 87 cities. The longest train in the world, the Trans-Siberian, measures 7.3k
Summary Of The 6 Longest Train Trips On Earth
| Number | Train | Route Covered In Kilometers | How Long Does It Take |
| --- | --- | --- | --- |
| 1 | Trans-Siberian from Moscow to Vladivostok, Russia | 10,214 | 7 days and 20 hours |
| 2 | The Canadian from Toronto to Vancouver, Canada | 3,359 | 4 nights |
| 3 | Shanghai to Lhasa, China | 4,373 | 2 days |
| 4 | Indian Pacific from Sydney to Perth, Australia | 4,352 | 4 days |
| 5 | Blue Train from Pretoria to Cape Town, South Africa | 1,600 | 2 days and 3 hours |
| 6 | The Ghan from Darwin to Adelaide in Australia | 2,979 | 2 days and 6 hours |
---