Charlotte is one of the gems of the south, as anyone who visits knows. Although it isn't the official capital of North Carolina, anyone who lives here knows that it's definitely the "unofficial one", sorry Raleigh. Whether it's eating at some of the country's best restaurants, drinking at some of the region's best breweries, or spending a night out on the town, Charlotte has a lot to offer. As summer approaches, however, cooling off during the hot months is an essential part of life in the south. Whether you are new to Charlotte or just happen to be visiting for a while, this is a list of the best lakes you can visit in the nearby area! Let's explore the 7 Best Lakes in (and Near) Charlotte, North Carolina.
7 Best Lakes in (and Near) Charlotte, North Carolina
As a Charlotte native, understanding the best spots to get some time on the water is essential. Part of what makes the city so unique is that it's situated 3 hours from the coast and 2.5 hours from the Blue Ridge and the Smokies. As such, you can spend a day either in the mountains or on the beach! Still, there are some days where those just aren't an option. When that's the case, the local lakes are the next best move! Each lake has its own culture and specialty, so make sure you learn a bit about each one before you decide.
Lake Norman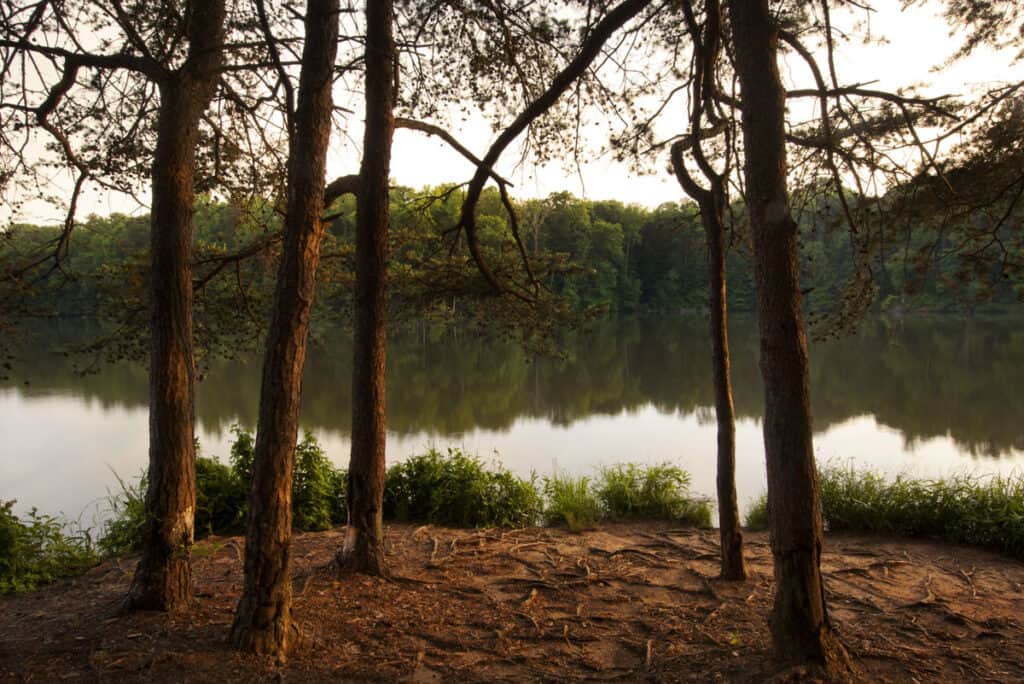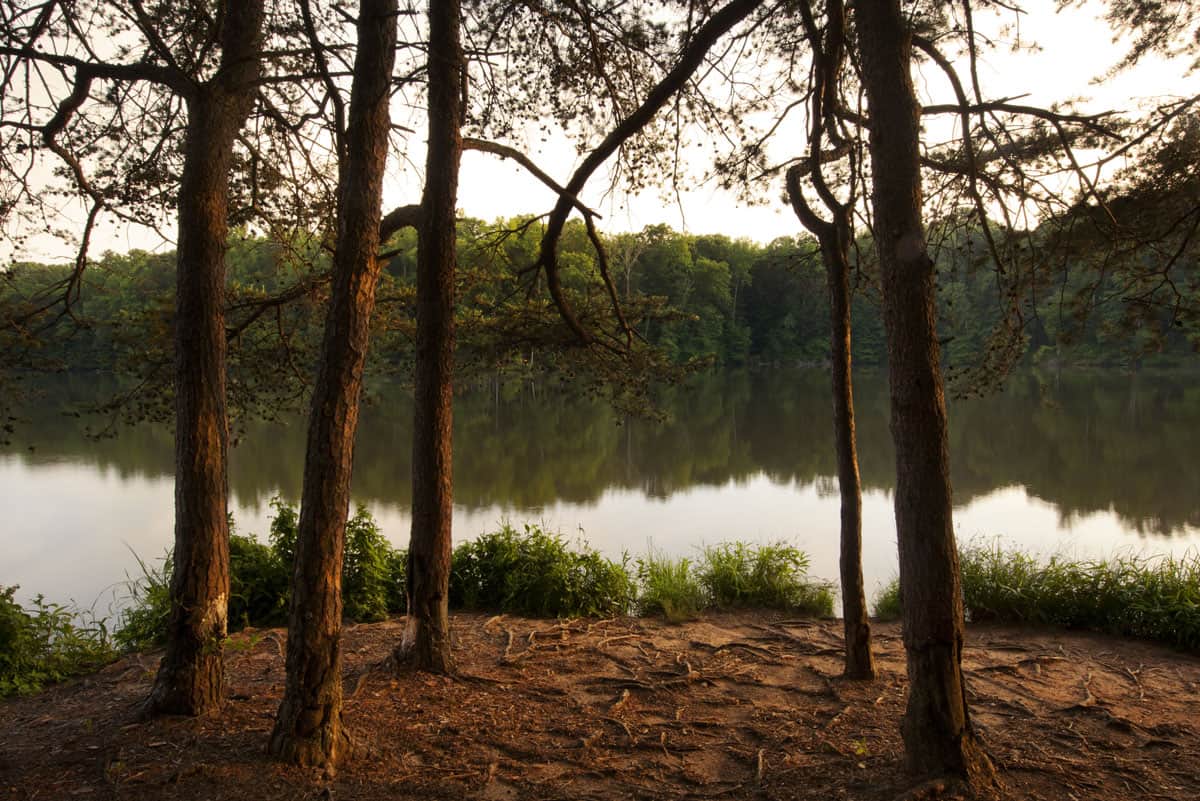 You can't have a list of lakes near Charlotte without talking about Lake Norman. In fact, any Charlottean immediately knows what you mean when you say you are "heading to the lake" this weekend. 9 times out of 10, you are referring to Lake Norman. Lake Norman is the largest manmade lake in the state and is primarily a source of hydroelectric power for a large portion of the Carolinas.
Situated only 30 minutes north of Uptown (it's what we call our downtown area), anyone can head to Lake Norman for a day trip and be back in time for dinner. Almost everyone in the city has been to "the lake" at least once, and it's probably the most popular spot in the area during the summer. It's important to note that North Carolina, as a whole, is quite muddy. Additionally, the mud is bright red, making any large body of water appear brownish and silty. You won't get crystal clear lakes around Charlotte, as a general rule.
Activities: You can boat, fish, swim, eat, camp, and hike in and around the lake. There are multiple state parks, hidden islands perfect for enjoying, and plenty of places to rent boats. Beware, however, that Lake Norman can be extremely crowded during holidays. On those busy days, see if you can find a floating party group to tie up with instead of braving the choppy waves of the main channels.
Lake Wylie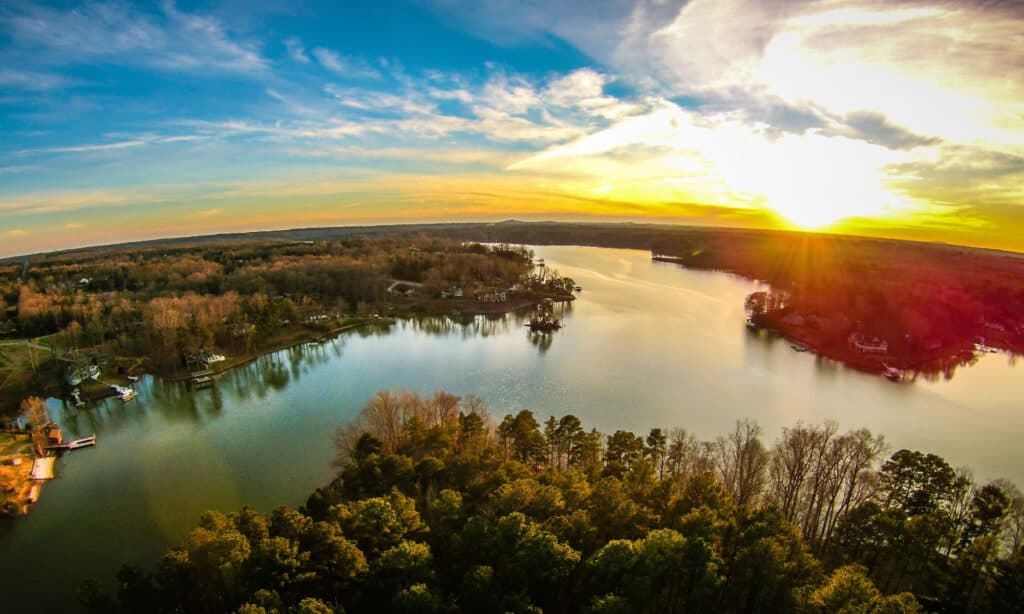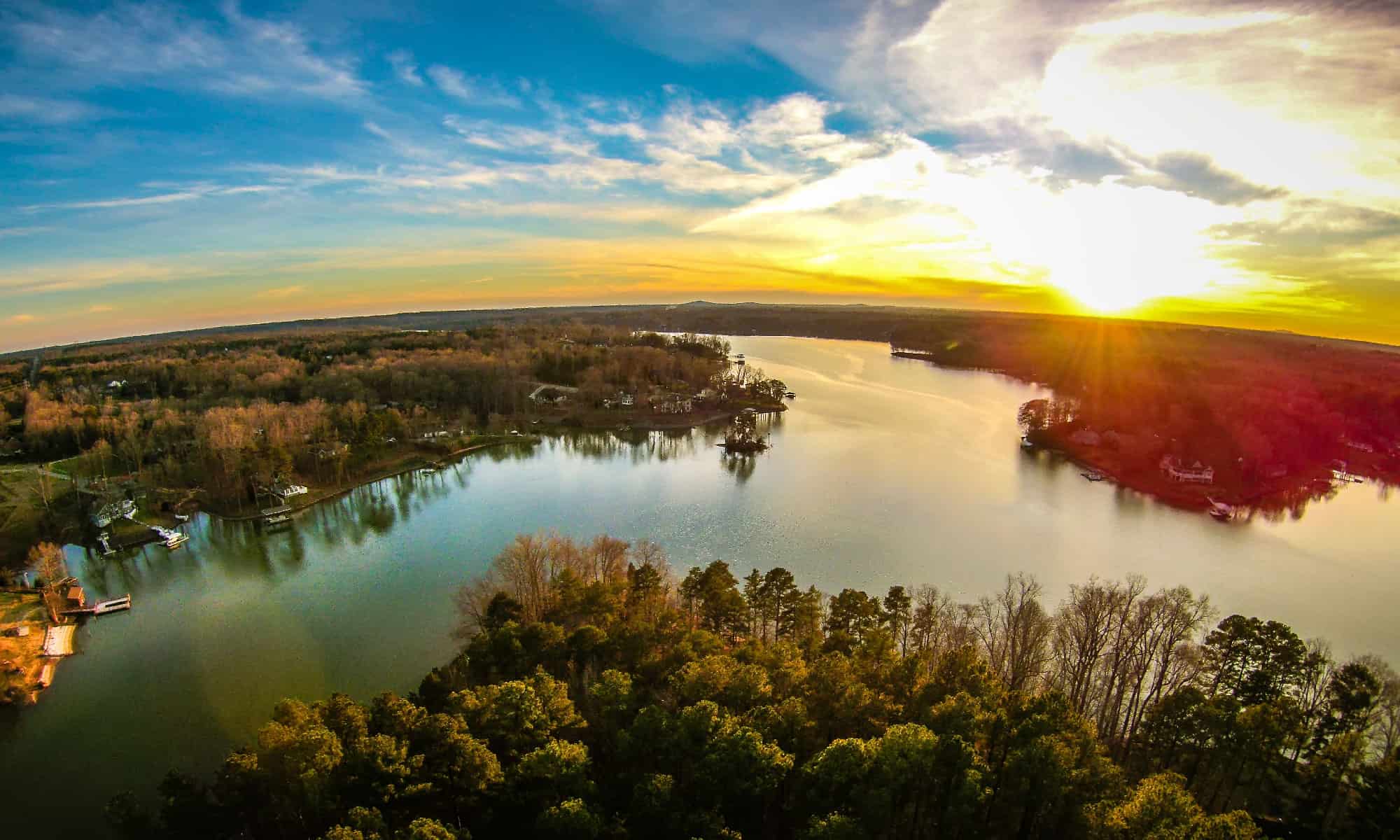 Lake Wylie is the second largest lake in the Catawba River chain, only behind the behemoth that is Lake Norman. Wylie is located a bit further southwest than Lake Norman and is technically in South Carolina. Since Charlotte directly shares a border with York County, South Carolina, however, it's still not far of a drive. From Uptown, Lake Wylie is about a 30-minute drive.
Activities: Lake Wylie is perfect for boating, fishing, swimming, and more. Since it's so close to Charlotte, it's quite easy for crowds to form, especially around the holidays. Still, it's usually not as bad as Lake Norman during peak season. Keep in mind that the lake shares a border with both Carolinas, meaning fishermen will need to be aware of the state license they have.
Mountain Island Lake
Mountain Island Lake is the smallest of the Catawba-formed chain of Lakes, behind Lake Norman and Lake Wylie. This small lake sits only 15 minutes south of Lake Norman. From Uptown, it is less than a 30-minute drive. The lake gets its name from an island within the lake that looks like a mountain, hence the name Mountain Island Lake. It is primarily a reservoir that provides water to over 1 million people in Mecklenburg County. This lake is much smaller and more "residential" than Lake Norman and Wylie, giving it a different feel than the others.
Activities: Mountain Island Lake is good for boating, fishing, and swimming, but it's a bit too small for any major retail on the coast like the other two Catawba-fed lakes on our list. Mountain Island is a great spot for people looking for a quieter alternative to Wylie and Norman.
Lake Wateree
One of the oldest man-made lakes in the state, Lake Wateree is named after the Wateree Native Americans who lived in the region before colonization. Wateree is one of the smaller lakes on the list and is located in South Carolina. From Charlotte, it takes about 1 hour and 25 minutes and is an hour north of Columbia, South Carolina. If you live a bit further south of Charlotte, it is a great alternative to Lake Wylie.
Activities: Lake Wateree is great for swimming, fishing, hiking, and boating. Since it is significantly smaller than other lake options, there is only one boat ramp.
Lake James
You can't talk about North Carolina without talking about the mountains! The Blue Ridge and Smoky Mountains dominate the western portion of the state and have a direct impact on the culture and people to the east, especially Charlotte. Lake James is a large lake situated in the mountains near the Linville Gorge and is the uppermost lake fed by the Catawba River. Its mountainous location and scenery made it perfect for the films The Last of the Mohicans and The Hunt for Red October. Lake James is about 1 hour and 40 minutes from Uptown and 1 hour from Asheville, a large mountain city in the region. If you are heading for a trip to the mountains to camp or stay in Asheville, Lake James is a wonderful option.
Activities: Lake James is a scenic lake perfect for boating, swimming, fishing, hiking, camping, and wildlife viewing.
High Rock Lake
High Rock Lake isn't a place that many people from Charlotte visit, although it's a wonderful spot to visit. This lake is about an hour from Charlotte and directly on the way to Winston Salem. Part of what makes High Rock Lake a great spot is its fishing. Since it's a shallow lake, bass can breed in large numbers in the region. Tournaments such as the Bassmaster Classic have been hosted on High Rock Lake, and it's well known as a spot for professional anglers to visit.
Activities: High Rock is perfect for boating, swimming, and camping. Additionally, fishing is one of the best reasons to visit High Rock as it's well-known for its channel, blue, and flathead catfish, as well as crappie, sunfish, striper, white, and largemouth bass.
Lake Hickory
Located to the north of Charlotte, Lake Hickory is a man-made lake that intersects Highway 16 and I40. Lake Hickory is about 1 hour and 15 minutes from Charlotte and is fed by the Catawba River. Hickory, the region, is significantly less populated than Charlotte and even Asheville, making it a perfect hideaway in the foothills of North Carolina.
Activities: Lake Hickory is a great lake for fishing, boating, hiking, and sightseeing (the distant mountains are sometimes visible). Additionally, Lake Hickory has restaurants, bars, and some retail around the shoreline.
Up Next:
More from A-Z Animals
---
The Featured Image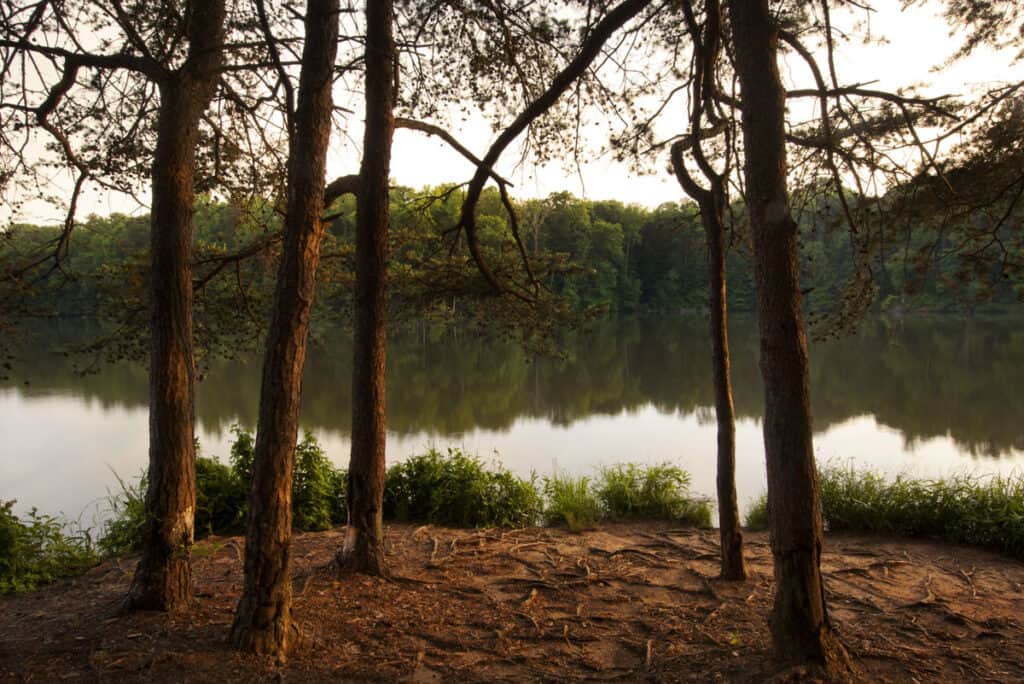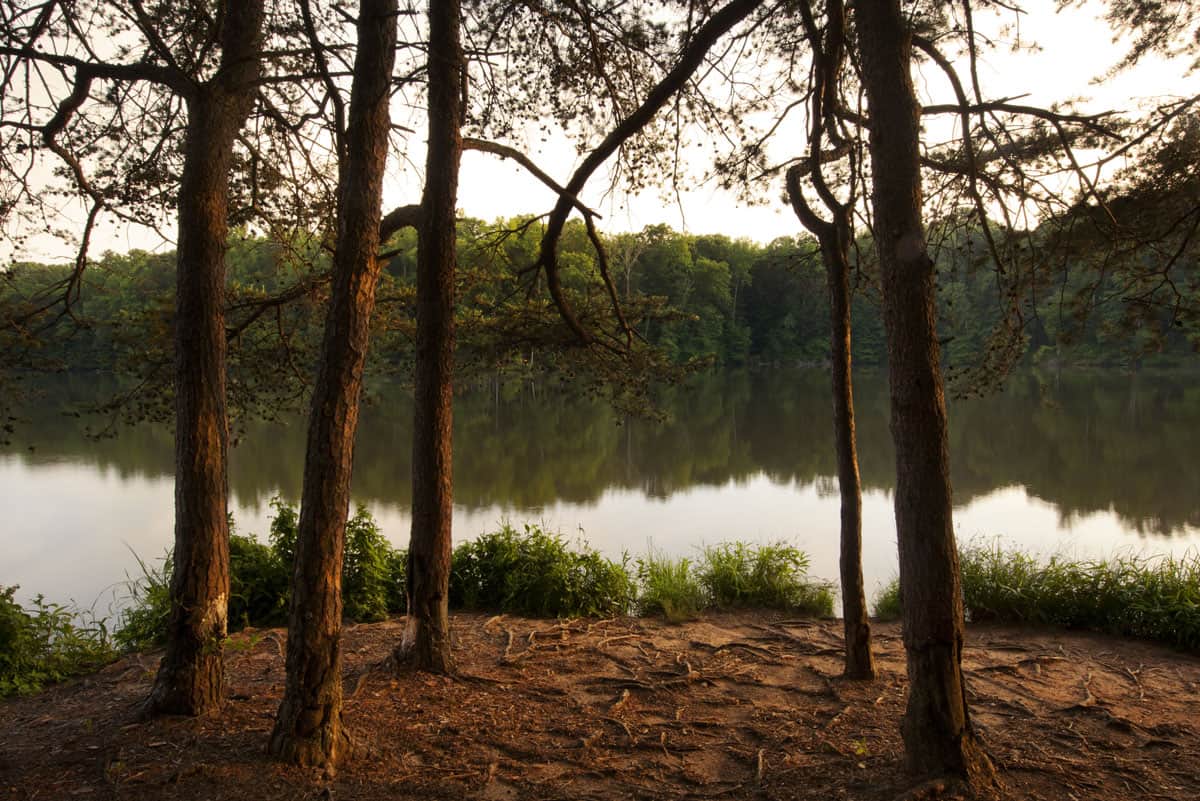 ---