↓
Continue Reading To See This Amazing Video
This holiday season, give a puppy a forever home! There are so many puppies in San Franscisco to adopt for Christmas! This year, adopt and don't shop; make a dog's dream come true. The shelters in SF have countless beautiful dogs, and all of them deserve a loving and caring home.
It's important to remember that adoption is a long-term commitment. Rescuing a pup is a choice that should be made thoughtfully and with plenty of planning. If you feel prepared to make the commitment, what better way to celebrate Christmas than giving a pup its happiest day ever!? The dogs included here are only a handful of the many adorable puppies still searching for their perfect families. They cannot wait to find a home that will give them everything they deserve.
1. Coconut
Coconut is a three-year-old male German shepherd / husky. He has a gorgeous white coat and a pink and black nose. This medium-sized boy weighs around 45 pounds. He is amazing on a leash, as he is a polite young man. He is extremely sweet and calm and adores human attention, especially belly rubs and kisses! Coconut is looking for a forever home that will give him all the attention he deserves.
As a German shepherd/husky mix (shepsky), you should expect Coconut to be a high-energy, intelligent, and loyal dog. As a working dog breed, Coconut will need a healthy outlet for his energy level. Daily exercise and play are important to keep him stimulated. The coat of this breed is long and dense, meaning that Coconut may shed a lot; he is not a good match for people with allergies. Shepskys are well-known for their friendliness. They make great family pets, as they are kid friendly and remarkably affectionate towards their family. Coconut requires a diet that is formulated for medium-sized breeds with high energy. In a loving and caring home, Coconut should live to be 10-14 years old.
2. Rupert
Rupert is a very handsome Jack Russell terrier and Chihuahua cross who is around five to six years old. He is brown and white with adorable big ears and a cute brown nose. Rupert is a small boy who only weighs 12 pounds but loves adventure! He is amazing on a leash and has even gone on long hiking adventures. Not only does he love outings, but he also loves to play fetch (and he brings the ball back every time). He is smart, housetrained, and knows commands such as "sit", "down", and "touch." If you are single and in need of a companion, Rupert would love to come home with you.
As a Jack Russell terrier and Chihuahua crossbreed (Jack Chi), you can expect Rupert to be relatively low maintenance but energetic and playful. Rupert will do well in an apartment setting as a small, quiet breed. However, he will need daily exercise to meet his energy requirements. Jack Chis have dense, medium, straight fur that is incredibly easy to maintain. One brush a week should keep Rupert's coat looking shiny and smooth. Jack Chis should be fed a formulated diet for a small-sized medium-energy dog, taking care not to over-feed. You can expect Rupert to live to be 13-18 years old, so he has many fantastic years ahead of him!
3. Charlie
Charlie is a snuggly 58-pound, 2.5-year-old labrador retriever and Staffordshire bull terrier cross (labrastaff). He is black with a bright white chest, floppy ears, and a shiny black nose. Charlie loves children and would enjoy living with kids in his future home. He loves other dogs, so he would not mind a sibling to play with either! He is a playful, bouncy boy, and his favorite activities are sleeping and cuddling. Peanut butter is Charlie's favorite treat. Charlie also enjoys long walks and hiding his toys. He is a very gentle, well-mannered dog looking for a forever home.
Labrastaffs are a high-energy and athletic breed that is loyal and intelligent. They require daily exercise and play, which helps keep their bodies lean. Labrastaffs are extremely affectionate with family and great with kids, so they make great family dogs. The labrastaff coat is short, dense, and straight. To keep it looking great, Charlie will need daily brushing sessions. In addition, you should expect to feed a diet formulated for medium-breed dogs with high energy. As labrastaffs live to be 10-14 years old, you can expect many great years with Charlie.
4. Bosley
Bosley is a two-year-old male English bulldog who is the most playful and snuggly soul! He is 45 pounds of energy and intelligence. Bosley has a beautiful brindle and white coat with big brown eyes that will melt your heart. He loves running, jumping, and playing; he especially enjoys dog parks and long walks. He is crate-trained and house-trained and walks well on a lead. The best home for Bosley would be a home with another dog to play with and a yard for him to run around. Because Bosley is easily overwhelmed by loud noises and likes to eat small toys, small children are not part of his ideal environment. Bosley cannot wait to meet his forever family!
Bulldogs are medium-sized dogs that are extremely affectionate, gentle, and loving. They are generally low to moderate-energy dogs and do not require much exercise. This breed cannot tolerate heat, so it is crucial to ensure they do not overheat. They are very playful, friendly, sociable dogs. Although they have low coat maintenance, bulldogs need regular cleaning of their folds/wrinkles. They also need a high-quality diet formulated for medium-sized breeds and low energy levels. Higher-energy bulldogs will need to be fed more, so Bosley may need a slightly larger amount of food than the average bulldog. The life expectancy for this breed is eight to 12 years, and Bosley cannot wait to spend them with his forever family.
5. Rusty
Rusty is a gorgeous miniature Australian shepherd and a loving, loyal dog. He is four years old and weighs 17 pounds. Rusty is a beautiful tricolor with striking eyes; one blue, one brown! He is a brilliant dog, enjoys training, and loves to please. However, he is quite nervous and will need a confident owner with previous dog experience to give him structure. 
Rusty would love a home with a lot of space to run around and could live happily with another confident dog. Unfortunately, because of his nerves, he will need to go to a home with only adults. He cannot wait to find his forever family!
Miniature Australian shepherds are lively, hardworking, high-energy dogs. They require daily work and play to meet their needs. They are extremely loyal dogs and can make great family pets. However, they do tend to be uneasy around strangers. Their high intelligence makes them easy to train. Miniature Australian shepherds shed a lot and have a high-maintenance coat, so Rusty should be brushed daily. His diet should be a high-quality small-breed food, with quantity depending on his size and energy level. Rusty has so many great years left, as this breed can live between 11-15 years.
6. Blossom
Blossom is a beautiful 2.5-year-old Staffordshire/bull terrier mix. She is a gorgeous 60 lb. black and white girl who loves to give cuddles. She is a high-energy pup and enjoys playing fetch. Blossom is very intelligent and has learned many basic commands. Balls and rope toys are her favorite things to play with! Her ideal home would be one that can meet her energy needs and give her the attention she needs. She would prefer to be the only dog in the house so she can get all the love!
As a Staffordshire/bull terrier, you can expect Blossom to be intelligent, courageous, and loveable. Staffies are incredibly playful, muscular, and high-energy dogs. They must be exercised daily with play to meet their energy requirements. Their coat is generally low maintenance as it is short and smooth and sheds annually. Blossom should eat a high-quality diet for medium to large-sized breeds with high energy. A healthy Staffordshire bull terrier is expected to live for 12-14 years. As Blossom is a Staffy mix, she may have other qualities not usually found in purebred Staffordshire bull terriers.
Up Next
Ready to discover the top 10 cutest dog breeds in the entire world?
How about the fastest dogs, the largest dogs and those that are -- quite frankly -- just the kindest dogs on the planet? Each day, AZ Animals sends out lists just like this to our thousands of email subscribers. And the best part? It's FREE. Join today by entering your email below.
---
The Featured Image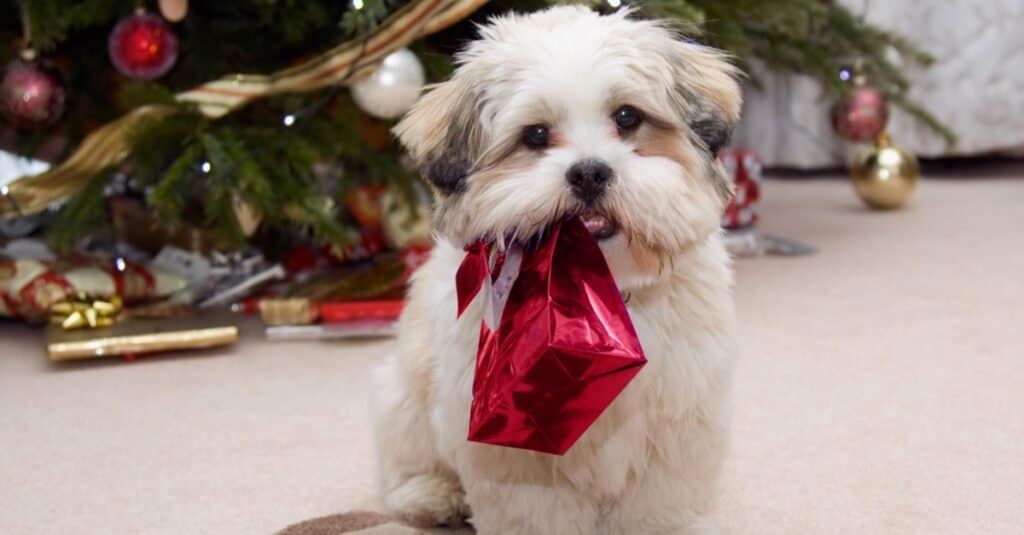 ---