The majority of us are familiar with Washington's beautiful coastline and abundance of outdoor leisure options. A beach lake in Washington is the perfect place to relax and cool off if you're searching for a swimming spot in the Evergreen State.
It makes no difference what kind of beach you want. In Washington, they are all easily accessible and you don't even have to spend a lot of time searching! Some are calm and charming.
Some are wild, raging, and vast. All offer limitless amounts of free time spent having fun in the water, despite the fact that everyone is distinctive in their own manner.
Cranberry Lake
On Whidbey Island in Puget Sound, Cranberry Lake is a portion of Deception Pass State Park. Given its name, since it was formerly a cranberry bog when the region was first colonized, it is today regarded as one of Washington's top swim sites.
There are swimming areas and boating docks nearby, along with picnic sites, fishing piers, and camping grounds. On Cranberry Lake's western shore, there are swimming spots. Additionally, since you can use electric or manual watercraft, the east side is the greatest choice if you enjoy fishing and boating.
Your time spent here will be a lot more pleasant if you are aware of this beforehand. It's important to note, due to the fact that this beach lake is located within Deception Pass State Park, you could have to pay an entrance fee that varies with the sort of visit you make.
Westport
Westport, one of the first surfing hotspots in Washington, is also a terrific place to go clamming, crab, and take a stroll along the beach looking for agates. Many stores near the marina offer assistance and rental gear for clamming or crab fishing.
Embark on a whale-watching tour or rent a deep-sea fishing boat for an even greater thrill. Sand beaches and gentle waves along the jetty at the southern end of Westhaven State Park render it a popular spot for both novice and expert surfers.
Watmough Bay
Every beach in the San Juan Islands is a good choice, but this secluded area on Lopez Island's southeast coast is simply the best. From the parking area, a short, simple trail takes you to the gravelly circular beach, which is completely quiet and protected from the wind by towering cliffs.
Use as much of your visit as you can since it is only for day use. Pack your lunch and a book to read, experience the impression of being miraculously within a postcard, put your toes in the small waters, and keep your eyes peeled for seals passing by.
Lake Sammamish
People in the Seattle area frequent this location for outdoor leisure. In July and August, this long, shallow, and warm lake reaches a maximum temperature of 75 degrees. Residences line most of the lakeshore.
Two excellent public access sites are available. One is better known than the other in terms of popularity. On the southern end of the lake in Issaquah is the famous Lake Sammamish State Park. Be sure you have your Discovery Pass for entry.
The park offers plenty of parking, public facilities, changing places, and inviting sandy beaches. The less well-known park is Idylwood Beach Park, located in Redmond's northern section. A nice time at the lake is easy to have there as well thanks to the magnificent sandy shoreline and many conveniences.
Lake Chelan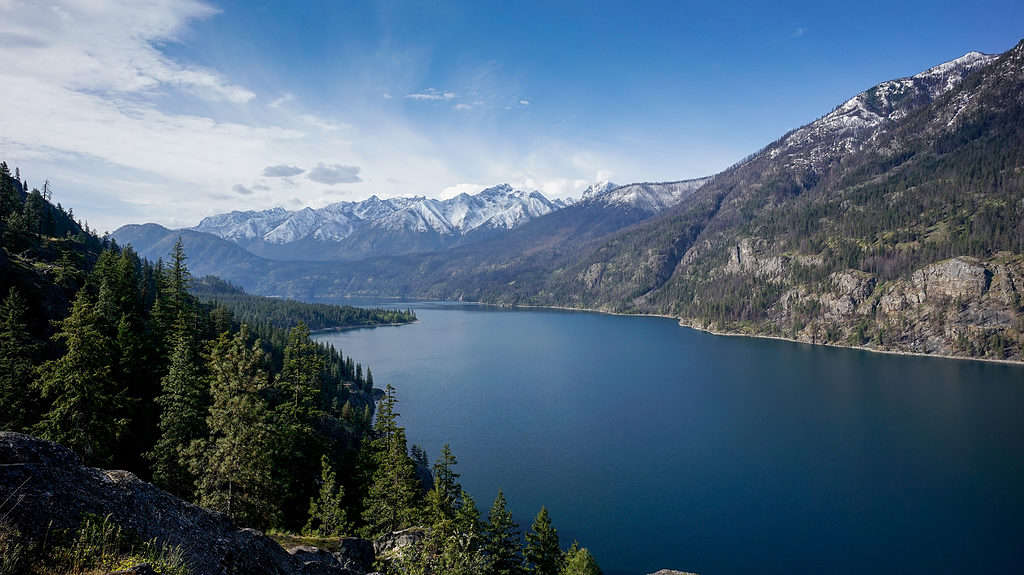 One of the most well-known beach lakes in Washington is Lake Chelan, which is located in North Central Washington and is about three hours east of Seattle. The lake, which was formed by glaciers, is a little over 50 miles long and has an amazing variety of pristine water. With a depth of 1,486 feet, it is also Washington's deepest lake.
On the water, visitors can go fishing, sailing, floating, swimming, and hiking among other things. Visitors can rent watercraft from a variety of locations. There's no need to be concerned if you don't have a canoe, paddleboard, or sailboat. At Lake Chelan, you may find all of those things and much more.
A boater's Garden of Eden, Lake Chelan is close to a large number of eateries, stores, and wineries. Because of its popularity, you should expect to see other people taking in the same sights as you. Because it is such a large lake, you won't have to worry about it feeling overcrowded.
Lake Cushman
The Olympic Mountains include a hidden beauty called Lake Cushman. It has a depth of 115 feet and a length of about 10 miles. The South Fork of the Skokomish River was dammed to create the lake, which is encircled by forest and mountainous terrain.
It's a terrific area to take in nature and escape the rush of urban life because of its remote position. Cliff diving, swimming, sailing, water skiing, and fishing are all popular activities on the lake.
Since there are many campgrounds and campsites for RVs close by, it's great to enjoy a couple of days taking advantage of everything the region has to offer. Visit Lake Cushman if you're searching for a lovely and tranquil place to take in the outdoors.
Lake Crescent
Fairholme Beach is one of the nicest places to swim at Lake Crescent. A campground close by has a camp shop, a restaurant, and boat rentals. A simple day drive from Port Angeles can include a stop at this coastal lake in Washington. U.S. Highway 101 will take you directly along the lake and is just 20 miles west of Port Angeles.
With a depth of slightly over 600 feet, Lake Crescent is the second-deepest lake in Washington and is 12 miles long. In addition to taking hikes and camping in the nearby nature, guests are able to relish an afternoon of fishing, sailing, and swimming in crystal-clear waters.
Because there is no nitrogen in the water, Lake Crescent has no algae, which is what renders it so distinctive. You will have a breathtaking adventure when you visit Lake Crescent for a quick swim in the alpine lake.
Colchuck Lake
If you're looking for something a little more private, Colchuck Lake is a great choice. You can take Icicle Creek Road by leaving western Leavenworth and traveling north on U.S. Highway 2. From here, go less than nine miles and turn left onto Forest Service Road 7601. Expect a gravel road that is occasionally not in the best condition.
You'll reach the Stuart Lake trailhead parking area in less than four miles. This alpine lake's azure color makes every step worth it for its beauty. Your breath will be taken away by the vistas of the dual plumes of Dragontail and Colchuck Peaks, which are situated in the Central Cascades in the heart of the Evergreen State.
Lake Washington
The second-largest lake in the state after Lake Chelan, Lake Washington near Seattle is home to some of the best swimming beaches. Given that it's in Seattle, this is a fantastic choice for people who want to mix a trip to the beach with some city sightseeing.
Guests can go swimming and tanning in alongside fishing, sailing, and relaxing. Even more eateries and cafes can be found close to the beach, making it convenient to have a bite to eat without going too far.
If you're searching for a weekend retreat or a day excursion, Lake Washington is a terrific location to spend some time outside. On the north shore, Matthews Beach and Magnuson Park provide lovely shorelines and picnic areas.
Lake Wenatchee
16 miles west of Leavenworth on Highway 2 is Lake Wenatchee, which is located on the eastern side of the central Cascade Mountains. This five-mile-long lake is fed by glaciers and is surrounded by stunning mountains.
One of Washington's premier parks, Lake Wenatchee State Park, serves as the focal point of a lot of the leisure at Lake Wenatchee. A free public boat launch is available at Lake Wenatchee State Park for getting to the water. In some places, the lake is nearly 200 feet deep, and the water is extremely chilly.
The most popular water sports are fishing and surfing. Every now and then, a jet ski will show up. During the summer, the state park rents kayaks and stand-up paddleboards. The trip would be worthwhile just for the vista from the state park beach gazing over the lake into the large peaks in the distance.
Baker Lake
Within two hours of Seattle and a bit nearer to Bellingham is Baker Lake, which is well-liked all summer long. However, the lake's enormous expanse and amenities help to keep things fairly dispersed.
The developed side of the lake lies on its western bank, where a number of campgrounds are located. Within the Mt. Baker-Snoqualmie National Forest, it is a well-liked leisure lake. This nine-mile-long, narrow lake is surrounded by numerous campgrounds, hiking paths, and other woodland attractions.
Ross and Diablo Lake
On Highway 20, Ross Lake is hard to miss. The focal point of Ross Lake National Recreation Area is this lake, which has a length of about 23 miles. Additionally, it is a component of the vast North Cascades National Park Complex.
About 60 miles west of Winthrop is where you'll find this beautiful vantage point. Nearby panoramas of Diablo Lake compete for attention in a similarly spectacular manner. One of the most common ways to take in the scenery is from a vantage point above these two lakes and gaze at the noteworthy mountain backdrops.
Mowich Lake
The less frequented but nevertheless well-liked northwest section of Mount Rainier National Park is home to Mowich Lake. State Highway 165 connects to it; the final six miles are difficult and rugged and should be driven slowly.
Experience this lake, which is the largest in Mount Rainier National Park, by making the unpaved journey. Mowich Lake is extremely cold and is primarily fed by melting snow. Swimming is, at most, a fleeting exercise in these chilly temperatures. Still, some daring folks plunge into the water while hiking along the shoreline.
Strictly non-motorized boats are permitted on Mowich, as they are on all of the park's lakes. Those who possess fishing licenses take pleasure in casting from the shore or from personal watercraft. If you're trying to beat the Washington heat in the throws of summer, this is a great spot!
Banks Lake
Another well-liked destination for recreation in Eastern Washington is Banks Lake. Steamboat Rock State Park, which lies close to the lake's north side, serves as the hub for activities. The park is called after an 800-foot-high rock monolith that is difficult to miss.
The expansive plateau covers more than 600 acres. Banks Lake is a sizable reservoir that stretches from Coulee City to Electric City. This distinctive lake is a component of the much bigger Columbia Basin Project, which supplies energy and irrigation to this area.
To get a great perspective of the water, hikers can ascend Steamboat Rock through a challenging but well-traveled trail. Over 50,000 feet of freshwater beachfront can be enjoyed at the state park. There are multiple places to launch your boat when you arrive at the Banks Lake entry, distributed among three locations.
Summary of 15 Amazing Lakes in Washington State That Have Sandy Beaches
| Rank | Lake with Sandy Beach | Location |
| --- | --- | --- |
| 1 | Cranberry Lake | Whidbey Island |
| 2 | Westport | Grays Harbor County |
| 3 | Watmough Bay | Lopez Island |
| 4 | Lake Sammamish | King County |
| 5 | Lake Chelan | Chelan County, north-central Washington state |
| 6 | Lake Cushman | Mason County |
| 7 | Lake Crescent | Olympic National Park in Clallam County |
| 8 | Colchuck Lake | Chelan County |
| 9 | Lake Washington | next to Seattle |
| 10 | Lake Wenatchee | Wenatchee National Forest on the eastern slopes of the Cascades Mountain Range |
| 11 | Baker Lake | Mount Baker-Snoqualmie National Forest and Baker River Valley |
| 12 | Ross Lake | North Cascade mountains |
| 13 | Diablo Lake | North Cascade mountains |
| 14 | Mowich Lake  | Mount Rainier National Park |
| 15 | Banks Lake | northern Grant County |
Summary of 15 Amazing Lakes in Washington State That Have Sandy Beaches
The photo featured at the top of this post is © Checubus/Shutterstock.com
---