When it comes to comparing an American Bulldog vs American Bully, they are often confused by their name and appearance. Although they share some similarities, they are very different dogs. The distinction between an American Bulldog and an American Bully is not limited to their looks.  In this article, we'll examine eight key differences centered around appearance, characteristics, and health factors for these two adorable breeds.
American Bully vs. American Bulldog: A Comparison 
| Key Differences | American Bully | American Bulldog |
| --- | --- | --- |
| Height | 17 – 20 inches | 20 – 28 inches |
| Weight | 110 lbs. | 120 lbs. |
| Coat type | Short, Stiff, Glossy | Short, Smooth |
| Colors | White, Brindle, Red, Black | White, Fawn, Striped, Tri-Color |
| Temperament | Happy, Outgoing, Well-Mannered | Smart, Stubborn, Needy |
| Trainability | Easy to train | Difficult to train |
| Life Expectancy | 10 to 12 Years | 10 to 16 Years |
| Health Problems | Hip Dysplasia, Heart, Skin, Vision | Obesity, Thyroid, Vision, Allergies |
American Bully vs. American Bulldog: A Comparison
Key Differences Between American Bully and American Bulldog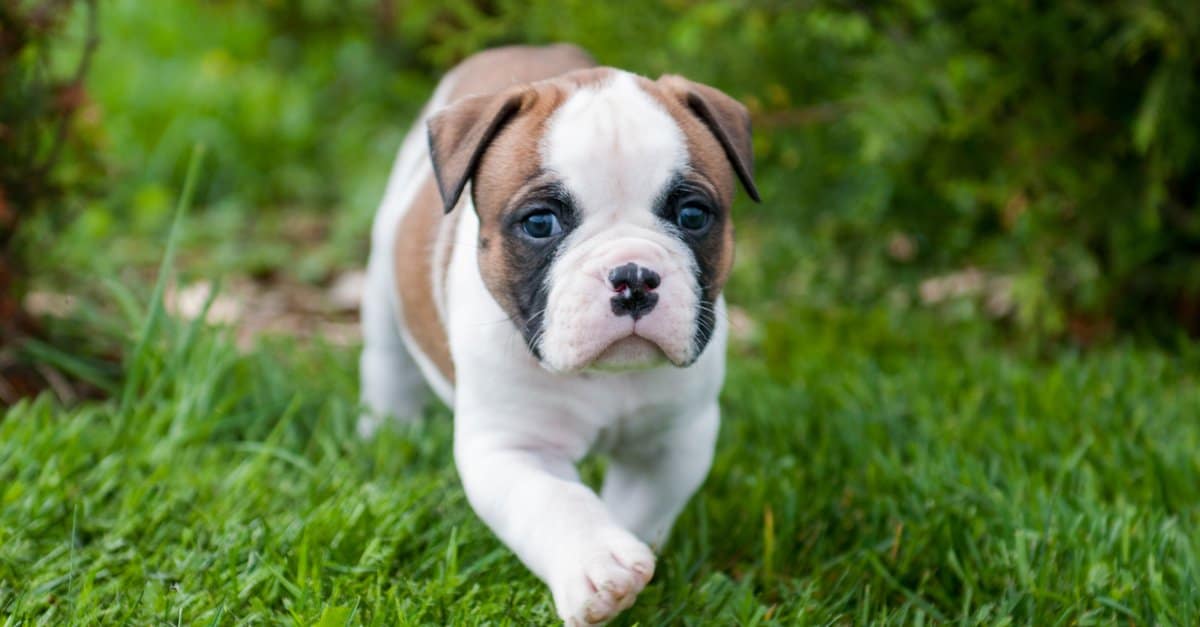 There are many key differences between an American bully vs American bulldog. Despite their differences, these two breeds share a few things in common. Both have robust frames and boxy skulls, though the American Bully goes overboard compared to the American bulldog. The American bulldog also differs from the American Bully in their histories, temperaments, and personalities. Let's take a closer look at these differences in detail below.
Appearance
American Bully Vs American Bulldog: Height
A standard male American bully reaches 17 to 20 inches tall, while a typical female is 16 to 19 inches tall. The American Bulldog is a taller dog than the American Bully. Male American Bulldogs can reach a height of 20 to 28 inches, while females can reach a height of 20 to 24 inches.
American Bully Vs American Bulldog: Weight
The American Bully is a medium-sized dog with a strong frame and a compact body. Male American Bullies can reach up to 110 pounds, whereas the average American Bulldog weighs around 120 pounds.
Both these breeds appear in several sizes, and smaller and larger dogs have different classifications. The different versions include Pocket, XL, Classic, XXL, and Standard.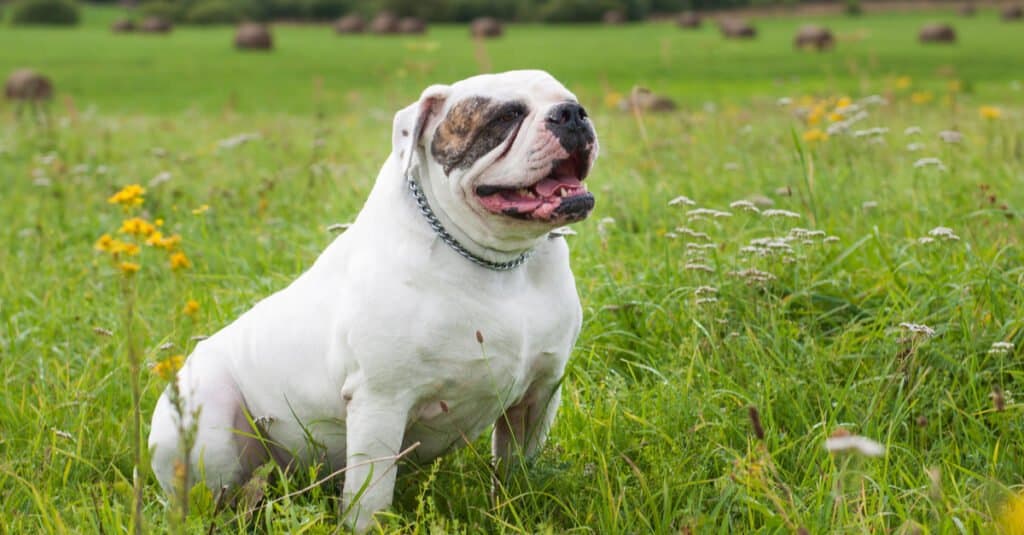 American Bully Vs American Bulldog: Coat Type
Both dogs have easy-to-care-for coats, with the American Bully shedding less than the other. The American Bully's skin is often looser than the American Bulldog's, giving the hair a different appearance and feel. In comparison to American Bulldogs, the American Bully has a short, close, stiff-to-the-touch, glossy coat with more colors and patterns available. The American Bulldog has a short coat.
American Bully Vs American Bulldog: Colors
American Bulldogs come in several colors. These include bicolor brindle, black, brown, chocolate, or white. The most popular colors for American Bullies are White-Fawn, Striped (non-brindle), and Red Nose. Tri-Color, Solid Color, or dogs with white mixed in are also popular.
Characteristics
American Bully Vs American Bulldog: Temperament
The American Bully is a happy, outgoing, well-mannered dog. Despite their fearsome appearance, American Bullies are friendly and loyal household pets. They're still powerful, so you'll need to train them to avoid harming others.
American Bulldogs have a different temperament than other breeds. American Bulldogs are smart, friendly family guardians. It has a stubborn, rugged quality. As a result, novice owners or those unsure of their abilities may not be able to remain constant and firm during training. But they are not violent. They need a lot of activity and a lot of attention.
American Bully Vs American Bulldog: Trainability
American bulldogs are energetic and need a lot of physical activity. A household where they can get enough exercise and play is ideal for them. They are incredibly flexible due to their intelligence. However, they can be difficult to train. Even though they are adorable dogs, they may be stubborn and insistent. A professional dog handler is needed to apply reward-based methods to keep the dog engaged.
The American Bully is a lot easier to train than other breeds. Their intelligence and ability to learn a wide range of tricks and orders make them great companions. American Bullies can benefit from training and socializing.
Health Factors
American Bully Vs American Bulldog: Life Expectancy
The American Bulldog lifespan is slightly longer than the American Bully. The American Bulldog is a typically healthy breed, with a life expectancy of 10 to 16 years. Some are prone to certain medical conditions, such as cataracts. If they are overweight at a young age, they may develop hip or elbow dysplasia.
An American Bully Dog's average lifespan is 10-12 years. Your American Bully, on the other hand, will live for another few years if you look after it properly. A healthy diet and a loving environment are crucial.
American Bully Vs American Bulldog: Health Problems
Obesity, overheating, vision problems, and allergies are all common health issues in American Bulldogs. Only a few health issues stem from the American Bully's ancestry, contributing to the breed's overall health. The American Bully's most well-known health issues include hip dysplasia, heart disease, skin problems, and visual problems.
Wrapping Up American Bully Vs American Bulldog
There are several similarities between these two dog breeds. Both are excellent family dogs with a golden disposition. One is more playful and difficult to train. The other is well-known for its exceptional trainability and loyalty. They can both be quite dangerous if their owner is not a cautious and caring trainer. They require regular feeding and grooming, as well as space to run and play. Both breeds also require proper training and a loving environment.
Up Next
Ready to discover the top 10 cutest dog breeds in the entire world?
How about the fastest dogs, the largest dogs and those that are -- quite frankly -- just the kindest dogs on the planet? Each day, AZ Animals sends out lists just like this to our thousands of email subscribers. And the best part? It's FREE. Join today by entering your email below.
---