↓
Continue Reading To See This Amazing Video
Is this the holiday destination of nightmares or is something else going on here? At first glance, this footage looks like a large group of crocs basking on a lovely beach – albeit one that most humans would do anything to avoid for safety reasons!
However, we've dug a little deeper for you and done some research. It turns out that this vid may not be all that it seems.
Crocodiles and Brazil?
Firstly, it is claimed that this footage is from Brazil. A fact checker confirms that this is the case but this is no tourist beach that has been abandoned because of the deadly wildlife! This is apparently part of the Pantanal which is the world's largest wetland and covers around 42 million acres. It covers parts of Brazil, Bolivia, and Paraguay. Also, it is nowhere near open seawater.
That brings us to another issue. Crocodiles are found mainly in central and northern South America, Asia, and Australia but are not found in Brazil. 
So, unless there has been an extraordinary mass migration of crocs, the animals in this vid are not crocs at all! According to the herpetologists consulted by the fact checker, these wonderful reptiles are in fact Yacare caiman.
More About Basking Yacare Caiman
The wetland habitats of Central and South America are home to six species of caiman and the Yacare caiman is one of them. Some are hunted locally as a source of meat protein for humans but their populations are still fairly robust.
They are large reptiles and have very few animal predators when they are adults, although big cats such as the jaguar can hunt them successfully. Young caiman, however, are the prey of snakes, birds, wild cats, and even wild pigs.
A herpetology expert at the fact-checker explains that there are only limited basking opportunities for caiman in this area and that is why you see large groups gathering in locations like this. It also indicates that there is plenty of prey for cayman in this habitat. This phenomenon is described as a high-density basking aggregation. It is likely that this location is on the shoreline of the Nabileque River because land can be seen on both sides of the water. 
Basking is a typical caiman pastime. They spend most of the daylight hours basking just out of the water on beaches or in the shallow water at the shore. They are a semiaquatic species and some prefer to spend more time in the water than others.
The main message here is that you don't have to avoid beaches in Brazil which is good news because Brazil has some awesome beaches!
Next Up:
More from A-Z Animals
---
The Featured Image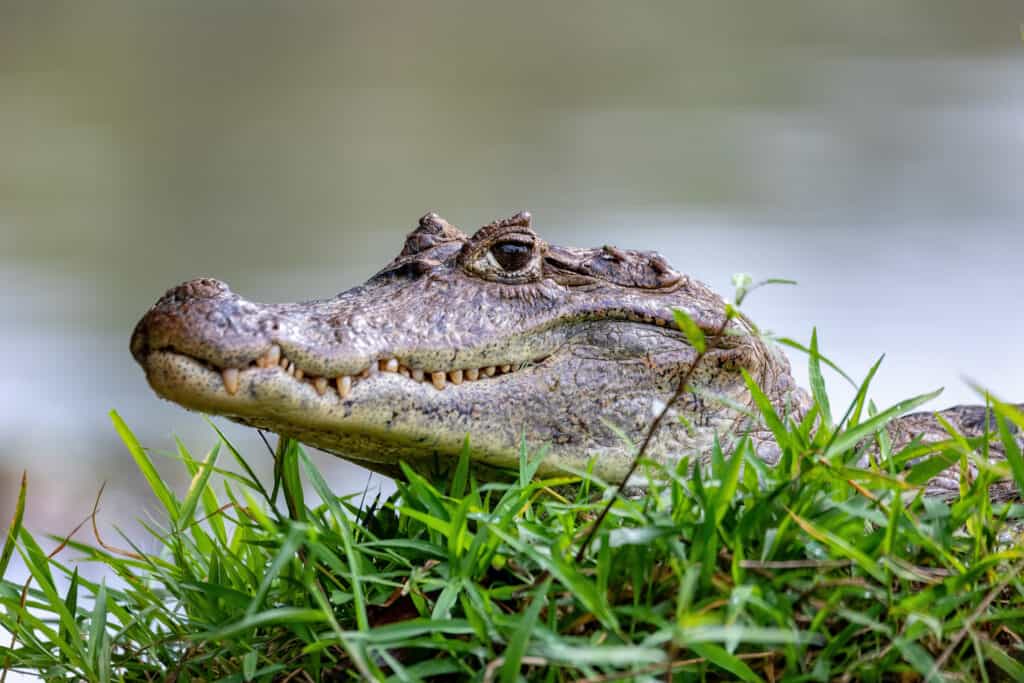 ---