It's a common misconception among pet owners that their backyards are a secure haven for their four-legged family members to explore. No harm in letting them out to relieve themselves in the yard, right? However, since toxic toads live in some parts of the country, it's possible for pets to become poisoned in their own backyards, especially during the breeding season in the summer or after a spring shower.
What's worse is that a toad's appearance may not be immediately apparent to those who are unfamiliar with the creature. They don't just look different from frogs; they're also varied in terms of toxicity to your pet. Toads and frogs that are dangerous to your pet will vary depending on where you live.
Learn more about how poisonous toads in the United States are for your dog or cat in this article.
Are Toads Poisonous To Dogs Or Cats?
Toads have poisonous skin secretions as a defense against predators. Hence some toads are highly poisonous to dogs or cats who encounter them. Bufotoxin, a chemical found in these secretions, may cause small animals to die and humans to experience allergic reactions.
Thankfully, most toads in the United States are only mildly toxic, including the common American toad, although their secretions can still cause some dramatic symptoms if they come into contact with a pet's mouth.
There are two species, notably, the cane toad found in the southeastern U.S. and Hawaii, and the Colorado River toad found in the southwestern U.S. They are fatally toxic to some pets.
Toads That Are Poisonous to Dogs And Cats
Poisonous frogs in North America include the Cane Toad and Colorado River Toad.
Most animals that try to eat or bite these toads are poisoned. Coming into contact with either of these frogs is extremely dangerous for your pet's health.
The Cane Toad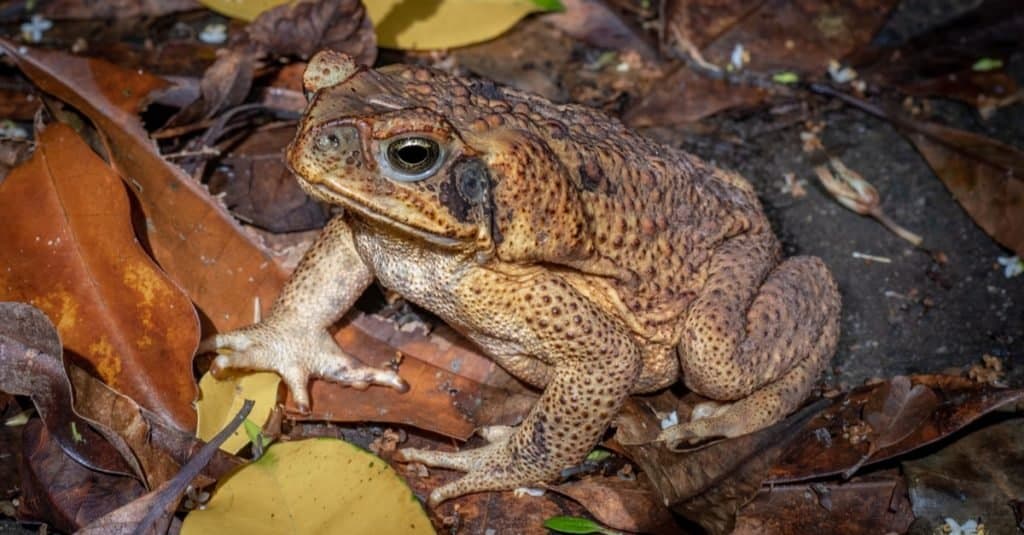 The cane toad, also known as the giant or Bufo toad, is a marine toad found primarily in Florida, Texas, and Hawaii. In addition to having prominent triangular glands located behind their eyes, they also lack ridges on the crown of their heads. For pets, the toxin of the cane toad could mean death in 15 minutes or less with a lack of action.
The Colorado River Toad
This toad, commonly known as the Sonoran Desert Toad, can be found throughout the Southwest and Southwest United States. Their hind legs are covered in glands, as are the oval glands behind their eyes. If your pet survives this highly toxic toad, it will likely be paralyzed for several hours.
Toad Poisoning Symptoms In Cats And Dogs
Poisonous toads can cause serious problems for cats and dogs that eat them. You should take your cat to the vet right away if you see any of these signs. Indications include:
Excessive Head Movements
Scratching At The Mouth Or The Eyes
Sneezing or Coughing
Excessive Drooling And Slobbering
Pale or Inflamed Mucous Membranes
Problems With Breathing
High Temp
Seizures
Unsteady Gait
Collapsing
Death, in rare cases
What To Do If Your Dog Or Cat Licks Or Eats A Toad?
Any cat or dog that has licked, eaten, encountered, or consumed a toad should be taken to a veterinarian immediately. Remember that your pet's comfort, while you wait, should be a priority. Unfortunately, poisoning from frogs or toads has no antidote at the vet. Instead, the vet will treat the symptoms.
While waiting to get help, wipe your pet's gums and mouth with a clean moist cloth to try and remove frog toxins. Some may attempt rinsing or flushing their pet's mouth. Do not do this as your pet may swallow or inhale the toxin water causing pneumonia. A clean cloth for their gums and mouth should do. The frothing may be difficult to remove because cats loathe water. But you must do it.
When you're ready to take your pet to the vet, try to capture a photo of the toad. Identifying the species helps determine toxicity.
What's the Difference Between A Frog And A Toad?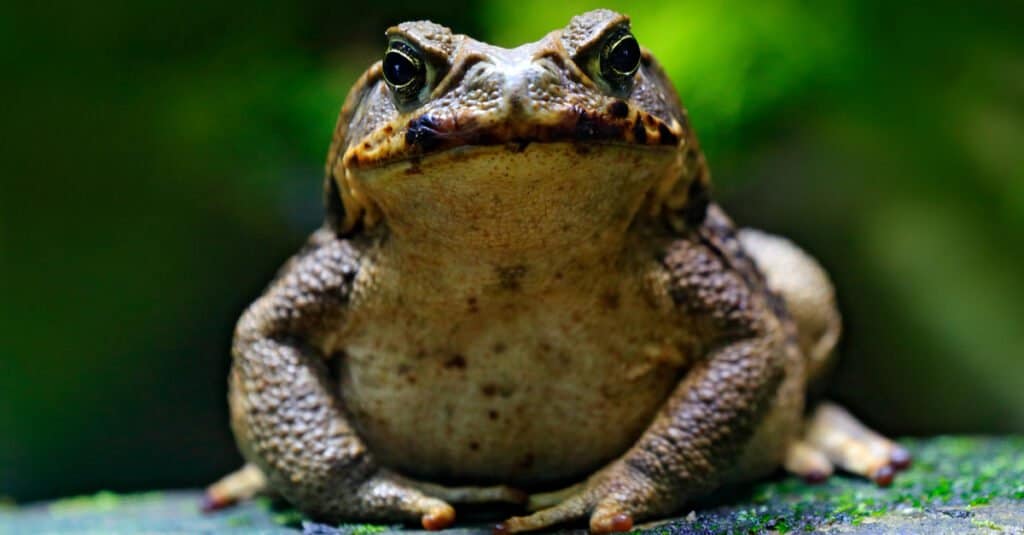 These two have a lot in common, but they're also very different. Toads have thick, dry, and warty skin, while frogs have smooth, slimy skin and lengthy hind legs.
---