Key Points
The world is full of beautiful flowers and they deserve to be seen and adored by the masses. Studies show that there are approximately 400,000 types of flowering plant species around the world. While someday, we'd like to see them all, for now, we'd like to start with the beautiful flowers that start with C. Here is a sampling of the 28 most gorgeous flowers that start with the third letter of the alphabet.
Beautiful Flowers That Start With C
Below is a long list of the beautiful flowers that start with C. Keep in mind that this list does not include every flower that starts with this letter, but we considered these to be some of the most beautiful on the planet so we wanted to spotlight them for you.
1. Calendula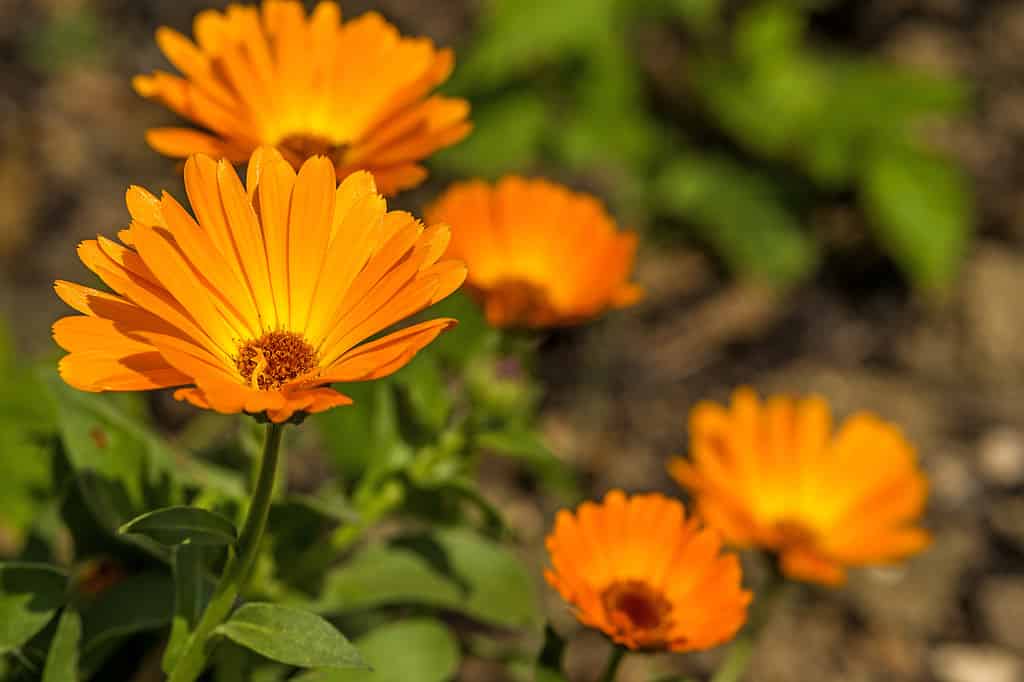 The gorgeous calendula plant is our first of the beautiful flowers that start with C, and it's a wonderful flower that's also referred to as the pot marigold. In addition to looking gorgeous in a yard or meadow, the calendula flower is also used for culinary and medicinal purposes. The petals are often used to color kinds of butter and cheeses. Best of all, calendula flowers are frost tolerant and cold hardy.
2. California Flannel Bush
Known as one of the most beautiful flowering shrubs that you can find in the Golden State, the California flannel bush is a quickly growing plant that can grow as high as 20 feet tall. The flowers are yellow on top and rusty brown on the bottom. The flannel bush is also famous because it attracts butterflies and it can live for up to eight years before withering away.
3. Clarkia
Our next species on the list of beautiful flowers that start with C is the clarkia. Technically, there are over 40 varieties of the clarkia and they're all gorgeous. This flower is native to the western part of Northern America, and they are annual herbs. Clarkia plants grow to up to three feet and they bloom in the summer or fall. Clarkia flowers are easy to grow and they'd look great in any garden.
4. Coreopsis
Sometimes referred to as tickseed, coreopsis plants are strong, robust, and really beautiful. This is a low-maintenance and drought-tolerant species that produces long-blooming flowers that look great in a garden or flower bed. Technically, there are over 80 varieties of coreopsis, and although they don't have a scent, they are quite striking. This species has a moderate growth rate and it blooms in early summer.
5. Calla Lily
The calla lily is both unique and strikingly beautiful. The flower features a trumpet-shaped top that wraps around a spadix. The awesome thing about this flower is that it comes in a variety of colors, ranging from white to yellow to peach to red. The calla lily is native to tropical areas, They can grow up to five feet or more and their leaves can grow 12 inches wide. The flower often attracts hummingbirds.
6. Calluna
Technically a low-growing evergreen shrub, the calluna plant/flower is a gorgeous specimen that flowers from July to September. The calluna is typically mauve in color but some can appear to be white. 
7. Camellia
Next on our list of beautiful flowers that start with C is the camellia plant which provides strikingly gorgeous buds. There are more than 220 of this species and they're all amazing. This is an evergreen shrub that has dark leaves but produces large and lush blossoms that typically bloom during the fall and early spring. When mature, the plant can grow up to 12 feet tall and the flowers will typically be pink, white, red, yellow, and lavender. 
8. Coral Bells
Coral bells are unique and they'll offer a new dimension to your backyard. They bloom in a variety of colors, ranging from red to pink to white to yellow and they can grow to a perfect three feet. Coral bells are low-maintenance and they grow quite well. They also attract birds. To thrive, they'll require a lot of light and they do well in temperatures of 45 degrees F and above.
9. Campanula
Also known as bellflower plants, the campanula species is a gorgeous perennial flower that is native to regions that have moderate temperatures. They bloom the heaviest during the months of June and July, but some can thrive all the way into October. Technically, campanula is a group of over 300 annual plants, but the bellflower is one of the most beautiful of the bunch. 
10. Campion
The red variety of the campion is small and understated, but it's also quite striking. This is a herbaceous perennial that's easy to grow and features red star-shaped flowers. The campion is often referred to as a "spiller" type plant because they tend to spill over the pots they are in. The plan is also attractive to insects and pollinators and they grow quickly during the seasons of spring and early fall. Once the plant is established, it's also quite drought tolerant.
11. Clematis
Sometimes referred to as a leather flower, clematis is a climbing perennial that you'll often see climbing up trellises and over arbors. The plant features star-like flowers that bloom in gorgeous shades of blue, white, purple, pink, and red. Clematis grows best when they're in full sun and they do quite well when planted during early spring. You may have to wait two to three growing seasons for it to reach its full potential, but once it does, it's just gorgeous.
12. Carolina Allspice
This is another unique flower that you'll adore in your backyard. Carolina allspice, also known as sweet shrub or spicebush, is a beautiful flower native to the Southeast United States. This flowering plant is quite easy to grow, and once it gets going, it becomes quite hardy. The best part about Carolina allspice is the perfumy scent they emit, and if you crush the petals, they give a junipe-like scent.
13. Canada Violet
The Canada violet is another one of those understated flowering plants that will really blow your mind with its simplistic beauty. This stunning perennial grows up to 14 inches tall and it has both cauline and basal leaves. These are somewhat rare wildflowers that typically pop up near Illinois and surrounding areas. The white petals combined with the hints of yellow and green make for an incredible flower.
14. Canary Island Daisy
You may have to travel far to visit the Canary Island daisy but you'll be glad when you get there! This native flower looks like a ray of sunshine as it grows to about 30 inches tall and features a wide array of petals. This drought-tolerant plant looks great in containers and it will do well in full sun.
15. California Poppy
The California poppy is the state flower of the Golden State, and you'll see it flowering during the spring and summer months. They come in a variety of colors, from red and pink to white, and they do well in full sun and well-drained soil. Beware that the plant is toxic to livestock. With that said, it's a pretty flower that demands our attention.
16. Chrysanthemum
This is the first flower that comes to mind when we think about beautiful flowers that start with C, and that's because it's so gorgeous. It's an awesome flower that seems to have layers upon layers of soft petals. Often referred to as mums, the flowers are hardy perennials that will come back to impress you year after year. They grow in a variety of colors, including lavender, yellow, purple, pink, orange, white, and bronze.
17. Columbine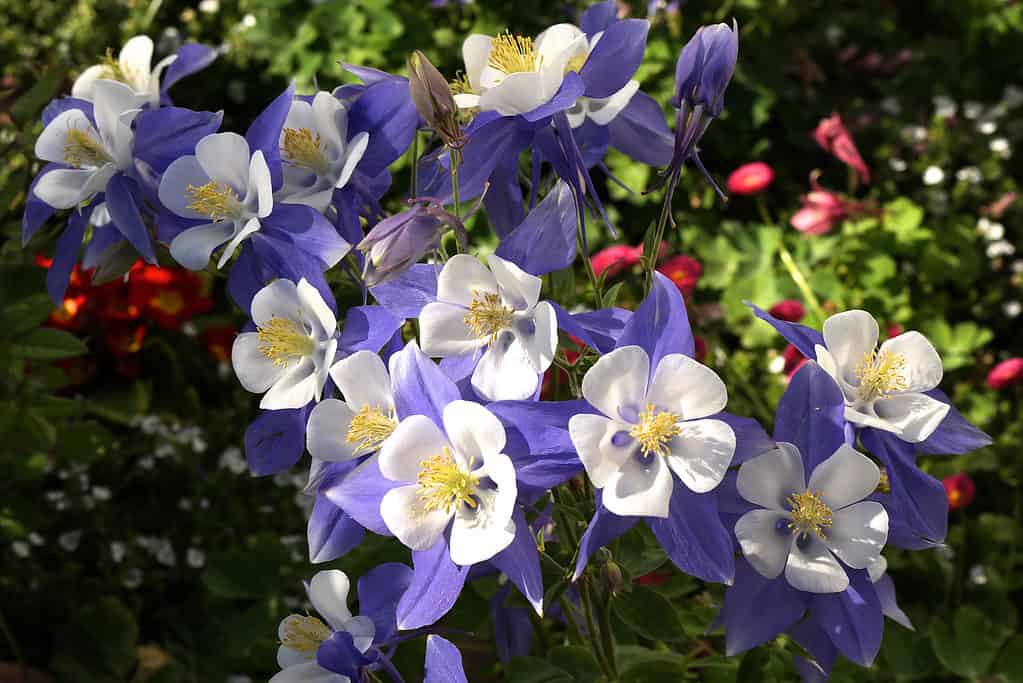 Columbines are really unique flowers that you'll see start to bloom in spring. Many people think they resemble jester's caps due to their flowering design. Columbines are also famous for attracting hummingbirds, so bird lovers will be in heaven. Although they're striking, columbines typically only bloom for about four months, so enjoy them while they can. However, they are perennials that often self-sow and grow again.
18. Candy Barrel Cactus
Although not a traditional flower, the candy barrel cactus is a species of flowering plant that will stun you with its beauty. It's often found in deserts, rocky areas, and mountainsides, usually in the states of Texas, Arizona, and New Mexico. Like a standard cactus, this plant has spines that emerge from areoles, but at the top, it has a gorgeous flower that can be red, orange, and yellow.
19. Cosmos
Cosmos plants produce flowers that are about three to five inches and they come in a variety of colors, ranging from red, orange, pink, yellow, white, and maroon. Their flower heads are cup-shaped and the plant itself can reach up to six feet tall. Cosmos do well in the spring and they fill out a garden nicely. They are very resilient and they can even survive in poor soil. 
20. Candytufts
Technically a woody shrub, candytufts have small oblong leaves and white and pink blossoms that thrive during the spring and early summer. Like many of the other beautiful flowers that start with C, candytufts also have a delightful scent that will welcome you into your backyard. Candytufts can do well in shade but they will need to be pruned regularly to help it to flower adequately. 
21. Cape Daisy
Part of the African daisies genus, the cape daisy grows relatively close to the ground when it blooms during the late spring and early summer. This is a low-maintenance flower but it should have lots of sunlight and drained soil to thrive. The cape daisy grows in a variety of colors, including white, purple, and yellow. With the right conditions, the cape daisy will grow without help year after year. 
22. Carmine Cob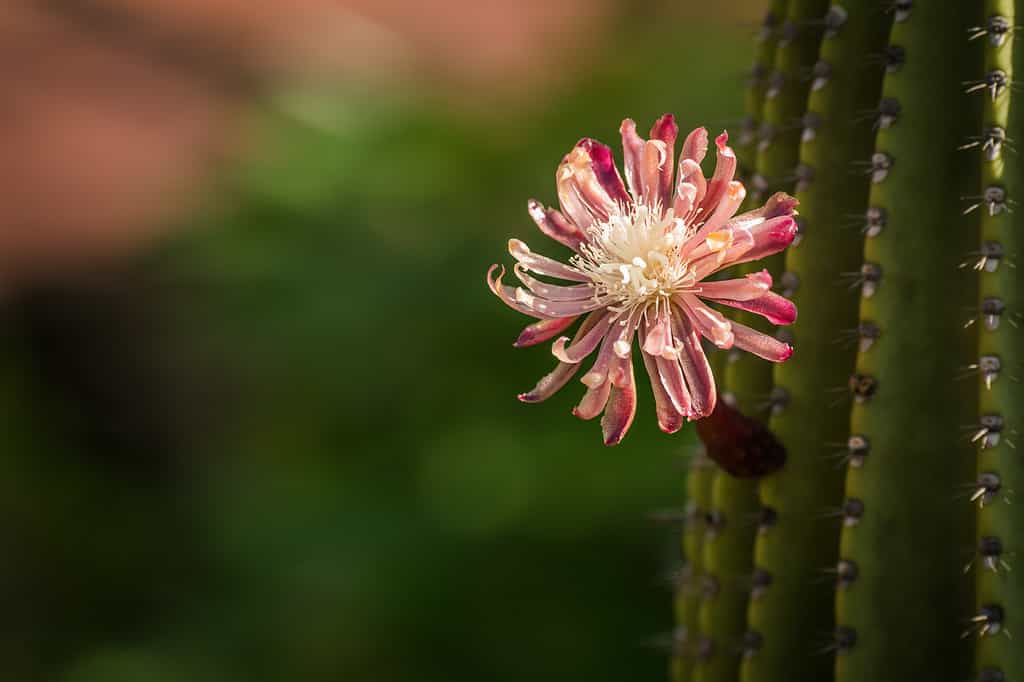 Another awesome plant from the Cactacease family, the carmine cob is a flowing plant that is native to Bolivia and Peru. It's a short plant, typically only growing up to two inches tall and two inches wide, though some reach six inches. The carmine cob does well in a dry climate where rainfall is scarce, and you'll typically see them bloom from late fall to early spring. 
23. Carnation
This is another of the most notable beautiful flowers that start with C. The carnation is native to the Mediterranean region but you'll find it in many parts of the world. They grow in a variety of colors, ranging from red, pink, white, yellow, and even green. Carnations carry great meaning for many people around the world. Many people see them and think of good luck and pure love.
24. Caspia
Many people adore the Caspia flower because it's a unique plant that is tender, sweet, and full of bold colors. It's native to Central Asia and Mediterranean meadows, and it's part of a genus that includes 120 different species. The plant can reach up to 18 inches in height, and it can be found in many colors, including white, pink, lavender, purple, and yellow.
25. Caucasian Stonecrop
Many people use the name Dragon's Blood when talking about the Caucasian Stonecrop, and that's because it features round vibrant red leaves during the summer months. This amazing plant can grow in dry soil conditions and they often grow on rock gardens. The plant can grow up to six inches tall and 18 inches wide. It's also a virtually pest-free species.
26. Cape Primrose
The cape primrose flowers are as delicate as they are beautiful. This plant features pink flowers that grow into a rosette. The petals have a very velvety feel and they are easy to tear, so be careful. Cape primrose does best when it's planted in slightly moist soil and indirect light. They have an appearance similar to the African violet.
27. Coneflower
Native to the United States, the amazing coneflower is a tough perennial that is a part of the daisy family and you'll see it bloom in the midsummer months. The animal kingdom also loves the coneflower, as it will typically attract bees, songbirds, and butterflies. However, the flower is deer-resistant, so they won't interrupt the beauty. The coneflower is distinguished by its large head of composite flowers.
28. Cyclamen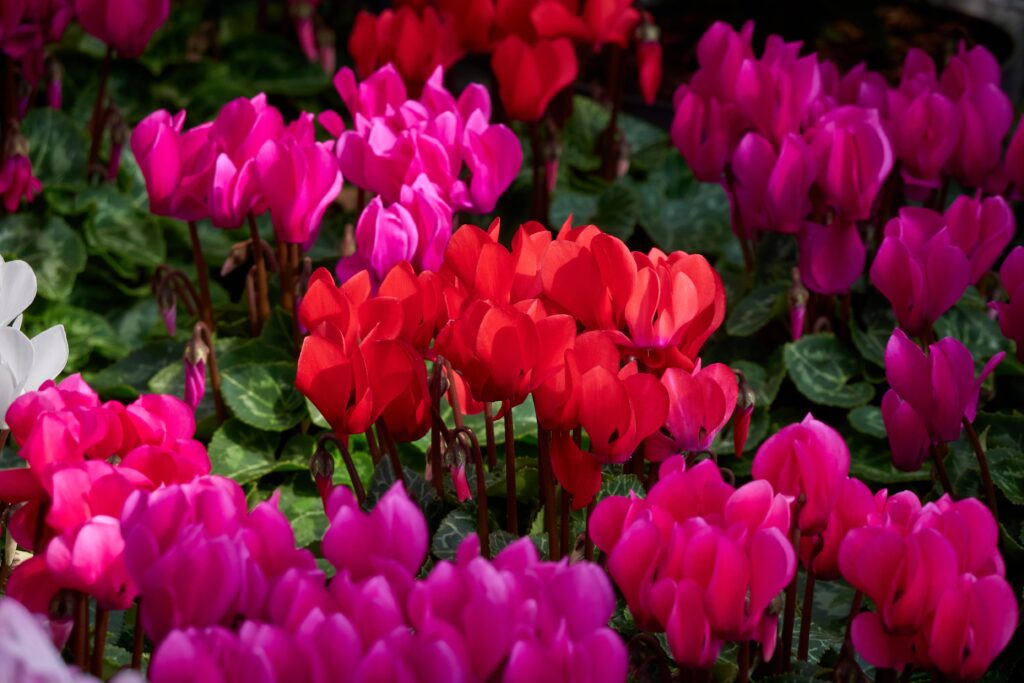 The cyclamen flower is a favorite of florists because they tend to fly off of the shelves. It's not hard to understand why. These are gorgeous flowers that are native to parts of Europe, Western Asia, and North America. This flower distinguishes itself due to its round and heart-shaped leaves that are typically green, pink, lavender, or white. The cyclamen flower typically thrives in the autumn, spring, and winter but goes dormant during the summer.
Summary Of 28 Beautiful Flowers That Start With C
| Rank | Flower Starting with "C" |
| --- | --- |
| 1 | Calendula |
| 2 | California Flannel Bush |
| 3 | Clarkia |
| 4 | Coreopsis |
| 5 | Calla Lily |
| 6 | Calluna |
| 7 | Camellia |
| 8 | Coral Bells |
| 9 | Campanula |
| 10 | Campion |
| 11 | Clematis |
| 12 | Carolina Allspice |
| 13 | Canada Violet |
| 14 | Canary Island Daisy |
| 15 | California Poppy |
| 16 | Chrysanthemum |
| 17 | Columbine |
| 18 | Candy Barrel Cactus |
| 19 | Cosmos |
| 20 | Candytufts |
| 21 | Cape Daisy |
| 22 | Carmine Cob |
| 23 | Carnation |
| 24 | Caspia |
| 25 | Caucasian Stonecrop |
| 26 | Cape Primrose |
| 27 | Coneflower |
| 28 | Cyclamen |
Summary Table of 28 Beautiful Flowers That Start With C
Conclusion
This is just a sample of the many beautiful flowers that start with C that you'll see blooming around the world. You could spend years walking around and finding all of the beauty that these plants bring to the people of planet Earth. Add the comprehensive list above to your floraphile bucket list.
---