From the bright turquoise Great Barrier Reef to the rusty red sands of the Outback, Australia has color and beauty at every turn. The continent is exceptionally unique, featuring more than 3,000 animals and 18,000 plants only found within its boundaries. And what's the best way to experience this great land and view its fantastic animals? Visit a national park! Discover 10 beautiful national parks in Australia and learn about their flora and fauna.
1. Kakadu National Park
In Australia's Northern Territory lies Kakadu National Park, which features breathtaking views, abundant wildlife, and many recreational opportunities. It is one of the largest national parks in Australia, and most of the area is owned by traditional owners due to its rich indigenous Australian history, which includes the presence of ancient rock art and important historical sites.
At Kakadu National Park you'll find unique flora and fauna. The park features rocky cliffs surrounded by forests, with waterfalls flowing over the top. You can see tidal flats, mangrove swamps, and other wetlands. There are more than 1,700 plant species and diverse animal life, such as black wallaroos, Australian darters, saltwater crocodiles, and short-eared rock wallabies.
2. Purnululu National Park
In the East Kimberley region of Western Australia lies the Purnululu National Park. The park features nearly 600,000 acres of striped sandstone domes, creek beds, and gorges. Activities in the park include hiking, camping, birdwatching, helicopter tours, and four-wheeler rides. Additionally, Purnululu is an excellent site for avid bird watchers. In fact, you will find red-winged parrots, little corellas, great bowerbirds, blue-winged kookaburras, and red-backed fairy-wrens. There is much diversity within the park, including shady trails lined with palms, shrubby and grassy areas, and creeks flowing through ancient sandstone.
3. Coorong National Park
Visit a protected coastal lagoon along South Australia's coast, where you'll find a diverse ecosystem. The Coorong National Park is a popular tourist area but still has a serene vibe, mainly due to its pristine coastal landscape. Visitors can participate in birdwatching, boating, kayaking, camping, fishing, hiking, four-wheeling, and learning about the area's culture and history. Interestingly, Coorong has a coastline that stretches over 80 miles and features lagoons, dune systems, and abundant local flora and fauna. Along with marine life, you will encounter hundreds of bird species. For example, ducks, sandpipers, stilts, oystercatchers, plovers, and bitterns are common.
4. Freycinet National Park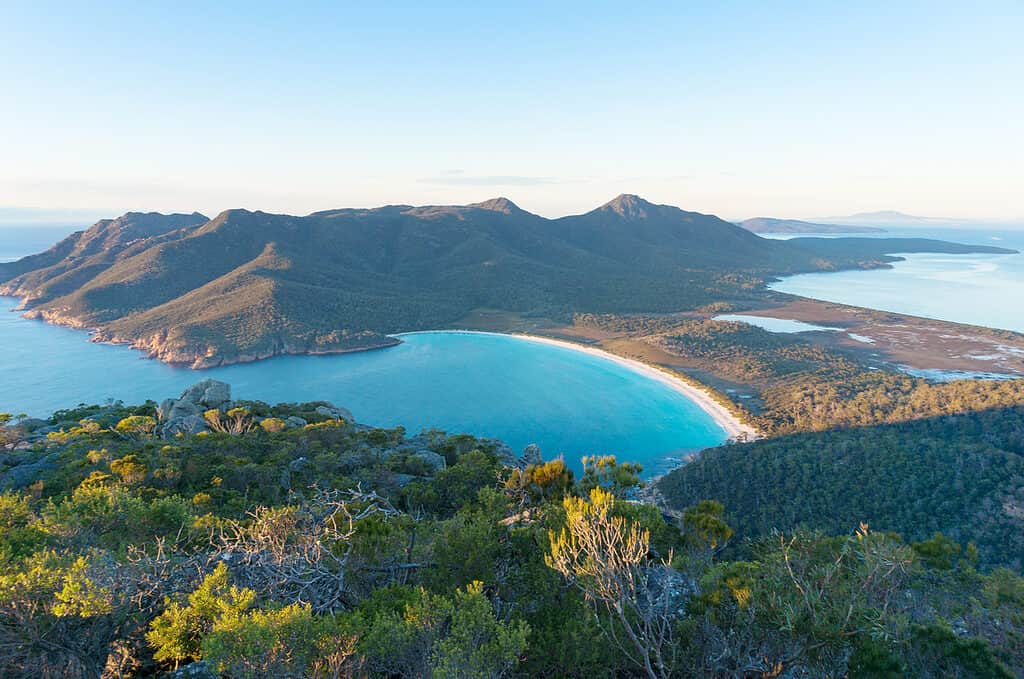 The Freycinet National Park is on the east coast of Tasmania, occupying a large portion of the Freycinet Peninsula. It is the oldest park in Tasmania and contains a rugged coastline, Wineglass Bay, granite formations, and The Hazards mountain range, which features jagged granite peaks. The scenic beauty is unmatched. It's one of those areas of the world you need to see to believe. To take advantage of your trip, you can participate in camping, hiking, fishing, kayaking, boating, overnight trekking, snorkeling, swimming, and picnicking.
5. Uluṟu-Kata Tjuṯa National Park
The giant sandstone monoliths, Uluru and Kata Tjuta, iconic formations, are both located within Uluṟu-Kata Tjuṯa National Park. The park is a protected area located in the Northern Territory of Australia and is acknowledged across the world for its indigenous Australian culture. It is a sacred place that houses conglomerates of rock domes that date back 500 million years. There are activities for everyone in the park, including hiking, sunset/sunrise viewings, bike tours, ranger-guided activities, and bird-watching. You can also visit the cultural center and galleries, and view ancient rock art. Plus, spot animals like perentie lizards, rock wallabies, and brush-tail possums.
6. Kosciuszko National Park
Mount Kosciuszko is mainland Australia's highest peak, for which the national park is named. The park in the state of New South Wales features 1.7 million acres of rugged mountain and wilderness, which people visit for the alpine climate and mountain activities. Most notably, you can participate in snow sports, hiking, mountain biking, camping, cave exploring, and horseback riding. This area is nice for non-adventurous people, as well. For example, you can take a leisurely stroll and absorb the wildlife and scenery. Look out for significant populations of wild horses and see if you can spot any of the several endangered species, such as the poisonous corroboree frog and the mountain pygmy possum.
7. Great Sandy National Park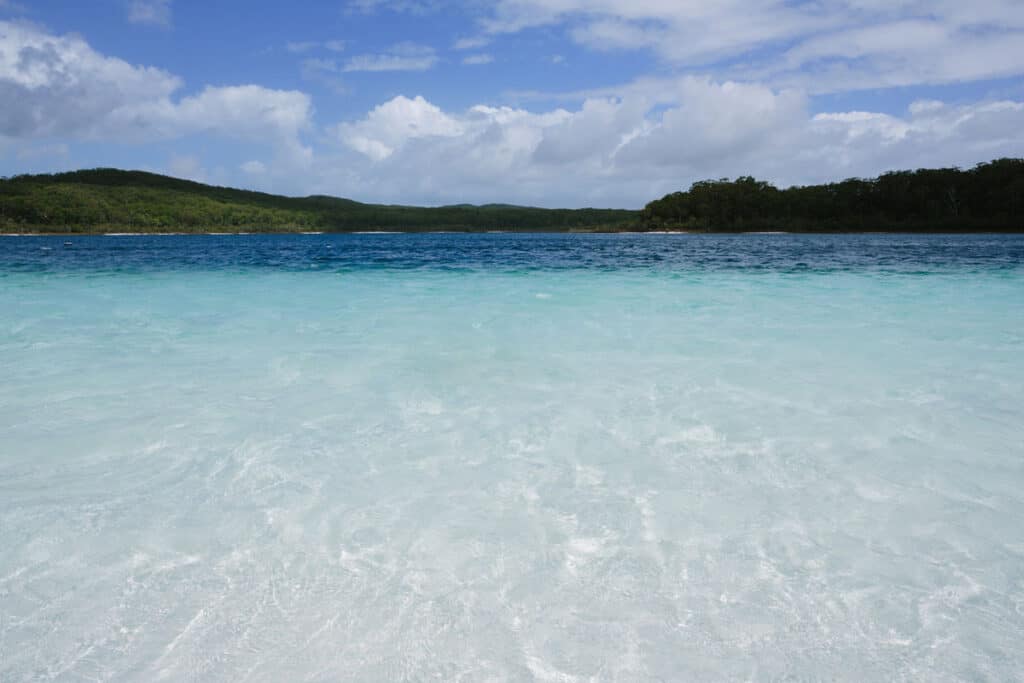 This coastal national park is located in Queensland, Australia, and features pristine beaches, enormous sand dunes, rainforests, heathlands, lakes, mangrove forests, and swamps. There are two sections to the Great Sandy National Park: the Cooloola Recreation Area and Fraser Island (known by its indigenous name of K'gari since 2021). Both areas offer opportunities for activities, such as hiking, fishing, boating, four-wheel driving, and whale watching. You can also camp in designated areas and take horseback rides along the beach.
8. Daintree National Park
In Far North Queensland, you will find Daintree National Park, home to the Daintree rainforest. This national park is part of the Wet Tropics of Queensland and is a World Heritage site consisting of wet tropical forests. Unsurprisingly, it has exceptional biodiversity with many rare species and abundant birdlife. Additionally, it is one of the oldest rainforests on Earth, with a large portion of flora over 110 million years old. Tree species once thought to be extinct were recently found hiding within these forests, and there is no telling what else is in the inaccessible areas. The park's fauna includes more than 400 bird species, including the endangered cassowary.
9. Cradle Mountain-Lake St. Clair National Park
The Cradle Mountain-Lake St Clair National Park is in the Central Highlands of Tasmania, Australia. The park contains great landscape diversity, such as snow-capped mountains, ancient rainforests, alpine moorlands, deep river gorges, and glacial lakes. In fact, this national park is perfect for all seasons. For instance, visitors can enjoy the snow during winter and view the colorful scenery during a summer hike. Additionally, it is a significant location for Tasmania's endemic species such as Tasmanian pademelons, quolls, Tasmanian devils, platypuses, and wombats.
10. Port Campbell National Park
Port Campbell National Park is more than 4,000 acres of sheer cliffs, offshore islets, rock stacks, blow-holes, gorges, and arches. You will find this park in the southwest of Victoria. There are many activities visitors can participate in including hiking, mountain biking, boating, four-wheeling, diving, and birdwatching. Birds make up the majority of the wildlife in the area, such as peregrine falcons, harriers, pelicans, black swans, and many more.
Summary of 10 Beautiful National Parks in Australia
Here's a recap of 10 of Australia's most scenic national parks that we took a look at:
| Number | National Park | Location |
| --- | --- | --- |
| 1 | Kakadu National Park | Northern Territory |
| 2 | Purnululu National Park | Western Australia |
| 3 | Coorong National Park | South Australia |
| 4 | Freycinet National Park | Tasmania |
| 5 | Uluṟu-Kata Tjuṯa National Park | Northern Territory |
| 6 | Kosciuszko National Park | New South Wales |
| 7 | Great Sandy National Park | Queensland |
| 8 | Daintree National Park | Queensland |
| 9 | Cradle Mountain-Lake St. Clair National Park | Tasmania |
| 10 | Port Campbell National Park | Victoria |
The photo featured at the top of this post is © iStock.com/Mackenzie Sweetnam
---