Canada has regularly ranked in the top few for most beautiful countries in the world, and once you visit, you'll see why. This North American country has acres upon acres of untouched wilderness, providing homes for an abundance of wildlife and plant species. To see an unfiltered view of oceans, mountains, forests, plains, and lakes, visit the ten most beautiful national parks in Canada.
Banff National Park
Banff National Park is the oldest national park in Canada. It's located in Alberta's Rocky Mountains and encompasses 1.6 million acres of mountains, glaciers, ice fields, and coniferous forests. Emerald waters, jagged peaks, and captivating meadows draw millions of visitors to this park annually. Banff National Park provides activities for each season, including skiing, snowshoeing, hiking, biking, mountain climbing, white-water rafting, golfing, zip-lining, fishing, biking, and wildlife viewing. Be on the lookout, especially near the forested areas, for grizzly bears, black bears, wolverines, coyotes, wolves, and caribou.
Cape Breton Highlands National Park
The Cape Breton Island resides in Nova Scotia and is part of Canada's national parks system. Cape Breton Highlands National Park features mountains, rugged coastlines, waterfalls, valleys, and tundra plateaus. Tall mountains and wilderness transition to crashing ocean waves at this park. The most popular activities include hiking, biking, camping, snowshoeing, swimming, and wildlife viewing. Many bird species call this land home, including boreal owls, bald eagles, and several hawk species. You can also see mammals and marine animals, such as deer, lynx, humpback whales, dolphins, seals, coyotes, moose, bears, and much more.
Jasper National Park
Located north of Banff National Park is Jasper National Park, the largest national park in Alberta's Rocky Mountains. The park contains snow-covered mountains, lush valleys, glaciers, springs, waterfalls, and ice-covered lakes. And there is plenty of activities to participate in, especially winter sports, including skiing, snowshoeing, skating, mountain biking, snowy hiking, and camping. For those who are not into adrenaline thrills, you can take a scenic drive, picnic next to massive peaks, or just enjoy the wildlife and scenery. Some of the most popular wildlife include moose, elk, caribou, red fox, mountain goats, wolves, bears, cougars, and deer. 
Nahanni National Park
Nahanni National Park protects a portion of the Mackenzie Mountains in Northwest Territories, Canada. The park features noteworthy canyons, wild rivers, huge waterfalls, and a limestone cave system. It is recognized as a World Heritage Site due to the indigenous people who inhabited the land. And because of the several deaths and disappearances within the park, some people say the area is cursed. Boreal forest animals inhabit the area, including Dall's sheep, wolves, grizzly bears, mountain goats, and caribou. Some of the most popular activities in the park are hiking, camping, fishing, and sightseeing. 
Pacific Rim National Park
The Pacific Rim National Park includes the Pacific Coast Mountains in British Columbia. The park includes sandy beaches, temperate rainforests, and rugged coastlines. And it's the perfect destination for hiking, kayaking, surfing, biking, bird-watching, back-country camping, mountain biking, and fishing. It's also an excellent area for immersing yourself in Nuu-chah-nulth culture by participating in interpretive programs and checking out the visitor center. The dense understory of the rainforest is home to many creatures, and the coast is also a hotbed for spotting marine life. If you are a nature lover, Pacific Rim is the place for you!
Gros Morne National Park
Located on the west coast of Newfoundland, Gros Morne National Park is one of the largest parks in Canada and contains the second-highest mountain peak at 2,644 feet. It features an ancient landscape of majestic mountains, fjords, bogs, beaches, forests, and cliffs. You can tour Western Brook Pond, where billion-year-old cliffs feature cascading waterfalls that turn to mist as they hit the glacier-carved freshwater fjord. Or participate in activities like hiking, camping, and winter sports. There are also many historical sites within the park's boundaries; take a tour and see rare prehistoric artifacts.
Waterton Lakes National Park
Waterton Lakes is located in Alberta's southwest corner, where it borders Glacier National Park in Montana. The park contains miles of mountains and wilderness in an area between the Rocky Mountains and prairies. When visiting, you can experience crystal clear lakes, rushing waterfalls, mountain vistas, colorful rocks, and unique streams. You can explore the area by picnicking, hiking, birdwatching, stargazing, paddle-boarding, snowshoeing, scenic drives, camping, biking, and wildlife viewing. Look out for bighorn sheep, deer, bison, and black bears. It's also an excellent spot for viewing plants and wildflowers. The park contains over 1000 species of vascular plants, 20 of which are endemic to the area. 
Fundy National Park
The Bay of Fundy is located between the two Canadian provinces of New Brunswick and Nova Scotia. A rugged coastline rises to the Canadian Highlands, and the park contains the world's highest tides and more than 25 waterfalls. Additionally, along the coast at low tide, you can walk across the ocean floor. You can also venture inland and walk the forested trails that lead to magical waterfalls. Other activities in the park include kayaking at high tide, camping, hiking, tobogganing, show-shoeing, skiing, biking, swimming, golfing, paddling, and fishing. You can also sit and relax in the famous red Adirondack chairs placed throughout the park. Be sure to take a photo!
Yoho National Park
The Yoho National Park is in the Rocky Mountains on the Continental Divide's western slope. Yoho is Cree for "amazement," which is exactly the word that sums up this park. When visiting, you can experience glaciers, mountain peaks, and waterfalls. Plus, the Canadian Rockies have many fossil deposits of ancient marine life. Once you're done marveling at the geological wonders, check out the wildlife in the park's boundaries. You may come across timber wolves, coyotes, elk, moose, badgers, mountain goats, hoary marmots, pikas, rufous hummingbirds, and grizzly bears. 
Riding Mountain National Park
Riding Mountain National Park is in Manitoba on top of the Manitoba Escarpment, a range of hills along the Saskatchewan border. The park consists of grasslands, dense forests, lakes, and wetlands. Like many of the other parks, you can hike, bike, camp, star-gaze, ski, golf, boat, picnic, and relax in a red Adirondack near a crystal-clear lake. Riding Mountain is well-known for its wildflowers and unique vegetation, such as aspen poplar, white birch, balsam fir, American elm, Manitoba maple, and over 600 more.
Up Next:
More from A-Z Animals
---
The Featured Image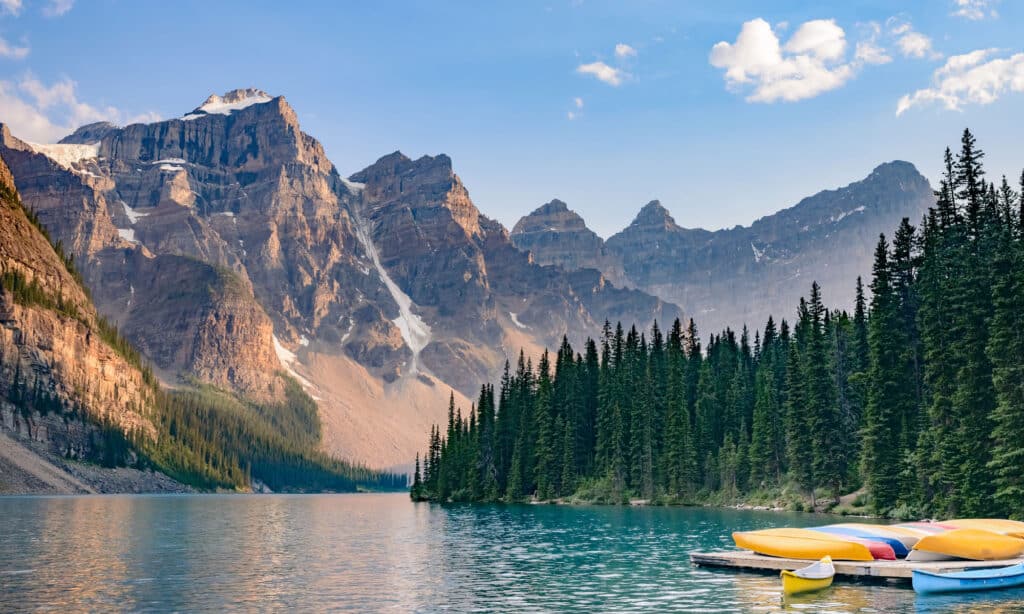 ---