Croatia is often considered one of the most gorgeous countries in Europe. It features charming historic towns, stunning beaches, lush forests, waterfalls, and secluded limestone caves. You could spend your entire European vacation soaking up rays on the sandy beaches. However, you should also check out the eight most beautiful national parks in Croatia and explore the country's natural splendor.
Plitvice Lakes National Park
As one of Croatia's oldest and largest national parks, Plitvice Lakes gives a picturesque view of the country. The park draws over a million visitors a year, and due to its natural beauty, it's no surprise. Runoff from Croatian mountains descends down a series of 16 cascading lakes and numerous caves, all connected by waterfalls. The lake on the lowest level forms the Karana River. The Plitvice Lakes are renowned for their blue and green colors, which are constantly changing from minerals and organisms.
Other than taking in the natural beauty of the area, you can hike, row, ski, sled, and cycle. Walking paths and bridges wind throughout the lake's shores, offering the perfect photo opportunities. And while the crystal clear water looks tempting to dive into, swimming is forbidden in the lakes. The porous rock formations are a fragile ecosystem, and the least human impact, the better.
Krka National Park
Named after the Krka River, the Krka National Park is located on the middle and lower course. It was formed to protect its waters. The region is largely unchanged and features several almost entirely preserved ecosystems. The park includes the famous Skradinski Buk falls, one of the country's most famous attractions. They are among the most beautiful calcium carbonate waterfalls in Europe. 
Activities in the park include hiking, sightseeing, boat tours, a museum, restaurants, and a souvenir shop. The area has a wide variety of rich fauna and flora, including over 800 plant species. Patches of reeds and swamp meadows house many amphibians and birds, including many birds of prey. These include eagles, falcons, and vultures. There are also 18 different bat species that live within the park's boundaries.
Mljet National Park
This national park covers the northwest part of Mljet Island, known for its two saltwater lakes and a small island. On the southern end of the Dalmatian Coast lies one of the greenest and most prominent islands in the country. The area has sparkling blue water and Aleppo pine forests. And you will also find a 12th-century Benedictine monastery on the island. It now features a cafe open to park visitors. 
The best way to get to this southernmost island is by boat, whether sailing, cruising, or ferrying. Once you're in the park, you can enjoy many popular attractions. These include biking, swimming, ferry rides, exploring the monastery, hiking, cave exploring, and kayaking. The park also features a small village with restaurants, tour booking, and souvenir shops.
Brijuni Islands National Park
The Brijuni Islands are a cluster of 14 small islands in the Adriatic Sea on the Croatian side. The islands are a national park and vacation resort. They have a rich history, beginning in Ancient Roman times through the Middle Ages until the present day. 
This Mediterranean region has over 600 indigenous plant species and many imported. There is also a significant population of introduced animal species, such as Istrian sheep, fallow deer, European hares, and mouflons. You will also find a safari park with exotic animals that wealthy individuals gifted to diplomatic officials. On Veliki Brujun Island, you can see over 200 dinosaur footprints from the Cretaceous period. Apart from safari tours, the islands feature lush resorts where you can relax at pristine beaches. Scuba dive, golf, bike, and eat at upscale restaurants!
Kornati National Park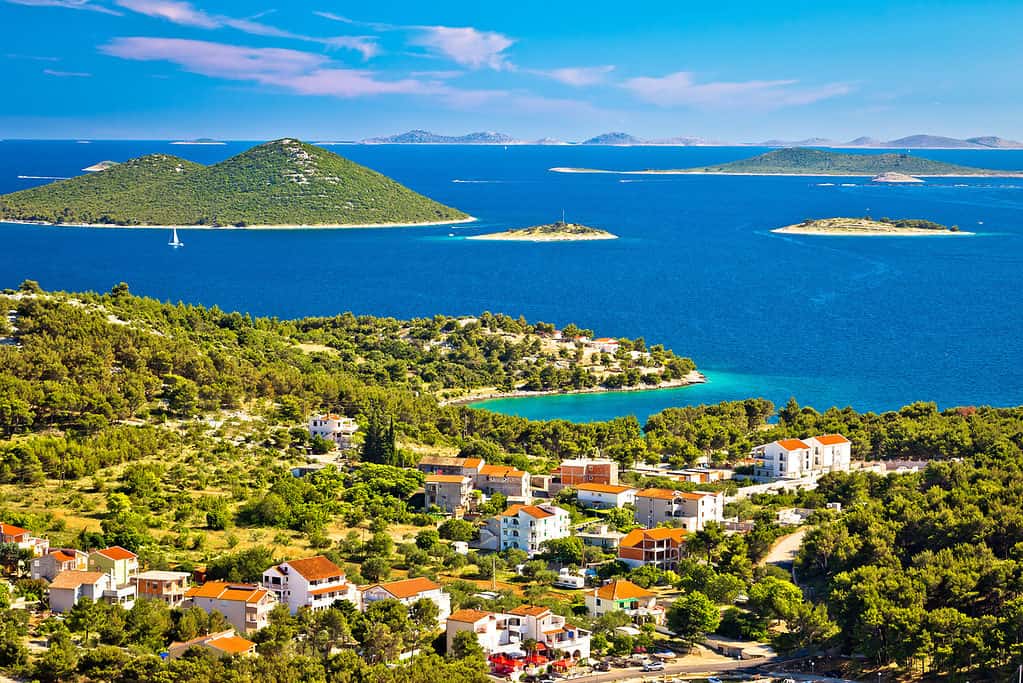 With 89 islands, islets, and reefs, the Kornati National Park is a beach-lovers paradise. This archipelago is located in the northern portion of Dalmatia. It contains both land and sea, with endless exploring opportunities. Many people spend their time sailing around the islands, flying overhead, or swimming in the clear blue waters. The islands feature breezy, sunny beaches and rugged landscapes of karst terrain, caves, and grottos. 
The area has incredible swimming and snorkeling, where you will find rare marine species of algae, coral, and mollusks. Kornati can be somewhat difficult to access. You will need to plan for a boat ride to and from the islands, through rental or private charter. There are no accommodations on the remote islands, so you will need to depart before closing time.
Risnjak National Park
Travel to the most mountainous, forested region of Croatia to visit Risnjak National Park. Located in Gorski Kotar, it is called the "green lungs of Croatia." In the park, rivers cut through forested limestone and dolomite rock peaks. Here, you will find major karst features like rock falls, caves, and swallow holes. In Risnjak, coastal zones meet alpine zones, which allows abundant flora to thrive. And the wildlife is just as diverse. 
The park features all three major European predators: the wolf, the bear, and the lynx. There are also numerous bird species, such as goshawks, eagle owls, and hazel grouse. The national park offers many recreational activities, especially for those seeking opportunities to be active. Visitors can ski, hike, mountain bike, fish, and much more.
Paklenica National Park
Paklenica is located near North Dalmatia, on the southern slope of Velebit Mountain. The park contains two canyons. It has exceptional history, dating back to prehistoric times, when Paleolithic hunters and gatherers inhabited South Velebit. From high peaks to deep gorges and pine forests, Paklenica offers stunning views and recreation. 
The park is an excellent option for those seeking more advanced outdoor areas. You can hike challenging trails, rock climb, and explore caves. However, there are also plenty of options for more leisurely visits. Several of the trails are perfect for light walks, for those wanting to take in the views and wildlife.
Sjeverni Velebit National Park
The Sjeverni Velebit National Park covers the northern portion of the Velebit Mountains. Visitors must stay on the crisscrossing mountain trails, which offer scenic views of mountain peaks, ancient beech forests, and the Adriatic Sea. As you hike or bike through the trails, look out for numerous mountain flora species and wildlife. The park also has cultural significance, with ruins from shepherds and cattle farmers. 
The photo featured at the top of this post is © iStock.com/xbrchx
---