Some of the best-protected habitats in the world are found in Cuba. Much of the country's unspoiled grandeur and unique fauna lie within the several national parks.
Many are typically linked with the frenetic pace of Havana and all-inclusive resort areas like Varadero. Visitors can find verdant slopes, remote coasts, and turquoise-encircled islands. Additionally, wilderness areas with amazing natural elements are scattered throughout the country's sanctuaries.
Below, we discuss 11 of Cuba's beautiful national parks!
1.) Alejandro de Humboldt National Park
Park Nacional Alejandro de Humboldt is one of the island's least visited parks. However, it is thought to have Cuba's most stunning ecosystem, along with a complicated geology and thick woodlands.
The majority of the mountains are unspoiled and under strict protection, and they are home to an incredible number of native species. Beyond the town of Baracoa, just a few eco-trails travel inland. 
More than three-quarters of the park's reptiles and nearly all of its amphibians are endemic. Additionally, a third of its mammals, a quarter of its birds, and half of its plants are endemic to Cuba. This information come from Unesco, which designated Parque Nacional Alejandro de Humboldt as a World Heritage Site.
Guides are required, as in all parks in Cuba. Trips can be booked at the majority of the tourist information centers in Baracoa. El Copal route is the shortest of the trails that lead to waterfalls. 
The longest trail accessible for a day trip, the Balcón de Iberia trek, allows a three-mile journey through lush vegetation. You can also see the smallest frog in the Northern Hemisphere, the Monte Iberia eleuth. This little guy grows to a tiny third of an inch in length!  
The waters of the Bahia de Taco, which can be visited on a two-hour boat ride, are protected for manatees.
2.) Guanahacabibes Peninsula National Park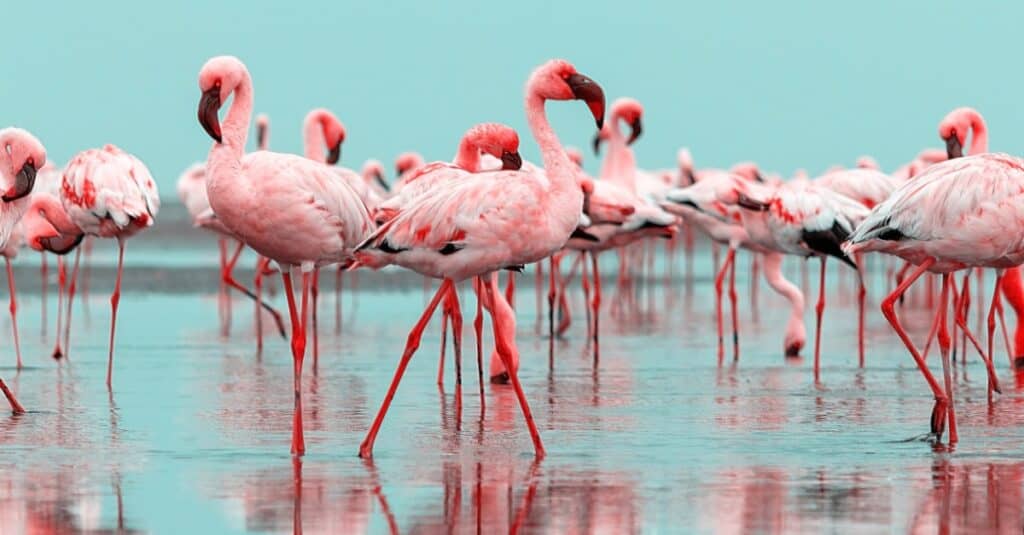 Guanahacabibes features a broad coastline with rock structures. A handful of undeveloped beaches sprinkle the landscape, and it is one of Cuba's largest national parks. These protected grounds on the western Cuban peninsula of Cabo de San Antonio cover an area of 154 square miles. The park is a Unesco Biosphere Reserve. 
Four different marine turtle species visit Guanahacabibes from May to September. They lay their eggs on the sandy beaches, especially in the area of Beach La Barca. Moreover, 200 of Cuba's 368 identified bird species live on the peninsula, including migratory birds that arrive throughout the winter. 
Keep a look out for native zunzuncitos, pink flamingos, brown pelicans, kestrels, and fluttering hummingbirds. The best way to plan multi-day vacations is through expert travel services. 
This park is huge and spectacular but devoid of visitor-friendly information. You'll need 4WD vehicles and professional guidance. The Centro de Visitantes in La Bajada is where you should begin your journey. 
If you'd like to dive or snorkel, go to the Mara la Gorda dive center. It sits adjacent to 50 diving sites. Prepare yourself for one of the best diving destinations on earth. This site has the biggest reef of black coral in the Caribbean, complete with vivid tropical fish.
3.) Caguanes National Park
Caguanes is a chain of 10 islands and mangrove-filled marshes surrounded by the Buenavista Bay. International tourists almost never visit this park. In the 79-square-mile protected area, you'll find huge bat colonies, in addition to caverns, ancient sites, and flamingo communities. 
Both the butterfly bat, the smallest bat in the world, and the Pescador bat, the biggest in Latin America, reside here. Check out Villa San José del Lake for boat tours through Cayos de Piedra. You could also go to the Humboldt, Ramos, and Los Chivos caves if you want to visit Park Nacional Caguanes. 
From November through March, 112 resident and migratory bird species call the coastal mangrove regions home.
4.) Viñales National Park
Viales, three hours from Havana, is a paradise for outdoor enthusiasts. The road leading to the park zigzags by high hills and rows of pine trees. Tourists arrive amid stunning mogotes, round-topped limestone formations.
Visitors can fill their afternoons with excursions or choose to unwind on a veranda. At dusk, tourists pause to watch as the sun sets behind mountain ranges covered in forest. One of the park's main draws is bicycling. Additionally, many choose to hike to the remote Los Acuáticos Village or Valle del Palmarito. 
The landscape levels off north of Viale's town, with roads winding through lush tobacco plantations and near charming thatch-roofed homes. The charming town of Viales has a great selection of private homestays available to visitors. 
With tour experts, visitors go horseback riding, mountaineering, bicycling, or trekking in Gran Caverna de Santo Tomás.
5.) Turquino National Park
The Park Nacional Turquino showcases flamboyant greenery in lush, mountainous terrain and is home to enormous ferns. This park spans the provinces of Santiago de Cuba and Granma. The Pico Real del Turquino, Pico Cuba, and Pico Suecia Mountains are the highest points on the island. Trails throughout the mountains offer a variety of hiking options.
Visitors can request a tour from Villa Santo Domingo, a hub for tourists with lodging and stores. From here, they can weave their way through the countryside to the park base at Altos del Naranjo. We suggest pausing halfway to take in the pebbled beaches at the base of the majestic Sierra Maestra Mountains. Exploring this area requires a guide.
You can access Comandancia de la Plata, the guerrilla headquarters in the late 1950s, after a two-mile climb. There, Fidel Castro's command post is still on display as a miniature museum, located in an opening in the woods. 
We recommend that tourists spend the night camped at the mountain's foot in order to hike to Pico Turquino's Peak. You'll need non-perishable meals in addition to insect repellant, lightweight clothing, and hiking boots. Since this is the warmest and muggiest part of Cuba, spring or fall are the best times to travel here.
The Majá de Santamara, Cuba's longest snake, and other reptiles and amphibians also inhabit the area.
6.) Desembarco del Granma National Park
This stunning park in Cuba's southeast connects to the Mais system through a network of marine terraces. These terraces are submerged and emergent over some of the most significant and well-preserved calcareous rocks in the nation. 
This historical spot is where the Castro siblings and Che Guevara disembarked from Mexico in 1956, ending Fulgencio Batista's dictatorship. This is the origin of the park's name. Visitors can take in the surroundings of the wonderful marine terraces and the stunning cliffs that jut out.
7.) Los Caimanes National Park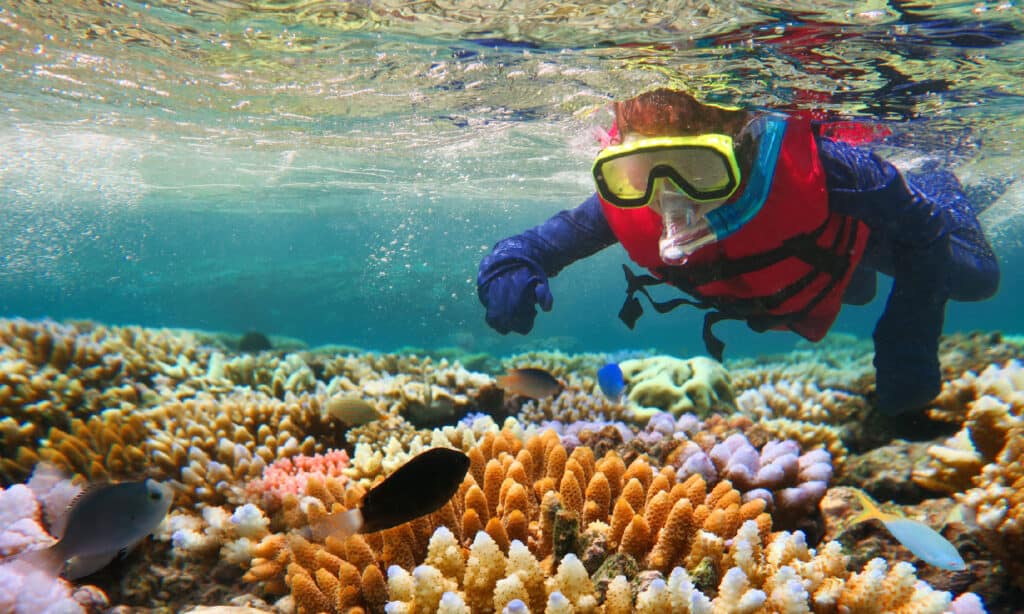 One of Cuba's most biodiverse marine areas, Los Caimanes, sits off the northern shores of the provinces of Villa Clara and Ciego de vila. Although this group of islets was designated a national park in 2008, few people visit this beautiful place. You can anticipate pristine aquatic environments that host about 658 species.
The greatest way to explore the park's 111 square miles of underwater terrain is by boat. You can also book snorkeling and diving tours out of the Cayo Las Brujas Marina. Request a trip to Cayo Media Luna, where a shipwreck rests in shallow water near the westernmost point.
8.) La Guira National Park
The Sierra de los Organos highlands are in Cuba's western province of Pinar de Río. They are home to La Guira National Park. Visitors are perplexed by the massive Hacienda Cortina. Many ask the question, "Is this a national park or a historic fortress?" 
A two-mile stroll along Jose Manuel Cortina's former estate leads to the national park's entrance. Cortina was an affluent lawyer who created the park and built his mansion here in the 1920s.
The national park provides lodging and amenities, including ranch-style dining establishments, barbecues, horseback riding, exhibits, and cave tours. La Guira National Park is a hub for birdwatching and offers views of more than 50 different bird species. Species including the Cuban pewee, Cuban tody, and Cuban solitaire live in La Guira National Park.
Che Guevara once used the magnificent Cueva de Los Portales as his headquarters during the 1962 Cuban Missile Crisis. You can find this structure at the park's western boundary.
9.) Ciénaga de Zapata National Park
This 116 square mile park contains the greatest wetlands in the Caribbean. Its coastline is teeming with tropical fish and coral reefs. The visitor center is located near Boca de Guamá, a starting point for expeditions. 
Visitors may take a boat to Lago del Tesoro or go to a crocodile farm that also contains Cuban gar, freshwater turtles, and hutias (mammals that resemble guinea pigs). See the sparkling Cueva de los Peces cenote on the way to Beach Girón in the south, then spend some time at the popular Caleta Buena and its kid-friendly natural pools.
Snorkel in the clear Caribbean waters of Punta Perdiz, where curious isabelita and carajuelo fish will flirt with your toes! Divers should schedule multiple excursions at Playa Larga's numerous diving locations, which include Spanish colonial shipwrecks.
10.) Sierra de Escambray Range
Located in central Cuba, the Sierra del Escambray Mountain Range is worth a visit! The indigenous inhabitants called it Guamuhaya when the Europeans arrived in the area in 1492. 
The highest peak is Pico Potrerillo Pike, which rises 930 meters above sea level. This mountain range is well-known for its rich vegetation, including eucalyptus and pine. It also contains waterfalls with crystal-clear water, deep valleys, extensive cave systems, stunning vistas, and rivers. 
Che Guevara's base camp during the Cuban Revolution, the Caballete de Casa Meseta, is notable. Preserved antiquated artifacts are on display at a national monument. However, getting to them takes a challenging hike to the mountain's peak.
11.) Punta Frances Marine National Park
The pristine beaches and endangered wildlife species of the Punta Francés National Park are well-known. It encompasses Isla de Juventud, the largest island in Cuba, from the south. The clean, quiet water is perfect for sunbathing, diving, and snorkeling. 
These beaches are among the purest and most remote in the entire country of Cuba. The Caribbean's most spectacular diving locations are along this park's shore, where there are sizable intact reefs.
The brain coral, which gets its name from its wrinkly texture and bulbous appearance, inhabits parts of the reefs in this area. Divers may see schools of tarpon, snook, barracuda, and angelfish. Experienced divers should investigate Cueva Azul's Cave, which is home to very huge tarpon specimens.
The ecology of Punta Francé supports several endangered species, including the hawksbill sea turtle. Manatees are present in the protected waters as well, although visitors cannot swim with them. 
The American crocodile inhabits this park as well. Include a hike inland on your schedule so you can see some of the island's numerous reptiles and butterflies.
Up Next:
More from A-Z Animals
---
The Featured Image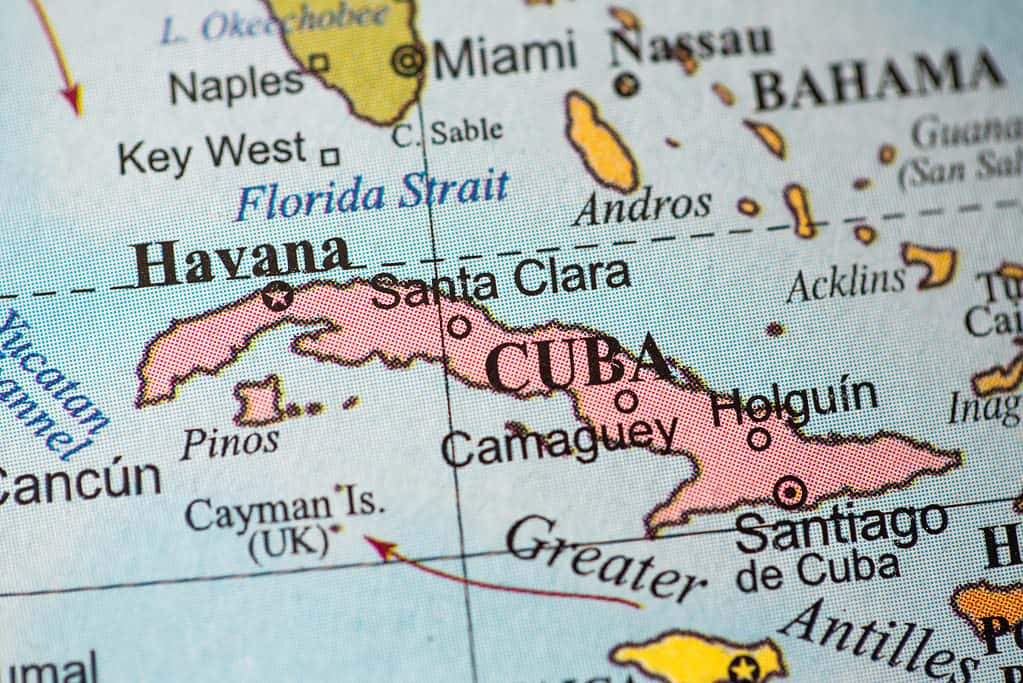 ---