Ireland is one of the most breathtaking countries in the world, and it's not hard to imagine why. From its dramatic oceanside cliffs to placid lakes and fairytale castles, Ireland is a destination that should be on everyone's bucket list. And what better way to take in all its natural glory than to visit its national parks? Discover seven beautiful national parks in Ireland and learn about their locations and attractions.
Killarney National Park
Located in Southwestern Ireland are lush rolling hills, ancient forests, and rugged mountains. The Killarney National Park is over 24,000 acres of world-famous lakes, waterfalls, woods, and the highest mountain range in Ireland. 
The park is accessible by train, car, or bus and features many recreational activities. Some of the most popular include walking, hiking, fishing, swimming, boating, cycling, horseback riding, bird-watching, canoeing, and kayaking. No matter which activity you choose, you will be met with fantastic scenery in all directions. 
Thankfully, the park does not have any threats from large predators like bears, wolves, and big cats. However, common wildlife threats include midges and ticks, so you should be mindful of checking for Lyme disease.
You can also check out the beautiful estates located on the park grounds. For example, you can take tours of the Ross Castle, a 15th-century tower house, and keep, with examples of 16th and 17th-century furniture. The Muckross House and Gardens is another top tourist attraction in Ireland. The house is a mid-19th-century Victorian mansion featuring preserved artifacts and furnishings from that period.
Burren National Park
The Burren is a rocky district, or karst landscape, in County Clare on Ireland's West Coast. Because the national park is over 4,000 acres of limestone pavement and unique flora, you can walk along the many trails and spot 23 species of beautiful orchids, which flourish in the Burren. In fact, the entire park is a very complex ecosystem. The limestone pavements form a mosaic as they mix with grasslands, ash woodlands, and hazel scrub. There are also permanent lakes and turloughs (temporary lakes), which are areas that flood during heavy rain.
Hiking trails weave through various habitats, giving you plenty of different places to explore. Many ancient structures, such as prehistoric monuments, are located within the park's boundaries. In fact, the Burren National Park is an excellent choice for those wanting to connect with the generations and cultures of times past. And if you don't want to trek the landscape on your own, you can book a guided tour and have a knowledgeable representative inform you about the park's unique features. Some of the native wildlife include pine martins, kestrels, peregrine falcons, feral goats, foxes, hares, and many more.
Connemara National Park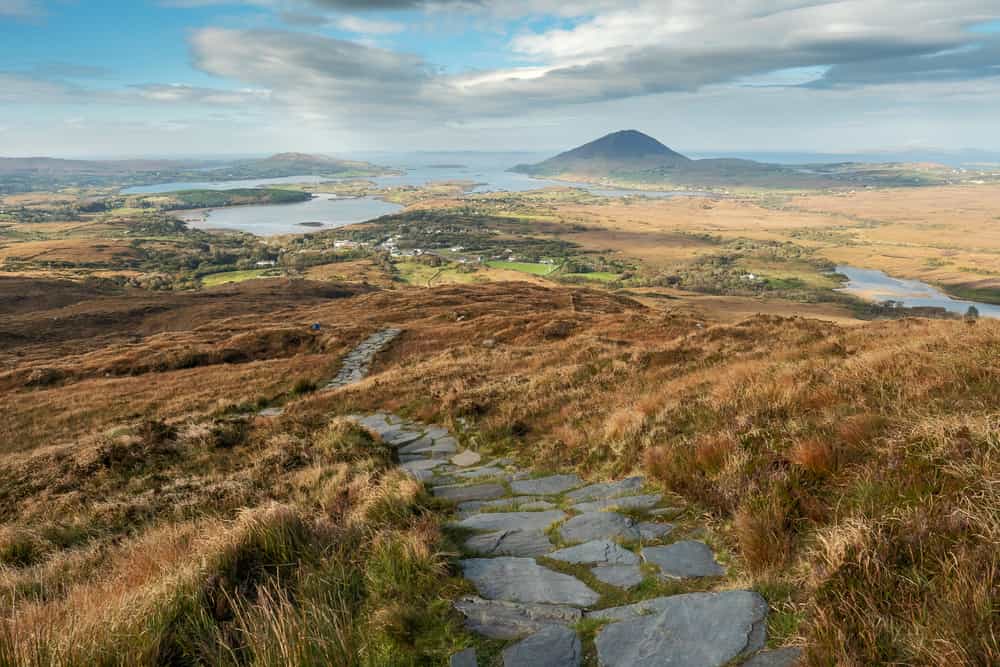 The Connemara National Park is an expanse of nearly 5,000 acres in County Galway. Explore the breathtaking scenery of mountains, bogs, heaths, grasslands, and woodlands. It features part of the Twelve Bens, a famous mountain range featuring sharp peaks of quartzite summits and ridges. The park allows participation in walking, hiking, photography, videography, wild camping, and picnics. There is also a visitor center, cafe, and playground. Also, look out for the Connemara pony, a heritage breed that they maintain within the park. 
For an entertaining hike, check out the self-guided tree trail or trek to the summit of Diamond Hill, where gorgeous panoramic views await. Some interesting flora includes purple moor grass, butterwort, sundews, St. Daboec's heath, mountain sorrel, roseroot, and St. Patrick's cabbage. And you can spot wildlife, such as badgers, foxes, pine martens, otters, deer, and many bird species.
Wild Nephin Ballycroy
On Northwest Mayo's western seaboard sits over 37,000 acres of pure wilderness. The Wild Nephin Ballycroy features the Nephin Beg mountain range, Owenduff Bog, alpine heaths, upland grasslands, lakes, and rivers. The park is renowned for its almost nonexistent night pollution. It is a Gold Tier International Dark Sky Park. At night, you can witness an endless system of stars, including planets, the Milky Way, and meteor showers. Their visitor center can help you get started on your stargazing journey with guides and educational programs. 
Apart from the big sky country, you will find interactive exhibits and ancient forests emerging from the largest expanse of Atlantic blanket bog in Western Europe. Along the park's trails, you will find archeological and historical sites, such as 18th-century ringforts, promontory forts, and crannógs. A family-run cafe is located on the park grounds, offering locally-sourced foods and drinks.
Glenveagh National Park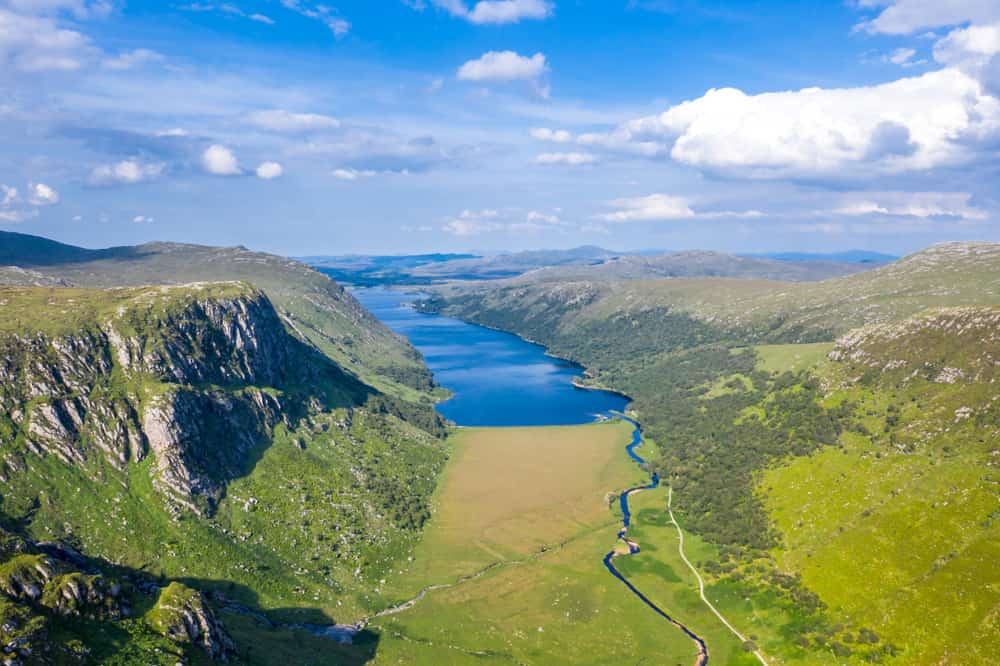 Glenveagh is one of Ireland's most treasured stretches of the natural world. The park features wild and rugged mountains dispersed with wildlife and walking trails, complete with a Victorian castle and garden. The staff at Glenveaugh National Park expertly care for the castle grounds and gardens, where you can stroll through and observe Victorian architecture and unique flora. 
You can also hike the trails and take in the ancient and magical scenery of glacial valleys, rivers, woodlands, and waterfalls. And if you are an avid birder, you will find many species to occupy your time. Look for majestic golden eagles, peregrine falcons, and red-throated divers. Other than the castle and multiple walking trails, you will find a visitor center, tea room, restaurant, education center, outdoor classroom, and children's play areas.
Wicklow Mountains
South of Dublin lies over 56,000 acres of Ireland's largest national park. The Wicklow Mountains feature open vistas, streams, deep lakes, wooded valleys, and scenic mountain roads. Trek through the wilderness on foot or take a drive while enjoying rolling mountains. Hike on the Spinc trails to the boardwalk, where you will find a panoramic view of the Upper Lake. 
Once a monastic settlement, the park features ruins of towers, churches, and crosses of Glendalough. You will also find ruins of the Miner's Village from the late 1700s. 
The park features an information booth and visitor center, which also offers guided tours. However, you will have to visit nearby towns for food, lodging, and other amenities.
Ireland is full of rolling green hills, shimmering lakes, sprawling grasslands, and ancient ruins. And exploring national parks is an excellent way to experience the splendor of this wondrous European country. For now, Ireland only has six official national parks, but there are many natural areas to see outside of their boundaries. Do you have any favorite Ireland landscapes?
Up Next:
More from A-Z Animals
---
The Featured Image
---