From charming coastal cities to rugged mountains and lush valleys, Portugal is an oasis for history, culture, and stunning landscapes. Whether you prefer to lounge on a pristine beach, sip wine in Rio Douro Valley, or visit a medieval castle, there is an adventure for everyone in this European country. Check out the ten most beautiful national parks in Portugal and discover the best activities for each.
Note: Portugal technically only has one official national park, but they have dozens of protected areas and nature parks. We've included them in this list.
Peneda-Geres National Park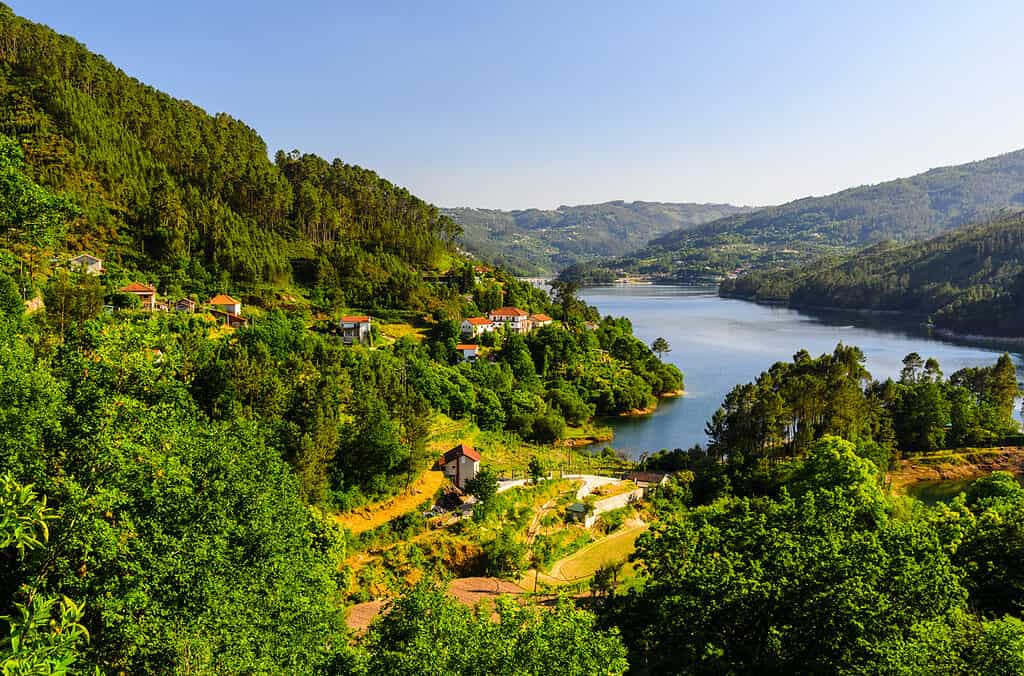 Peneda-Geres, in Northern Portugal, is the oldest protected area and the only official national park in the country. This park is unique and protects the Atlantic European flora transitioning into a Mediterranean biome. Within its borders, you will find tall granite massifs, steep valleys, fast-flowing streams, and hot temperate forests. 
There are also ancient structures in the park, including those from the Roman and Megalithic periods. And thousands of people reside throughout the park in small villages. The best way to experience the area is by hiking, biking, swimming, and sightseeing.
Sintra-Cascais Natural Park
Located on the Portuguese Riviera is the Sintra-Cascais National Park, one of Portugal's most popular tourist attractions. One walk through this magical park, and you can see why it was a summer residence for kings and noblemen. The park consists of rich vegetation, lush beaches, dramatic sea cliffs, historic seaside towns, unique dune systems, ancient ruins, palaces, and medieval castles. What more could you ask for? 
The Castle of the Moors is one of the most visited attractions. It is a medieval hilltop castle which the Moors built in the 8th and 9th centuries. Almost every kind of recreational and tourist activity you can think of exists in Sintra-Cascais.
Parque Natural Da Arrabida (Arrabida Natural Park)
Arrabida Natural Park is a protected area in the southernmost region of the Setúbal Peninsula. Most Portuguese coasts consist of long sandy beaches and cliffs, but this region is unique for its Mediterranea-like carbonate mountain ranges near the ocean. 
The park is miles of turquoise waters, white sandy beaches, limestone rocks, and lush green vegetation. You can explore the area by taking a scenic drive, lounging on the beach, visiting the historic 16th-century monastery, or hiking along cliffs and coves.
Southwest Alentejo and Vicenti Coast
This natural park is in Southwest Portugal and features incredible biodiversity as one of the last areas of the wild European coast. While protecting the history and cultural heritage of the coast, the park also includes a huge range of natural habitats. You will find crystal blue waters, dramatic, rugged seaside cliffs, secluded coves, and sandy beaches. It is an excellent area to visit historical sites, relax on the beach, hike wild coastlines, and bird-watch. There are several bird nesting sites and over 12 endemic plant species to find.
Serra Da Estrela Natural Park
The Serra Da Estrela is the most extensive mountain range in Portugal and the source of several major rivers. It is the largest natural protected area in the country. It features the highest peak, which contains a ski resort. Along with tall mountain peaks, you will find a rocky green landscape of plateaus, valleys, and pastures. While most of the big mammals no longer exist in the area, there are many other wildlife creatures in the region. Keep an eye out for otters, foxes, badgers, genets, and European rabbits. There are also many bird-sighting opportunities, like Eurasian eagle owls, black kites, and golden eagles.
Montesinho Natural Park
Parque Natural de Montesinho is a protected area in Northeastern Portugal, with part of the Serra Da Coroa mountain range falling within the park. Along with two high peaks, you will find grassy fields, forests, rivers, streams, and rolling hills. The area is home to abundant wildlife, including over 120 breeding bird species. It is also an important region for the Iberian wolf, and you can visit a center to learn more about them. Other park activities include scenic drives, interpretive paths, walking trails, ziplining, plane rides, and museum tours.
Ria Formosa Natural Park
Stretching along the Algarve Coast is Ria Formosa, a system of barrier islands, featuring a maze of canals and marshes. Ria Formosa is a lagoon and one of Portugal's seven natural wonders. This protected area is an important area for migrating birds and the region's economy, featuring a port and seafood farms. For tourism, many small villages feature dining and shopping. Or you can spend the day lounging on the beach, hiking around the islands, or fishing.
Litoral Norte Natural Park
Along the shores of the Atlantic Ocean, Parque Natural do Litoral Norte protects the dunes, fish, and birds in the area. The park's estuaries play a significant role in caring for migrating birds, and you will find over 140 bird species and 240 plants. Along with the sea and river estuaries, you can enjoy white sand dunes and long stretches of pristine, secluded beaches perfect for afternoon strolls near the ocean. If you are a birder or lover of nature who enjoys hiking, this is your spot.
Douro International Natural Park
Douro International Natural Park is in Northeast Portugal and is one of the largest protected areas in the country. Encompassing the area along the Douro River, it acts as a border between Portugal and Spain. The area features rugged canyons dotted with lichen and moss along the winding river. The Douro has an abundance of wildlife, including wolves, roe deer, goat rats, wildcats, wild boars, and cave bats. The cliffs are an essential area for endangered nesting birds, such as black storks and Egyptian vultures, but you will also find peregrine falcons and golden eagles. 
Alvao Natural Park
Parque Natural do Alvão is in Northern Portugal and is one of the smallest natural parks in the country. The area divides into two sections: an elevated area along the Rio Olo watershed and a lower area marked by a sudden drop and the Fisgas waterfall. You can enjoy mountain massifs, rivers, waterfalls, rocky outcrops, and mountainous vegetation. The park has a temperate Atlantic climate and features many wildlife species, like golden eagles, mountain goats, wild boars, Eurasian otters, and Iberian emerald lizards.
Up Next:
More from A-Z Animals
---
The Featured Image
---