Over 30 million people visit Thailand yearly to experience delicious cuisine, fantastic hotels, and a lush landscape filled with incredible wildlife. This country features white, sandy beaches lined with palm trees, tropical forests, mist-covered peaks, stunning architecture, and ancient ruins. One of the best ways to experience the landscape and culture of this region is to visit one of these ten beautiful national parks in Thailand.
Ao Phang Nga National Park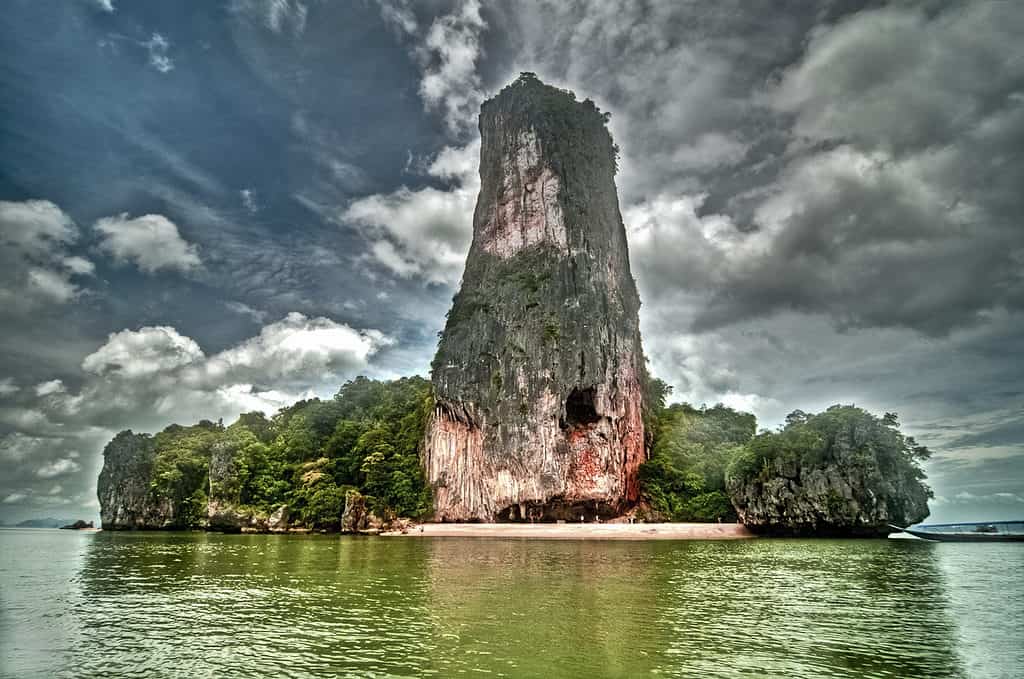 Southern Thailand has one of the most popular tourist attractions in the country, Khao Phing Kan, a unique island in Ao Phang Nga National Park. Featured in The Man with the Golden Gun, the island is known as "James Bond island." The park contains limestone tower karst islands, white sandy beaches, turquoise waters, caves, inland lagoons, and mangrove forests.
Actually, Ao Phang Nga preserves one of the most extensive mangrove forests in the country, including its role in the coastal ecosystem as a breeding ground for marine animals. Some of those animals include lar gibbons, serows, smooth-coated otters, and Brahminy kites.
Khao Yai National Park
Khao Yai is the first national park in Thailand and the third largest. The park is in the western portion of the Sankamphaeng Mountain Range in Northeastern Thailand. You can expect to see tall mountain peaks, grasslands, waterfalls, and tropical forests when visiting. Due to its diverse landscape, you will find many flora and fauna species.
Some of the animals include red junglefowl, Asian black bears, Indian elephants, gibbons, sambar deer, barking deer, and wild pigs. While it may be tempting to go and explore the park, visitors are only allowed to walk freely on short paths. The best way to explore the area is on a guided tour, where you can get up-close views of the animals and waterfalls.
Namtok Phlio National Park
In Eastern Thailand bordering Cambodia, is Namtok Phlio National Park. It contains tropical rainforests, mountains, waterfalls, natural pools, and archeological sites. The Phlio waterfall is the main attraction, where it crashes into pools of clear water filled with soro brook carp. You will also find many other wildlife species, such as sunda pangolin, pig-tailed macaques, common palm civets, chevrotains, and northern red muntjac. Most people visit Namtok Phlio for relaxing nature walks, sightseeing, and wildlife viewing. The main waterfall is only a 20-minute walk from the parking lot and is an excellent photo opportunity.
Similan Islands National Park
The Similan Islands are an archipelago located off the coast of Phang Nga Province in Southern Thailand. The islands are in the Andaman Sea, and the best way to access them is by boat. However, this is not a park to visit if you prefer seclusion and quiet. Similan Islands National Park is the most overcrowded park in Thailand, with around 5,000 to 6,000 visitors a day during the open season (October to May). But the area is popular for a reason. It features amazingly clear waters, sandy beaches, rich marine life, huge rock formations, and dense tropical forests.
Kaeng Krachan National Park
Kaeng Krachen National Park is the largest national park and one of the most popular in Thailand due to its proximity to the tourist area of Hua Hin. The park contains a long mountain range, rainforests, lakes, waterfalls, caves, and rivers. And a ton of wildlife, such as leopards, bears, macaques, elephants, golden jackals, guars, and much more deep within the forests and various water systems. You can also see tigers occasionally, but only a few are left due to illegal hunting.
Tha Pom Klong Song Nam
Tha Pom Klong Song Nam is a nature preserve in Krabi on the edge of the Andaman Sea. It is a captivating place to commune with nature by walking on wood platforms that weave around the park. You will see mangroves, muddy to crystal-clear waters, complex tree root systems, dense, bright green vegetation, limestone cliffs, and forested mountains. While it is a popular tourist area, the park still gives the feeling of being untouched and unexplored. If you'd rather explore the park in another way, you can rent a kayak and float your way down slow-moving rivers and streams. 
Khao Sok National Park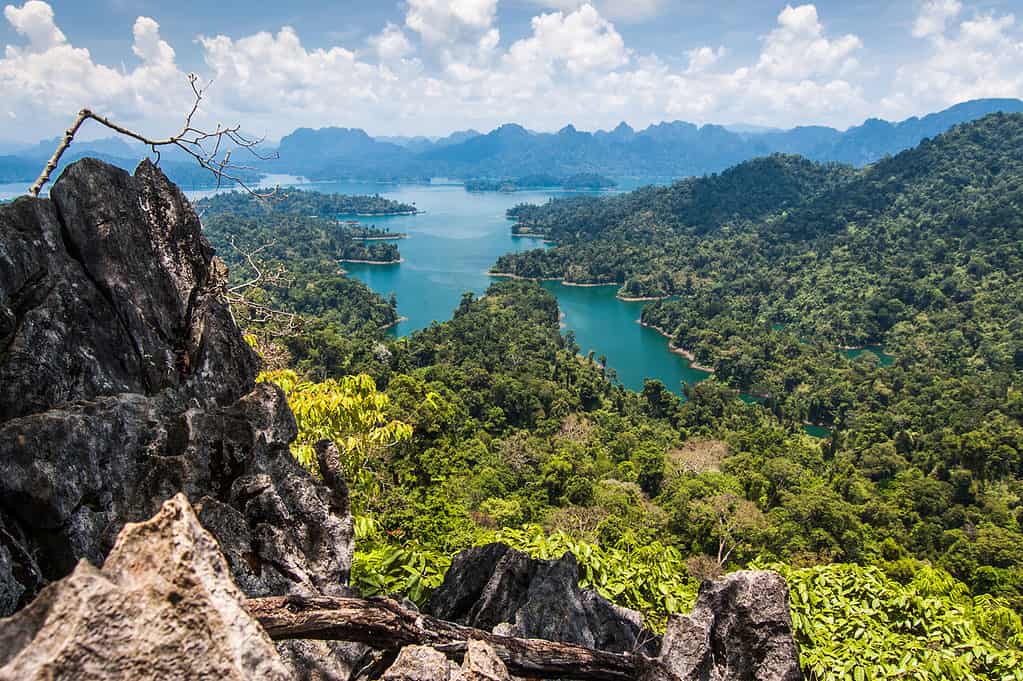 Have you ever wanted to visit one of the oldest and most diverse rainforests in the world? Check out Khao Sok National Park in Southern Thailand. This park contains ancient, virgin evergreen rainforests, steep limestone mountains, unique caves, glassy lakes, and deep valleys. And the wildlife is phenomenal. You can encounter species like tigers, elephants, leopards, Malayan sun bears, primates, guar, mouse deer, tapir, black giant squirrels, and many more. The best (and most recommended) way to experience the park is by booking an all-inclusive guided boat tour.
Erawan National Park
The Erawan National Park lies in Western Thailand in the Tenasserim Hills, a long mountain chain in Southeast Asia. Erawan Falls, a seven-tiered waterfall, is the most popular attraction in the park. But this national park has many beautiful sights, such as emerald green pools, caves, limestone hills, plains, streams, and mixed-deciduous forests. The available activities include nature walks, cave exploring, camping, and playing in the waterfalls. However, there is only one hiking trail in the park, and most will need to have a ranger accompany them. It may not be safe due to the natural wildlife and dense forest in the area.
Mu Ko Ang Thong National Park
Located in the Gulf of Thailand, Ang Thong National Marine Park, or Mu Ko Ang Thong National Park, is a lush area in shallow water. The marine park is an archipelago that covers 42 islands, some with nomadic villages and others uninhabited. This Thai paradise features rugged limestone hills, caves, marine lakes, sinkholes, beaches, bays, and several types of forests. The waters provide many activities from snorkeling to hiking, kayaking, canoeing, swimming, and wildlife viewing.
Khao Sam Roi Yot National Park
Khao Sam Roi Yot National Park is another marine park in Thailand, located in the central portion of the country. The park has the largest freshwater marsh in Thailand. It also features limestone hills, forested mountains, white sand beaches, islands, enormous caves, and rich wildlife. Phraya Nakhon Cave is famous for the pavilion inside that was built for King Chulalongkorn in 1890.
Summary Of 10 Beautiful National Parks In Thailand
| Rank | National Park | Location |
| --- | --- | --- |
| 1 | Ao Phang Nga National Park | Phuket Island |
| 2 | Khao Yai National Park | western portion of the Sankamphaeng Mountain Range in Northeastern Thailand |
| 3 | Namtok Phlio National Park | Southeast Thailand in Chantaburi Province |
| 4 | Similan Islands National Park | Kanchanaburi Province, Western Thailand |
| 5 | Kaeng Krachan National Park | On the border with Burma, Kaeng Krachan District, Phetchaburi |
| 6 | Tha Pom Klong Song Nam | Krabi Province, near Krabi Town |
| 7 | Khao Sok National Park | Surat Thani Province, Southern Thailand |
| 8 | Erawan National Park | Kanchanaburi province, Western Thailand |
| 9 | Mu Ko Ang Thong National Park | Gulf of Thailand, Surat Thani Province |
| 10 | Khao Sam Roi Yot National Park | Coast of Prachuap Khiri Khan Province |
Summary Of The 10 Beautiful Parks In Thailand
The photo featured at the top of this post is © iStock.com/Lucy Brown - loca4motion
---