The term "Collie" refers to different breeds in different places throughout the world. For instance, those of us in the United States typically think of a rough collie. Others may think of border collies or sheepdogs. The collie is a breed of dog recognized by the American Kennel Club (AKC). "Collie" can also refer to a group of herding dogs that are similar to the standard collie breed. These include dogs with collie in the name, such as border collies, and those without collie in the name, like Shetland sheepdogs. In this article, we'll discuss nine collie dog breeds, along with their similarities and differences.
What is a Collie Dog Breed?
There is only one official breed called collie (sometimes also referred to as a Scotch or Scottish collie). It's an active, working breed that requires plenty of exercise and mental stimulation. And they love having a job to do, even if it's just a form of play to replicate their herding instincts.
They're smart, eager to please, and love to learn new things. They are easy to train and genuinely enjoy the process. It's good for them to have continued training throughout their lifetime, whether they're learning fun new tricks or practicing agility or herding.
The term "collie" is also used as an umbrella term to describe similar types of sheepdogs. Some, but not all, have "collie" in their breed's name.
1. Rough Collie
These dogs aren't technically their own breed but instead are known simply as collies by the American Kennel Club (AKC).
Rough collies are double-coated with a smooth undercoat and rough topcoat, which give their fur a coarser feel. It's also longer than that of a smooth collie and mats more easily.
When a dog gets a mat in their fur, it pulls against the skin, causing constant irritation. Mats near joints are the worst because they pull whenever the dog moves. Because of this, it's important to brush their coat regularly. Combing all the way down to the skin at least once a week will ensure no mats develop.
Rough collies need additional grooming during shedding season when they blow out their undercoat. According to the AKC, this occurs once a year in males and spayed females, and around three months after the heat cycle of intact females.
2. Smooth Collie
Smooth collies are also simply classified as "collies." With the exception of coats, they're identical to rough collies.
Their fur is short and softer than that of a rough collie. Since the fur is short, it won't mat, but smooth collies should still be brushed regularly to remove dead fur, promote skin and coat health, and reduce the amount of shed fur you find around the house.
3. Border Collie
Border collies are slightly smaller than regular collies, standing 18-22 inches at the shoulder and weighing 30-55 pounds.
Like standard collies, they can have either a rough or smooth coat. The rough coat is mid-length, while the smooth coat is short.
Both require brushing at least one to two times a week and daily during shedding season. However, missing a brushing session will have more impact on rough-coated dogs since they can develop mats.
Border collies are incredibly active and need an exercise buddy. Daily walks won't be enough for these dogs that thrive when given a job. They do well with frequent hikes, runs, and other vigorous exercise.
They aren't for the average dog owner, but instead for someone who has a lot of time to spend with their dog. Many border collie guardians say that owning one of these dogs induces a complete lifestyle change!
4. Bearded Collie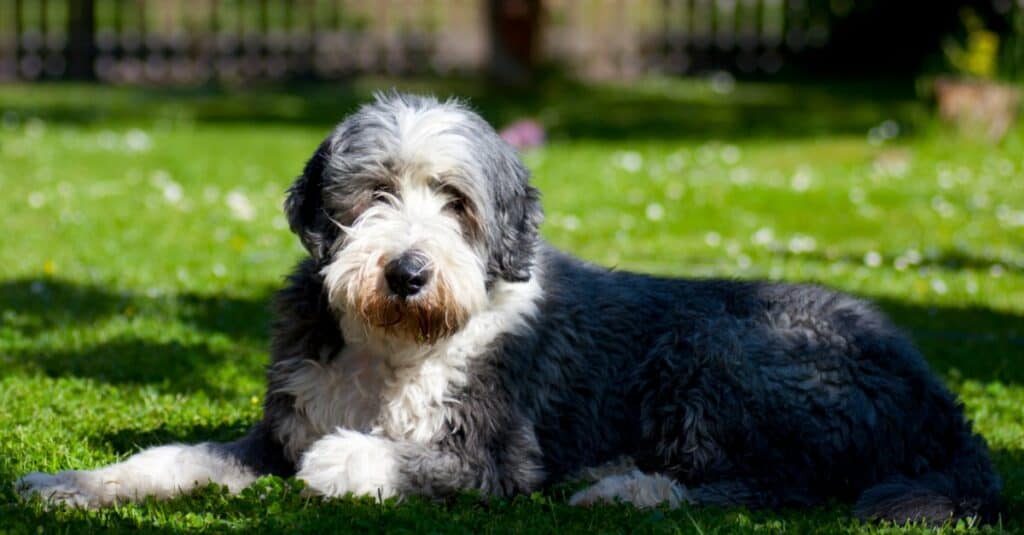 Bearded collies have a very traditional "sheepdog" look, with long, soft fur in the colors black, blue, brown, or fawn. They may have either white or tan markings. They stand 20-22 inches tall and weigh 45-55 pounds.
The AKC describes these pups as charismatic and bouncy. They're affectionate, friendly with just about anyone, and require plenty of daily exercise. While some dogs might want to skip walks on rainy days, bearded collies will want to go out in any weather.
A quick brushing of their coat should occur daily, but they'll also need more in-depth grooming once a week. This consists of using multiple tools to ensure you get down to the skin, preventing mats or debris build-up in the coat.
5. Shetland Sheepdog
Shetland sheepdogs, or shelties, are essentially miniature collies! They stand 13-16 inches at the shoulder and weigh just 15-25 pounds.
These smaller dogs differ from standard collies in that they're better with other dogs, a little more wary of strangers, more protective, and more energetic.
Luckily, it's also easier to exercise shelties since they are smaller in size. Expect to take them on at least one daily walk, spend time playing with them in or outdoors, and keep their minds busy with games and activities that make them think.
6. Old English Sheepdog
Old English sheepdogs are over 20 inches tall and weigh 60-100 pounds. They have long, shaggy, bi-colored fur.
These pups tend to be affectionate, family-loving, and good with children. Of course, dogs and children should always be supervised when together!
They should be brushed thoroughly at least once a week so that their fur doesn't tangle or mat. Trimming their fur short is a good idea, but it shouldn't be shaved or cut too short as this will damage their coat.
According to the AKC, energy levels in this breed vary but all require at least moderate daily exercise.
7. Koolie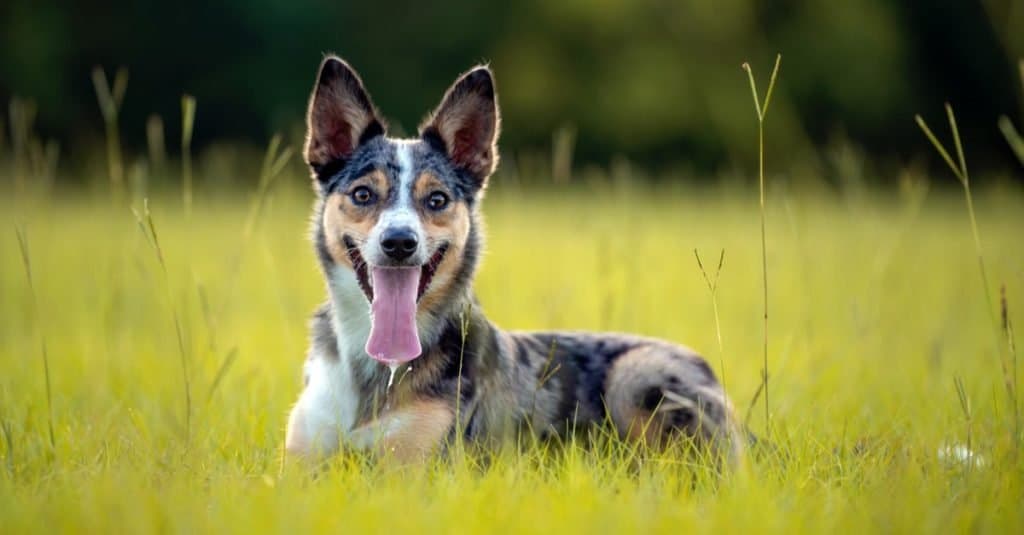 A Koolie, or Australian Koolie, is actually a mixed-breed dog that comes from Australia. The breed isn't recognized by any major kennel clubs.
Koolies originated when collies were brought to Australia and bred, possibly alongside German tigers, an old German shepherd line.
It's said that Koolies got their name from the German pronunciation of "collie."
They tend to be bred for their working abilities, rather than to a set standard in appearance. In temperament, they act much like collies and other sheepdogs.
8. Welsh Sheepdog
Welsh sheepdogs are descendants of the many sheepdogs that used to exist in Wales, and over time became just a few breeds. Like koolies, they're bred for working rather than aesthetics, so they can range in appearance.
They tend to be either black and white, red and white, tricolor, or merle.
Working dogs like Welsh sheepdogs need a ton of activity in their days! They get bored easily and require both physical exercise and mental enrichment in order to thrive.
9. English Shepherd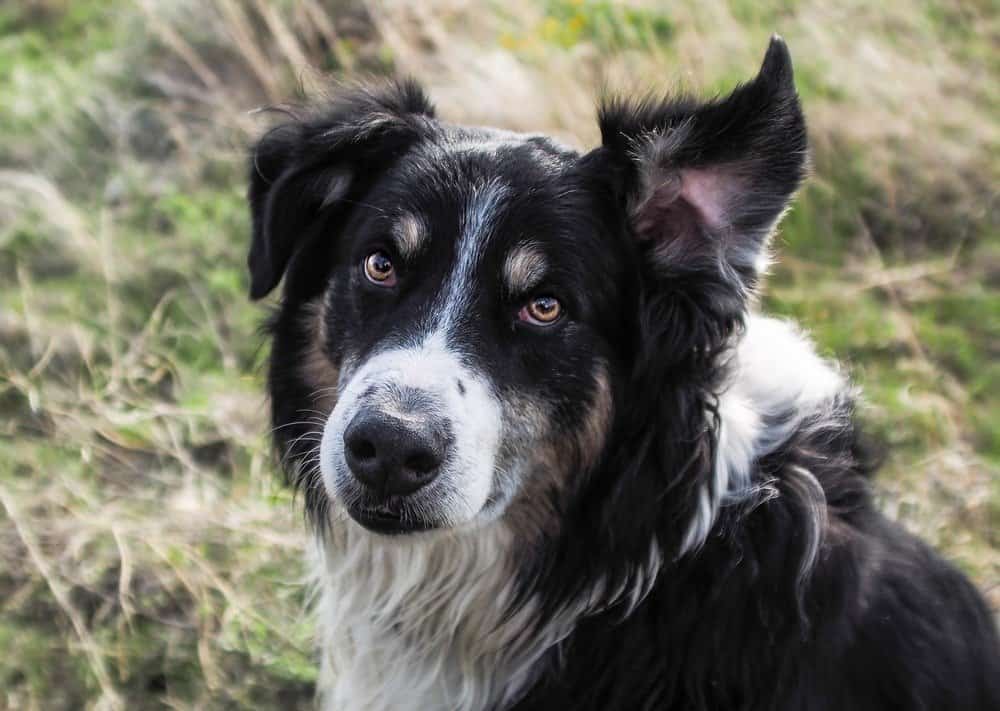 English shepherds aren't recognized by the AKC but are recognized by the United Kennel Club or UKC. They have medium-length double coats and folded ears.
The UKC describes these dogs as gritty and fearless. They're protective, alert, and eager to please.
One fault with this breed, which is fairly common in herding dogs, is that they tend to use their teeth while herding. This should be discouraged when they're young to avoid problems later in life.
Closely supervise interactions between children, other pets, and an English shepherd. Keep them separated until older if necessary. A nipping pup can be scary to kids or other animals and can also cause injury.
Summary of 9 Beautiful Types of Collie Dog Breeds
Collies are some of the most beautiful working dog breeds and come in a variety of sizes and coats. The mixed-breed collies can have short or long coats. All collies are easy to train!
#
Breed
Size
Coat
1
Rough Collie
22 – 26 inches tall
50 – 75 pounds
Long with rough fur over smooth undercoat
2
Smooth Collie
22 – 26 inches tall
50 – 75 pounds
Short and smooth
3
Border Collie
18 – 22 inches tall
3 – 55 pounds
Rough or smooth
4
Bearded Collie
20 – 22 inches tall
45 – 55 pounds
Long and soft
5
Shetland Sheepdog
13 – 16 inches tall
15 – 25 pounds
Long with rough fur over smooth undercoat
6
Old English Sheepdog
Over 20 inches
60 – 100 pounds
Long and shaggy
7
Koolie
16 – 20 inches
30 – 55 pounds
Short and smooth
8
Welsh Sheepdog
18 inches
35 – 45 pounds
Short or long
9
English Shepherd
18 – 24 inches
35 – 65 pounds
Short or long
The photo featured at the top of this post is © Salyaeva Natalia/Shutterstock.com
Ready to discover the top 10 cutest dog breeds in the entire world?
How about the fastest dogs, the largest dogs and those that are -- quite frankly -- just the kindest dogs on the planet? Each day, AZ Animals sends out lists just like this to our thousands of email subscribers. And the best part? It's FREE. Join today by entering your email below.
---