Are you considering whether to have a Bernese Mountain Dog vs Newfoundland as a pet? Even though these two dogs are both enormous, affectionate, and loving, there are considerable differences between them. In this piece, we'll look at the differences and similarities between the Bernese Mountain Dog and the Newfoundland dog.
Bernese Mountain Dog vs Newfoundland: A Comparison 
| Key Differences | Bernese Mountain Dog | Newfoundland |
| --- | --- | --- |
| Height | 24 – 28 inches | 25 – 29 inches |
| Weight | 80 to 110 lbs. | 99 to 150 lbs. |
| Coat type | Long, Thick, Dense | Flat, Water-Resistant, Soft |
| Colors | Black and White, Rust Markings | Gray, Brown, White, Black |
| Temperament | Affectionate, Smart, Devoted | Social, Happy, Gentle, Loyal |
| Energy Levels | Above Average | Average |
| Life Expectancy | 7 to 10 Years | 9 to 12 Years |
| Health Problems | Progressive retinal atrophy (PRA) Von Willebrand's Disease | Epilepsy, Hypothyroidism |
Key Differences Between Bernese Mountain Dog and Newfoundland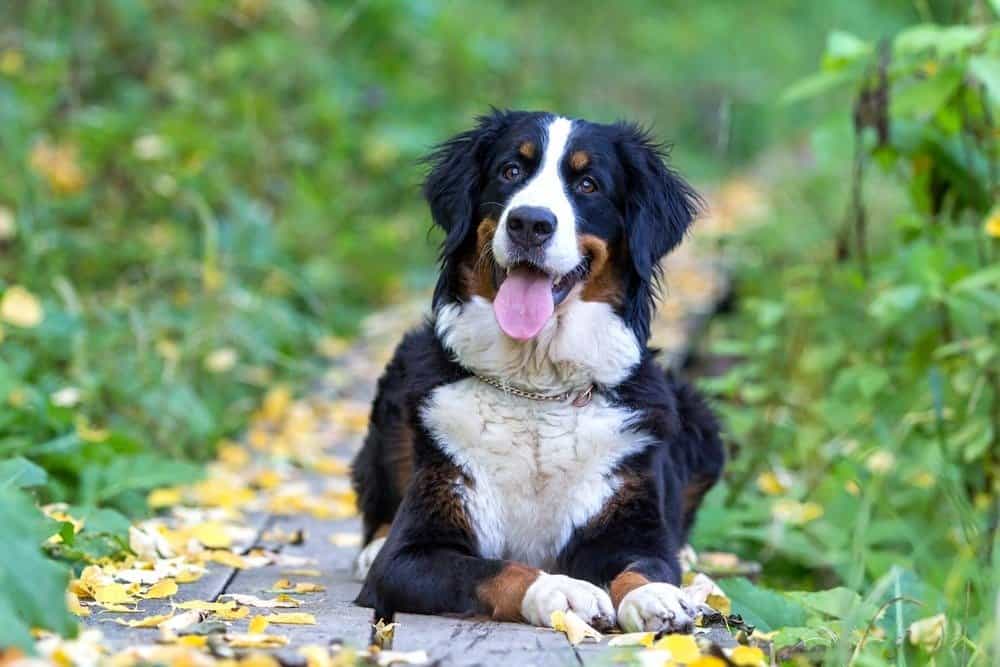 There are many differences between Bernese Mountain Dogs and Newfoundlands. For example, Bernese Mountain Dogs were originally bred in Switzerland, while the Newfoundland (or Newfie) was bred on Canada's rugged Atlantic coast to work alongside Canadian fishermen. Additionally, the Bernese Mountain Dog is much smaller than the Newfoundland. The lifespan of the Newfoundland is longer than the lifespan of the Bernese Mountain Dog.
Let's look at these differences in more detail now.
Appearance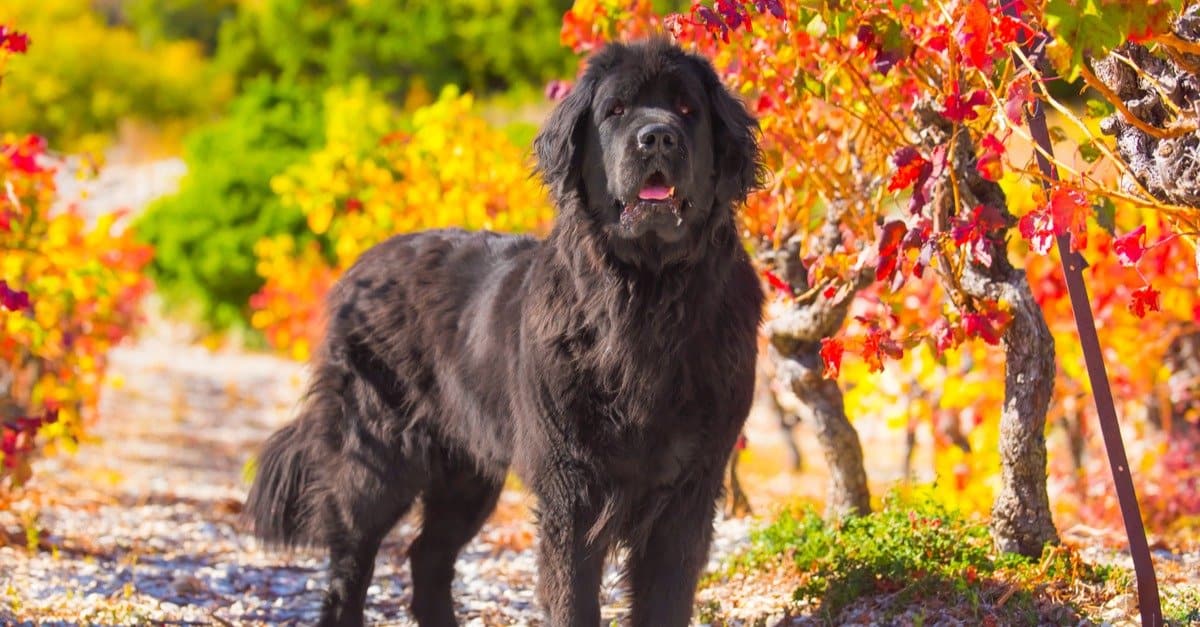 Bernese Mountain Dog vs Newfoundland: Height
The Bernese Mountain Dog, although standing tall at 24 to 28 inches in height, is the smaller of these two breeds. Newfoundland Dogs, like the Great Dane, is among the largest breeds of dog in the world. Considered giants, males measure 27–29 inches, while females measure 25–27 inches.
Bernese Mountain Dog vs Newfoundland: Weight
The Bernese mountain dog, despite its size and weight, is lighter than the Newfoundland. Males weigh between 85 and 110 pounds, while females weigh between 80 and 105 pounds. Male Newfoundland weighs 130-150 pounds, while females weigh 99-120 pounds. There are few breeds of dogs that have as much muscle and bone mass as Newfoundland.
Bernese Mountain Dog vs Newfoundland: Coat Type
Another notable difference between the two breeds is their coats. The Bernese has a long, thick outer coat and a dense undercoat that sheds frequently. Newfoundland, on the other hand, has a second layer that is flat and water-resistant. The undercoat is dense and soft, while the outside coat is long and coarse. Most of the shedding occurs in the spring and fall when the weather is mild.
Bernese Mountain Dog vs Newfoundland: Colors
Purebred Bernese Mountain dogs have tri-colored hair, with black, white, and rust tones. Rust-colored patterns adorn the tops of the eyes, the sides of the mouth, the front legs, and the breast area. There are three solid Newfoundland dog colors: brown, gray, and black. The Landseer Newfoundland is a black and white breed.
Characteristics
Bernese Mountain Dog vs Newfoundland: Temperament
Despite its compassion and intelligence, Newfoundland may be rather sensitive, therefore owners should take special care of them. Starting at an early age and utilizing praise and treats can help. Men are more likely to be stubborn, whereas women are more likely to be obedient. Newfoundland dogs are well-known for their devotion to their family and their ability to get along well with other animals and children.
The Bernese Mountain Dog is a bright canine that is often happy and cheery. Unlike hyper, this is not a form of overconfidence. When properly trained, they are affectionate and friendly as well as devoted and obedient servants. More than anything else, they exude a positive outlook on life. Additionally, they seem to get along with dogs and children.
Bernese Mountain Dog vs Newfoundland: Energy Levels
Newfoundlanders aren't overly energetic and don't need much exercise. However, these dogs still require daily movement and social interaction. This is because they are a highly sociable breed that enjoys spending time with other pets and people of all ages!
Bernese Mountain Dogs tend to have a higher degree of energy than most other breeds of dogs. As a result, they demand a lot of daily exercise and don't get much sleep. Unlike the Newfoundland, they don't get along as well with other pets, but they are loyal to their families and can handle themselves in social settings and when left alone.
Health Factors
Bernese Mountain Dog vs Newfoundland: Life Expectancy
An average lifespan of 7 to 10 years is typical for the Newfoundland dog, while Bernese Mountain Dogs often live between 9 to 12 years. Many people are perplexed as to why these canines have such short lifespans, and one explanation is their size. The larger the dog, the shorter its expected lifespan.
Bernese Mountain Dog vs Newfoundland: Health Problems
Hip or elbow dysplasia, cancer, and progressive retinal atrophy (PRA) are among the health issues that might affect the Bernese Mountain Dog. Dogs in the Newfoundland breed are susceptible to several major health issues, including stomach torsion, subaortic stenosis, canine hip dysplasia and epilepsy.
Wrapping Up Bernese Mountain Dog vs Newfoundland
Newfoundland's and Bernese Mountain Dogs are two of the most popular breeds of dog in the United States. In homes with children, the Newfie is particularly well-known for its affectionate, protective temperament. However, if size will play a role in your choice, it's important to remember that the Berner is a large dog, while the Newfie is a true behemoth. As such, heavy drooling and excessive shedding should be expected by owners of giant breeds like Newfies. Regardless, a Berner or a Newfie is a huge and affectionate dog that would make a wonderful addition to a loving family.
Ready to discover the top 10 cutest dog breeds in the entire world?
How about the fastest dogs, the largest dogs and those that are -- quite frankly -- just the kindest dogs on the planet? Each day, AZ Animals sends out lists just like this to our thousands of email subscribers. And the best part? It's FREE. Join today by entering your email below.
Up Next:
More from A-Z Animals
---
The Featured Image
---