Are you ready to enjoy the fabulous beaches that the state of Michigan has to offer? Every year, tons of tourists flock to the beaches in Florida or fly all the way to the Caribbean. However, you might be surprised to hear that some of the best beaches are in Michigan. There is more freshwater shoreline in Michigan than in any other state in the United States. So if you're located inland in the States or are right in Michigan, then stay tuned for a breakdown of some of the eight best beaches in Michigan. 
You'll be surprised to find out that there are tons of beaches to choose from, each with its own charm. Read on to find out about our top picks and what makes each of these beaches so notable. Whether you enjoy sunbathing and laying out or you like a more adventurous beach day option — we've got you covered!
Grand Haven City Beach
Our list starts off with one of the most popular beaches in Michigan — Grand Haven City Beach. Although this beach is definitely one of the options that get more crowded, that doesn't take away from what makes it so special and great. For starters, this is a gorgeous beach that is located on the Grand River and Lake Michigan. It is also a part of Grand Haven State Park, which is a 48-acre park. At this beach, you can enjoy a gorgeous boardwalk that you can walk on and you can even bring your dog out here for a walk. The entrance fee for the beach is $9 which really isn't much considering how beautiful it is here. There is also an absolutely gorgeous red lighthouse that you must take the time to check out!
Sleeping Bear Dune National Lakeshore — Empire Beach
This is definitely one of the most beautiful and picturesque beaches in Michigan. Sleeping Bear Dune National Lakeshore was actually formed by glaciers thousands of years ago. Today, it is a stunning destination that offers panoramic views of the shoreline. Among all of the dunes, you'll find tons of beaches nestled in. The fan favorite, however, is often Empire Beach.
The sand is golden in color and many visitors come here to swim as the water is quite shallow and beautifully blue. Outside of sitting under an umbrella and tanning, you can also hike through the forests around here as well. That means you better come prepared with your hiking shoes! Overall, this is a great spot for a beach day or to go exploring around the area. You won't regret stopping by this area and exploring Empire Beach.
Cheboygan State Park Beach
If you're looking for more than just a beach, then you'll love Cheboygan State Park. This state park features 1,250 acres on the shores of Lake Huron. For those of you that can't get enough of the beach, you'll find that this state park's beach is a worthwhile trip. Along the shoreline of Lake Huron, there are tons of sand for sandcastle building and sunbathing. The water is absolutely beautiful and is quite shallow as well. However, if you're looking for some more activities to do besides sunbathing, then this state park has got you covered. There are tons of gorgeous hiking trails that you can head out on.
Warren Dunes Beach
Warren Dunes State Park is one of the largest and most popular state parks in Michigan. This park features 1,952 acres of land that overlooks Lake Michigan. There are roughly six miles of hiking trails that you can take advantage of here. However, for those of you dying to hit the beach, there are three miles of shoreline here. There are also tons of sand dunes on the beach here, with some reaching up to 260 feet above the lake. You can spend the day hanging out on the sand or you can even partake in some kayaking! There are even some people who go hang gliding off of the sand dunes here. This is a fantastic option if you're looking for a day where you can tan, hike, swim, and even glide in the air.
Lakeside Beach
Located in southeast Michigan in Rogers City, this is one of the best beaches in Michigan to head out to for the day. One of the aspects that so many visitors immediately enjoy is the nearby facilities that you can easily use such as restrooms and picnic areas. The beach here is clean and beautiful. This is a great spot if you're looking to have a traditional beach day. It is situated on Lake Huron which means you get lots of clean water to swim in. Since there are also BBQ rental stations, you can also grill up some food while hanging out. There are also volleyball and basketball courts available. So come prepared with your meats to grill, your beach chairs, and don't forget your basketball either.
Hunter's Point Park Beach
Beachgoers who are interested in some amazing views will love Hunter's Point Park Beach. This beach in Copper Harbor is recognizable thanks to its unique red pebbles and sand that make up the shoreline of the beach. This was once the site of copper mining back in the 18th century. Today, it is a favorite spot for locals to go bird watching, take fantastic wedding or engagement photos, or simply hike around.
This is definitely a more unique beach experience compared to many of the others on this list. There's also the historic Copper Harbor Lighthouse that​​ is always worth checking out as well. There are about 5,000 feet of shoreline here, so you can explore the beach for quite a while. So make sure to bring your hiking shoes and your favorite camera as you'll be in awe of the views here!
P.J. Hoffmaster State Park Beach
Do you happen to be a big fan of sand dunes? Then you'll definitely want to check out the public beach at P.J. Hoffmaster State Park. This is one of the best beaches in Michigan. This state park in Muskegon features 1,200 acres to explore along with some of the most amazing sand dunes you've ever seen. There are also nearly three miles of shoreline that you can enjoy along Lake Michigan.  Once you're done exploring the beach, you should make your way over to the Dune Climb Stairway. Once you reach the top you'll be greeted by absolutely breathtaking panoramic views from the observation deck. If you're a big fan of flowers, then you'll definitely want to visit during the springtime when the wildflowers are in full bloom.
Pictured Rocks National Lakeshore
If you're looking for a more secluded beach adventure, then check out the beaches at Pictured Rocks National Lakeshore. This is a beautiful lakeshore that is located on the south shore of Lake Superior in Alger County. Many people come here to admire the multicolored cliffs. However, there are also two beaches that you can enjoy while you're here — Miners Beach and Twelvemile Beach. These two beaches are pretty secluded and offer you a unique beach experience.
Another fabulous beach worth checking out is Sand Point Beach. There is an area that has pink sand and the water here is especially warm compared to other areas. Other fantastic aspects of Sand Point Beach are that there are restrooms available as well as picnic tables with grills available. Finally, no beach trip here is complete without checking out the shipwrecks at Pictured Rocks. You can view these spectacular ships from a glass-bottom boat tour or by scuba diving!
Summary of 8 Best Beaches in Michigan
Here's a recap of the 8 best beaches in the state of Michigan that we took a close look at:
| Number | Beach | Location |
| --- | --- | --- |
| 1 | Grand Haven City Beach | Grand Haven State Park |
| 2 | Empire Beach | Sleeping Bear Dune National Lakeshore |
| 3 | Cheboygan State Park Beach | Cheboygan State Park |
| 4 | Warren Dunes Beach | Warren Dunes State Park |
| 5 | Lakeside Beach | Rogers City |
| 6 | Hunter's Point Park Beach | Copper Harbor |
| 7 | P.J. Hoffmaster State Park Beach | Muskegon |
| 8 | Pictured Rocks National Lakeshore | Alger County |
---
The Featured Image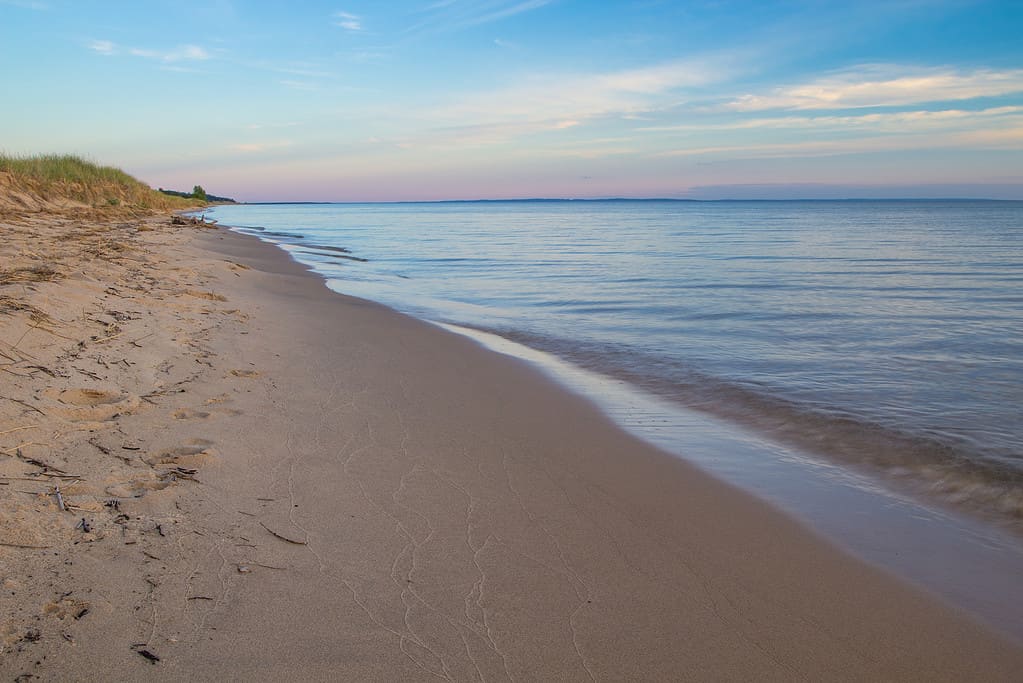 ---