Imagine standing on the edge of a serene Kansas lake, fishing rod in hand, casting a line into the glistening water. The sun warms your face as you listen to the gentle lapping of waves against the shore. Moments like these remind passionate fishers why they fell in love with fishing in the first place.
With its sunflower fields and endless skies, Kansas has over 11 incredible fishing lakes, each offering a unique angling experience. From the mirror-like surface of Gridley City Lake to the rugged charm of Wilson Lake, you'll find yourself immersed in nature's splendor.
Embarking on this adventure through the best fishing lakes in Kansas, you will uncover invaluable tips and hidden gems that'll elevate your angling experiences to new heights. Keep reading to discover the 11 best fishing lakes in Kansas.
Fish Species Found in Kansas
Kansas waters are a fisherman's delight, teeming with various fish species. Expect to find catfish, largemouth bass, walleye, crappie, and assorted panfish swimming in these parts. Dive deeper into larger reservoirs, and you'll encounter walleye, saugers, striped bass, smallmouth bass, and the feisty wipers – hybrid striped/white bass that love a good brawl.
Just five miles north, a stone's throw from Junction City, lies the "Fishing Capital of Kansas" – Milford Lake. This majestic 16,000-acre prairie lake, boasting 160 miles of shoreline, is home to trophy smallmouth bass, crappie, catfish, and white bass.
Tucked away on the northern side of the dam, you'll find the serene Gathering Pond. A perfect spot for novice and young anglers, this tranquil location is frequently stocked and features easily accessible piers and jetties for a hassle-free fishing experience.
Top 11 Fishing Lakes in Kansas
Who knew Kansas was an angler's paradise with prime fishing locations? With 24 reservoirs, over 200 local lakes, 40 fishing lakes, more than 150,000 ponds suited for angling, and a staggering 10,000 miles of streams, there's no shortage of amazing spots to cast a line.
The devoted team at the Kansas Department of Wildlife and Parks works relentlessly to stock and maintain public access to these picturesque bodies of water throughout the state. Their steadfast commitment has allowed countless anglers to create cherished memories and haul in impressive catches from Kansas's stunning lakes, ponds, and streams.
1. Lake Clymer (Butler State Fishing Lake)
Just a stone's throw from Wichita, you'll find Lake Clymer, also known as Butler State Fishing Lake. This 124-acre gem is tucked northwest of Latham and offers a fantastic fishing experience.
Small in size but big on charm, this 22-foot-deep lake is packed with largemouth bass, including some true lunkers. The Kansas Department of Wildlife and Parks (KDWP) ensures top-notch angling opportunities by carefully managing the lake.
Due to its shallow nature, Lake Clymer warms and cools faster than deeper waters. The best fishing spots vary depending on the season – target shallow cover in warm months and transition areas in cold months.
To hook a prize catch, arm yourself with chatter baits, spinnerbaits, topwater lures, and Texas-rigged soft plastics. Imitate the primary baitfish, sunfish, using green pumpkin and chartreuse colors.
Shore anglers can enjoy easy access to deeper waters thanks to earthen fishing piers. The mostly grassy banks (except for the upper end) make bank fishing a breeze. A handy boat ramp awaits on the northwest side for boaters and kayakers.
2. Milford Lake
Milford Lake, nestled in northeast Kansas, is the shining star of Milford State Park. This 15,700-acre gem boasts over 160 miles of shoreline and various fish species, making it a top fishing destination.
Anglers flock to this scenic fishery, reeling in bass, catfish, walleye, crappie, sunfish, sauger, white bass, and hybrid stripers (wipers) with remarkable success.
For those itching to cast a line, Milford Lake offers:
Largemouth bass
Smallmouth bass
Channel catfish
Walleye
Redear sunfish
White bass
Hybrid striped bass (wipers)
Not only does Milford Lake offer an abundance of fish, but it also provides easy access to the shoreline through numerous boat ramps, parks, campgrounds, and public areas – perfect for bank fishing.
3. Gridley City Lake
Just a mile north of Gridley and a mere 45 minutes southeast of Emporia, you'll find the charming Gridley City Lake. This quaint 33-acre lake is a hidden gem among Kansas fishing spots.
The lake features a park with RV and tent camping sites and a playground for land-based fun. When it comes to casting, the rip-rap dam is the perfect spot for crankbaits, while spinnerbaits reign supreme in the rest of the waters.
Whether you prefer shore fishing or boat launching, Gridley City Lake has got you covered. Expect a diverse fishing terrain, from rocks and grass to brush piles. To reel in those basses, match your lure colors to their favorite meals. 
4. Clinton Lake
Clinton Lake is a fishing paradise that'll have you hooked. This 9,300-acre recreation area offers boating, camping, and outstanding fishing.
With accessible boat launches at Mascoutin and West Side Access Areas, a fishing pier at Spillway Access Area, and bank fishing at Valley Mill, anglers are spoilt for choice. From crappie to catfish, bass to walleye – Clinton Lake has it all.
Clinton Lake is a hive of activity, boasting motorboats of all sizes. And for sun-seekers, a stunning 1,000-foot sand beach awaits. They are all open from Memorial Day to Labor Day.
Hiking enthusiasts can traverse trails throughout the site, while picnic areas and playgrounds provide relaxation and fun. Campers can choose from various campsites, with reservations available through ExploreMoreIL™.
For hunters, over 3,600 acres teem with rabbit, pheasant, squirrel, dove, deer, and waterfowl. Special hunts for youth and hunters with disabilities are also offered. Remember, groups of 25 or more must register in advance, pets must be leashed, and always call ahead for facility updates.
5. Lyon State Fishing Lake
Lyon County State Fishing Lake is a must-visit angling oasis in the heart of the Flint Hills region. Just a stone's throw away from Emporia, this 135-acre gem can be found by traveling 13 miles north on Kansas Highway 99 and then taking a short two-mile detour east on County Road 270.
Immerse yourself in nature as you explore the lake's surroundings, which include 442 acres of state-owned public wildlife area and an impressive 1,400 acres of native tallgrass prairie. 
With an average water clarity of 39 inches, you'll be able to gaze into the depths and admire the thriving ecosystem that makes Lyon County State Fishing Lake truly one-of-a-kind. Steeped in history, the lake was acquired by Kansas in 1931, and much of its construction was carried out by the Works Progress Administration and Civilian Conservation Corps. 
Their craftsmanship shines through today, with native limestone guard posts and inlaid rip-rap on the dam and spillway. 
6. McPherson County State Lake
Picture McPherson County State Lake, a hidden gem tucked away in Kansas, where anglers and nature enthusiasts find solace. It's a 29-acre oasis teeming with aquatic life and unforgettable memories.
Venture into the lake's depths, reaching an astounding 30 feet, and discover a treasure trove of fish species. Bluegill, channel catfish, flathead catfish, largemouth bass, crappie, green sunfish, and redear sunfish call this aquatic wonderland home.
Timing is everything at McPherson County State Lake, where the early bird truly catches the worm — or the fish. Set your sights on peak fishing hours: 9-10 am, 12-3 pm, or 4-5 pm. For tailored forecasts, visit the McPherson County State Lake Forecast page and stay ahead of the game.
But McPherson County State Lake is more than just a fisherman's playground; it's a sanctuary for the soul. Embrace the tranquil surroundings, breathe in the crisp air, and let nature's beauty envelop you completely.
7. Waconda Lake
Waconda Lake, a 12,600-acre masterpiece in north-central Kansas, is everything you'd wish for. Home to largemouth and smallmouth bass, it's the perfect spot for a fishing adventure.
With over 100 miles of shoreline and numerous boat ramps, there are plenty of opportunities to cast your line. The lake boasts some of the best walleye fishing in the state. After hooking your share of bass during the day, stick around for the evening walleye feast. 
When targeting smallmouth bass, seek harder, rockier bottoms than you'd typically find largemouth. Toss crankbaits, chatterbaits, or wacky rigs to entice these smallies. Alternatively, try Ned rigs and jigs in natural baitfish colors, which they can rarely resist.
8. Bourbon County State Lake
Bourbon County State Lake, a premier fishing destination in Kansas, offers stunning landscapes and angler-friendly facilities. As part of a 380-acre property managed by the Kansas Department of Wildlife and Parks, this 103-acre lake is nestled in the rolling upland terrain within the Wolfpen Creek valley, a Marmaton River tributary. With springs and surface runoff feeding the stream, it flows year-round except for dry mid-summer periods.
The east and southwest shorelines boast steep bluffs adorned with limestone outcrops. Meanwhile, shoreline angler access and day-use activities are prioritized on the lake's west side. Here, anglers can enjoy earthen fishing piers, floating docks, and automatic fish feeders, creating an exceptional angling experience. Explore the main lake's rocky points to catch spotted bass near the fishing piers. These hotspots are guaranteed to entice you.
9. Winfield City Lake
Winfield City Lake, a top-tier fishing gem in Kansas, boasts an abundance of smallmouth bass. Located less than an hour from Wichita, this lake is a favorite among anglers. Though walleye stocking diversifies the catch, smallmouth bass steals the spotlight. Before you cast your line, grab a city permit at the lake office.
To lure these bronze backs, use smaller largemouth lures in natural hues. Many anglers miss out on inline spinners, a fantastic smallmouth bait.
Other impressive smallmouth lures include small swimbaits like the Damiki rig. When it's time to slow down, drop-shot around rock piles and brush pile edges to attract smallmouth bass. With a boat ramp and generous shoreline access, Winfield City Lake caters to anglers of all levels.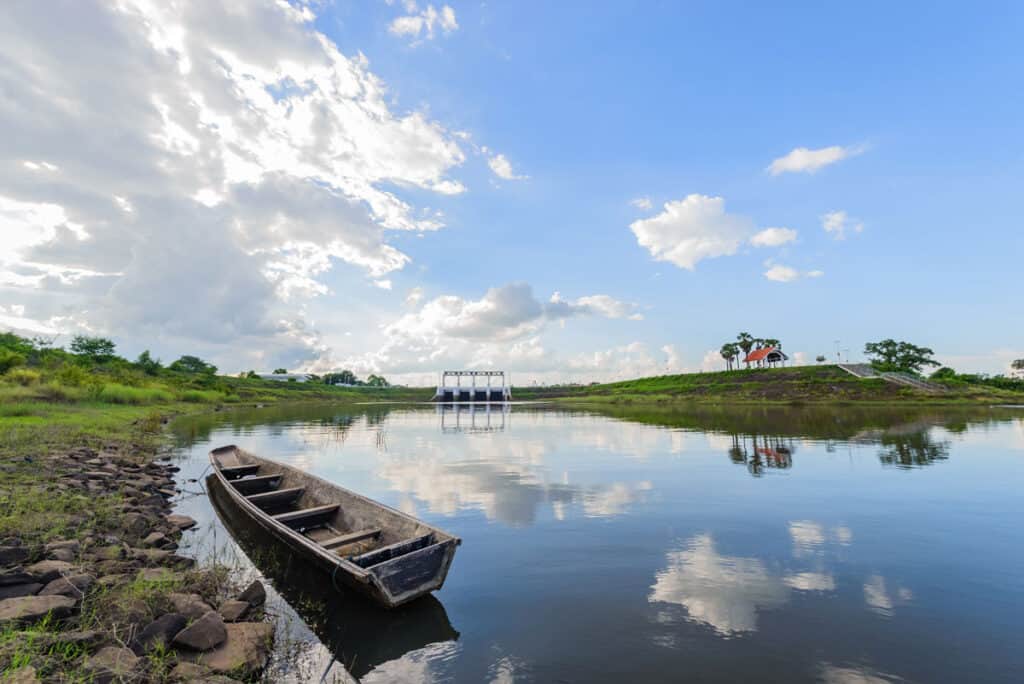 10. Severy City Lake
Located 64 miles east of Wichita, Severy City Lake is a prime Kansas fishing destination. Visitors can find picnic shelters and a boat ramp just south of Severy.
This lake is perfect for families who enjoy canoeing, kayaking, and shore fishing. Keep in mind gas-powered motors aren't allowed. The variety of fish species available includes:
Redear Sunfish
Largemouth Bass
Channel Catfish
For bluegill, fish close to the shore near brush and shade. Redear sunfish are found farther out, so try drifting 20 to 30 feet from the shore using worms on a small hook.
Once your creel is nearly full, make your way to Butcher Falls, a mere two miles away. This breathtaking natural waterfall is particularly stunning after rain. The pool below the falls is also open for fishing but requires some skill. You'll need a stout line to reel up the vertical rocks. Let a bunch of worms under a bobber drift with the current and wait for a bite.
11. Scott State Lake
Tucked away near Scott City, Scott State Lake, a 115-acre gem, beckons fishing enthusiasts to Kansas. This captivating State Park provides abundant camping options, from shaded sites with utilities to cozy lake-view cabins. Discover various wildlife and bird-watching opportunities, especially along hiking trails during the golden hours of dawn and dusk.
Famously known as Kansas' premier bluegill lake, Scott State Lake invites you to fish in quaint coves, bays, or near the dam in the early and late hours. Local anglers swear by using a small worm beneath a bobber for maximum success.
But wait, there's more! Saugeye also thrives in the lake, with impressive seven-pound catches being the norm. Cast diving lures from the shoreline or drifts lazily on the water, letting a large nightcrawler skim the bottom. You'll even find channel catfish, albeit smaller in size. Use chicken livers, cut bluegill, or stink baits as your secret weapon for the best results.
Factors to Consider When Choosing a Kansas Fishing Lake
When casting your line in a Kansas fishing lake, consider the following factors to reel in a great catch:
Size matters: Bigger lakes often boast diverse fish species, but pay attention to smaller, hidden gems teeming with aquatic life.
Location: A lake closer to home saves travel time and allows for more frequent fishing trips.
Know the seasons: Different fish bite during various seasons, so plan your trips accordingly to increase your chances of success.
Fish for compliments: Seek advice from local anglers or bait shops to discover the best spots and insider tips.
Dive into research: Investigate lake depths, water quality, and vegetation to find the perfect fishing environment.
Assess amenities: Amenities like boat ramps, restrooms, and picnic areas can make your fishing experience more enjoyable.
Keep an eye on regulations: Familiarize yourself with fishing rules and limits to avoid getting caught in a tangled mess.
Safety first: Always prioritize safety by checking weather conditions and having proper gear on hand.
In a nutshell, choosing the perfect Kansas fishing lake requires a mix of research, advice, and personal preferences. With these factors in mind, you'll be on your way to hooking that trophy catch.
Fishing Safety and Etiquette in the Lakes in Kansas
Are you embarking on a Kansas fishing adventure? Keep safety and etiquette top of mind to ensure smooth sailing for all.
Float your boat: Always don a life jacket, even if you're an expert swimmer, to stay safe in the water.
Weather the storm: Check weather forecasts before heading out, and be prepared to change plans if needed.
Cast carefully: Practice safe casting techniques to avoid hooking fellow anglers or wildlife.
Leave no trace: Respect Mother Nature by picking up trash, recycling, and leaving the environment pristine.
Share the space: Give fellow anglers ample room, not crowding their fishing spots.
Keep the peace: Maintain a quiet atmosphere to avoid disturbing fish, wildlife, and other fishermen.
Fish-friendly: Follow catch-and-release guidelines, handling fish gently to minimize stress and injury.
Know the code: Familiarize yourself with local fishing rules and regulations to stay on the right side of the law.
Fishing safety and etiquette in Kansas lakes boil down to being prepared, respecting others, and protecting nature. By following these guidelines, you'll contribute to a pleasant and safe experience for everyone.
Planning a Fishing Trip in Kansas
Ready to cast your line in Kansas? Follow these steps to plan a fishing trip that's off the hook.
Set your sights: Research popular lakes and rivers, choosing one that suits your angling preferences and skills.
Timing is everything: Schedule your trip based on prime fishing seasons for your target species.
Gear up: Stock up on essential equipment, such as rods, reels, bait, tackle, and appropriate clothing.
Buddy system: Invite friends or family for a memorable shared experience and extra helping hands.
License to fish: Obtain a Kansas fishing license, ensuring you're following all local rules and regulations.
Home away from home: Book accommodations, whether it's a cozy cabin, campsite, or nearby hotel.
Weather watch: Keep an eye on forecasts, adjusting plans to avoid getting caught in a downpour.
Safety first: Pack safety gear, including life jackets, first aid kits, and sunscreen, for a worry-free adventure.
Capture the moment: Bring a camera or smartphone to document your catch and create lasting memories.
Kansas' Finest Fishing Escapades Await
Kansas offers a treasure trove of fishing opportunities with its vast array of lakes. From serene hidden gems to bustling hotspots, there's a fishing haven for every angler. So, grab your gear, rally your fishing buddies, and set sail for the adventure of a lifetime. With our list of the 11 best fishing lakes in Kansas, you're sure to reel in memories that'll last a lifetime.
Summary of the 11 Best Fishing Lakes in Kansas
Here are the 11 Best Fishing Lakes in Kansas:
| Rank | Lakes in Kansas |
| --- | --- |
| 1 | Lake Clymer (Butler State Fishing Lake) |
| 2 | Milford Lake |
| 3 | Gridley City Lake |
| 4 | Clinton Lake |
| 5 | Lyon State Fishing Lake |
| 6 | McPherson County State Lake |
| 7 | Waconda Lake |
| 8 | Bourbon County State Lake |
| 9 | Winfield City Lake |
| 10 | Severy City Lake |
| 11 | Scott State Lake |
---