The size of Texas cannot be questioned. Although Texas could likely be divided into several smaller states, the East and West are the main divisions that run directly through the state's middle. Generally separated into Northeast and Southeast Texas, East Texas is a widely defined cultural and physical area in the state of Texas. Since there is no ocean in the Lone Star State except in the deep south, residents enjoy visiting lakes.
Over 50 lakes in East Texas provide a wide range of outdoor activities for weekends or holidays. Many Texans own boats and lake cottages and enjoy spending time on the water. Below, we enumerate the 13 best lakes in East Texas for various activities such as swimming, fishing, boating, and more!
The 13 Best Lakes In East Texas
1. Lake Conroe
A man-made lake called Lake Conroe is located close to Conroe, Texas, north of Houston. Lake Conroe is a stunning lake that spans 32.81 square miles, flanked by hills and woods, and a well-liked retreat from the metropolis. Aside from other typical lake activities, Lake Conroe offers a breathtaking view while driving due to the variety of creatures that live there.
Furthermore, a lot of marinas provide boat rentals so that you can explore the lake. Jet skis, yachts, and fishing equipment are frequently seen on Lake Conroe. You can go swimming, fishing, kayaking, hiking, and boarding a paddle steamer at this lake, among other activities.
2. Caddo Lake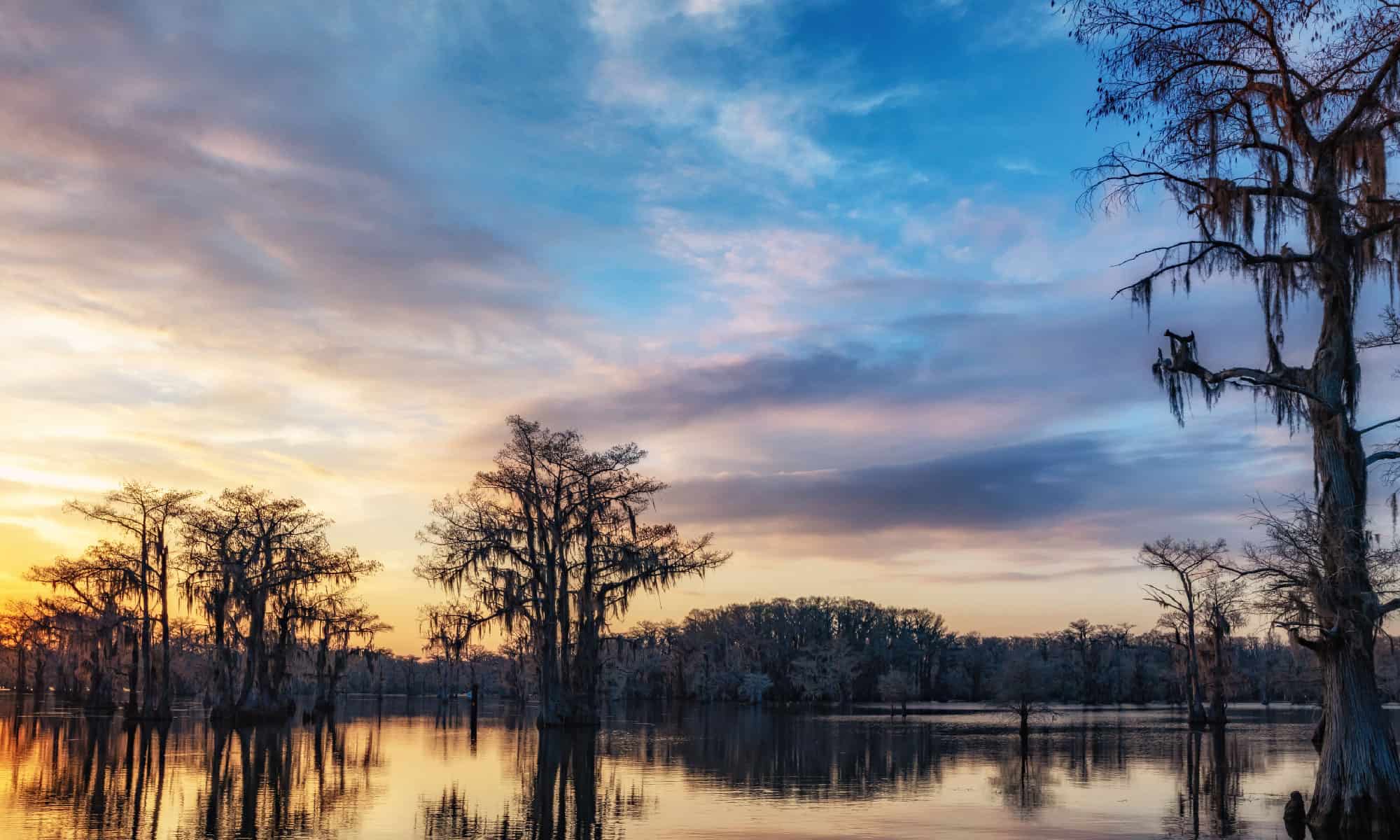 Caddo Lake, which spans the border between Texas and Louisiana, provides a distinctive water experience in the Lone Star State. With 25,400 acres or 39.7 square miles, Caddo Lake is the southern region's largest natural freshwater lake. This lake is so big that half of it is in East Texas, and the other half is in Louisiana! Up to the 19th century, the lake served as a settlement for the Caddoans, a Southeastern Native American tribe.
The swamp surrounding the lake contains one of the largest flooded cypress trees in the United States, which is why it is a protected area on a global scale. On Caddo Lake, magnificent cypress trees are covered with Spanish moss, and herons flying low overhead. Sadly, the lake is one of the most alligator-infested in the nation, making swimming in it impossible.
3. Lake Bob Sandlin
In Titus, Camp, and Franklin counties in the northeastern region of Texas, Lake Bob Sandlin is situated on Big Cypress Creek, five miles southwest of Mount Pleasant. Between the months of March and October, this lake is accessible, but only by reservation. Its maximum depth is 65.6 feet, and its surface area is 9,004 acres. The lake is also lined beautifully by 75 miles of beachfront.
There are many enjoyable things to do around this stunning lake, including hiking, camping, biking, picnicking, fishing, boating, and swimming. The lake bears the name Bob Sandlin in honor of its main proponent, a prominent local businessman, community figure, and head of the Titus County Fresh Water Supply District No. 1.
4. Lake Fork
Families should visit Lake Fork often to spend quality time together. The Lake Fork Reservoir is 43.28 square miles and is situated in the Texas counties of Wood, Hopkins, and Rains. Lake Fork was constructed for industrial and commercial uses and water conservation. The lake's water is reasonably clear, making it suitable for fishing. White bass, sunfish, largemouth bass, white and black crappie, and channel catfish are some fish species living in the lake. Thirty-four of the top 50 largemouth bass captured in Texas were caught in Lake Fork, which was created to be a premier bass fishing lake.
5. Lake Livingston
Another reservoir that the Texas Trinity River Authority entirely manages is Lake Livingston. It is 129.73 square miles in size and is situated in the East Texas Piney Woods. The lake is Texas' second-largest body of water that doesn't border any other states. It was constructed primarily to supply Texas residents with freshwater but is also used for industrial, governmental, and agricultural purposes. Numerous outdoor pursuits are available at this lake, including boating, fishing, butterfly watching, horseback riding, and hiking. White bass fishing is well known in Lake Livingston, and white bass is widely available and very big. The catfish fishery, dominated by blue catfish, is also noteworthy.
6. Lake O' The Pines
Lake O' the Pines, located in East Texas thirty miles west of Caddo Lake, truly lives up to its name. These towering pine trees not only have a lovely aesthetic but also offer shade for the shoreside campers and hiking routes. The diversified fish population in this lake provides a variety of fishing options. Like many others in Texas, this lake is well recognized for being a catfish breeding ground. The natives have a belief that a gigantic catfish was once seen in the lake. With a lot of fish available that are of legal size, crappie is another fish that is quite popular with fishermen.
7. Lake Palestine
Northeast Texas' Lake Palestine is a freshwater reservoir with a surface size of 40 square miles. The lake presents a plethora of options for the fishing sector as it is known for its largemouth bass contests. Like other reservoirs, Lake Palestine was constructed for recreational, governmental, and commercial objectives. Due to its temperate climate, Lake Palestine is unlike other lakes as it may be visited all year round. Hiking, biking, camping, boating, water skiing, house boating, canoeing, RVing, and fishing are just a few popular recreational activities at Lake Palestine.
8. Lake Striker
East of Jacksonville and southwest of Henderson, close to Reklaw and New Summerfield, is where you'll find Lake Striker. The lake is well-known for its fishing – crappie, largemouth bass, and catfish are all regularly caught there – and it offers a lovely resort and a variety of activities. At Lake Striker, you can enjoy recreational activities such as biking, canoeing, boating, and camping.
9. Wright Patman Lake
Ten miles southwest of Texarkana, on the Sulphur River, in the counties of Bowie and Cass, is Wright Patman Lake. Wright Patman Lake's construction started in 1948 and was finished in 1957. Its surface size is 18,994 acres, has 170 kilometers of shoreline, and a maximum depth of 40 feet. The Wright Patman Lake is a great place to observe wildlife. As visitors get up close and personal with pelicans and ducks, they will undoubtedly be in amazement. Visitors can safely observe deer, bald eagles, and even turkeys.
10. Sam Rayburn Reservoir
The dam of the Sam Rayburn Reservoir, which is situated on the Angelina River 15 miles north of Jasper, is situated in Jasper County. The Sam Rayburn Reservoir is Texas' second-largest lake, with a total surface area of 114,500 acres or 179 square miles. Sam Rayburn is a man-made lake and is well-known for its many public recreation opportunities, including camping and fishing. The largemouth bass is the most popular game fish at Sam Rayburn Reservoir. The reservoir's habitat is made up of standing trees, submerged aquatic plants, and flooded terrestrial plants.
11. Lake Tawakoni
Lake Tawakoni is the ideal location if you're seeking a freshwater lake surrounded by sandy beaches. This reservoir in Northeast Texas, which is 57.33 square miles or 37,879 acres, provides a great vacation for swimming and boating. Sand beaches may be found five miles from the lakefront and frequently attract tourists. Lake Tawakoni State Park is nearby and offers outdoor activities like fishing, boating, camping, hiking, and bird-watching. Also called the Iron Bridge Dam and Reservoir Project, the lake was the Texas-based Sabine River Authority's first significant construction undertaking.
12. Toledo Bend Reservoir
The Toledo Bend Lake is one of the largest artificial lakes in the nation and the largest lake in Texas, with a surface area of roughly 181,600 acres and a total water storage capacity of 4,472,900 acre-feet. The state's largest lake, with a maximum depth of 34 meters, also has the most water capacity. Texas and Louisiana both share this reservoir. The project's main goals are hydroelectric power production, water supply, and recreation. The Toledo Bend Lake also has a maximum capacity of 92 megawatts. Around this lake, people enjoy boating, fishing, camping, golfing, skiing, hiking, and other outdoor pursuits.
13. Lake Murvaul
On Murvaul Bayou in Panola County, 15 miles west of Carthage, sits Lake Murvaul. At the spillway crest height of 265.3 feet above mean sea level, the lake has a surface area of 3,820 acres and a capacity of 45,840 acre-feet. Aquatic plants, including native and alien, cover at least 10% of the lake's surface. The lake's fishing is one of its key draws. Largemouth bass, channel catfish, flathead catfish, crappie, bluegill, and sunfish are the main fish species captured in Lake Murvaul.
Summary Of The 13 Best Lakes In East Texas
| Rank | Lake | Location |
| --- | --- | --- |
| 1 | Lake Conroe | Conroe |
| 2 | Caddo Lake | Southeast Texas and Louisiana |
| 3 | Lake Bob Sandlin | Northeastern Texas |
| 4 | Lake Fork | 65 miles east of Dallas |
| 5 | Lake Livingston | East Texas Piney Woods |
| 6 | Lake O' The Pines | East Texas |
| 7 | Lake Palestine | Northeast Texas |
| 8 | Lake Striker | East Texas |
| 9 | Wright Patman Lake | near Texarkana, Texas |
| 10 | Sam Rayburn Reservoir | Jasper County |
| 11 | Lake Tawakoni | Northeast Texas |
| 12 | Toledo Bend Reservoir | Texas/Louisiana Border |
| 13 | Lake Murvaul | Panola County |
The photo featured at the top of this post is © Bonnie Taylor Barry/Shutterstock.com
---
Sources

Planetware, Available here: https://www.planetware.com/texas/top-rated-lakes-in-texas-us-tx-179.htm
Points and Travel, Available here: https://www.pointsandtravel.com/east-texas-lakes/
East Texas, Available here: https://www.east-texas.com/east-texas-lakes.htm