Maine's official nickname is the Pine Tree State in honor of its many white pine trees. The state is known for its picturesque mountains, scenic coastlines, and lovely waterways. You can find numerous lakes across the state, many of which operate in the summer as popular swimming holes. Here is a list of 10 of the best swimming lakes in Maine.   
10. Sebago Lake
Located in Cumberland County, Sebago Lake is bordered by the towns of Naples, Raymond, Casco, and Sebago, with which it shares its name. At 30,513 acres and 316 feet deep, it ranks as the deepest and second-largest lake in the state. 
Unlike most lakes in the area, Sebago Lake often does not fully freeze in the winter except during particularly cold years. That said, the lake has earned a reputation for violent and unpredictable weather. Despite its erratic nature, the lake still functions as a popular tourist destination. Recreational activities at the lake include boating, camping, fishing, and swimming. 
Sebago Lake features beautiful sandy beaches all around the lake. Some popular destinations include Tassel Top Beach, Nason's Beach, the Town of Sebago Public Beach, and Songo River Beach. Tassel Top Beach has a designated swimming area as well as picnic tables, outdoor grills, changing rooms, and a snack shop. 
9. Cross Lake
Cross Lake is situated just off Route 161 in Square Lake Township in the far northeastern corner of Maine. This hidden gem of a lake measures just 5.5 miles long and is around 20 feet deep in most spots. 
Cross Lake Beach is accessible via Disy Road and features several amenities. These include picnic benches, parking, a boat launch, and an outhouse. The surrounding landscape consists of rolling hills covered in trees. The smooth pebbled beach is quiet most days, and the water is cool and clear. 
8. Moosehead Lake
The largest lake in Maine, Moosehead Lake, lies in Piscataquis County in the northwestern part of the state. This deep, cold lake measures 22 miles wide, 40 miles long, and encompasses approximately 75,451 acres. 
Nestled in the Longfellow Mountains, Moosehead Lake is surrounded by gorgeous cliffs and towering trees. The area around the lake supports a large moose population, hence its name. Many people flock to the lake during the summer to swim in its cool, clear water.
Lily Bay State Park is a popular destination for families thanks to its sandy beach. Near downtown Greenville lies Red Cross Beach, another popular Moosehead swimming spot. This beach has lifeguards on duty during specific summer hours to keep visitors safe. Alternatively, you can head over to Monson Public Beach, which features both a sand beach and floating platforms that you can jump off of. 
7. Damariscotta Lake
Damariscotta Lake is located in Lincoln County in southern Maine. The lake measures 10 miles long and 1.9 miles wide, with an average depth of 30 feet and a maximum depth of 114 feet. Several towns border this 4,300-acre lake, including Jefferson, Newcastle, and Nobleboro. 
Anglers love coming to Damariscotta Lake, thanks to its excellent fishing spots. The lake supports the largest alewife population in the state, as over 100,000 alewives spawn in the lake annually. In addition to fishing, other popular recreational activities at Damariscotta Lake include kayaking, canoeing, sailing, and swimming.  
Damariscotta Lake State Park lies on the northern shore of the lake. One of southern Maine's most popular day-use parks, Damariscotta Lake Park features a sandy beach where visitors can come to swim or relax by the lake. Visitors can also take advantage of the park's picnic tables and grills for a full day of swimming and eating. 
6. Webb Lake
Webb Lake is a small lake in the town of Weld in Franklin County. The lake measures around 4.5 miles long, 1.5 miles wide, and 42 feet deep. 
Webb Lake is a popular fishing spot for brook trout, brown trout, smallmouth bass, and white perch. It's also home to several summer camps, including Camp Kawanhee for Boys and Camp Lawroweld. 
The lake functions as a popular swimming spot in the summer. On the west side of the lake lies Mt. Blue State Park, the largest state park in Maine. The park has a sandy beach and designated swimming area, as well as picnic benches, boat rentals, and walking trails. Across from the park on the other shore is Dummer's Beach Campground. The campground features shower and bathroom facilities, a ½ mile sandy beach, a designated swimming area, and a playground.  
5. Echo Lake
Numerous islands lay just off the coast of Maine. The largest of these islands, Mount Desert Island, ranks as the sixth largest island on the eastern coast of the United States. The island has a rich history and is a popular tourist destination in summer.  
Echo Lake is located south of the town of Somesville on the west side of Route 102. People flock to this freshwater lake in summer to swim and relax on the shores of the lake. 
Near the southern end of the lake, you can find Echo Lake Beach. The beach features a small, sandy beach with a designated roped-off swimming area. Moreover, there are lifeguards on duty at the lake at certain times during the summer. 
4. Lake Cobbosseecontee 
Also known as Cobbosseecontee Lake, Lake Cobbosseecontee is located in Kennebec County in southern Maine. In the Wabanaki language, the lake's name translates to "plenty of sturgeon." 
Lake Cobbosseecontee is known for its gorgeous views and unusual terrain. You can find numerous jetties and coves along the shoreline, while several islands dot the interior of this 5,543-acre lake. The lake is home to the Cobbosseecontee Lake Association, one of the oldest still-functioning yacht clubs in the country. In addition to sailing, the lake has earned a reputation as a prime largemouth bass fishing spot. 
Thanks to its irregular shape, you can find lots of remote swimming spots on Cobbosseecontee Lake. If you get a chance, take a boat out to the center of the northern end of the lake and swim around Ladies Delight Lighthouse, the only inland lighthouse in Maine.
3. Lake George
Lake George is a small 335-acre lake in Somerset County, Maine. Located just off U.S. Route 2 near Canaan, this little lake hosts the ideal habitat for smallmouth bass fishing and also functions as a lovely swimming hole in summer.  
The east side of the lake features a large sandy beach and relatively shallow water, making it an ideal swimming spot for families with young children. If you prefer more rocky swimming terrain with great shade, head to the western shore of the lake. 
2. Megunticook Lake
Sandwiched between the towns of Camden, Lincolnville, and Hope, you can find Megunticook Lake. The largest lake in Knox County, Megunticook Lake, boasts scenic views of nearby Mount Megunticook as well as excellent fishing and boating. 
If you care to enjoy a secluded swim in southern Maine, look no further than Barret's Cove on Megunticook Lake. This lovely lakeside beach attracts relatively few visitors and offers gorgeous views. Children can safely swim in a designated shallow area, while adults can enjoy the deeper swimming areas of the cove. Just off the beach, you can find picnic tables and working grills for summer cookouts, as well as rock-climbing cliffs for visitors looking for a more extreme summer outing. 
1. Sabbathday Lake
Sabbathday Lake shares its name with the nearby Sabbathday Lake Shaker Village. First founded in the late 1700s, the village in New Gloucester ranks as the oldest and last active Shaker community in the United States. The federal government declared the village a National Historic Landmark in 1974. 
You can access Sabbathday Lake to boat or swim at the privately owned Outlet Beach. For over 100 years, people have come to the beach to swim in the lake. The beach houses the oldest standing structure on the lake, which today functions as a snack shack that serves ice cream and other treats in the summer. 
Summary of the 10 Best Maine Lakes for Swimming
Here's a recap of the top 10 lakes in the state of Maine to take a dip in:
| Number | Lake | Location |
| --- | --- | --- |
| 1 | Sabbathday Lake | New Gloucester |
| 2 | Megunticook Lake | Knox County |
| 3 | Lake George | Somerset County |
| 4 | Lake Cobbosseecontee  | Kennebec County |
| 5 | Echo Lake | Somesville |
| 6 | Webb Lake | Franklin County |
| 7 | Damariscotta Lake | Lincoln County |
| 8 | Moosehead Lake | Piscataquis County |
| 9 | Cross Lake | Square Lake Township |
| 10 | Sebago Lake | Cumberland County |
---
The Featured Image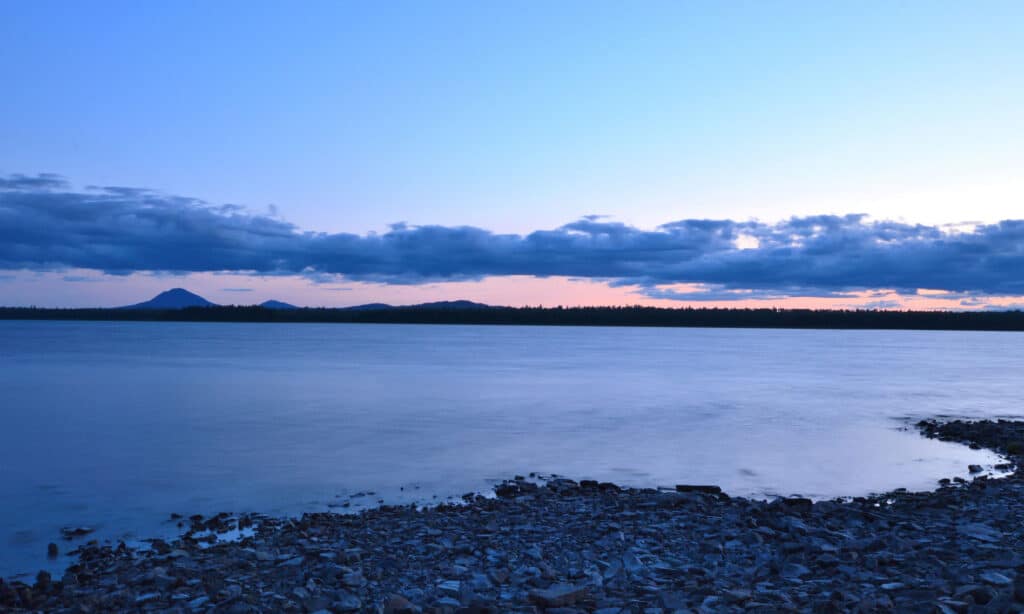 ---