Did you know that North Dakota welcomes more than twenty million visitors yearly? Despite being sparsely populated, the Roughrider State is anything but bland — it provides revelers with an extensive list of fun activities.
Many people have admitted to having the time of their lives in North Dakota, exploring its diverse food scene, viewing art at museums, watching wildlife, and backpacking in forests. If you get a bang from swimming, you'll find over 400 lakes awaiting your discovery. Of course, we know sifting through that large number can be tricky, so we've narrowed things down for you.
These are North Dakota's top ten best lakes for swimming. We'll also give you a few valuable tricks to enable you to get the most out of this highly beneficial pursuit. Let's get down to business, shall we?
1. Beaver Lake 
The approximately 968-acre Beaver Lake is a highly-prized swimming hole in North Dakota. Aside from taking a dip, you can fish here and catch species like yellow perch, black crappie, and walleye.
We also recommend exploring the Beaver Lake State Park on this water body's shoreline. With its thirty-three modern, primitive, and group campsites, you'll have plenty of fun if you enjoy camping. More exciting things to consider are hiking, boating, biking, and picnicking.
Beaver Lake has no lifeguards, so we wouldn't advise inexperienced swimmers to get into the water alone. Please adhere to these rules set by the Beaver Lake State Park's administration to enjoy your time here:
Adults must supervise all kids below 12.
Anglers shouldn't fish at the designated swimming areas.
Keep your pet away from the swim beach (located at the Beaver Lake State Park's northern edge).
Don't bring or use glass containers in the swimming area.
Only swim between 7 am and 10 pm.
Species Around Beaver Lake
Beaver Lake is a haven for swimming enthusiasts and a gem for plant lovers. Prairie wildflowers like silver scurf pea, leadplant, scarlet gaura, and common vetch embellish the trails leading to and from the body of water. Again, you'll spot commonplace grasses such as big bluestem, green needle grass, and porcupine grass scattered around the region.
Moreover, animal people enjoy their time here as they encounter species like deer, rabbits, beavers, birds, and squirrels.
2. Lake Renwick
Lake Renwick is known for its unmatched beauty, thanks to its clear sapphire waters. Countless families flock to it yearly to bond while swimming, kayaking, camping, and boating. It's also a good spot for passionate anglers who often catch different types of fish, including:
Bluegill
Black crappie
Channel catfish
Be sure to visit the 912-acre Icelandic State Park on Lake Renwick's shores. The oak trees on site provide much-needed shade for picnics. You should also tour the nearby Gunlogson State Nature Preserve, which hosts species like elm, basswood, water arum, lady fern, two-seeded sedge, birch, hawthorn, American linden, and hazel.
If you're a die-hard birding fan, you should be delighted to learn birds like the pileated woodpecker and western wood pewee inhabit this region.
3. Lake Sakakawea
Occupying roughly 307,000 acres, Lake Sakakawea is North Dakota's largest reservoir and the nation's third-largest one. It has plenty of locations for swimming and other water-based recreational activities like sailing and windsurfing. On top of that, the reservoir offers premier angling opportunities because it hosts fish species like Chinook salmon, walleye, and northern pike.
Be sure to swing by Fort Stevenson State Park on Lake Sakawea's northern shore; it has many picnic shelters, marinas, restaurants, boat ramps, a conservatory, and a dog park. That's not all. The Lake Sakakawea State Park on this water body's southern edge is a fantastic destination offering more opportunities to hike and fish.
History of Lake Sakakawea
Most people recognize Lake Sakakawea as one of the United State's largest reservoirs. However, some don't know it's also among the oldest ones. The U.S. Army Corps of Engineers built it in 1953 by damming the Missouri River to create the Garrison Dam for:
Flood control
Irrigation
Hydroelectric power generation
Navigation
But regrettably, not everyone benefited from Lake Sakakawea's construction. It displaced some natives living in the Fort Berthold Indian Reservation, forcing them to start over in new villages like Mandaree, White Shield, and New Town.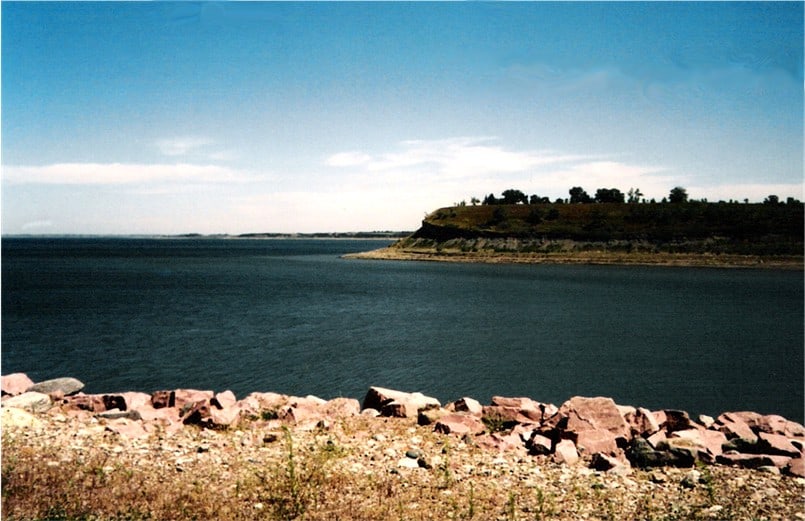 4. Lake Metigoshe
If you're in the Turtle Mountains and long to take a refreshing swim, visit the pristine Lake Metigoshe, which sits along the US-Canadian border. The swimming area is near the playground where you can camp and relax. Be sure to discover Lake Metigoshe State Park on the water body's western shore; it offers kayaking and boating opportunities.
Notably, you can visit Lake Metigoshe at any time of the year. Of course, winters are too cold to take a dip. But don't fret because that doesn't mean your entertainment options are limited — you can spend your day snowshoeing, ice fishing, and cross-country skiing.
On top of that, Lake Metigoshe State Park's woodlands and wetlands host fascinating creatures like the pine marten, white-tailed deer, and moose. You can't miss the highly-acclaimed Lake Metigoshe Outdoor Learning Center, which enlightens guests about various topics, such as recreation, the region's history, and nature.
5. Jamestown Reservoir
Stutsman County's Jamestown Reservoir is another great location for swimming enthusiasts in North Dakota, thanks to its two beaches. The lake encompasses 2,095 acres and has about 45 miles of shoreline, where you can walk while taking in the region's breathtaking scenery.
Furthermore, Jamestown Reservoir welcomes anglers throughout the year. Since the North Dakota Game and Fish Department routinely stocks the lake, they often catch muskie, pike, crappie, smallmouth bass, and walleye.
Additionally, visitors to Jamestown Reservoir enjoy the following:
Boating
Birding
Camping
Picnicking
Biking
Hiking
Besides its incredible fun opportunities, Jamestown Reservoir receives countless visitors because of its convenient pool of amenities that boost convenience. For example, the lake is wheelchair accessible and has a spacious parking lot. Admission is free, and you can bring your furry pal.
6. Lake Ashtabula
Lake Ashtabula is about 20 minutes from Valley City, whose numerous bridges have earned it the moniker "City of Bridges." The reservoir – created through the Baldhill Dam's construction by the United States Army Corps of Engineers in the early 1950s – has become one of North Dakota's most popular recreational destinations.
Ideally, Lake Ashbatula embraces swimmers. The body of water also offers boating, camping, snowmobiling, and fishing, owing to its large population of walleye, white bass, black bullheads, yellow perch, and northern pike.
But beware of the zebra mussels in Lake Ashtabula. The North Dakota Game and Fish Department confirmed the invasive species' existence in 2019. Their sharp shells often wash up on the shore, cutting swimmers' feet as they walk or run into the lake. We recommend wearing water shores to prevent the layers from slicing your skin, allowing you to relish memorable swimming experiences.
7. Lake Oahe
North America's fourth-largest reservoir is one of North Dakota's most visited swimming holes. This lake, which the state shares with South Dakota, offers up to 51 recreation zones, including the Okobojo Point Recreation Area, with a sandy beach where guests can take a dip, play volleyball, camp, hike, boat, sail, kayak, and dive. Others are:
Oahe Downstream Recreation Area
Hazelton Recreation Area
West Pollock Recreation Area
Beaver Creek Recreation Area
Indian Creek Recreation Area
Cow Creek Recreation Area
Revheim Bay Recreation Area
West Whitlock Recreation Area
If you want to discover more about Native American history, exploring Lake Oahe's shoreline is a good place to begin. It has many cultural resources providing valuable insight into various Indian tribes that have occupied the Missouri River Basin for decades.
8. Lake Upsilon
Though remote, Lake Upsilon in the magnificent Turtle Mountains is among North Dakota's clearest and most beautiful alpine lakes. It provides spots for swimming, kayaking, boating, camping, and picnicking, so it guarantees a good time no matter when you choose to visit. If you're into hiking, you'll have over ten miles of shoreline to explore, and we haven't even included the trails surrounding the body of water.
We propose fishing after hours of swimming in Lake Upsilon, or vice versa. With its massive population of fish species like the bluegill, rainbow trout, and largemouth bass, you'll likely snag a great catch, even if inexperienced.
Conveniently, Lake Upsilon is one of those destinations you can visit year-round. The vegetation – which includes a diverse range of wildflowers – is magically lush in the summers, while the trees explode with stunning colors during autumn. The winter transforms this region into a breathtaking wonderland, with snow covering almost everything around the lake.
9. Lake Tschida
The locally managed Lake Tschida in Elgin receives thousands of visitors monthly. While some of them take advantage of its excellent swimming spots to beat the summer heat, others camp, boat, and fish, reeling in species like:
Smallmouth bass
Walleye
White crappie
Yellow perch
If you visit Lake Tschida in the winter, you'll still have a vast pool of activities, such as ice skating, hunting, snowmobiling, and ice fishing. The Tri-Cities Joint Job Development Authority oversees this water body and charges each guest a maintenance fee.
10. Lake Elsie
Richland County's Lake Elsie, which some people confuse with Vancouver Island's Elsie Lake, is also on our list of the best North Dakota lakes for swimming. It has a small family-friendly beach with a beautiful shoreline where you can stroll as you marvel at the beautiful sunset.
Aside from swimming, Lake Elsie offers fishing, owing to its host of fish species, including the northern pike, walleye, smallmouth bass, and black crappie. Furthermore, its beach has the following amenities to assure you of a great time:
Picnic benches and tables
Grills
Boat dock
Restroom facilities
Shelter
Tips to Swim in North Dakota Lakes
Here are some great tips to help you enjoy fulfilling swimming experiences in North Dakota lakes:
Do Your Homework
Have you already identified the lake worth your time? Perform a quick online search to discover everything you can about it; it'll enable you to know essential things such as:
The best time to head to the lake.
How to plan your trip, based on whether the body of water offers swimming alone or there are more activities to indulge in.
The presence (or absence) of hazards, like zebra mussels and blue-green algae.
Whether access to the lake or park hosting is free or not.
If pets and kids below particular ages are allowed at the beach.
Having such important information up your sleeves allows you to prepare in advance, guaranteeing you'll have an amazing time swimming alone or with friends.
Bring the Right Gear
Investing in the right swimming gear before visiting your preferred North Dakota lake is advised. Your kit should have the following:
Swimsuit
Swimming goggles
Swimming cap
Tow float
Earplugs
Towel
Swim shoes, socks, and gloves
While some of these items may seem unnecessary, they are critical as they enhance your safety while in the water and enable you to savor every minute you spend there. If you're competing with your friends, they'll also help you beat them, translating into more thrill for you.
Be Cautious
Although there are no specific rules for swimmers, you can't just wake up and walk into your favorite lake to cool off. Mastering various habits is necessary to guarantee your safety and that of others taking a dip with you.
To begin with, always enter the water feet first, especially if you don't know how deep or shallow the lake is. Again, always swim sober. Alcohol numbs the senses and can easily lead to tragedies like drowning since you might be unable to move or get out of the water in good time.
Furthermore, jumping into the water from a height, like a boat or a bridge, is unadvisable, especially if you're untrained. You could hit a rock if the lake is shallow and suffer a life-changing injury.
Watch Out for Posted Signs
Most of the lakes in North Dakota are subject to water testing. If their pollution levels are too high or contain harmful cyanobacteria, they're unsafe for watersports like swimming. Of course, you might not know this before your visit, so look out for post signs around the water body you visit. They also warn you about dangerous animals, such as sharks, and strong currents, allowing you to stay out of harm's way.
Explore North Dakota's Best Lakes for Swimming
Whether you're a swimming enthusiast looking to discover some of North Dakota's most beautiful waters, or a general outdoor lover yearning to spend time in nature, these ten lakes are worth it. From camping and hiking to birding and watching sunsets, they present many ways to let it all hang out.
Still, we recommend digging deeper to know more about each exciting destination before your visit. Are there more fun things to do around it? For instance, Lake Metigoshe is less than 30 minutes from Mystical Horizons, the astronomical-themed historical landmark offering breathtaking views of the Turtle Mountains.
Exploring nearby destinations lets you get the most out of your trip, learn more about the region, and make unforgettable memories with your family and new friends. Good luck!
Summary of the 10 Best North Dakota Lakes For Swimming
Here are the 10 Best North Dakota Lakes For Swimming:
| Rank | Best North Dakota Lakes |
| --- | --- |
| 1 | Beaver Lake |
| 2 | Lake Renwick |
| 3 | Lake Sakakawea |
| 4 | Lake Metigoshe |
| 5 | Jamestown Reservoir |
| 6 | Lake Ashtabula |
| 7 | Lake Oahe |
| 8 | Lake Upsilon |
| 9 | Lake Tschida |
| 10 | Lake Elsie |
The photo featured at the top of this post is © iStock.com/master1305
---