Washington State is home to several famous mountains including Mount Rainier, Mount Baker, Mount Adams, and many others. Given the state's high mountains and frequent snowfall, it's no surprise that Washington is a great destination for skiers in the Pacific Northwest. Yet, skiers don't want just any slope with snow on it. That's why this list will focus on the best skiing in Washington, showing where to go, when to go, and what each mountain ski area or resort has to offer.
Prepare to learn about some of the most desirable skiing areas in the state!
1. Crystal Mountain Resort
| Location | Best Time to Visit | Average Snowfall |
| --- | --- | --- |
| Crystal Mountain in Pierce County | February to Mid-March | 350 inches |
Most skiers know about Crystal Mountain Ski Resort because it's the largest ski resort in the state of Washington. Skiers that come to this resort can get lessons, rent equipment, eat in a variety of restaurants, and rest in comfortable lodgings. The area receives about 350 inches of snow per year!
Not only does this destination offer great skiing and plenty of amenities, but it has some incredible views. Taking the Mt. Rainier Gondola, skiers can reach the summit and get incredible views of Mount Rainier from the summit house.
The best time to go skiing in this resort is sometime in February to mid-March based on snowfall alone. However, this is also the season peak when numerous people plan trips to the resort. You can also try going in January and February. While the snow quality is lower, so is the number of people trying to ski.
Still, people that want to avoid the largest crowds can also take part in another one of the resort's offerings: night skiing! This type of skiing is usually offered from Friday to Sunday. The lines are shorter and the runs are less busy.  
Crystal Mountain Resort is undergoing redevelopment starting in 2022, which seeks to bring more retail outlets, hotels, and parking to the area.
Some people even visit Crystal Mountain Resort in the summertime for fun in the sun or as a stop along the way to some of the best summer skiing available in the U.S.! Truly, Crystal Mountain offers some of the best skiing in Washington.
2. Mt. Baker Ski Area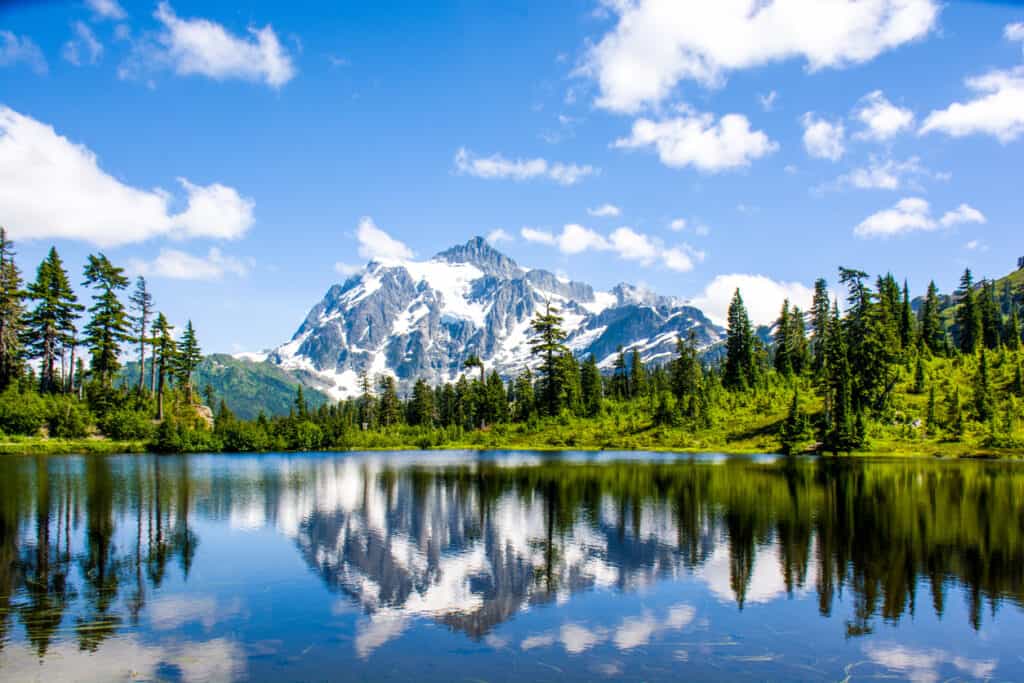 | Location | Best Time to Visit | Average Snowfall |
| --- | --- | --- |
| Glacier in Whatcom County | February | 400 to 660 inches |
The Mount Baker Ski Area is closest to a census-designated place called Glacier, about 10 miles south of the Canadian border. The ski resort is technically between Mt. Baker and Mt. Shuksan, but it bears the name of the former.
The ski area receives a profound amount of snow each year, about 660 inches. That makes this resort a great place for people seeking fresh powder throughout the winter months. With 1,000 acres of skiable land, 31 runs, and a good assortment of difficulty levels, dedicated skiers flock to this resort.  
The best time to visit the resort based on snowfall is toward the middle of February. That month strikes a good balance between snowfall, the number of visitors, and safe skiing. The ski season in this area usually starts in late November and doesn't end until April!
3. Mission Ridge Ski Area
| Location | Best Time to Visit | Average Snowfall |
| --- | --- | --- |
| Wenatchee in Chelan County | January and February | 200 inches |
Mission Ridge Ski Area is located in central Washington. This is a more accessible ski resort than Mt. Baker, but it does not get nearly as much snow. In fact, Mission Peak only gets about 200 inches of snow per year.
That means visitors need to get to this area at the right time to experience the best conditions. Based on the snow quality, January and February are two of the best months to visit the resort. While December is the month when the mountain receives the most snow, it's also busier and has more snowstorms that could impact skiing.
Still, the ski area offers 2,000 acres of skiable terrain for visitors along with some amenities. People can rent their skis, go shopping, and get ski lessons from experts on the mountain. With 36 runs, night skiing, and a terrain park, there's something for everyone here.
4. The Summit at Snoqualmie Pass
| Location | Best Time to Visit | Average Snowfall |
| --- | --- | --- |
| Snoqualmie Pass in both Kittitas County and King County | January | 240 to 400 inches |
The Summit at Snoqualmie Pass is just half an hour or so from Seattle, making it one of the most accessible places to go skiing for people in Washington. Location aside, the area has 1,994 skiable acres, 25 lifts in operation, and night skiing.
Yet, for all the available benefits of going skiing at Snoqualmie Pass, the weather is not always cooperative. While the region receives between 240 and 400 inches of snow per year, its location and elevation mean that it can get washed out with rain.
That's why the best time of year to go skiing in this part of Washington is in January. That month has low temperatures, a high possibility of snow, and a reduced chance of rain ruining your ski day.
Still, it's also a good idea to check the local weather before heading out. A big snow dump could occur in December and give skiers access to some early-season skiing before the crowds hit! While nobody would mistake Snoqualmie Pass for the best skiing in Washington, the fact is that it's close and convenient for those in Seattle, Bend, and other nearby areas.
5. Stevens Pass Ski Area
| Location | Best Time to Visit | Average Snowfall |
| --- | --- | --- |
| King County | Early January | 450 inches |
Stevens Pass Ski Area is not a major resort like the one at Crystal Mountain. That may come as a relief to people that don't like major tourist areas. However, Stevens Pass has 1,125 acres of skiable area and receives about 450 inches of snow per year! That means more than a few people find their way to this place every year.
If someone wants to experience the best skiing, it's a good idea to come in early January, after the holidays. That way, they avoid the major crowds and snowstorms that impact the area in December. At the same time, January offers the best coverage, snow quality, and snow quantity for skiers.  
Knowing the time of year to get the best skiing in Washington allows skiers to plan their trips with a bit of confidence. However, the mountainous areas in this state don't always align with their perfect times for a visit. That's why every skier planning a trip to the region should pick a destination first and then research the time when the weather and other conditions are suited to them.
Up Next:
More from A-Z Animals
---
The Featured Image
---