Tennessee features a diverse landscape that includes mountains, valleys, fertile plains, and winding rivers. Three major rivers run through The Volunteer State, the Cumberland, Mississippi, and Tennessee Rivers. These rivers drain into numerous lakes across the state, some of which function as popular swimming holes. Let's take a look at 8 of the best swimming lakes in Tennessee where you can escape the summer heat. 
8. Norris Lake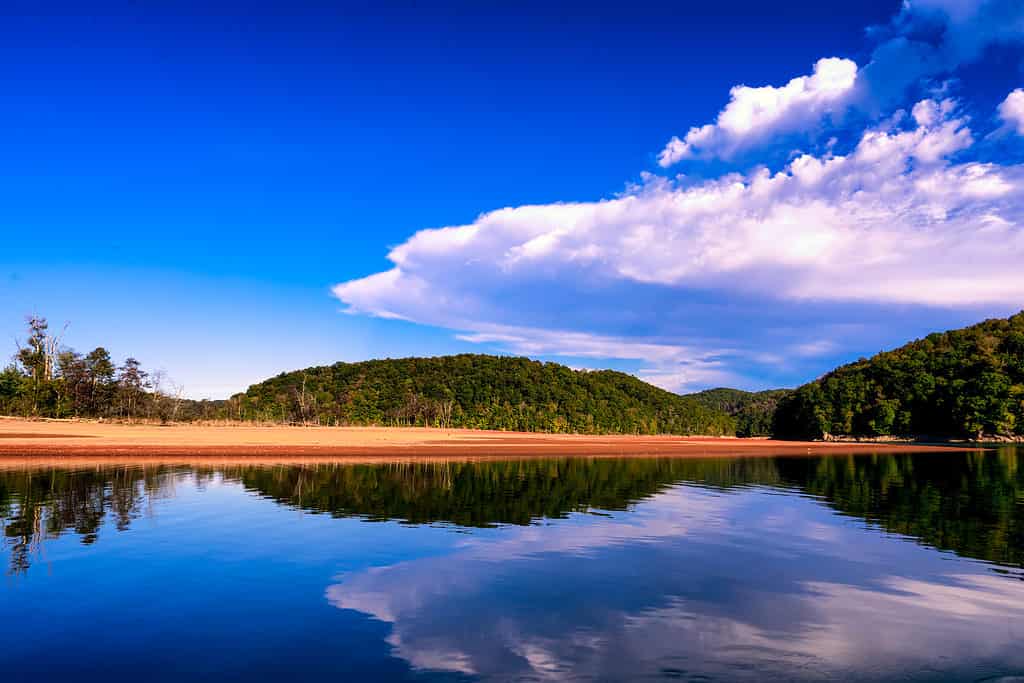 Also known as Norris Reservoir, Norris Lake lies along the Clinch River in northeastern Tennessee. The Tennessee Valley Authority dammed the river and created the lake in 1936 to control flooding, provide electric power, and store water for nearby residents.  
Today, Norris Lake not only provides power and water for homes in the area, but also serves as a popular recreational site. Several conservation lands surround the lake, including Cove Creek Wildlife Management Area, Chuck Swan State Forest, and Norris Dam State Park. Popular recreational activities at the lake include swimming, boating, fishing, and waterskiing. 
If you want to swim over at Norris Lake, head over to Loyston Point Recreation Area. This recreation area features a swimming beach, heated shower, flush toilets, picnic tables, grills, and a small playground. 
7. Cherokee Lake
Cherokee Lake, or the Cherokee Reservoir, is a man-made lake on the Holston River. Formed by the construction of the Cherokee Dam in 1942, the lake encompasses 28,780 acres and measures 30 feet deep in most spots. 
In recent decades, Cherokee Lake has become a popular tourist destination. Lakeside resorts and public boating docks attract visitors who want to come and relax or boat on the lake. The lake also supports a thriving fishing scene thanks to its dense population of bass. 
Jefferson City maintains a public swim beach on the lake at Cherokee Dam Park. This sandy beach is easy to access and features plenty of parking, a public boat ramp, and picnic tables. 
6. J. Percy Priest Lake
Located in north central Tennessee, J. Percy Priest Lake is a reservoir impounded by the J. Percy Priest Dam on the Stones River. Situated just 10 miles east of downtown Nashville, this artificial lake has a surface area of 14,200 acres and measures 42 miles long. It gets its name from Congressman Percy Priest, a well-known Tennessee politician. 
Nashville residents and visitors frequent the lake in summer to boat, swim, fish, and camp. Some popular swimming areas on the lake include Anderson Road Recreation Area, Nashville Shores, and Cook Day Use Area. 
The public swim beach at Anderson Road Recreation Area has plenty of shade as well as picnic tables, grills, and 2 playgrounds. If you want to sunbathe, consider heading over to the large sandy swim beach at Cook Day Use Area. 
5. Old Hickory Lake
Old Hickory Lake lies within Sumner and Davidson counties in north central Tennessee. Located around 25 miles upstream from Nashville on the Cumberland River, this man-made reservoir gets its name from President Andrew Jackson, who sometimes went by the nickname "Old Hickory." 
The U.S. Army Corps of Engineers operates and maintains the reservoir and dam, which primarily serve as a water storage facility. That said, Old Hickory Lake also serves as a popular recreational facility. 
There are 4 designated swim beaches on Old Hickory Lake, including Laguardo, Cedar Creek, Old Hickory, and Lock 3 Beach. Each of these beaches features a designated swimming area, picnic tables, grills, restrooms, and boat ramps. In addition to swimming, visitors can also scuba dive in the lake. 
4. Watauga Lake 
Situated in northeastern Tennessee, Watauga Lake lies just east of the city of Elizabethton. This man-made reservoir on the Watauga River rests within some of the most beautiful terrain in all of Tennessee. 
Watauga Lake measures 16.3 miles long and possesses around 105 miles of shoreline. Officially, the lake operates as a flood storage facility. However, it also offers visitors the chance to engage in various recreational opportunities, including boating, fishing, camping, waterskiing, and swimming. 
On the southern shores of the lake, you can find Shook Branch Swimming Area. This 20-acre site features a designated swimming area, picnic tables, and grills, as well as some shady areas where you can avoid the summer sun. 
3. Boone Lake
Boone Lake is an artificial lake located in northeastern Tennessee. Boone Dam impounds the Watauga and South Fork Holston Rivers to form the lake. In total, the lake measures around 4,400 acres and contains about 75,00 acre-feet of water. 
Despite its small size, Boone Lake features some of the most expensive lakeside real estate in the country. Popular recreational activities at the lake include waterskiing, fishing, boating, and swimming.  
If you want to swim at Boone Lake, you can visit the Boone Reservoir Day Use Area. This area features a white sand beach along with a boat ramp, picnic tables, grills, restrooms, and a volleyball court. 
2. Chickamauga Lake
Located on the Tennessee River in the southern part of the state lies Chickamauga Lake. This 36,240-acre reservoir ranks as one of the biggest lakes in Tennessee. It gets its name from the Chickamauga Cherokee people who used to live in the area where the lake now rests. 
Chickamauga Lake hosts several fishing tournaments thanks to its thriving population of gamefish. It also attracts visitors who come to swim, camp, boat, and hike. 
The Chickamauga Dam Day Use Area features a small beach on the shores of the lake that is popular with families thanks to its roped-off swim area. Its nearby amenities include picnic tables, grills, a playground, bathrooms, and walking trails. 
1. Nickajack Lake
Formed by the Nickajack Dam on the Tennessee River, Nickajack Lake passes through the city of Chattanooga, Tennessee. This man-made reservoir measures 10,370 acres and boasts 192 miles of shoreline. 
Anglers love visiting Nickajack Lake thanks to its excellent catfish fisheries. In addition to fishing, the lake also offers numerous other recreational activities, including boating, camping, sightseeing, and swimming. 
The Maple View Public Use Recreation Area features a designated swimming area as well as picnic tables and walking trails. While you're there, you can head to the nearby observation deck to get a glimpse of Nickajack Cave and its resident colony of bats.  
Summary of the 8 Best Tennessee Lakes For Swimming
| Rank | Lake |
| --- | --- |
| 1 | Nickajack Lake |
| 2 | Chickamauga Lake |
| 3 | Boone Lake |
| 4 | Watauga Lake |
| 5 | Old Hickory Lake |
| 6 | J. Percy Priest Lake |
| 7 | Cherokee Lake |
| 8 | Norris Lake |
---
The Featured Image
---