With bright plumage and even brighter personalities, conures are favorites in the pet bird industry. Conures, or parakeets, are small to medium-sized parrots found in the western hemisphere. They are often referred to as the "clowns" of the parrot world due to their spunky attitudes and attention-seeking behavior. Discover the 12 best types of conure birds and learn about their pros and cons.
Green-Cheeked Conure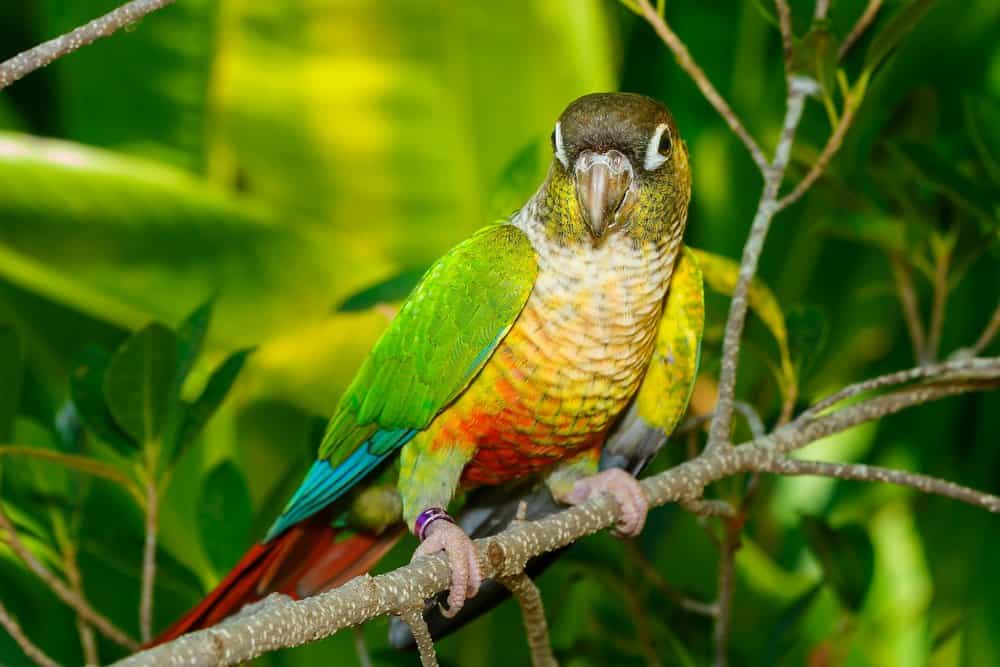 Native to the forests of Central and South America, the green-cheeked conure forms large flocks high in the trees in its natural habitat. Their diet in the wild consists of fruits, seeds, flowers, nectar, and leaves. They are one of the quietest conure species but are very active and require lots of exercise opportunities. This species is curious and funny, enjoying attention from their owners and forming close bonds. They have a limited vocabulary but can learn many tricks with the right training. This species displays an assortment of colors but mostly has vibrant green, red, and blue plumage.
Sun Conure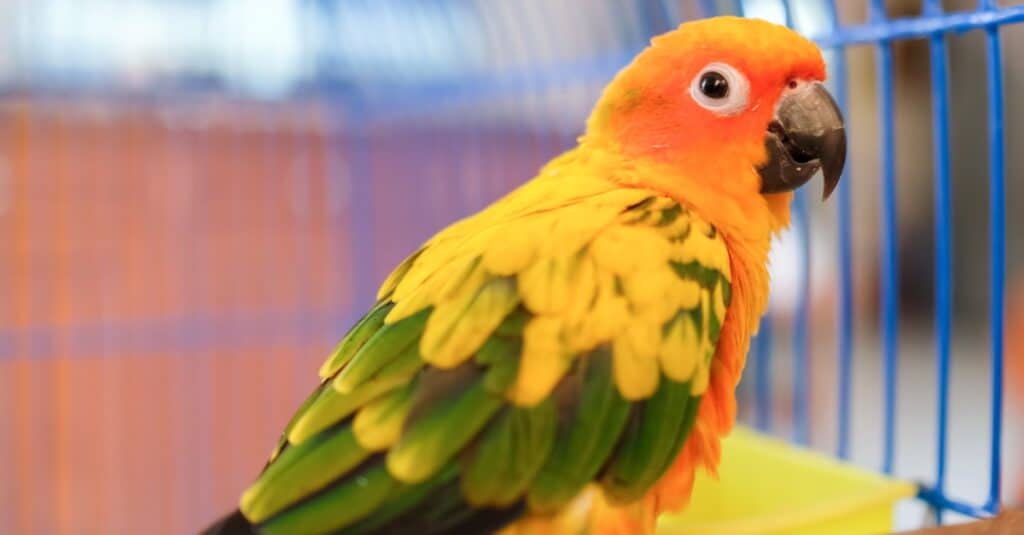 The sun conure is a medium-sized parrot native to a limited range in Northern South America, where they inhabit shrublands along the Amazon riverbank. Their diet is varied and consists of flowers, fruits, berries, blossoms, insects, seeds, and nuts. This species is very loud and social, living in large flocks in the wild and producing high-pitched screams to communicate with members of their groups. They are popular in aviculture for their bright yellow and orange plumage and playful, bold personalities. These birds are easy to train, but they need lots of attention and affection from their owners.
Jenday Conure
The jenday conure, also known as the jandaya parakeet, is a small parrot with an orange and red body and green wings. They are native to the lowland woodlands and palm groves of Northeastern Brazil, where they eat mangos, palm nuts, and cashew apples. This species is popular for its playful and affectionate nature. They love cuddles and will bond easily with their human family members. However, these birds can be rather noisy and need lots of attention and time outside of their cage.
White-Eyed Conure
White-eyed conures are small bright green parrots with a wide range across South America. These birds live in forests, mangroves, and woodlands in the wild, but they adapt easily and can also be found in many urban areas. This parrot is an excellent option for those wanting a quieter, less mischievous conure. They are still entertaining and affectionate and, with the proper training, are better behaved than other species. They like to climb and play with toys and require hours of attention from their owners. But the reward of a loving pet is well worth the effort.
Nanday Conure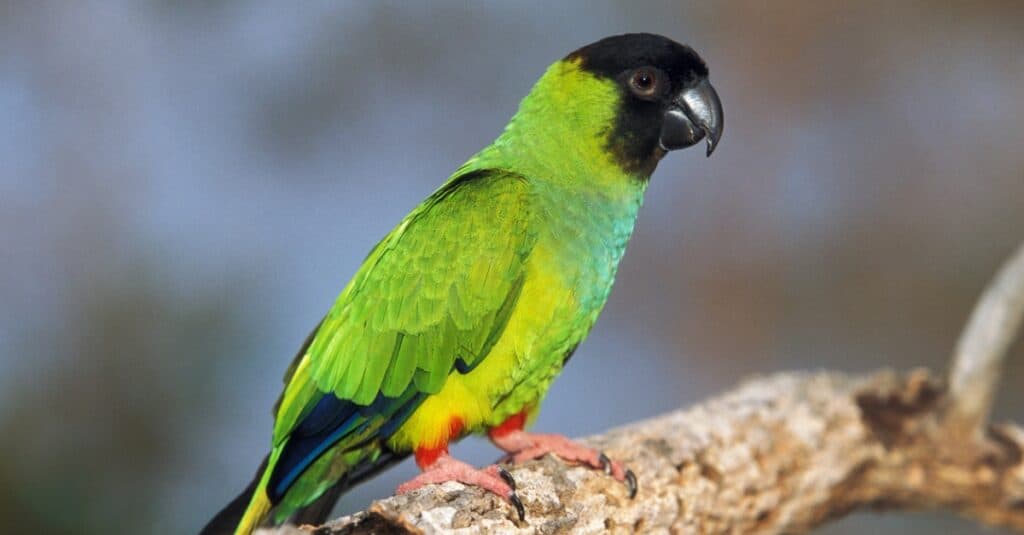 The nanday parakeet is a medium-sized parrot native to open savannas and pastures in Central South America. There are also small self-sustaining populations in California and Florida due to caged birds escaping. This species is a popular pet, but they are not known for their quiet demeanor. These birds can be quite loud, but they are very intelligent and enjoy performing tricks. You can find nanday conures in bird shows due to their outgoing personality and fantastic social skills. They require a lot of attention and training but can be rewarding pets for the right owner.
Peach-Fronted Conure
Common in the savannas of South America, the peach-fronted conure spends its days foraging for seeds, flowers, leaves, and insects. They are closely related to the green-cheeked conure, sharing their green plumage but differing in other ways. Aptly named, the peach-fronted conure features peach-colored caps, as well as white rings around its eyes. They also have different personalities from their cousins and are often gentler with humans. They are sweet and playful towards their owners but may become aggressive around other birds and pets. These birds have cheerful personalities and enjoy chewing on everything!
Golden Conure
With bright golden-yellow and deep green feathers, the golden conure (also known as the Queen of Bavaria conure) is a rare and expensive bird in the pet trade. They are medium-sized parrots native to the Amazon basin in Northern Brazil. This species has a very specific habitat and limited range, which has led to a population decrease as deforestation and flooding have affected its native home. If you are lucky enough to own one of these birds, you will be met with an active and highly intelligent pet. They can develop an extensive vocabulary but are very loud and vocal.
Patagonian Conure
The Patagonian conure, also known as the burrowing parrot, is native to dry, open country in Argentina and Chile. Locals near their wild habitats nicknamed them "little clowns" for their playful and charming behavior. They are active and outgoing birds, often playing with toys, mimicking human speech, and dancing. Like other conures, this species needs lots of attention, otherwise, they may start acting mischievous. They are the life of the party and completely unafraid of strangers.
Red-Masked Conure
With bright green feathers and red faces, the red-masked conure (cherry-headed conure) is unmistakable in the jungles of Peru and Ecuador. They are popular in the pet trade for their lovable and comical personalities. Additionally, they are one of the most talkative species of conure and very easy to train. They are extremely loud, screaming at sunrise and sunset, and love being the center of attention.
Half-Moon Conure
Half-moon conures (orange-fronted parakeets) are medium-sized dwarf parrots native to foothills and open woodlands in Mexico and Central America. They are known for their active and fun personalities while being quieter than other species. They require lots of exercise, socializing, and mental stimulation. They are less likely to tear up your furniture with proper training.
Dusky-Headed Conure
Dusky-headed conures (Weddell's conures) are small green parrots with gray heads native to the Amazon basin in South America. This species is much quieter than other conures, only making small chirps on most occasions. They are also not strong talkers but can easily learn tricks and other antics. Like other conures, the dusky-headed species is a social bird and needs plenty of socialization.
Mitred Conure
The mitred conure is a green and red, medium-sized parrot native to forests and woodlands in the Andes. These birds are high-spirited, playful, comical, and curious. However, they are also temperamental and need constant attention, screaming and nipping when denied their needs. This species is not for beginner bird owners but are very rewarding pets for those who put the time and effort into training and socializing.
Summary of 12 Best Types of Conure Birds
Here's a recap of the 12 types of conure birds analyzed:
| Number | Bird Name |
| --- | --- |
| 1 | Green-Cheeked Conure |
| 2 | Sun Conure |
| 3 | Jenday Conure |
| 4 | White-Eyed Conure |
| 5 | Nanday Conure |
| 6 | Peach-Fronted Conure |
| 7 | Golden Conure |
| 8 | Patagonian Conure |
| 9 | Red-Masked Conure |
| 10 | Half-Moon Conure |
| 11 | Dusky-Headed Conure |
| 12 | Mitred Conure |
The photo featured at the top of this post is © Yatra/Shutterstock.com
---