Key Points:
There is no ultimate house dog that works for all families; there are too many variables to consider.
House dogs often have a smaller size and more laidback temperament, which allows them to fit better into an indoor space.
Some very large breeds may be called "rug dogs" because they tend to lay around all day.
House dogs come in all different shapes and sizes. Often, house dogs have a smaller size and more laidback temperament, which allows them to fit better into an indoor space. However, many good house dogs don't fit into these two categories. For instance, some very large breeds may be called "rug dogs" because they tend to lay around all day. In many cases, these breeds make good house pets in larger homes.
What one person claims to be the best house dog often differs greatly from another dog owner's opinion. What one person is looking for in a house dog differs from what another person is looking for. There is no ultimate house dog that works for all families; there are too many variables to consider.
Below, we've reviewed some popular house dogs to help you choose the best option for your home.
1. Labrador Retrievers
Labrador retrievers enjoy a lot of popularity throughout the United States. Many people keep these dogs inside their homes and typically have good house manners. However, many breeders originally intended these dogs to be working animals, so they have a high exercise need. The Labrador's activity needs can be challenging to manage in a more laid-back family. Therefore, they work best for active families.
Often, they work just fine as house dogs as long as their activity needs are met.
Labradors have a friendly, outgoing personality. They love everyone, especially when socialized properly. Therefore, labs work great for owners that regularly have a lot of friends over and families with children.
This breed can weigh up to 80 pounds and take up quite a bit of room. Therefore, they may not work well in smaller homes with little room to spare.
2. Miniature Schnauzer
The miniature schnauzer weighs only 11 to 20 pounds and is the smallest of the schnauzer breeds. They're known for being pretty healthy, especially as smaller dogs. Like many smaller dogs, miniature schnauzers worked as ratters originally. Therefore, they have a high prey drive and are pretty sturdy. They were bred down from the standard schnauzer, which was utilized for larger prey animals.
Schnauzers are low-shedding, as a rule, due to their wiry fur. They tend to live longer than other breeds, too. The miniature schnauzer's lifespan is up to 15 years.
Their smaller size makes them great as house dogs, and their health is much better than most tiny canines. They do require some exercise, though this feat is typically easy to accomplish due to their small stature. They're extremely trainable and plenty small enough for apartment living.
3. Maltese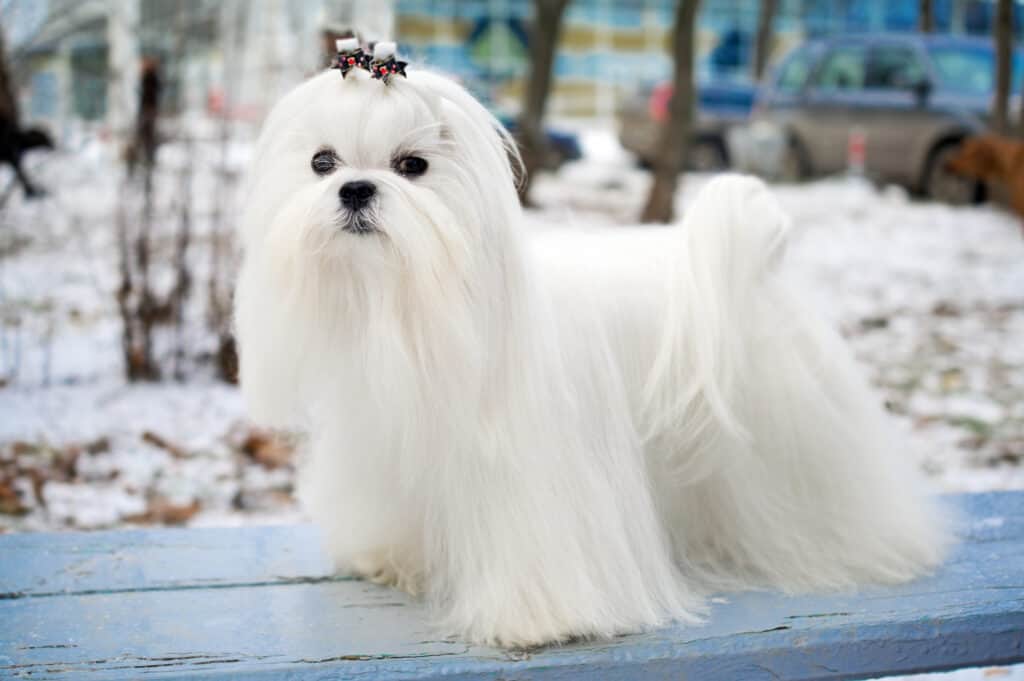 The Maltese make a great companion for those looking for a traditional lap dog. They weigh up to 7 pounds, making them much smaller than most. They were originally bred as companion animals, thanks to their adorable white fur and charming personality. Maltese love to cuddle and are devoted to their family.
However, they don't have other breeds' exercise or mental stimulation needs. Besides their grooming requirements, they're pretty low-maintenance dogs. They're also much heartier than most toy dogs, without many health issues plaguing the shih-tzu. They're a healthier alternative to traditional lap dogs.
This breed doesn't shed, though it does require regular grooming. They need a small amount of daily exercise, though this can be accomplished indoors due to their smaller size.
4. Greyhound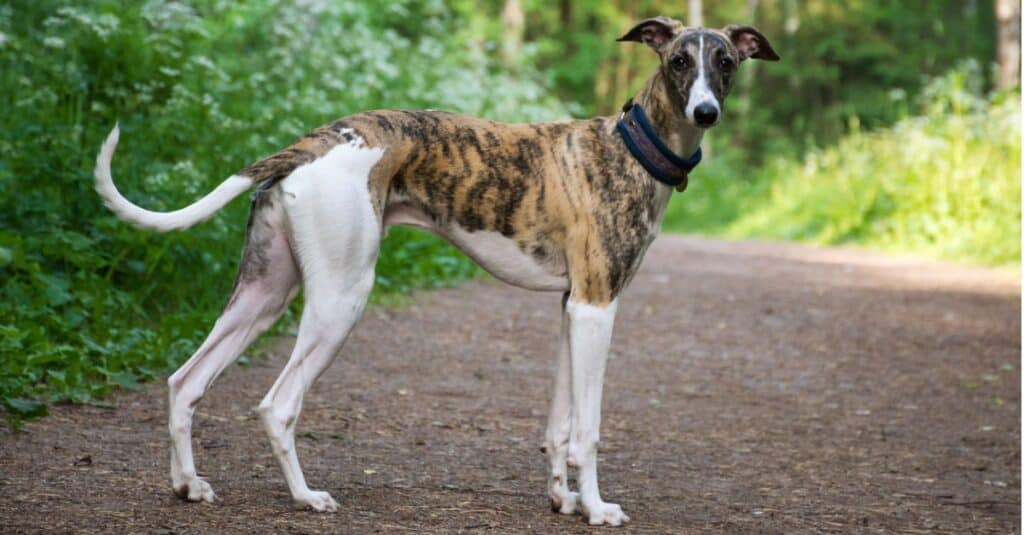 Everyone knows the greyhound as a dog that loves to run. However, this misconception is only partially true. Greyhounds can run very fast, but their stamina is lacking. Therefore, a quick jog in the morning is often enough to meet their exercise needs, and most will spend the rest of the day lounging around. They're often called "40-mph couch potatoes" for this reason.
Greyhounds have a laidback, gentle temperament. They're very social dogs, preferring to be with their families for much of the day. Sometimes, separation anxiety can occur, especially if they aren't taught how to be alone as puppies.
This breed has surprisingly thin skin. Therefore, they're more prone to minor physical injuries. For this reason, they're not necessarily great in homes with smaller children. With proper supervision, they can be good family dogs, though.
5. Chihuahua
Chihuahuas weigh very little. They're the smallest dog in the world by most accounts. Therefore, they work well in smaller spaces like apartments. Many people keep them as house dogs, especially due to their sensitivity to the weather.
Chihuahuas aren't the healthiest breed due to their extremely small size. For instance, they don't do well in the cold, and their smaller size can make it more challenging to control their blood sugar levels. Very small Chihuahuas are prone to brain issues, as their skull may not be large enough for their whole brain.
Luckily, purchasing Chihuahuas on the larger side counteract many of these health issues while keeping the breed plenty small enough for apartment living.
Chihuahuas can be very friendly and lovable. However, socialization is required, or they can become possessive. Their smaller size can cause confidence issues, which many Chihuahuas counteract by becoming aggressive. Therefore, you should be careful to avoid "small dog syndrome" by allowing your Chihuahua plenty of time to master their surroundings. Do not carry them around all the time, or they will fight to be in your arms.
6. Dachshunds
Dachshunds fit into the little dog category, but they originally worked as hunting dogs. Therefore, they make good companion animals for those who want a smaller dog without the typical small-dog personality. Miniature dachshunds are even smaller and are quite popular, too.
Dachshunds come in three different coat types: short, long, and wire. Both standard and miniature dachshunds can be found in these three coat types. Short-haired dachshunds are easier to find, but the other types aren't incredibly rare.
Despite being rather small, dachshunds originally hunted badgers. Their smaller legs allowed them to dive into the badger's burrow. Today, they remain very bold and tenacious. They'll chase just about everything and require a decent amount of exercise daily. Their smaller legs are sometimes extravagated more than in the past, but smaller legs often mean more back problems.
For this reason, we recommend avoiding dachshunds with extremely miniature legs.
7. American Hairless Terrier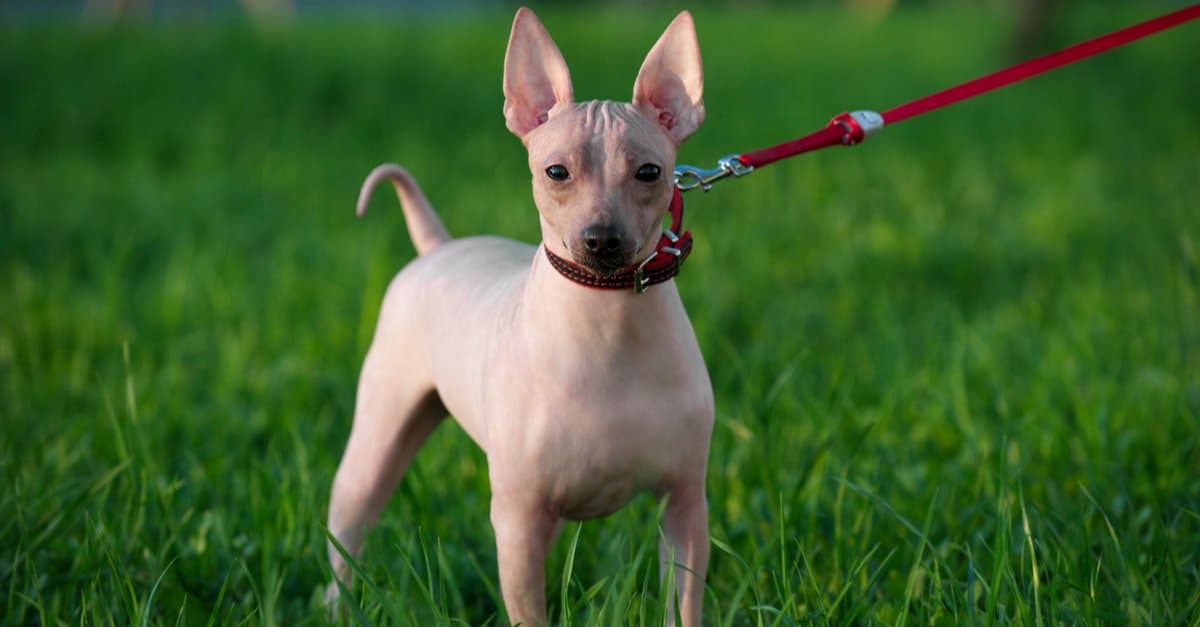 We recommend the American hairless terrier for dog owners that don't like dog hair but still want an inside dog. As their name suggests, these dogs don't have any hair (or, at least, very little hair).
However, that doesn't make them hypoallergenic, despite what many owners claim. Those with dog allergies are allergic to a dog's dander, saliva, and urine – not fur. All dogs have these things, so all dogs will cause allergies. Studies have shown time and time again that hypoallergenic dogs don't exist.
With that said, these tiny dogs still make great companions for those without allergies. Their lack of fur means they require very little grooming. This breed has a coated variety, but its fur is very short and smooth, so it still doesn't require much grooming.
This canine is a terrier through and through. They tend to be hyper and require a lot of exercise (though that won't necessarily make them less hyper). They'll chase just about everything.
Because they have no fur, they do require some unique care. For instance, you may have to apply sunscreen on sunny, warm days, and many require clothing during the winter.
8. Collie
Rough collies aren't as popular as they once were, but they still make wonderful family dogs. They grow up to 26″ tall, which may seem large for a home. However, they have great house manners and develop a strong devotion to their family. As working dogs, they require a decent amount of activity, though not necessarily as much as a border collie. They fit in best with an active family with time for daily walks and regular outings.
Their coat requires surprisingly little grooming. It doesn't get matted easily despite being rather large, though they do shed quite a bit. Therefore, many dog owners decide to brush them to prevent their fur from ending up all over the house. These dogs have a particularly close relationship with children, making them wonderful family pets.
9. Coton de Tulear
Though not as popular as other toy dogs, the Coton de Tulear works great as a family dog for smaller spaces. They have long, fluffy white coats that do require a bit of grooming. However, many owners decide to keep their fur cut short, which reduces the amount of daily grooming that's required.
Unlike many toy dogs, the cotton de Tulear is very sturdy and healthy. They aren't prone to many health problems and have a decently long lifespan. They're good with children and very affectionate with their families. Since they weigh only 13 pounds maximum, they work well in apartments and other small spaces. They do require some exercise, but nothing that can't be accomplished indoors.
These canines bond very closely with their families and get along with just about everyone. They don't have a strong prey drive, so they don't tend to chase other animals. they're also friendly with dogs and don't tend to be possessive. The only potential downside is their tendency to develop separation anxiety, though this can be combatted if you crate-train them early.
These dogs have larger personalities, and many owners describe them as fun to be around. They're known for "clowning" and their lighthearted nature.
10. Cavalier King Charles Spaniel
The cavalier King Charles spaniel merges a toy dog with a sporting spaniel. Their original ancestors are sporting spaniels, so they maintain many of their characteristics. However, this particular breed was bred to be a companion animal, so they also have many traits associated with toy dogs. For instance, they only reach 13″ high and bond very closely with their humans.
This breed remains one of the most adaptable. They're energetic enough to keep up with active families and children, but they're also suitable as homebodies. They work well for just about any lifestyle, as long as they receive some exercise every day.
Their richly colored coat comes in several varieties and requires a bit of grooming. However, they don't require the same grooming as other toy breeds. They get along pretty well with children and other dogs. However, they tend to chase things, so they may not be great options in homes with cats and other small animals.
11. Mastiff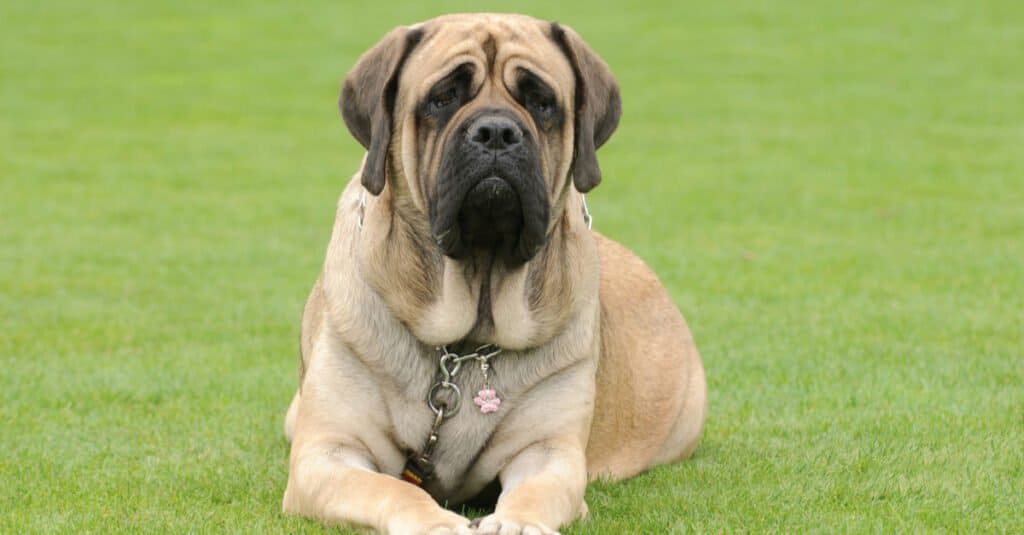 Mastiffs may seem large and impossible to keep in a house. However, they aren't very active and spend much of the day lying around. Typically, they fall into the "rug dog" category. There are many specific types of mastiffs, but they all share commonalities. These massive dogs originally worked as guard dogs, and their large-set stature makes that pretty obvious. They're courageous and have strong guarding instincts.
However, these guarding instincts do make this breed more off-putting than others. They aren't a fan or strangers and don't like other dogs, either. Most of the time, it's recommended to keep them in single-pet homes.
Despite their larger size, they don't require much exercise. Much of the time, they'll lay around. However, if they need to get moving, they absolutely can. Plus, their large size alone tends to scare off intruders.
Mastiffs are eternally loyal to their families, though they aren't the most affectionate dogs. They also don't require tons of attention like other breeds on this list. They're a steadfast friend that works wonders for single mothers, homes with kids, and anyone looking for a brave companion.
12. Yorkshire Terrier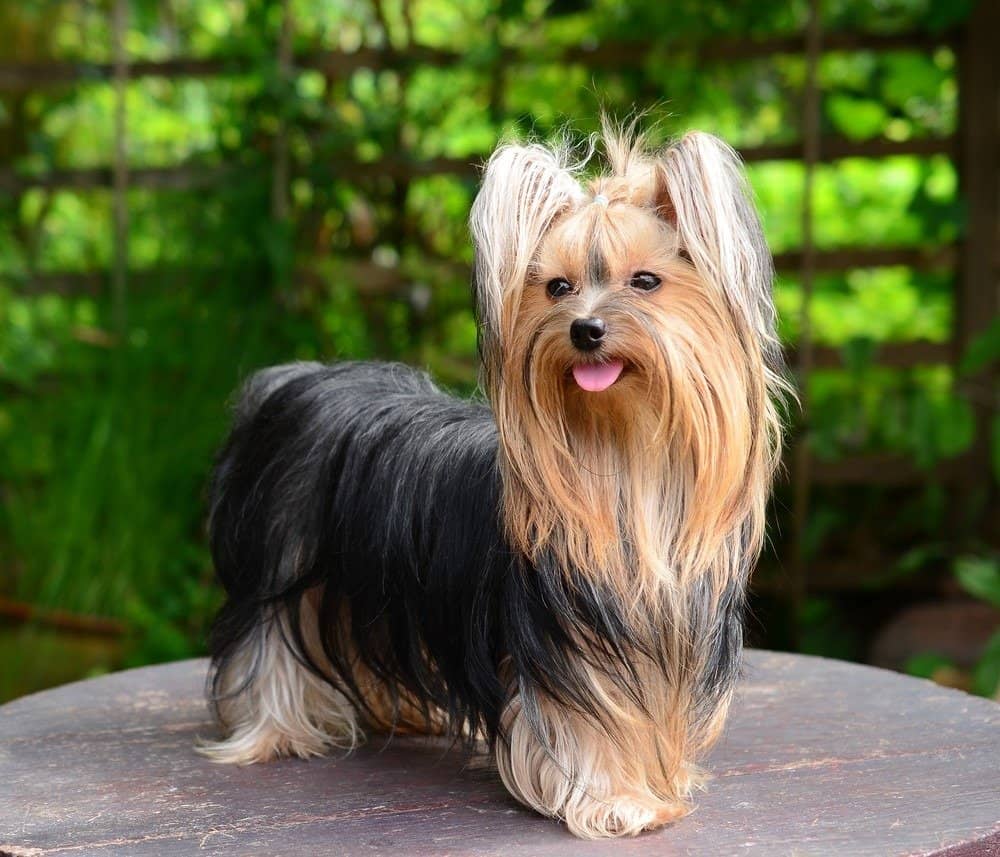 Unlike our previous dog, the Yorkie is extremely small, weighing only a few pounds. Despite their small size, they originally worked for their meals – often as ratters in mines, mills, and factories. It's from textile factors that they were discovered by high-class ladies and adopted as lap dogs. Their smaller size and a beautiful coat made them an instant catch.
Yorkies are terriers, as you might expect from their name. They have a sturdy build and tend to be healthier than other tiny dogs, due to their historically practical application. Having a ratter in your factory wasn't all that helpful if the ratter required constant medical attention.
These canines are feisty and have minds of their own. Their big personalities make them one of the most popular dogs in cities, but it can make training a challenge. They tend to be stubborn, though they're plenty smart enough to understand commands.
This breed works great for homes due to its smaller size. They do require exercise and plenty of attention.
13. Newfoundland
Newfoundlands weigh a lot. They can reach up to 150 pounds, with males being much larger than females. Their sweet temperament easily makes them gentle giants, though. They're great with children and often called "nanny dogs" due to their watchful nature. They are a bit large for smaller homes. However, if you have the room, these canines can be very well-behaved indoor dogs.
Originally, these dogs worked in and around water. They're still utilized as water rescue dogs today, though historically they often hauled fishing nets. Their coat is extremely waterproof and coarse. However, it requires little grooming and is naturally resistant to matting.
With that said, owning a dog that outweighs you is always a challenge. Therefore, you should ensure that your Newfoundland puppy is properly trained and socialized as soon as possible. They tend to be extremely friendly and easy to train, but it is best not to take any chances.
14. Japanese Spitz
The Japanese spitz tends to be rarer within the United States. However, their smaller size and playful nature make them perfect for smaller homes, especially if you don't want one of the traditional toy breeds. Despite their smaller size, these dogs have a lot of stamina and can easily tag along for just about any adventure.
They're easily trainable, which is a rare trait for smaller dogs. Because they're eager to please, even newer owners shouldn't have a hard time training them.
Their spitz ancestor is apparent in their curly tail. They also have a mane and pointed muzzle. However, they're a breed all their own and obviously different from huskies.
Question: How Long Does it Take to Potty Train a Puppy?
So, you've researched what kind of dog would fit into your lifestyle and decided to adopt a puppy. Yay! It's very exciting to bring that sweet, cuddly baby home and there are many fun puppy things to look forward to. One task that has to be done is often the most unpleasant and challenging – potty training. One of the first questions potential dog owners ask is – how long does it take to potty train a puppy?
Experts agree that it can take 4 – 6 months to totally potty train a puppy. It can certainly take less time or more – it depends on the puppy. Smaller breeds with tiny bladders and higher metabolisms will require more frequent trips outside. If your puppy has already picked up bad habits from its previous owner – you may have to reverse what has already been established. Puppies older than 12 weeks that have been eliminating in a cage may take longer.
Patience, kindness, and a commitment to sticking to a strict schedule will make the process easier and quicker. Remember, this is a baby dog! She needs a chance to learn and all she wants to do is to please you. Puppies respond to love and kindness – never yell at them or stick their little noses in their mistakes. Accidents will happen but not for long. Countless people have potty trained puppies – you can do it too!
Summary of The Best Types of House Dog Breeds
Here is a list of The Best Types of House Dog Breeds:
| Rank | Dog Breed |
| --- | --- |
| 1 | Labrador Retrievers |
| 2 | Miniature Schnauzer |
| 3 | Maltese |
| 4 | Greyhound |
| 5 | Chihuahua |
| 6 | Dachshunds |
| 7 | American Hairless Terrier |
| 8 | Collie |
| 9 | Coton de Tulear |
| 10 | Cavalier King Charles Spaniel |
| 11 | Mastiff |
| 12 | Yorkshire Terrier |
| 13 | Newfoundland |
| 14 | Japanese Spitz |
Ready to discover the top 10 cutest dog breeds in the entire world?
How about the fastest dogs, the largest dogs and those that are -- quite frankly -- just the kindest dogs on the planet? Each day, AZ Animals sends out lists just like this to our thousands of email subscribers. And the best part? It's FREE. Join today by entering your email below.
---