Swallows are a widespread species of birds in North America in the summertime, from the tropics to the cold Arctic. Swallows are exceptionally agile songbirds that can fly and soar for hours while chasing tiny insects. The majority are quite gregarious and frequently congregate in flocks on wires along highways when they aren't flying. 
The birds, which are adored by birdwatchers, are frequently seen breeding close to humans, especially around homes and farms. Today we're going to be looking at 11 of the best swallows and the features that make them absolutely stunning birds. 
Cliff Swallow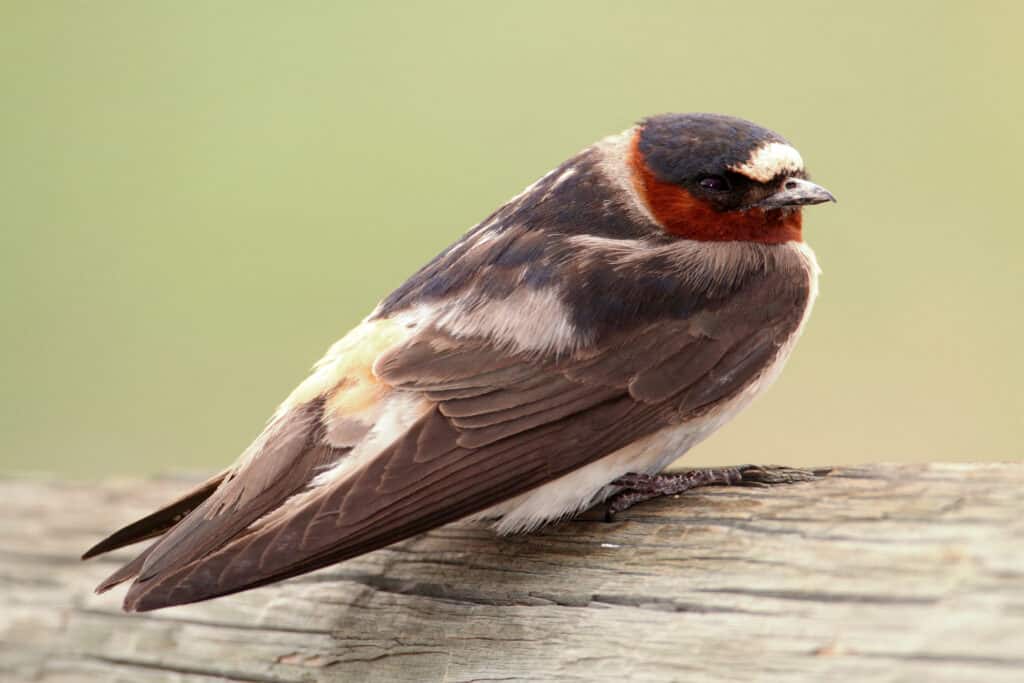 These little swallows have medium-length, squared tails, small heads, and curved, broad-based wings. Cliff Swallows appear brown in low light, with dark necks and white bellies. They have glossy, dark-blue backs and pale, orange rumps, which are visible in favorable lighting. 
They have dazzling buff-white forehead patches that resemble headlamps and rich, brick-red features. In the summer and autumn, some youngsters have whitish necks. Cliff Swallows fly in complex patterns as they hunt for flying insects. 
They frequently remain higher in the air when foraging in flocks with other species of swallows. On ledges of cliffs or beneath bridges, eaves, and culverts, they make mud nests in colonies.
Purple Martin
Building a Purple Martin home is like setting up a little community in your garden. All summer long, dark, shiny blue males and brown females can be seen in the East, peeping through doors and chirping from rooftops. Martins still mostly build their nests in woodpecker holes in the Western hemisphere. 
The Purple Martin, one of our largest swallows, performs aerial tricks to catch flying insects. They form large flocks at the conclusion of the mating season and go to South America. As soon as the youngsters depart the nest in late summer, thousands of purple martins roost with each other. 
They congregate in such thick groups that weather radar clearly shows them. When the birds depart their roosts in the morning, it is especially obvious due to looking like a giant donut on radar maps! 
Cave Swallow
This bird was rare in the United States until the 1960s. It exclusively nested in a handful of caves in the southwest, building its cup-shaped mud nest on the sides in the interior's poor lighting. Since then, Cave Swallows have adapted and taught themselves to nest in man-made locations like culverts and beneath bridges, and it is now a widespread summer bird throughout much of Texas and southern New Mexico. 
In some areas, Cliff Swallows and Cave Swallows may engage in direct competition for these man-made nesting locations. This bird nearly exclusively hunts while flying. When the weather is clear and warm, it may hunt low over water or far above. Cave Swallows frequently forage in groups.
White eggs from cave sparrows have subtle brown and purple spots on them. The estimated duration of incubation, which involves both parents, is 15 days. For the nestlings, both parents deliver food. Young depart the nest between 20 and 26 days.
Tree Swallow
Tree swallows, attractive aerialists with rich iridescent backs and pure white fronts, are a common sight in summertime wetlands and fields throughout northern North America. Their gleaming blue-green feathers sparkle in the sunlight as they do acrobatic flips and spins as they hunt for flying insects. 
Tree swallows frequently occupy nest boxes as well as tree cavities for their nests. They are an excellent addition to many a homeowner's yard or field thanks to this behavior, which has allowed scientists to thoroughly examine their breeding biology.
Tree Swallows spend their winters further north compared to any other swallow in America, and they migrate to their nesting areas much earlier than other swallows do. They can eat agricultural resources in addition to their typical insect prey, which aids in their ability to withstand the chilly and frigid conditions of early spring. 
Tree swallows are one of the best-studied bird species in North America and have assisted researchers in making significant advancements in a number of ecological fields. Nevertheless, we know very little about their migratory and wintertime lifestyles.
Violet-Green Swallow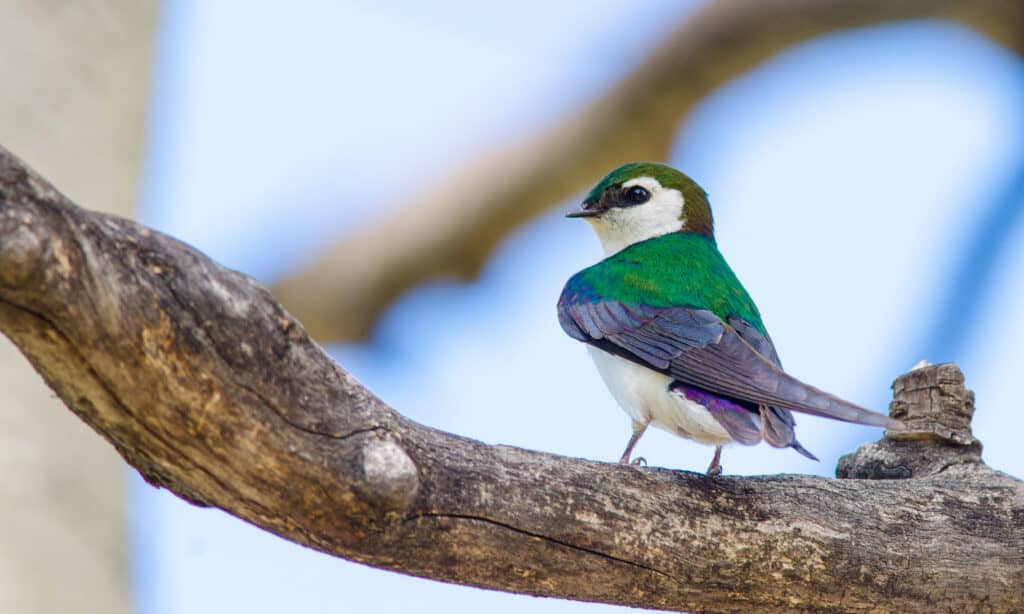 Small, graceful swallows with mildly forked tails and long, pointed wings are known as violet-green swallows. When seated, their wingtips are visible beyond their short tail. Violet-green Swallows first appear black above and bright white below. 
The iridescent violet rear and greenish-bronze back come to life in bright light. Each individual has white "saddlebags" on their belly that extend to the side of their hind quarters upwards. While females and young animals have darker cheeks, males have white cheek spots. The crowns and backs of young birds are grayish-brown.
Open forests, including those with deciduous, evergreen, and mixed species, are ideal breeding grounds for swallows, particularly those with older trees that have cavities. Violet-green swallows frequently graze for flying insects in lakes and streams.
Barn Swallow
Barn swallows, which are orange and blue in hue, used to build their nests inside small caverns or on cliff walls that were shielded by surrounding rocks. They searched for areas protected from the precipitation because the majority of their nests are constructed of mud pellets that are glued in place and left to dry. 
These swallow birds rapidly learned how to make the most of the barns that European immigrants built. Nowadays, practically all barn swallow nests are built on man-made objects, such as houses, arches, docks, stables, sheds, or under the eaves of buildings. 
Barn swallows are probably more prevalent today than they were a few hundred years ago because such safe places are substantially more abundant than environmentally protected sites ever were. 
Red-rumped Swallow
The little bird of prey in the swallow family is the red-rumped swallow. From Portugal and Spain through Japan, India, Sri Lanka, and tropical Africa, it thrives in open, hilly regions of temperate southern Europe and Asia. The birds of India and Africa are year-round residents, but the birds of Europe and other parts of Asia migrate. 
They migrate to Christmas Island and northern Australia during the winter from Africa or India. 
In terms of habits and coloration, red-rumped swallows resemble other flying insectivores, like related swallows and unrelated swifts. Their underparts are dark, and their upper parts are blue.
They might occasionally exploit grassfires and grazing livestock that scatter insects into the air. Millions of red-rumped swallows live in the red-rumped swallow's vast area. It is categorized as Least Concern because there is no evidence that its range or population is substantially diminishing.
Bahama Swallow
A small number of bird species are unique to The Bahamas, including the Bahama swallow. While there are other species of swallow in The Bahamas during the winter, the Bahama swallow is the species that is most prevalent there during the summertime. 
They make their nests in old structures and occasionally in woodpecker-made tree cavities. Bahama swallows are graceful airborne predators that are most frequently observed in pine forests, but they can also be seen in cities and above fields. Look at the long forked tail, white belly, and green to blue-green upper parts. 
Similar in color to Tree Swallows, but with a shorter, notched tail. Additionally, unlike Bahama Swallows, which have white armpits, Tree Swallows have totally dusky underwings. These beautiful birds are threatened by a number of factors, including a tiny and diminishing population and risks that could get worse in the future. The amount of breeding habitat may continue to shrink as a result of planned housing expansions and renewed logging.
Northern Rough-Winged Swallow
In North America, the Northern Rough-winged Swallow breeds frequently in the summer. It is less vivid than other species and frequently goes overlooked because of its uniformly light brown upper side and buff white underside. 
This swallow spends the entire summer in Texas, where it also spends the rest of the year in coastal regions. These swallows like to hunt above bodies of water, such as ponds, lakes, and rivers, where they catch flying insects. It frequently rests on power lines and other open ledges as well. 
This bird makes its homes in abandoned burrows dug by other animals. It moves south in the winter and spends the chilly seasons in Central America and the Gulf Coast.
Bank Swallow
Normally spotted in Texas during the autumn and spring migration seasons, the Bank Swallow breeds in Canada and the northern US states. These swallows have buff-white bellies and light brown tops, just like Northern Rough-winged Swallows. The brown stripe across its breast is the easiest way to recognize this swallow. 
Its frequent presence in blended flocks with other swallows during migration might make identification challenging. On the other hand, if you see the brown breast band, you'll know it's a Bank Swallow. 
Despite having a vast global range that includes all continents but Australia and Antarctica, this bird has recently suffered a decline in North America.
Mangrove Swallow
A passerine bird of the swallow family, the mangrove swallow breeds along the coasts of Mexico, Central America, and Panama. It features white underparts, a black tail, a white rear, and blue-green upperparts with blackish flying feathers. 
The white line near its eye, known as the supraloral white streak, which only appears in the violet-green swallow and the white-rumped swallow species of Tachycineta, serves as a telltale sign. Despite having identical plumage, the size of the sexes varies slightly. 
The youngsters have white-washed underparts and grey-brown upperparts. The basic description of this bird's song is a delicate chittering, a rolled jeerrt cry, and a harsh distress tone.
​Their popular name comes from the fact that it is typically found close to mangrove woods and low-lying bodies of water. Intertidal areas have also seen it recorded there. Despite being a permanent resident of its habitat, the mangrove swallow nonetheless makes post-breeding excursions.
Fun Facts About Swallows
Martins and swallows both belong to the Hirundininae family. 
There are over 80 different species of swallows around the globe. Except for Antarctica, they can be found on every continent. 
Swallows inhabit a variety of environments. They eat mostly over canals and lakes since they rely on flying insects, however, they can be seen in any open environment, including meadows, open forests, savannas, marshes, swamps, and bushland, from sea level to high alpine regions.
The most typical swallow plumage is shiny, deep blue or green upperparts and simple or striped, frequently white or rufous, underparts. 
Swallows have evolved a small, streamlined shape and long, pointed wings that allow for excellent dexterity and stamina as well as regular bouts of soaring in order to adapt to catching insects on the wing. 
Most insect groups are consumed by the entire family. However, the variety of insects consumed by each prey type depends on the species and the season. Many species occasionally eat fruits and other plant material in addition to their insect diet.
Up Next 
---
The Featured Image
---