↓
Continue Reading To See This Amazing Video
Maryland is a beautiful state in the Mid-Atlantic region of the United States. With its varied array of places – such as the Chesapeake Bay, the Maryland mountains, and the Piedmont Region – there is plenty to explore outdoors. However, if you're out and about, then there is a good chance you'll encounter some wildlife. – including snakes. There are 27 different species of snakes that call Maryland home, including two that are venomous. Although some snakes can be brightly colored, many are black or have various black markings. So in this article, we'll discover the black snakes in Maryland, including how to identify them and which ones are dangerous.
1. Timber Rattlesnake (Crotalus horridus)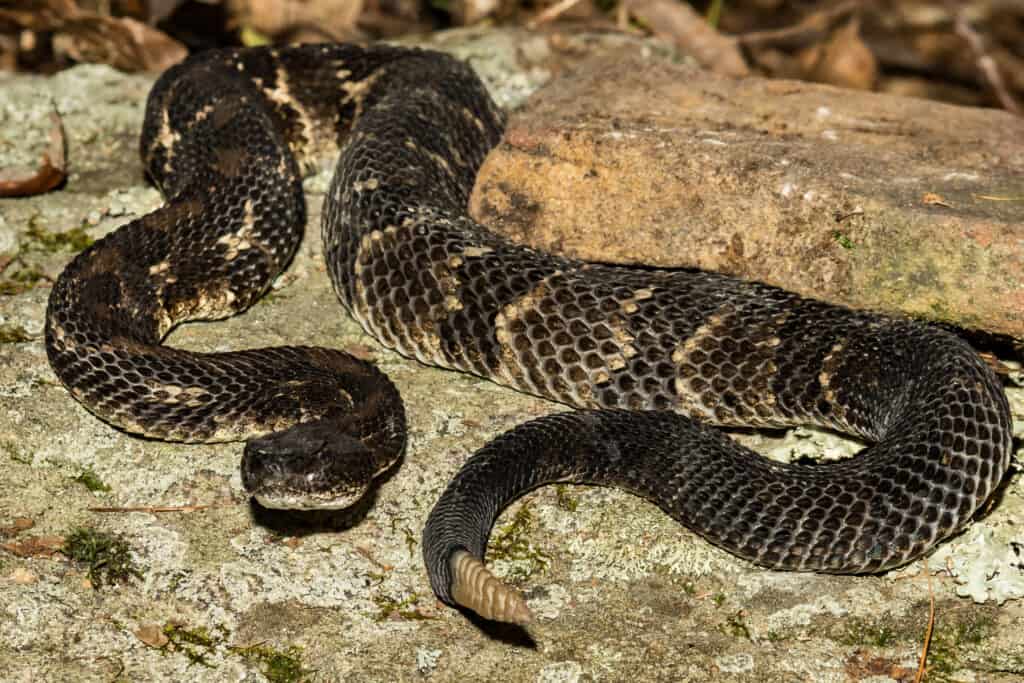 We'll start with the only venomous snake on the list and the only rattlesnake in Maryland – the timber rattlesnake. Timber rattlesnakes are approximately 60 inches long and can be seen in two different color morphs. Their main color morph consists of a yellowish-brown background color overlaid with a series of dark brown or black crossbands. However, black-phase timber rattlesnakes can be almost completely black, with their dark markings barely visible on their dark background color. Timber rattlesnakes are typically found on talus slopes and rocky outcrops in upland forest regions in western Maryland – between Frederick and Garrett counties. Despite not having a naturally aggressive nature, these snakes are highly venomous and should be avoided.
2. Eastern Racer (Coluber contractor)
Another black snake in Maryland is the eastern racer which typically has a glossy black appearance on its upper side with a lighter-colored belly. They are 20 to 60 inches long with slender bodies. Eastern racers are known for being active snakes and agile hunters. They have excellent eyesight, and it's not uncommon to see them with their heads raised above the ground as they search for prey. Eastern racers are found across the entire state of Maryland, where they typically live in grasslands and forests. Although they are not venomous, they bite, and if threatened, they can release a foul-smelling musk.
3. Northern Water Snake (Nerodia sipedon)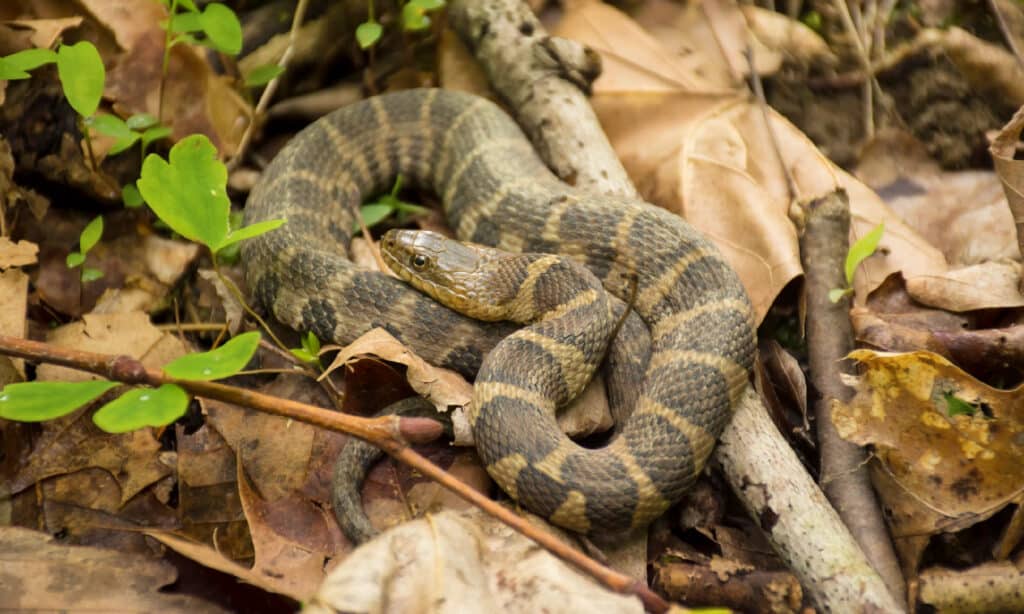 Also known as the common water snake, the northern water snake is widespread in Maryland. Northern water snakes can be found in virtually any wetland habitat, including lakes, rivers, and brackish marshes. Northern water snakes are 24 to 42 inches long and have thick, heavy bodies. They are dark brown or black with dark crossbands and blotches. However, as these snakes typically darken with age, it is not impossible for them to be almost completely black with indistinct markings. Northern water snakes are not venomous, but their saliva contains an anticoagulant, and this means that any wounds inflicted by them tend to bleed a lot.
4. Ring-Necked Snake (Diadophis punctatus)
The ring-necked snake is a small snake with a very distinctive appearance. They are 10 to 20 inches long and have black bodies with a brightly colored ring around their neck, usually orange, red, or yellow. Their belly can be the same color as their neck ring, but they are always dark-colored on their dorsal side. Ring-necked snakes are found across the entire state of Maryland, but they are secretive and shy, which means they are rarely actually seen. They prefer to live in hardwood forests where there is plenty of hiding places for them. As they are such small snakes, they have a lot of predators – including birds, rodents, and other snakes.
5. Common Garter Snake (Thamnophis sirtalis)
Another snake found across the entire state is the common garter snake, although you are far more likely to see these due to their diurnal behavior. Common garter snakes average 18 to 26 inches long, although longer specimens have been observed. They have a black, green, or brown base color with distinctive cream or yellow stripes down either side, as well as a stripe down the center of their back. They also sometimes have red spots between the stripes. Common garter snakes are typically found in grasslands and forests near a source of water. They often prey on toads and are immune to the poison that they produce.
6. Eastern Kingsnake (Lampropeltis getula)
Another black snake in Maryland is the eastern kingsnake which has a glossy black body with thin white bands with a chain-like appearance. Eastern kingsnakes average 36 to 48 inches long, although up to 82 inches is possible. They live in a wide variety of habitats, such as grasslands, forests, and swamps. However, in Maryland, they mainly live on the coastal plain and in river valleys. Eastern kingsnakes are not venomous but prey on many other species of snake – including venomous ones. Despite this, they are not particularly aggressive and are commonly kept as pets.
7. Plain-Bellied Water Snake (Nerodia erythrogaster)
Another water snake is the plain-bellied water snake which is 30 to 48 inches long and has a thick, heavy body. Plain-bellied water snakes are dark brown or black with a plain red or yellow belly. They spend the majority of their lives in water and live in lakes, rivers, and swamps. Plain-bellied water snakes are fairly rare in Maryland and only occur on the lower Eastern Shore, where they can be found on the coastal plain, in brackish water, and bald cypress swamps. Plain-bellied water snakes rely on the water for their prey and eat a range of amphibians, fish, and salamanders.
8. Red-Bellied Snake (Storeria occipitomaculata)
Another small snake is the red-bellied snake which can sometimes be confused with the ring-necked snake. Red-bellied snakes are only 4 to 10 inches and have a bright red belly with a black or grey dorsal side. They are shy, nocturnal snakes, so they are rarely seen during the day. Red-bellied snakes prefer to live in fields and forests where they can hide underneath rocks, logs, and leaves. They have a patchy, irregular distribution across most of Maryland but rarely occur on the coastal plain. These small snakes are not dangerous to humans and prey only on animals such as insects, worms, and slugs.
9. Eastern Ribbon Snake (Thamnophis sauritus)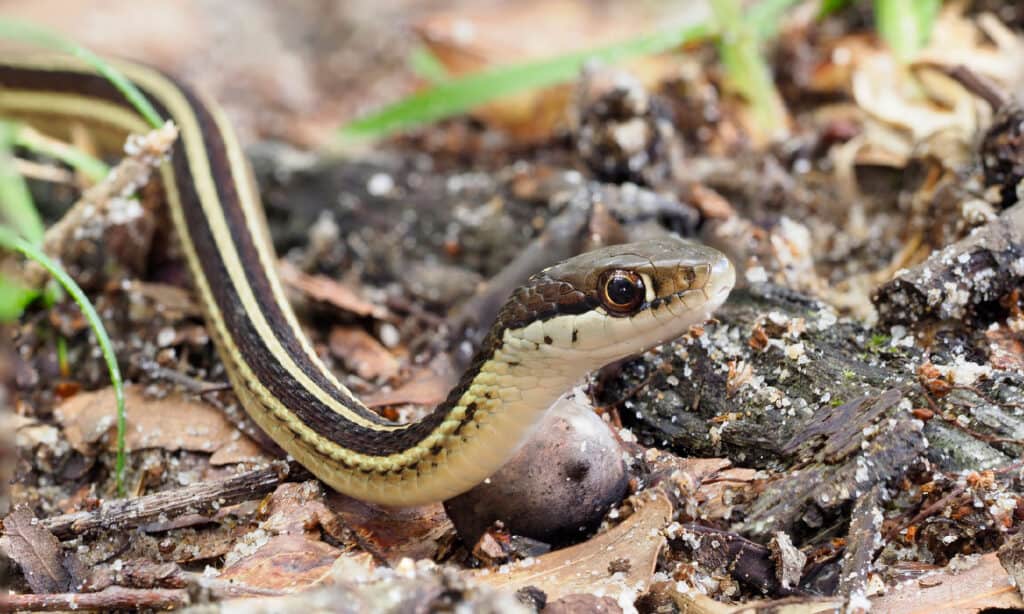 The eastern ribbon snake is semi-aquatic and lives in ponds, streams, and swamps across the majority of Maryland, with the exception of the western region of the state. These snakes are typically 18 to 34 inches long and are black with a yellow stripe down the center of their back and again along each side. They also have a greenish belly and yellow markings near each eye. Eastern ribbon snakes are not dangerous and rarely react aggressively, instead preferring to flee in the face of adversity. They prey mainly on amphibians, fish, and salamanders which are swallowed whole.
10. Eastern Rat Snake (Pantherophis alleghaniensis)
The final black snake in Maryland is the eastern rat snake, which is the largest snake in the state. Eastern rat snakes average 42 to 72 inches long but can reach 101 inches. They are glossy black on their dorsal side and have black and white bellies. They also have white markings on their throat and chin. However, juvenile snakes are a mixture of grey and brown blotches on a light grey base color. Eastern rat snakes are one of the most common snakes in Maryland and are found in a wide variety of different habitats. These include farmland, forests, wetlands, and even urban areas. In fact, they even have a habit of sneaking into houses where they can climb up into attics and live undetected. They are constrictors and eat rodents, frogs, and birds.
Up Next
Discover the "Monster" Snake 5X Bigger than an Anaconda
Every day A-Z Animals sends out some of the most incredible facts in the world from our free newsletter. Want to discover the 10 most beautiful snakes in the world, a "snake island" where you're never more than 3 feet from danger, or a "monster" snake 5X larger than an anaconda? Then sign up right now and you'll start receiving our daily newsletter absolutely free.
---
The Featured Image
---
Sources

Maryland.gov, Available here: https://dnr.maryland.gov/wildlife/Pages/plants_wildlife/herps/Squamata.aspx?SnakeName=Plain-bellied%20Watersnake
Maryland.gov, Available here: https://dnr.maryland.gov/wildlife/Pages/plants_wildlife/herps/Squamata.aspx?SnakeName=Eastern%20Kingsnake
Maryland.gov, Available here: https://dnr.maryland.gov/wildlife/Pages/plants_wildlife/herps/Squamata.aspx?SnakeName=Common%20Gartersnake
Maryland.gov, Available here: https://dnr.maryland.gov/wildlife/Pages/plants_wildlife/herps/Squamata.aspx?SnakeName=Common%20Watersnake
Maryland.gov, Available here: https://dnr.maryland.gov/wildlife/Pages/plants_wildlife/herps/Squamata.aspx?SnakeName=Timber%20Rattlesnake