Key Points:
In terms of size, the brown recluse is dwarfed by the black widow since it only measures three-quarters of an inch at the most, while the latter is capable of growing to a maximum of 2 inches.
The brown recluse is confined to the southern and midwestern regions of the United States as opposed to the black widow, which can be found all over the globe.
The black widow is usually the longer-lived of the two since it generally lives for a maximum of three years compared to the brown recluse, which can only live for two years at the most.
You likely already know what spiders you shouldn't mess with, but what's the difference between a black widow spider vs brown recluse spider? Both of these are regarded as some of the most dangerous spider species living on the planet today, but how can you learn to tell them apart so that you can keep yourself safe?
In this article, we will address all of the differences between black widow spiders and brown recluse spiders including their appearance and behaviors. We will also address where they are found in the world and what habitats they typically occupy so that you can make yourself aware. Let's get started and learn more about spiders now!
Comparing Black Widow Spider vs. Brown Recluse Spider
Black Widow Spider
Brown Recluse Spider
Size
1 ½ or 2 inches long
0.25-0.75 inches long
Appearance
Shiny black in color with a red or orange dot on top of its abdomen; females have trademark red hourglass underneath their abdomen
Brown or tan in color with markings where their legs attach to their bodies; has six eyes and fine hairs on legs
Location and Habitat
Worldwide. Found in warmer climates and in well-lit areas. Prefer dryness and hides beneath clutter or outdoor materials so long as they aren't often disturbed
Southern or Midwest United States. Often found in populated areas, in undisturbed areas such as closets or beneath piles of cardboard
Lifespan and reproduction
1-2 years;
Females lay 40-50 eggs each in several egg sacks.


1-3 years;
Females lay 100-400 eggs each in 4-10 egg sacks each summer.


Behavior
Highly aggressive if guarding eggs or surprised; will bite readily
Reclusive and shy; only bites if surprised or trapped against skin
Venom Level
Extremely venomous and likely to bite humans
Venomous and capable of causing tissue death
Key Differences Between Black Widow Spider vs. Brown Recluse Spider
There are many key differences between black widow spiders and brown recluse spiders. The black widow spider grows larger than brown recluse spiders overall. You can find black widow spiders around the world, while brown recluse spiders only live in the southern or Midwestern United States. The appearances of the spiders are very different as well, with black widow spiders having glossy black bodies and brown recluses having brown bodies.
Let's go over all of these differences in more detail now.
Size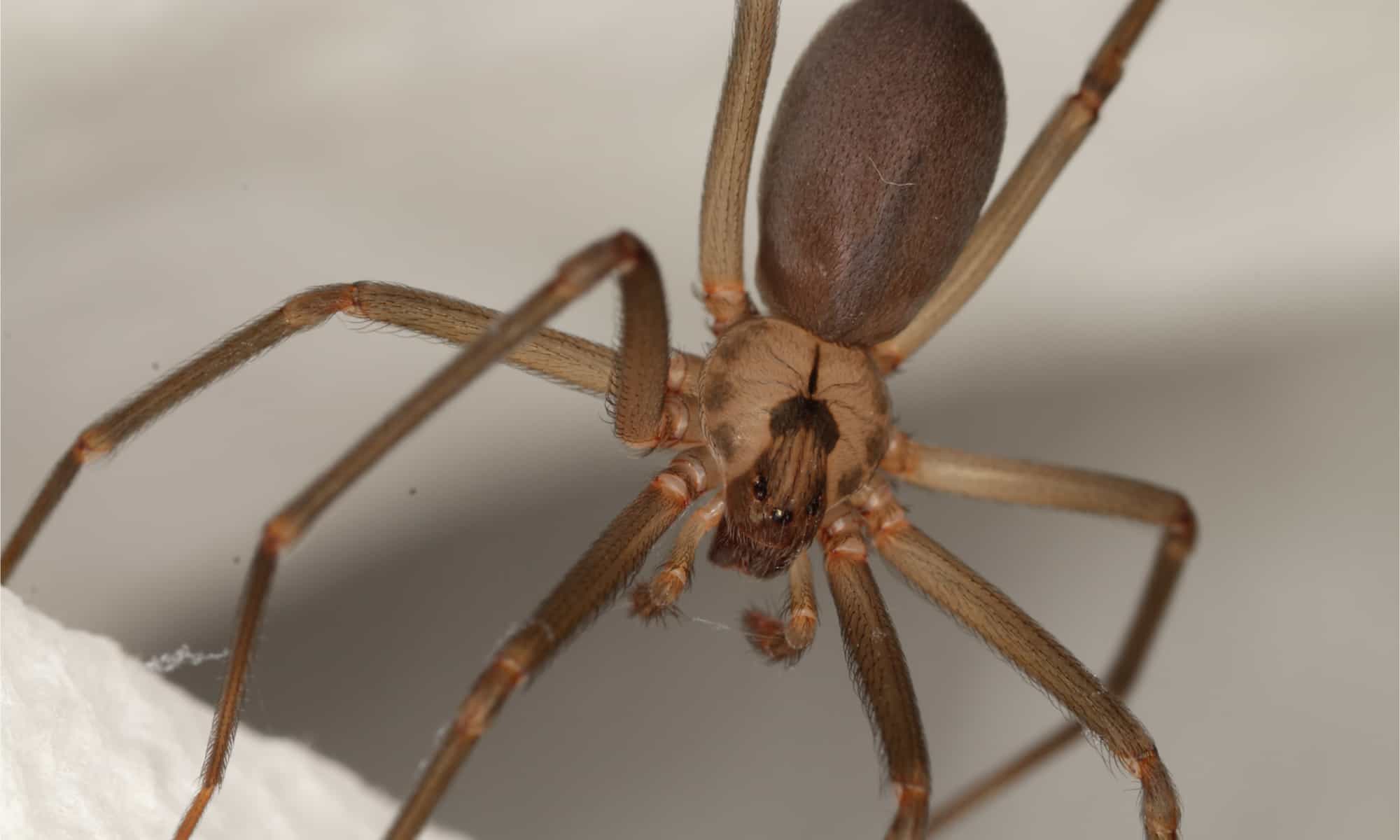 The average brown recluse spider is much smaller than the average black widow spider. For example, brown recluses grow anywhere from a quarter of an inch to 3/4 of an inch long, while black widow spiders frequently grow anywhere from 1 to 2 inches long. No matter the size, you likely want to avoid either of these spiders if you find one!
Location and Habitat
One of the most unique things about the brown recluse spider is its limited habitats or locations, while black widow spiders are found around the world. You can only find brown recluses in the southern or Midwestern United States. Black widow spiders are found in the same location and much more.
These two spiders also have different habitat preferences. Black widows enjoy dry climates and hiding under clutter. Brown recluses are found in more humid locations and in populated areas. You will often find a brown recluse in a shed or a closet, or even under piles of cardboard. Black widows prefer outdoor areas such as wood piles.
Appearance
These two spiders are easy to tell apart once you know what they look like. Black widow spiders have glossy black bodies, while brown recluses have brown or tan bodies. If you get a close enough look, you will notice that brown recluses have six eyes, while black widow spiders have eight eyes.
Female black widow spiders are well known for their red hourglass, found underneath their abdomens, while brown recluses do not have red on their bodies. However, this does not mean that they do not have a distinguishing pattern or marking. Brown recluses have violin-shaped markings where their legs meet their abdomens, while black widow spiders only have markings on the top and bottom of their abdomens.
Lifespan and Reproduction
Compared to the brown recluse, black widow spiders live longer. The former has a lifespan ranging from one to two years while the latter can live as long as three years or even five. It is worth noting, however, that male black widows only live for about a quarter or a third of a year.
Both arachnids are prolific reproducers. The female brown recluse usually mates in summer and lays several egg sacs each containing 40-50 eggs each spring. Its newly hatched offspring will take 12 months to grow to full maturity.
Unlike the brown recluse, black widow spiders lay their eggs in summer. During this period, a mother may lay as many as 10 egg sacs each containing 100-400 eggs. The little spiderlings that make it out of eggs which haven't been gobbled up will mature in about six to nine months.
Behavior
While both of these spiders prefer to be left alone by humans and other animals, there are some behavioral differences between the two. For example, brown recluses live up to their name and prefer to live a reclusive life without confrontation, while black widow spiders can be aggressive if protecting their eggs.
Even though this isn't a hard-and-fast rule, and both types of spiders will bite if they are surprised, you are more likely to be bitten by a black widow spider and a brown recluse spider. Brown recluses often bite out of fear or accidentally when they are pressed against the skin. Black widows lunge more often than brown recluses.
Venom Level
A final difference between black widow spiders and brown recluse spiders has to do with their venom levels and the way in which their venom interacts with the human body. While both of these spiders are very venomous and should be avoided, black widow spider bites cause swelling and fevers, while brown recluse spider bites cause tissue death and decay. No matter what, you won't have a good time if you are bitten by either of these two spiders!
What Keeps Spiders Away?
One of a person's worst nightmares is having spiders wind up in their home–especially the poisonous kind! The best way to avoid getting bitten by a spider is to try and prevent them from entering your house in the first place. As spiders can get into your home through holes and cracks, you can check for possible entryways with a flashlight. If the light gets through from the inside to the outside, you should fill that hole or crevice with an appropriate product.
Keeping your yard free of debris and overgrown vegetation helps cut down on areas spiders would gravitate to. Caulking doors and windows is also a good strategy to keep them out.
Spiders hate certain scents, so scented essential oils can help deter them like peppermint, tea-tree, lavender, and rose. You can add 15-20 drops of a particular oil in a water bottle mixed with water and spritz it around your house. They also hate the smell of cinnamon and vinegar, so these scents can be used similarly.
Rubbing lemon or orange peels on the baseboards along your walls, on window sills, and on other surfaces can also repel spiders, who dislike citrus smells. Furniture polish and cleaning products with lemon scent can also help.
Regular cleaning inside your home, especially in areas that are dark or less frequented, is necessary to keep spiders from setting up residence. It's also important to keep an eye on fruit bowls, as they can attract spiders.
The photo featured at the top of this post is © Pong Wira/Shutterstock.com
---