Key Points
These two breeds of herding dogs originate from different continents. Surprisingly, the Australian Shepherd is an American breed.
Australian Shepherds tend to be a little larger than Blue Heelers. Australian Shepherds come in different colors and have long, fluffy coats as opposed to the dense, water-resistant coat of the Blue Heeler.
Both dogs have generally pleasant temperaments. Blue Heelers' job is to nip at the heels of cattle while herding, so they aren't always great with kids. On the other hand, Australian Shepherds are laid back, even around kids and other animals.
Even though both breeds are medium-sized herding dogs, the Blue Heeler vs Australian Shepherd are extremely distinct dogs. One is an Australian breed related to the Dingo and originating in the 1800s. The other is a United States ranch dog.
Surprisingly, the Blue Heeler dog breed (aka Australian Cattle Dog) originated in Australia as a result of breeding Blue Merle Collies with Dingos. The Australian Shepherd is historically American, first gaining popularity in California. Its name comes from the fact that the Basque people from northern Spain traveled to Australia with Pyrenean Shepherds, which they bred with Border Collies and other British breeds. Then they came to California, where ranchers widely adopted the breed they called Australian Shepherds to herd cattle.
Now, let's highlight eight other key distinctions between these two breeds.
Comparing Blue Heeler vs Australian Shepherd
Key Differences
Blue Heeler
Australian Shepherd
Size
17 to 20 inches tall
30 to 50 pounds
18 to 23 inches tall
40 to 65 pounds
Coat type
Dense, Water Resistant
Long, Wavy, Fluffy
Colors
Red, Blue
Blue, Black, Merle, Red
Temperament
Alert, Amiable, Devoted
Active, Friendly, Smart, Loving
Impulse to Wander
Higher than Average
Lower than Average
Life Expectancy
10 to 13 Years
12 to 15 Years
Health Problems
Retinal Atrophy, Hip Dysplasia
Degenerative Myelopathy
Blue Heeler vs Australian Shepherd: A Comparison
Key Differences Between Blue Heeler and Australian Shepherd
The Blue Heeler and the Australian Shepherd differ in a multitude of aspects, including origin, disposition, trainability, and physical appearance. The Blue Heeler is smaller than an Australian Shepherd on average, both in height and weight. Australian Shepherds have fluffy coats, while Blue Heelers have dense and thick fur. Finally, Australian Shepherds have slightly longer lifespans than Blue Heelers.
Let's explore these differences in more detail now!
Appearance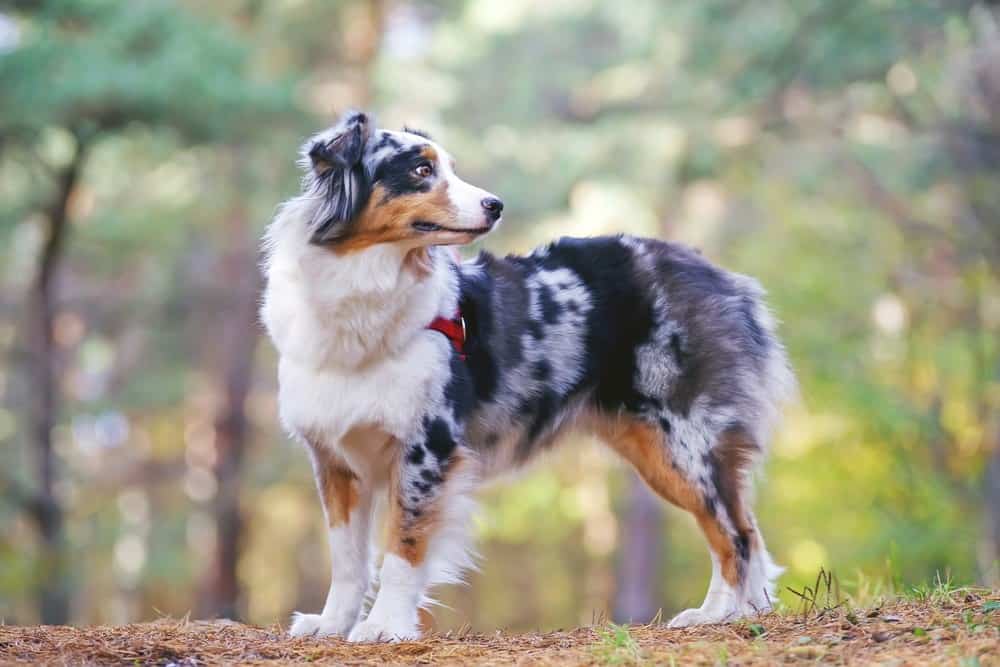 Blue Heeler vs Australian Shepherd: Height
The Australian Shepherd is the largest of the two breeds. Males range in height from paw to shoulder between 18 and 23 inches, whereas Blue Heelers stand between 17 and 20 inches tall. Although it may not appear to be much because they are both in the same size group, a few inches can make a dramatic difference.
Blue Heeler vs Australian Shepherd: Weight
Australian Shepherds are a bit larger than Blue Heelers in terms of size. Australian Shepherd males weigh an average of 58 pounds. The Blue Heeler, which is also referred to as the Australian Cattle Dog, is a smaller breed, weighing an average of 49 pounds.
Blue Heeler vs Australian Shepherd: Coat Type
The Australian Shepherd's coat is long and wavy, with a dense undercoat and a coarse topcoat. Their facial hair is short, and their back legs are feathered. The breed's coloration and coat patterns are unique, with no two dogs having the same pattern.
The Blue Heeler has a dense coat because of the Australian environment and outdoor lifestyle. The Australian Shepherd's coat is much fluffier. In the rain, the Blue Heeler's water-resistant double layer keeps them dry, with the upper layer acting as a wick.
Blue Heeler vs Australian Shepherd: Colors
Only red and blue are coat colors for a "true" Blue Heeler, aka Australian Cattle Dog. You may see some with chocolate or cream colors, but these are considered flaws by many and may indicate dilution in their purity. The American Kennel Club (AKC) accepts four coat colors in purebred Australian Shepherds. The colors available are black, blue merle, crimson, and red merle.
Characteristics
Blue Heeler vs Australian Shepherd: Temperament
Recognized as Australian Cattle Dogs, the Blue Heeler breed is known for its alert, amiable temperament, and intense sense of devotion. Dogs like these aren't naturally aggressive, so they could be a great fit for families with children. However, when they do feel threatened, Blue Heelers have a notoriously bad reputation for biting people. Heelers are known for nibbling at cattle's heels; therefore, they'll target a person's heel in the same way. Hence the name, "Heeler."  As a result, proper training and socialization must begin at an early age.
The Australian shepherd is a playful and easygoing dog that gets along well with children and other animals. Because of their herding skills, Australian shepherds are wonderful pets for families.
Blue Heeler vs Australian Shepherd: Impulse to Wander
The Blue Heeler has a high degree of wanderlust, showing an ardent desire to see the world. Australian Shepherds, on the other hand, aren't known for their adventurous nature. They are more at ease in their own home.
Health Factors
Blue Heeler vs Australian Shepherd: Health Problems
Progressive retinal atrophy, canine hip dysplasia, elbow dysplasia, deafness, and Osteochondrosis Dissecans are just a few of the health issues facing the Blue Heeler. Nasal dermatitis, hip dysplasia, and epilepsy are just a few of the ailments that plague Australian Shepherds. Regular eye and hip exams for your Australian Shepherd are usually a good idea.
Blue Heeler vs Australian Shepherd: Life Expectancy
Blue Heelers live for 10 to 13 years. Australian Shepherds live an average of 12 to 14 years. One of the oldest Australian Cattle Dogs on record, a female named Bluey, lived to the ripe old age of 29, which is extremely uncommon.
Wrapping Up Blue Heeler and Australian Shepherd
These two breeds can have similar temperaments on occasion because they are both normally nice with youngsters, loyal, and intelligent. However, there are so many distinctions between these two breeds, including their drive to roam and explore, their coats, colors, and place of origin as well. Hopefully, this article has "herded" sufficient information to illustrate the various distinctions between the Blue Heeler and the Australian Shepherd.
Up Next…
Keep reading! We think you'll like these other pages about snakes and other amazing animals.
Ready to discover the top 10 cutest dog breeds in the entire world?
How about the fastest dogs, the largest dogs and those that are -- quite frankly -- just the kindest dogs on the planet? Each day, AZ Animals sends out lists just like this to our thousands of email subscribers. And the best part? It's FREE. Join today by entering your email below.
FAQs (Frequently Asked Questions) 
Is the Blue Heeler the Same as the Australian Cattle Dog?
To be honest, there is no difference except for color. The Australian Cattle Dog and the Blue Heeler are identical dogs. The phrase "Blue Heeler" refers to blue Australian Cattle Dogs. Red Heelers are Australian Cattle Dogs that are red in color.