California is famous for its dry, barren landscape, but the terrain is anything but empty. California's desert terrain boasts some of the most unique flora and cacti on earth. Water is a limited resource throughout all of California, and one essential characteristic of cacti is their ability to survive and thrive in drought conditions. Cacti's ability to grow in dry, arid landscapes makes them the perfect plant for California. The Golden State has been in a drought for years, so cacti are an excellent economic and environmental choice for California gardeners. Once cacti are established, they require little or no water.
Native California cacti thrive in the desert of the southernmost part of the state. The deserts of Southern California are separated into two different ecosystems: the Mojave Desert and the Colorado Desert. The Mojave Desert is higher, cooler, and wetter, while the Colorado Desert (in the northern arm of the Sonoran desert) is lower, hotter, and drier. This explains why summer temperatures in Palm springs can reach above 120 degrees in the summer while the Yucca Valley in the Mojave can get snowfall in the winter.
You can see the difference between the two deserts when traveling through Joshua Tree National Park. Hikers can experience both ecosystems in a matter of hours. As you drive from the south to the north of the park, saguaro cactuses are replaced by Joshua trees. Below is a guide to all the cacti you will encounter in California deserts.
Bergerocactus emoryi, "Golden Cereus Cactus"
The Golden Cereus grows mainly in Baja California but is common along the coast of San Deigo. It can also be found in Cabrillo National Monument and Point Loma peninsula. It usually grows in sandy soils on bluffs and scrubland. The cactus grows in vertical stems up to three feet high in grassy and partly wooded slopes along the Pacific coast. Golden Cereus grows up to three feet tall and two inches across. Dense golden spines cover its stems. They bloom between April and June, and yellow flowers blossom towards the top of the stems.
Carnegie gigantic, "Saguaro Cactus"
The Saguaro is a famous symbol of the southwest. This cactus usually resides in the southwest of Arizona but can also grow in the extreme southeast of California. The Saguaro is tall and columnar with a long branching stem that grows way above the ground. It prefers glassy flats, scrubland, canyon sides, and south-facing hills. Its flowers are white and appear in late spring. The saguaro cactus prefers rocky soil with good drainage but can grow in most habitats on low desert mountain slopes up to 4,500 feet of elevation. It is frost tolerant but relies on summer rainfall from July to September.
Cylindropuntia bigelovii, "Teddy Bear Cholla Cactus"
Teddy bear cholla resides in Southeast California, southern Nevada, and west and south-central Arizona. They get their name from the almost "fuzzy appearance" of thick golden-colored spines. Mature Teddy Bear Cholla grows to be around five feet tall and is surrounded by a ring of discarded spines and flowers. Established plants have a woody trunk at the base and are several inches in diameter. The flowers are yellow-greenish in color with red streaks.
Cylindropuntia californica, "California Cholla Cactus"
California Cholla grows in the far southwest of California in the San Diego area, mainly close to or along the coast. Its light-branched clusters can be several feet tall. The habitat of the California Cholla is sandy scrubland and coastal bluffs from sea level to 6,000 feet. Its flowers are yellow with greenish centers and red tips that blossom in early spring. Even though you can find it along the coast of California, it is more common in Baja California. Unlike other cholla species, this species has a lighter covering of spines. This makes the Cholla's stout and circular stems' green color more visible. Stems are up to seven inches long and are one inch across. The spines are yellow to pale brown, and the flowers are greenish-yellow with red tips at the top.
Cylindropuntia prolifera, "Coastal Cholla Cactus"
Coastal Cholla cacti grow along the coast of California from San Bernardino County to the south. They are tall, branched shrubs with a central trunk that grows on coastal bluffs and inland hills up to 1,000 feet. Unlike most Cholla, it is taller and has a branched, shrub-like form. It grows taller than other varieties and can reach heights of up to eight feet. Its home is in a narrow bend along the coast from the Mexican border to Santa Barbara. It also grows on all of the Channel Islands. It blossoms a beautiful pink-purple flower in the springtime that blooms from April to July.
Echinocactus Polycephalus, "Many-Headed Barrel Cactus"
Many-Headed Barrel grows in the Mojave desert through Arizona, California, and Nevada. They are also found in the Sonoran Desert region of southern California. These cacti grow in the most extreme arid environments in the American Southwest, like Death Valley National Park. The stems of the Many-Headed Barrel cacti are often solitary but can also grow in clusters of as many as 30. The tendency of the cactus to cluster gives it its name. The Many-Headed Barrel is hard to grow, so it is rare in gardens and cactus collections.
Echinocereus engelmannii, "Engelmann's Hedgehog Cactus"
Engelmann's Hedgehog cactus grow in the deserts of California. Its medium-sized clusters can grow up to 50 stems. Its habitat includes slopes, desert plains, scrubland, and other dry and sunny locations. The flower colors range from magenta to pink, sometimes lavender and purple, and bloom from March to April. Like most Hedgehog cacti, the spring flowers of Echinocereus engelmannii are very bright and colorful.
Echinomastus johnsonii, "Johnson's Pineapple Cactus"
Johnson's Pineapple cactus is a small barrel cactus almost entirely hidden by long interlocking red spines. It grows in an arid environment on rocky hills in line-stone-impregnated soil. Its flowers are a beautiful magenta that grows on the tip of the cactus. Its form grows in an upright cylinder shape four to ten inches tall. Johnson's Pineapple cactus are relatively rare and inhabits scattered and remote rocky slopes of the Mojave Desert and the Colorado River corridor in the northwest region of Arizona and east California.
Escobaria Alversonii, "Cushion Foxtail Cactus"
The Cushion Foxtail species is quite a rare cactus species and a conservation concern. The cactus grows along the southern edge of the Mojave Desert and is mostly seen in Joshua Tree Nation Park. The cacti have a denser spine covering than other species of Escobaria, and many of the central spines point outward instead of being close to their stem. The spines are usually all-white or partly colored and gray. The branches can reach heights of up to 10 inches. The flowers on the cactus are pale pink with dark pink in the center that blooms from April to June.
Ferocactus cylindraceus, "California Barrel Cactus"
California Barrel cactus call California deserts, southeast Nevada, far southwest Utah, and other regions of Arizona home. They are cylindrical, up to 8 feet tall, and usually stand alone. Their habitat is varied desert and chaparral environments up to 4,500 feet. The flowers are yellow with greenish tints and red on the outside, blossoming in a neat ring that appears in May and June. They are the most widespread of the giant barrel cacti, varying spine color from red to white and yellow. The spine of the cactus is curved towards the tip and hooked. The cactus likes to call rocky locations and the sides of canyons home. The young plants are spherical and tend to have deep red spines that stand upright.
Ferocactus viridescens, "San Diego Barrel Cactus"
San Diego Barrel cactus grows along the coast of the southwest corner of California. The cactus takes the form of a neat globe and grows in an elongating column. The cactus reaches a maximum diameter of ten inches. All the spines on the cactus are a deep red-pink and then mature to yellow and gray. The yellow to reddish flowers appear in late spring. It grows in coastal scrub areas and on rocky or sandy soils of elevation of 600 feet.
Grusonia parishii, "Matted Cholla Cactus"
The Matted Cholla is a cactus that grows in California, Arizona, Nevada's central Mojave Desert, and a few Sonoran Desert locations. It grows in low flat mats of short, club-shaped stems. The habitats it grows in are open, sandy, rocky, and up to 5,000 feet. The flower blossoms are yellow with reddish bands from May to July.
Mammillaria dioica, "Strawberry Cactus"
The Strawberry cactus grows in Southern California in San Diego, Riverside, and San Bernardino counties. They grow in single or small clusters in scrubland and woodland and up to 4,500 feet of elevation. Even though they are more common on the San Diego coast, they can also grow in the Anza Borrego Desert and Baja California in Mexico. The stems on the cactus are medium-sized, up to 6 inches tall, and around two inches across. They can either grow singularly or in clusters of up to 50. They have three or four reddish central spines in the center of the cactus, with the most extended stem hooked.
Mammillaria tetrancistra, "Common Fishhook Cactus"
Mammillaria tetrancistra is native to southeastern California but also grows in the Mojave and Sonoran Deserts of northern Mexico and the southwest of the United States. It grows in arid areas on rock, sand, or gravel. The essential characteristic of the Common Fishhook cactus is the cluster of thick, bright red fruits that appear after the cactus flowers in the spring and summer. The fruits are shiny and have black seeds.
Opuntia basilaris, "Beavertail Prickly Pear Cactus"
The most prominent characteristic of the Beavertail Prickly Pear is its gray-blue pads shaped like a beaver's tail. Opuntia Basilaris have no spines on their plant and form in low-sitting clumps that grow horizontally rather than vertically. When grown in highly arid conditions, Beavertail prickly pear can have a purple hinge due to the surface of the cacti becoming shriveled. These cacti can grow in various habitats, from hot deserts to along the colorado river and in the mountain slopes of Utah.
Opuntia chlorotica, "Pancake Prickly Pear Cactus"
Pancake Prickly Pear grows on rocky slopes, scrubland, and mountain foothills of California, Nevada, Arizona, New Mexico, and Utah. The Pancake Prickly Pear grows large branched clusters and has a thick central trunk. The older cacti can grow up to eight feet tall and have hundreds of pads branching from its trunk. Yellow spines cover the whole cactus. The older the plant, the prickly it is, and the more blackish it gets. The flowers are yellow with red centers and bloom from April to May.
Opuntia engelmannii, "Engelmann Prickly Pear Cactus"
The Engelmann Prickly Pear is common across the United States' southern border from California to Louisiana. It grows in varied landscapes, from grasslands and woodlands to hillsides and canyons. The flowers it produces are yellow with green stigma. This is the most widespread and largest of the Prickly Pear cacti. They grow in clusters several feet tall made up of large greenish, blue pads.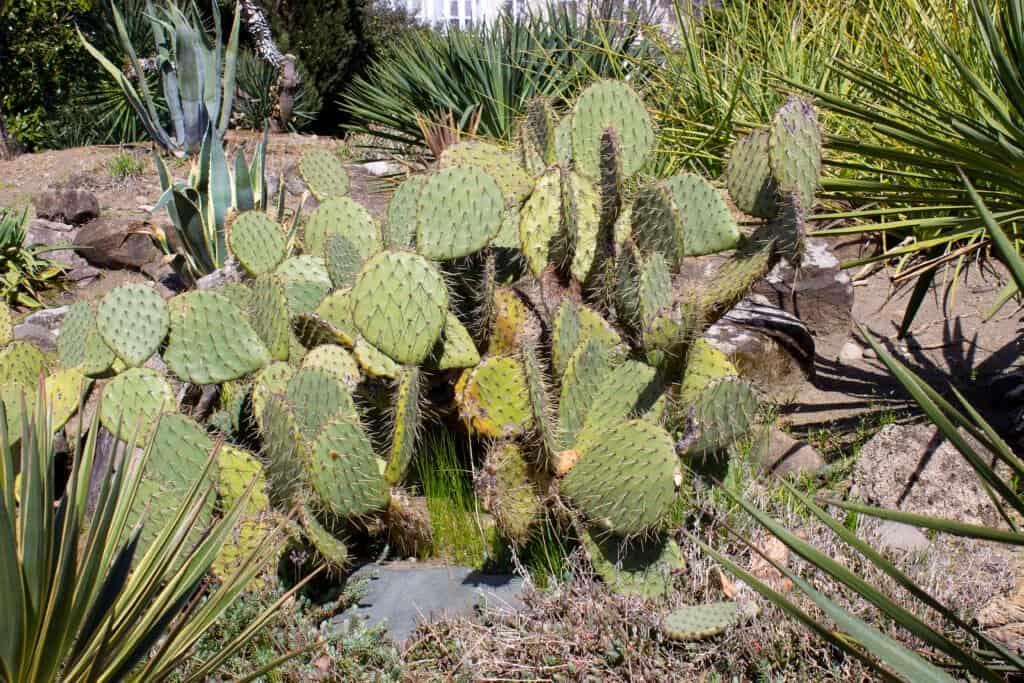 Opuntia erinacea, "Mojave Prickly Pear Cactus"
This species of Mojave Prickly Pear grows in the eastern side of California. They have no central trunk, and their essential characteristic is their dense gray, white spines giving an almost furry look. Also called the "Grizzly Bear Prickly Pear," it has a widespread distribution and grows in Arizona, southern Nevada, and Utah. The cactus forms low to the ground in medium-sized slumps that do not grow more than two feet high. However, they can spread out to ten feet in diameter. They are frost tolerant so they can grow at heights as tall as 7,000 feet. Their flowers are yellow with red tips and bloom in May and June.
Yucca brevifolia, "Joshua Tree"
Joshua trees are desert plants that grow in the Mojave Desert in the southwestern part of the United States. Joshua Trees are not trees or cacti; they are succulents. Succulents are a type of plant that stores water. These "trees" are so iconic that California has a national park named after them. In their dry ecosystems, however, they are nick-named the trees of the desert. Mormon settlers in the 19th century called Joshua trees after the biblical figure Joshua. They felt that the outstretched limbs symbolized guidance along their westward journey.
Joshua trees grow to have a single trunk and can grow between three to nine feet. The branches of the Joshua tree stretch at the top of the branch in many different directions giving it that "tree" like look. The branches end in clusters with spikey leaves and beautiful white flowers. Joshua trees can grow as tall as 70 feet but barely exceed 40 feet. Before flowering, Joshua trees undergo a dormant period of cold weather in the winter. Once they bloom, they depend on Yucca moths (genus Tegeticula) to transfer pollen between flowers. Joshua trees are extremely slow-growing but live for a long time. It is hard to accurately determine the age of Joshua Trees because they don't have growth rings like other trees. Instead, scientists measure the tree's height and divide it by the yearly estimated growth. The average lifespan for a Joshua Tree is around 150 years, but one Joshua Tree in California is over 1,000 years old.
Up Next:
More from A-Z Animals
---
The Featured Image
---