Cacti are a type of succulent plant that is native to the Americas, with more than 2,000 species worldwide. In New Mexico alone, there are over 40 kinds of cacti. Cacti have several distinguishing features: they are spiny or needle-like, and their stems are designed to store water in order to survive in arid climates. They also bloom beautiful flowers when temperatures heat up during the summer months.
People love planting cacti as outdoor ornamentals for many reasons. Firstly, these plants require very little maintenance – just some occasional watering and pruning – making them an ideal choice for busy gardeners who want an attractive landscape without too much fuss! Secondly, cacti come in a variety of shapes and sizes, so you can find something to suit any space or style. From tall saguaros, which can tower up to 15 feet high in your yard's center stage, all the way down to small varieties like pincushions which fit perfectly on table tops or window sills. Thirdly, they bring a unique southwestern charm with their prickly silhouettes and colorful blooms!
7 Types of Cacti
New Mexico has a dry climate that is ideal for growing cacti. The majority of the state receives very little precipitation throughout the year, and temperatures are often hot during the day and cool at night. Winters in New Mexico can be quite cold, with snowfall occurring in some parts of the state. With its low humidity, warm days, and cooler nights, New Mexico is an excellent place to grow many types of cacti. New Mexico falls in USDA Hardiness Zones 4b through 9a. Here are a few of our favorite cacti that thrive in these New Mexico Zones.
1. Tree Cholla
Tree Cholla, also known as Cylindropuntia imbricata, is a species of cacti native to the deserts of New Mexico. It typically grows in clusters and can reach heights up to 8 feet tall! Its cylindrical stems are covered with spines that can range from brownish-green to silvery white. The branches contain yellow flowers that bloom during late summer and early autumn. Tree cholla plays an important role in the environment by providing food for desert wildlife such as birds, insects, and lizards. Additionally, its woody stems provide shelter for small animals like mice and rabbits. This species of cactus is incredibly adaptable. It can survive hot temperatures during the day while tolerating freezing temperatures at night and is hardy from Zones 4a to 11!
2. Brown Flowered Cactus
Brown flowered cactus, or Echinocereus chloranthus, is a species of cactus native to New Mexico. It has distinctive dark brown flowers and typically grows in clumps up to about 8-10 inches high. This species of cactus is drought tolerant and prefers dry environments with well-draining soils. It does best when planted in areas that receive at least four hours of direct sunlight per day but can survive in partial shade as well. Brown flowered cacti are tough plants that require very little maintenance. They generally only need occasional watering during the summer months. Due to its small size, this type of cactus makes an excellent addition to rock gardens or other areas where space is limited. However, it should be noted that these plants are not cold-hardy and should be protected from temperatures below 32 degrees Fahrenheit if grown outdoors. They are hardy from Zones 6a to 11b.
3. Texas Rainbow Cactus
The Texas rainbow cactus, also known as Echinocereus dasyacanthus, is a cactus native to New Mexico and parts of Texas. It is characterized by its cylindrical or columnar shape and its brightly colored spines that vary from pale pinkish-white to yellow in color. The spines have sharp tips that can easily penetrate your skin if you're not careful when handling them. This cactus typically blooms in the spring with large flowers in shades of red, white, or yellow. The flowers are long-lasting and fragrant, which attracts pollinators such as bees and hummingbirds. The fruits they produce are edible but should be eaten sparingly due to their high sugar content. Unfortunately, this species has become increasingly rare over time due to habitat destruction caused by human activities. Therefore it's important we take steps to protect these unique plants so future generations can enjoy them too! This cactus is hardy from Zones 8b to 10b.
4. Woven Spine Pineapple Cactus
Woven spine pineapple cactus, also known by its scientific name Echinomastus intertextus, is a species of cactus native to the southwestern United States. It is found in New Mexico and Arizona and grows in rocky outcroppings at elevations between 3,000 feet and 6,000 feet. The plant has distinctive yellow flowers that grow on long stems from its central column. Its spines are usually reddish-brown or grayish-white with dark tips. The most notable feature of this particular species of cacti is the way its spines form intricate patterns around its body, resembling a woven basket or a pineapple when viewed from afar. This unique pattern makes it an attractive choice for collecting enthusiasts as well as gardeners who wish to add interest to their desert gardens. This cactus is hardy in USDA Zones 9b to 11.
5. Strawberry Hedgehog Cactus
The strawberry hedgehog cactus – Echinocereus stramineus – is a type of cactus found in the deserts of New Mexico. It has an attractive, spiny crown made up of many upright stems that are covered in red-brown spines. Its flowers are bright pink with yellow tips and bloom during the springtime months. The edible fruits produced by this species are small and tart, giving rise to its common name, 'strawberry' hedgehog cactus. This plant thrives in dry climates and prefers well-drained soil with plenty of direct sunlight exposure throughout the day. They require little watering or maintenance but should be kept away from frosty temperatures as they can easily suffer damage when exposed to cold weather conditions for long periods of time. This cactus grows up to three feet tall and is hardy in USDA Zones 9a through 11.
6. Barbary Fig
The barbary fig cactus, also known as Opuntia ficus-indica, is a species of cacti native to the semi-arid regions of Mexico. It has been introduced and naturalized in many other countries throughout the world, including New Mexico. The plant grows up to 6 feet tall with flat green pads that are covered in small spines or glochids. The fruit of the barbary fig cactus is edible and can be eaten fresh or used to make jams and jellies. The plant produces yellow flowers in spring which turn into red fruits by summertime. There are several varieties of this species that have slightly different characteristics, such as size, shape, coloration, and the number of thorns/spines per pad. This type of cactus requires regular watering during its active growth season but should not be overwatered as it can lead to root rot or other fungal diseases. It is hardy from USDA Zones 8-11. Proper care will help ensure your barbary fig cactus thrives for years!
7. Purple Prickly Pear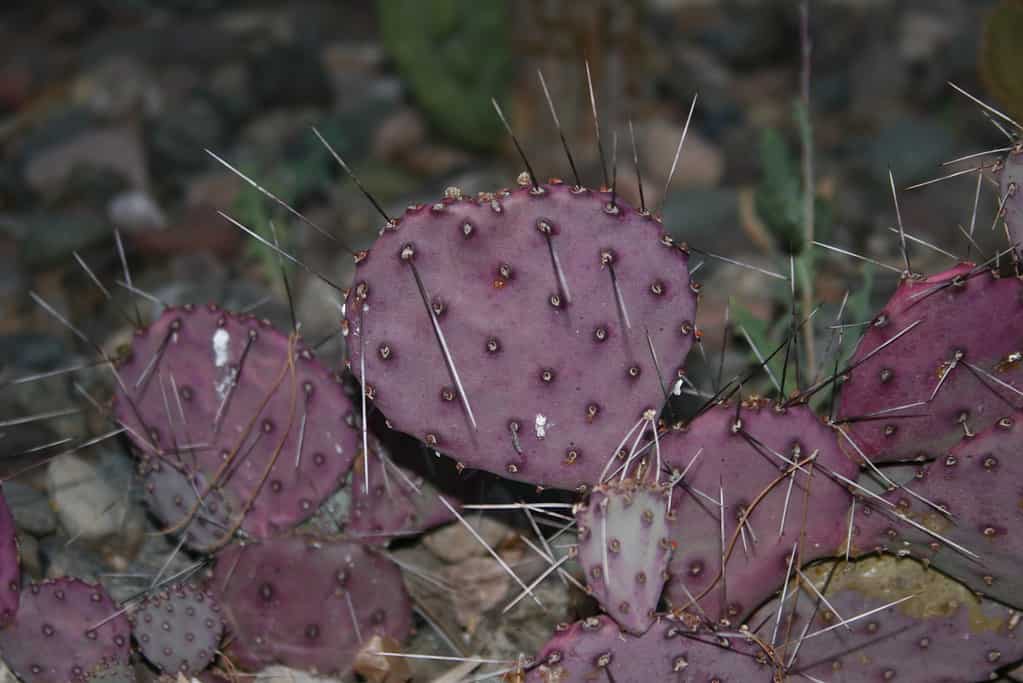 Purple prickly pear – Opuntia macrocentra is a species of cactus that can be found in the desert regions of New Mexico and Arizona. It has thick, cylindrical stems with bright purple spines. The flowers are yellow-green and have a white center. In springtime, the plant produces edible fruits called "tunas," which can range from green to purplish in color when ripe. The tunas contain many small black seeds which can be used for propagation or eaten as a snack. Purple prickly pear is an important source of food for wildlife, such as birds, rodents, rabbits, and javelinas, who use its fruit during times of scarcity. Its deep roots help it survive long periods without water making it an extremely resilient plant in deserts where drought is common. It is hardy from USDA Zones 8b to 11.
Summary of 7 Types of Cacti That Thrive in New Mexico
| Cactus Name | Scientific Name | Cactus Height | USDA Hardiness |
| --- | --- | --- | --- |
| Tree Cholla | Cylindropuntia imbricata | 8 feet tall | Zones 4a-11 |
| Brown Flowered Cactus | Echinocereus chloranthus | 10 inches tall | Zones 6a-11b |
| Texas Rainbow Cactus | Echinocereus dasyacanthus | 12 inches tall | Zones 8b-10b |
| Woven Spine Pineapple Cactus | Echinocereus intertextus | 8 inches tall | Zones 9b-11 |
| Strawberry Hedgehog Cactus | Echinocereus stramineus | 3 feet tall | Zones 9a-11 |
| Barbary Fig | Opuntia ficus-Indica | 6 feet tall | Zones 8-11 |
| Purple Prickly Pear | Opuntia macrocentra | 2 feet tall | Zones 8b-11 |
Up Next:
More from A-Z Animals
---
The Featured Image
---