The Honolulu queen cactus bears the dragon fruit and only blooms at night. Southern Mexico and Central America are the plant's natural habitats. It has numerous names. The two most prevalent varieties look like dragons because of their brilliant red skin and green scales. 
Despite having a unique appearance, dragon fruit tastes like other fruits. Its flavor has been compared to a somewhat sweet kiwi and pear hybrid. If you enjoy eating this fun fruit, you might wonder if your dog is safe to eat it. 
Dogs can eat dragon fruit! However, there are some essential things to be aware of before giving it to them. Unleash your dragon powers as you fly through this helpful article. You are about to take your pup on a flavorful adventure. 
Benefits of Dragon Fruit 
The low-calorie tropical treat is rich in lipids that are beneficial for the skin and coat and can help your dog's digestion. Additionally, its low-fat composition helps your pet's body produce fewer toxins. The fruit's ability to naturally strengthen and maintain the health of your dog's immune system is another fantastic benefit of dragon fruit for dogs. All of this can be credited to the abundance of antioxidants. Additionally, dragon fruit can be a delectable snack that keeps your pet hydrated throughout the hot summer months.
Vitamin C
The immune system of your dog will benefit significantly from vitamin C. It increases your pet's resistance to dangerous and fatal conditions, including cancer. Dragon fruit can lessen inflammation and enhance cognitive function but cannot replace canine vitamin supplementation. 
That is if your vet says your dog needs vitamin c supplements.  Additionally, vitamin C can aid in the prevention of risky illnesses, including heart failure. Even if our dogs already manufacture it, it doesn't hurt to give them an extra push. Just keep in mind that dogs should only consume dragon fruit in moderation.
Antioxidants
Compounds called antioxidants prevent oxidation. They are, therefore, quite beneficial for your dog. They combat free radicals, which can be very harmful to the health of your pet. Thus, dragon fruit can aid in their detoxification from dangerous chemicals. Your dog will remain young and healthy for a longer time if you increase the antioxidants in its diet. They are crucial for the body's proactive defense against cell death and preventing premature aging.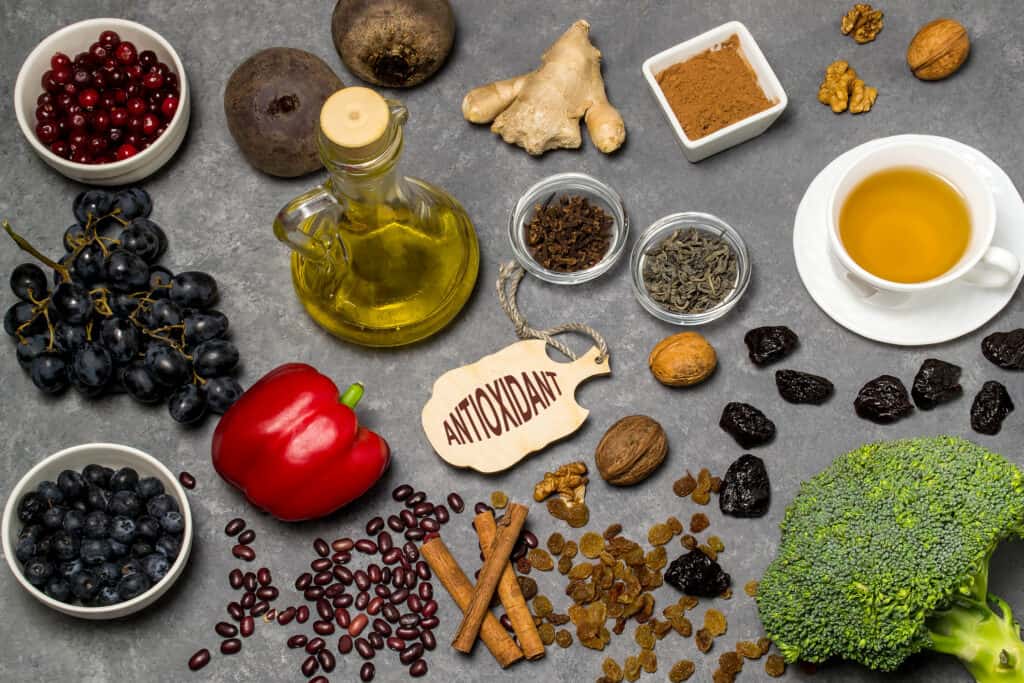 Omega-3
The fruit dragon is rich in omega-3 fatty acids. As they guarantee moisture and a glossy shine, they assist in keeping your dog's hair in peak condition. These acids also support a healthier heart and strengthen your dog's immune system. 
There are undoubtedly many health advantages. It's beneficial for your dog's skin because it contains omega-3 fatty acids. Additionally, they provide a crucial source of energy and can assist dogs with arthritis feel less discomfort.
Iron and Fiber
Among the essential minerals for your dog are calcium and iron. They are abundant in dragon fruit and help the health of the teeth and bones. This delicious fruit has fiber. It aids in digestion and the control of blood sugar levels. Additionally, it can assist in lowering cholesterol and maintaining a healthy digestive tract.
What Are the Risks of Dogs Eating Dragon Fruit?
It's easy to assume that a fruit that looks as intimidating as a dragon fruit has some drawbacks. However, this fruit's negatives are minimal but still something to keep in mind. Because dragon fruit is not harmful, many dog owners frequently give their dogs dragon fruit. 
The antioxidant, vitamin, and mineral powerhouse dragon fruits are ideal for your dog. Most dogs consume dragon fruit as a nutritious complement to their diet in addition to a chilly, refreshing snack. If eaten in excess, there are a few things to be aware of in the short and long term.  
Depilation and Tooth Decay
It has been discovered that feeding dogs dragon fruit peel results in depilation. In addition, the natural sugar found in this fruit may upset your dog's stomach or cause them to have diarrhea. In rare instances, it might also result in endocrine disorders. 
Generally speaking, eating dragon fruit and consuming excessive amounts of sugar are both bad for your dog's teeth. Although the fruit contains natural sugar, overeating can harm your dog's teeth and cause tooth decay or toothaches.
Weight and Diabetes 
You did read that correctly. Your dogs are more likely to gain weight if they consume much sugar in their diet. If your dog overeats dragon fruit, its blood sugar levels may rise, which could lead to obesity. Obesity itself causes several health issues. If your dog has diabetes, this fruit should be given with caution and approved by a vet.
How to Feed Your Dog Dragon Fruit
Give your dog a smaller slice of the dragon fruit so they may sample the mellow flesh. Your doggie may not be interested in eating more after a small taste since the strange, mushy feel puts off some canines. However, if your pet likes their treat, you might want to slice off the pink, leathery skin before offering them more. 
The skin is not edible and could upset your stomach. Others don't know when to quit nibbling, like dogs! Dogs shouldn't typically consume fruits and vegetables with seeds because they might hurt them and become lodged in their body, but because the seeds in dragon fruit are so tiny and soft, you don't need to remove those little seeds. 
This delicious tropical treat should not be cooked or spiced. Avoiding spices and sauces altogether is ideal because a dog's digestive tract rarely responds favorably to them. There are a few considerations while giving dragon fruit to your dog. Even though it is nutritious and non-toxic to dogs, you must feed it to them in moderation because it's detrimental to your dog's health. Most dogs require a few smaller spoonfuls to enjoy the fruit's health advantages.
Conclusion
Now that you know your pup can enjoy dragon fruit, why not try it? It can offer several benefits. First, it can provide them with fiber which is excellent for digestion. Second, it can make their skin and fur Instagram picture ready. Lastly, it can boost the immune system of your pup. 
Remember to feed in moderation along with great dog food to avoid diarrhea and long-term risks to their dental help. The skin should be removed too, don't forget! Send this to one person who loves dragon fruit. Their dogs might enjoy a bite as well. If you are interested in other fruits, your pup may love to check out the articles below. Keep your pup healthy!
Up Next:
Ready to discover the top 10 cutest dog breeds in the entire world?
How about the fastest dogs, the largest dogs and those that are -- quite frankly -- just the kindest dogs on the planet? Each day, AZ Animals sends out lists just like this to our thousands of email subscribers. And the best part? It's FREE. Join today by entering your email below.
---
FAQs (Frequently Asked Questions) 
Can dogs eat dragon fruit?
Dogs can eat dragon fruit! However, there are some essential things to be aware of before giving it to them. Such as, feeding it to them in moderation, without sauces or seasoning and without the skins.
What are the benefits to feeding dogs dragon fruit?
The low-calorie tropical treat is rich in lipids that are beneficial for the skin and coat and can help your dog's digestion. It also aids in hydration and strengthens their immune system.
Sources

MasterClass, Available here: https://www.masterclass.com/articles/can-dogs-eat-dragon-fruit#:~:text=Dragon%20fruit%20is%20high%20in,friend%20experiencing%20adverse%20side%20effects.
Spoiled Hounds / Renee Dobbs, Available here: https://spoiledhounds.com/can-dogs-eat-dragon-fruit/
How To Train Your Dog / Maria, Available here: https://howtotrainthedog.com/can-dogs-eat-dragon-fruit/
Can Dogs Eat It , Available here: https://www.candogseatit.com/fruit-veg/dragon-fruit