A Caracal may catch your eye if you're looking into owning an exotic cat. They are known for having large, pointy black tufted ears and being one of the smaller wildcats you can own at home. Caracals require specialized care that can end up costing more than you think. That's why you should be updated about the Caracal cat prices in 2023.
Of course, the initial costs of purchasing a Caracal are already high, but adding on the licensing and specialized living conditions and care will add more to the total costs. Their rarity also means that they need specialized medical care by trained professionals. So, owners must factor in all costs associated with owning a Caracal.
Other expenses include a high-protein diet and secure outdoor enclosures. These "extras" will significantly boost the costs of owning a Caracal. If you want to be a potential Caracal owner, don't worry. Below, we'll list all the associated costs you must budget for.
How Much Does a Caracal Kitten Cost?
Caracal cat prices will be high because they are difficult to breed. Caracals require special enclosures and are difficult to care for, unlike your standard house cat. The extra supplies and expertise needed to raise a Caracal led to the high price.
Caracal cats cost between $1,500 to $20,000, depending on the breeder. However, some rare listings can even go up to $30,000. Prices fluctuate due to demand, pedigree, and location.
Other Factors That Influence the Purchase Price of a Caracal
Caracal cat prices change because you're purchasing an exotic kitten. One of the major reasons is that Caracals need proper care, which includes an enclosure, specialized medical care, and annual licensing. However, other factors can also impact the price of a Caracal kitten.
Clean Bloodlines
Caracal cats are originally from Africa, Arabian Peninsula, and India. Most breeders have imported the animals legally from another country to the United States. This ensures that the Caracal kitten has pure bloodlines. The prices reflect the costs of getting legal documentation, the purchase price, and other expenses from the breeders.
Caracals imported from other countries generally have good bloodlines and are purebreds. You may find Caracals partially mixed with domesticated cats or other breeds in the United States and other countries. That is why the true bloodlines are much higher in price.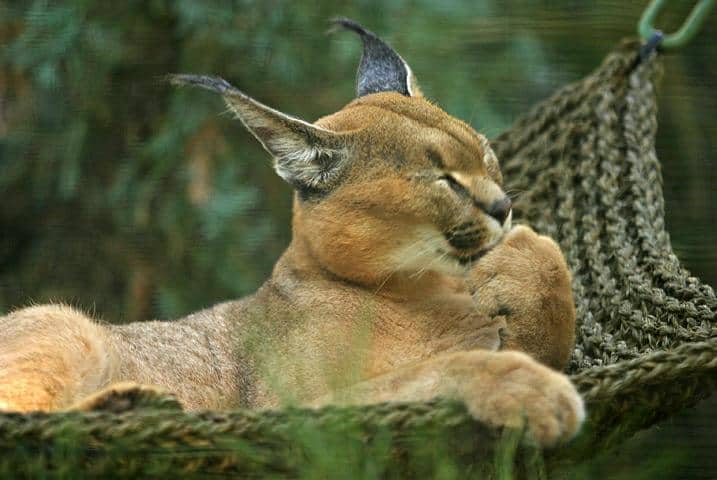 Breeder Preferences
Another factor that buyers need to consider is that most Caracal sellers are looking to sell only to USDA facilities or other enclosures. Sellers want to ensure that the buyers know state laws, the requirements of owning a Caracal, and proper care.
This means that sellers are looking for potential owners who have researched and are willing to pay any expense for the breed and essentials like food, enclosures, and medical bills. The breeders will be selective and may charge more to see if a potential buyer has the resources to care for the cat.
Location
Breeders may also base their prices depending on where they live. If purchasing from outside the United States, you must go through more steps and licensing. Inside the United States, you may also find breeders who have already paid the costs of importing Caracals and are some of the only breeders in the area. Thus, the prices of the Caracal kitten may also reflect the import prices.
Level of Domestication
While we wouldn't classify Caracals as domestic, some breeders work hard to breed calm temperaments. This work begins with getting the cat used to other humans and animals. A Caracal is a solitary animal and doesn't generally enjoy any company. However, a Caracal can make a good pet with the right training and care.
States That Have Restrictions on Owning Caracal
Caracals are exotic wildcats in the United States and don't make good pets unless you know how to care for them. Strict licensing is required to own a Caracal, and if you're caught without a license, you can be fined, and your Caracal will be put down. Licenses are provided annually, and you will need to renew on time without fail.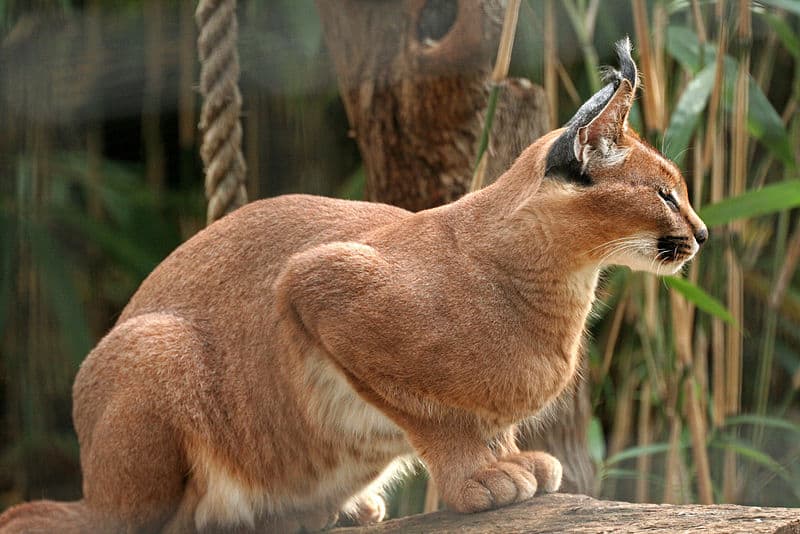 Here is a list of the states you can legally own a Caracal with a license:
Cost of Vaccination and Other Medical Expenses for Caracal
| | |
| --- | --- |
| Medical Procedure | Cost |
| Vaccines (Annually) | $200 |
| Transportation (Secure Van) | $15,000-$28,000 |
| Stainless Steel Squeeze Cage | $2,000-$3,000 |
| Forklift (Daily Rental) | $300 |
| Vitamins | $7,500 |
The additional costs associated with Caracal cat prices include medical expenses. Medical care for Caracals is a bit different from your standard housecat. As an exotic pet owner, you must find a qualified veterinarian to medically care for your cat. Regular veterinarians are not trained to handle wildcats, so you can't just take your Caracal to any vet.
Specialized care costs a lot more than a local vet. Sometimes, you may need to fly a specialist to your area. These extra costs can add up, and you must be prepared to pay for them.
Caracal Vaccine Costs
Caracals are still felines, which means that they require the same vaccinations as a cat. However, you won't be able to get these vaccines administered at your standard vet. Annually, your Caracal will need the following four vaccines, which will cost $200 annually:
Feline panleukopenia (K/MLV (d))
Feline rhinotracheitis (K/MLV)
Feline caliciviruses (K/MLV)
Purevax Feline Rabies
Vitamins
Exotic cats in captivity require extra nutrients and vitamins to stay healthy. In contrast, big cats such as Caracals give them daily vitamins to maintain their health. Qualified veterinarians prescribe the vitamins, costing up to $7,500 annually.
Cost of Food and Supplies for Caracal
| | |
| --- | --- |
| Supplies | Cost |
| 5 Acres Land | $12,000-$60,000 |
| Roofing For Enclosure | $3,000-$10,000 |
| Enclosure | $2,500-$5,000 |
| Federal & State Permits (Annually) | $200 |
| Liability Insurance (Annually) | $1,000-$14,000 |
| Toys | $500 |
| Food | $4,000-$6,500 |
Another additional cost to Caracal cat prices is supplies. Caracal Cats are carnivores and have a much stricter diet than housecats. In the wild, they eat small creatures such as monkeys, antelopes, and birds. However, in captivity, they aren't allowed to hunt and will require a strict diet to prevent illness or disease.
Instead of dry food, which you can find at the pet store, Caracals need to eat raw meat. Their main energy source is protein, and they can eat up to two to three pounds daily. On average, chicken costs $3.64 per lb, meaning a Caracal would need to eat almost $11.00 worth of food daily.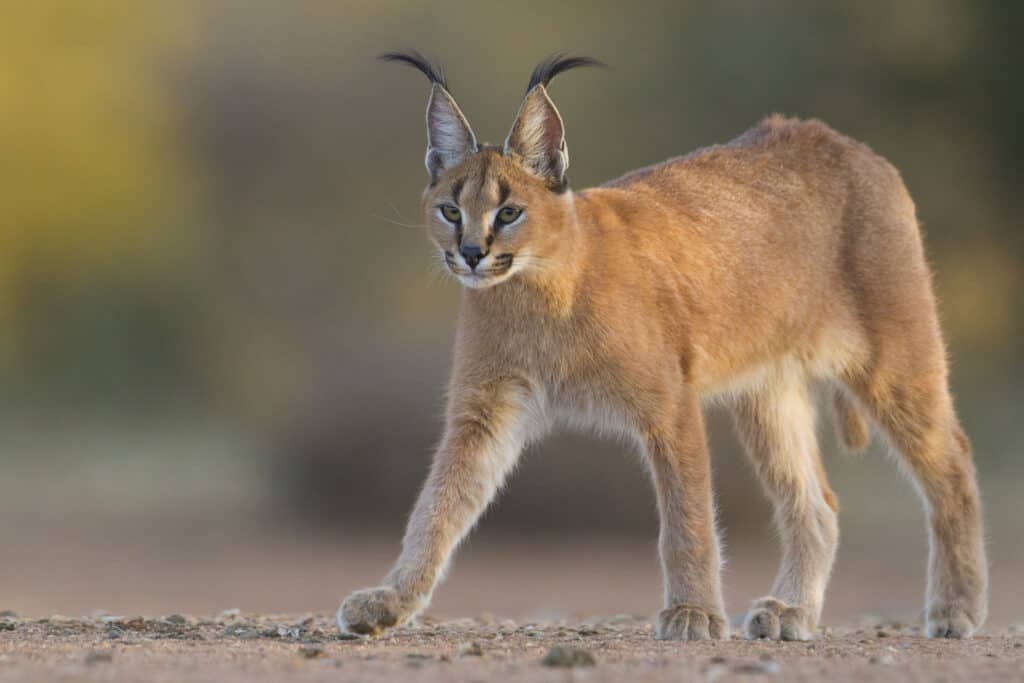 How Much Does It Cost to Insure a Caracal
Pet insurance is always recommended because medical treatment can become a huge expense for even the standard housecat. The problem with owning a Caracal is that most pet insurance won't cover the breed. Even exotic pet insurance sites generally don't cover Caracal visits.
Why Don't Caracals Qualify For Pet Insurance?
Caracals are an aggressive cat breed that requires specialized knowledge. An exotic animal veterinarian might know of basic Caracal care, but a specialist might be needed if it's an uncommon medical issue. Due to this, the cost of care skyrockets, and most pet insurance wouldn't want to cover this cost.
Total Caracal Cat Prices
The total cost of purchasing a Caracal Cat will be between $1,500-$30,000. However, the real expenses start to add up once you add medical care and build an exclosure. From exotic cat experts, many estimate the costs the first year you will spend up to $22,000.
Annual care is expected to be around $2,300 if you don't have any emergencies or liability issues with your pet. On top of that, you will also need to spend yearly costs on your licensing and insurance. Besides that, add that you will also need to pay for transporting your wildcat to the vet.
The photo featured at the top of this post is © iStock.com/MarieHolding
---